Top 5 Videos: 3D Printing Medical Lab Halves Surgery Time for Complex Procedures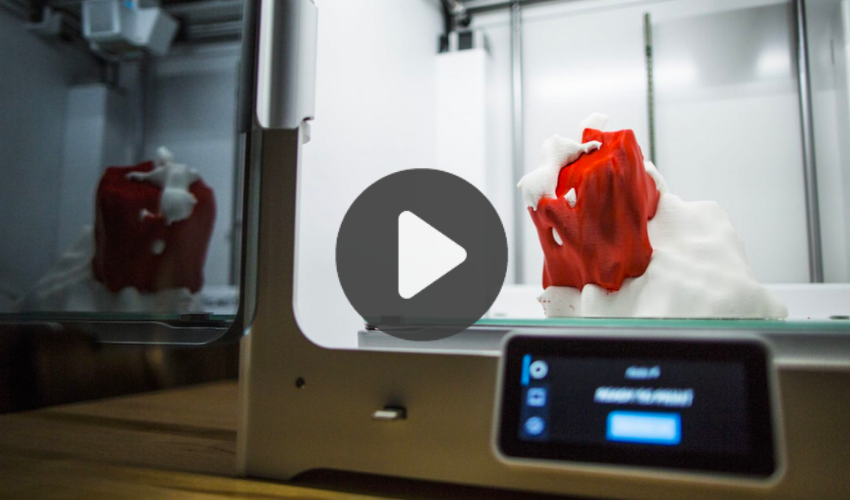 This week, take a look inside the new 3D printing medical lab at the National Univerity Hospital in Singapore that is capable of slashing surgery time in half! The lab is a collaboration with Johnson & Johnson (J&J) and it can print patient-specific body parts such as hips, knee joints, and even organs. Next, learn how L'Oreal is leveraging HP's Multi Jet Fusion technology to reduce manufacturing time by almost 66 percent. Finally, we take it back to Formnext, which took place November 16th, 2021 through November 19th, 2021 in Frankfurt, Germany. As the largest Additive Manufacturing trade show in the world, the Formnext expo offered a wealth of information on emerging trends—discover what went down at Formnext 2021. Happy Sunday—enjoy watching!
Top 1: New 3D Printing Medical Lab
The Point-of-Care Lab at the National University Hospital (NUH) is managed by J&J Singapore on-site at NUH. This 3D printing medical lab is the first of its kind in Singapore. J&J's biomedical engineers work closely with NUH clinicians to design personalized anatomical models for pre-operative planning and surgical simulation which can ultimately cut surgical time in half.
Top 2: The Biggest 3D Printers at Formnext 2021
So, what were the biggest 3D printers at this year's Formnext expo? To explore the answer, we visited the booths of CMS, Triton, CEAD, Cubicure, and MX3D. These five companies exhibited their large-scale machines during this edition of the international trade show in Frankfurt.
Top 3: Additively Manufactured Combustion Chamber for Sustainable Use of Hydrogen
In a joint research project, Fraunhofer IPT, FH Aachen University of Applied Sciences and Präwest Präzisionswerkstätten Dr.Ing. Heinz-Rudolf Jung GmbH & Co. KG developed a solution for fuel cells energy source using additive manufacturing. With the patented MicroMix design (MMX), the researchers were able to eliminate COx emissions completely. Using the Laser Powder Bed Fusion process (LPBF), the team is capable of designing a combustion chamber — reducing costs and assembly time by up to 90 percent.
Top 4: HP & L'Oreal
In order to create innovative packaging and new customer experiences, L'Oréal teamed up with HP to employ HP's Multi Jet Fusion 3D printing technology. Multi Jet Fusion allows for rapid response to shifts in manufacturing processes and production lines. Working together the companies were able to quickly prototype then scale-up large volumes resulting in a 33 percent cost reduction and 66 percent time savings.
Top 5: 3D Daily Show—Day 1 at Formnext 2021
Bringing it back to Day 1 of Formnext. In this first episode in our four-part series, discover the latest trends and innovations from Formnext 2021. In this video, we focused on the role of 3D Printing in Manufacturing while meeting with special guests such as Sascha F. Wenzler, Vice President of Mesago Messe Frankfurt GmbH / Formnext, Fernando Hernández, Managing Director Europe at XYZprinting, and James Hendrick, Co-Founder and Chief Product Officer, Azul 3D.
So, what do you think of this week's video compilation? Let us know in a comment below or on our Linkedin, Facebook, and Twitter pages! Don't forget to sign up for our free weekly Newsletter here, the latest 3D printing news straight to your inbox! You can also find all our videos on our YouTube channel.