TOP 5 Videos: 3D Printed Titanium Bike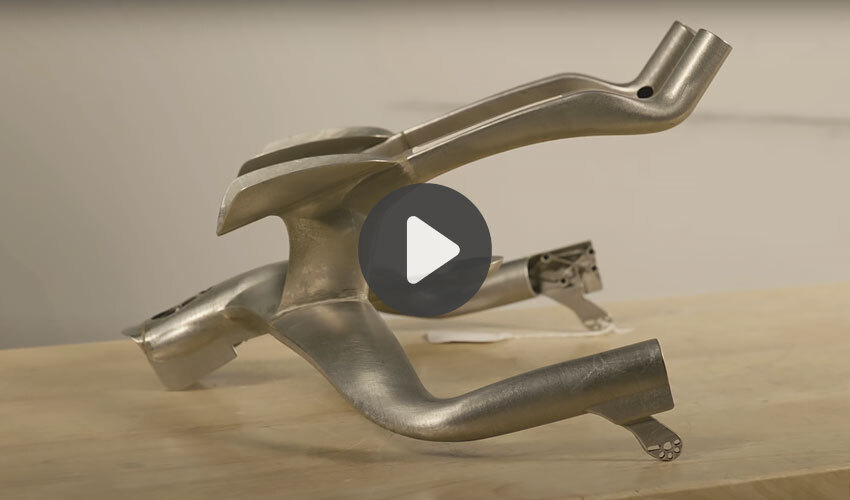 This week we found the top 5 videos about 3D printing and the way additive manufacturing is changing production. The technology has infiltrated many sectors, from medical to automotive: check our selection of the week to keep up with the innovations! If you enjoy these, you can view even more 3D printing videos on our Youtube channel. Hope you'll enjoy and have a great Sunday!
Top 1: Using AM technologies to prepare for the America's Cup
Creaform is one of the pioneering manufacturers of metrology solutions. Creaform are responsible for several high quality 3D scanners available on the market. Using one of Creaform's portable scanners, the HandyScan3D, this crew are able to save a significant amount of time by scanning and printing repairs and replacement that might happen out on the water. The faster they are able to repair their boat, the faster they are able to return to training or even the race. In terms of repairs, 3D technologies are unmatched in their ability to reduce time.
Top 2: 3D Printed Titanium Bike
While the 3D printed bike is no novelty, this particular bike is almost entirely titanium. Previously titanium had only been used to print a small number of the components, if any, for bikes. This 3D printed bike incorporates a titanium frame as well as several other titanium components. Due to its innate strength and durability,  titanium is often used in the aerospace and medical sectors. For the same reason, titanium is a great material for a bike. The material's supreme durability and near eternal lifespan significantly means that it is both sustainable and decreases the need for repairs or replacement. You can find out more about this 3D printed titanium bike in the video below!
Top 3: The Multi-purpose Desktop SEM for testing AM materials
According to a recent report by Equispheres, if metal powders do not meet a specific set of criteria they can significant detrimental effects on the efficiency of production and cause irregular mechanical properties. The Thermo Scientific Phenom ParticleX is a multi-purpose Desktop Scanning Electron Microscope (SEM) designed for additive manufacturing, delivering purity at the microscale. This SEM allows you to control your data in-house, as well as monitor critical characteristics for metal powders, identify particle size distributions, individual particle morphology, and foreign particles and apply this information to tour powder-fed additive manufacturing process. Thermo Scientific Phenom ParticleX SEM is able to analyse samples up to 100mm x 100mm in size. You can find out more about how the Thermo Scientific Phenom ParticleX SEM works in the video below.
Top 4: Avoiding defects with Automatic Multilaser Alignment (AMA)
TRUMPF's TruPrint 2000 3D printer is equipped with an Automatic Multilaser Alignment (AMA) automatically monitors and calibrates the multilaser scan fields to each other during an ongoing build job to ensure optimum quality of the multilaser components. Multilaser solutions are becoming continuously more popular due to a general demand for increased efficiency and reduced costs. Often these benefits come at the price of quality, and final parts will have defects. For this reason TRUMPF have integrated AMA into their TruPrint 2000. The video below goes into more detail about how the system works.
Top 5: 3D printed smart wearable scanners
ProGloves is a Munich based company that uses 3D printing for both prototyping and series production. The company hope to shape the future of smart wearables for industry 4.0. According to Konstantin Brunnbauer, the VP of Production at ProGlove the company's "overarching vision is to connect the human worker to the IoT." The company have thus manufactured wearable barcode scanners using 3D printing technology and DyeMansion's POWERSHOT post-processing systems. While the prototypes for the glove were printed with FDM, ProGloves later decided that SLS enabled greater design flexibility and complexity. ProGloves' "MARK" scanners are additively manufactured by the printing service FORMRISE. In this video Brunnbauer goes into detail about ProGloves' vision and manufacturing process.
What did you think of this week's top 5 videos? Which one is your favorite? Tell us in a comment below or on our Facebook and Twitter pages! And don't forget to sign up to our free weekly Newsletter to keep updated on all the latest news in the 3D industry coming straight to your inbox!