Top 5 Videos: A Closer Look at 3D Printed Houses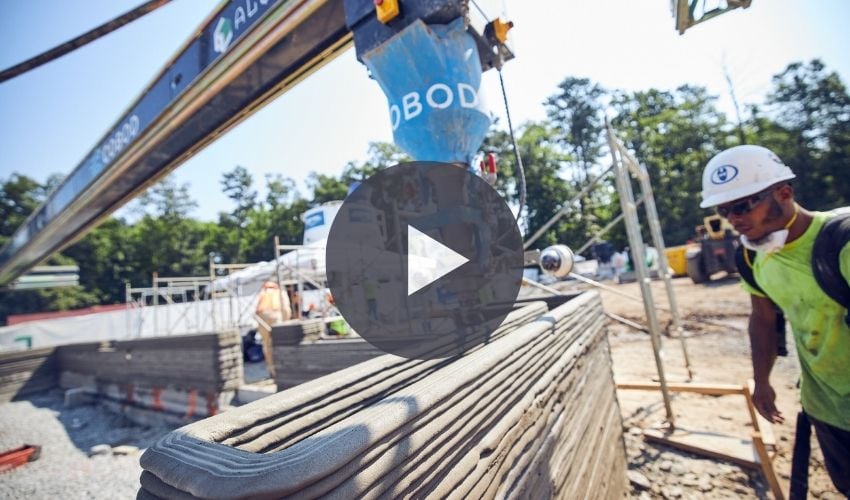 It's Sunday again! We hope you had a successful week and that you also found some time to enjoy the nice summer weather! As always, we have collected the top 5 videos about 3D printing for you to enjoy. We start off this week's selection with a video that gives you an impression of a 3D printing sector with great potential for the future, the 3D printing of houses! Next, you'll see Iris van Herpen's new collection, which features the world's first 3D printed vegan Haute Couture dress. Next, you'll first find out why 3D scanning is especially important for the medical and vetenarian sector, and then you'll see the Princess of Belgium Elizabeth inaugurate a 3D printing laboratory at the University of Leuven. Last but not least, you'll be introduced to the world's first 3D printed fiberglass pool! We hope you'll enjoy this week's collection and wish you a relaxing Sunday!
A Closer Look at 3D Printed Homes
Concrete 3D printing is without a doubt something we will hear about more often in the future. There are already projects all over the world that show what can be accomplished in terms of house building with the help of additive manufacturing. In the video below, Aiman Hussein, 3D printing director of Alquist, explains how a house is built using a concrete 3D printer. The video gives you a great introduction to the technology and shows you the process of 3D printing a house.
A 3D Printed Dress at Paris Fashion Week
Iris van Herpen, a Dutch designer who is already known for creating masterpieces by combining 3D printing with fashion once again drew lots of attention with her new collection named Meta Morphism, which was presented on the 4th of July at the Paris Fashion Week. Especially the dress presented by supermodel Cindy Bruna is one of a kind since it's the world's first 3D printed vegan Haute Couture dress! Take a closer look at that and fifteen other stunning creations by Iris van Herpen!
3D Scanning And The Medical and Veterinarian Sectors
3D scanning has become extremely important in multiple sectors as it allows us to measure tools and parts, and quickly inspect them for defects and resolve them. 3D scanning makes it easier to obtain the dimensions and we also get an overview of the entire product in one scan. Especially the medical or veterinary sectors are already benefiting from this technique and this time we have the opportunity to learn all about it thanks to professionals from the University of Murcia. Take a closer look!
Elisabeth of Belgium Inaugurates 3D Laboratory in Leuven
A brand new 3D printing laboratory located at the University of Leuven was recently officially opened in a ceremony by Princess Elisabeth of Belgium. The laboratory, which was named after the Princess, gives students and researchers the opportunity to further discover 3D printing technologies. By linking her name to the lab, the princess and the University of Leuven aim to bring a new generation of young students closer to science and technology. During her visit to the university, she also stopped to say hello to some of the students present.
The World's First 3D Printed Swimming Pool
Florida based company San Juan Pools, an expert when it comes to fiberglass pools, recently presented the world's first 3D printed fiberglass pool on Fox and friends, a morning show on the American TV Channel FOX NEWS. In the video below, the show's home improvement expert Skip Bedell explains the benefits of this new pool and highlight's how sustainable even the manufacturing of pools can be with the help of 3D printing.
Did you like our selection of 3D printing videos? Which one did you like the most? What do you think of the 3D printed pool by San Juan Pools? Let us know in a comment below or on our LinkedIn, Facebook, and Twitter pages! Don't forget to sign up for our free weekly Newsletter here, the latest 3D printing news straight to your inbox! You can also find all our videos on our YouTube channel.