Top 5 Videos: 3D Printed Homes in Texas, Coral Reefs and More!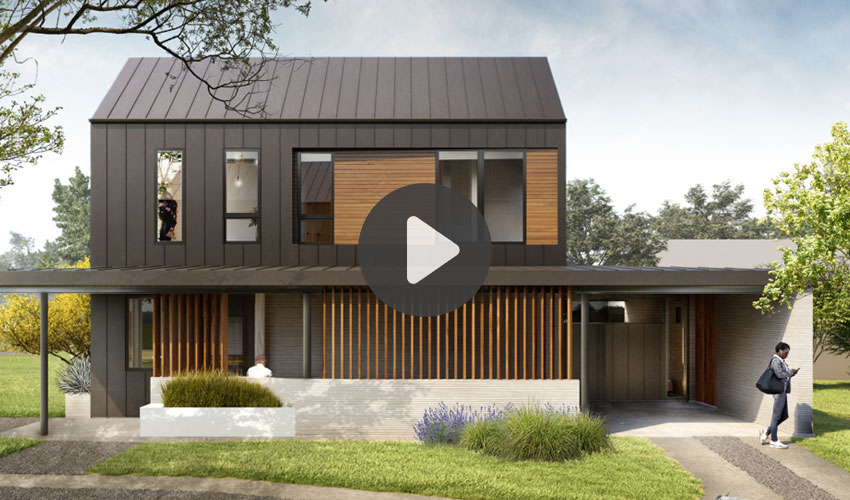 In this week's selection of top 5 videos about 3D printing, a look behind the scenes of 3D printing company Icon's project to build four 3D printed homes in Texas. Next, an update on the terracotta 3D printed coral reef project in Hong Kong! In the third clip, the CEO of Captain Al discusses autonomous shipping and the use of additive manufacturing in the Port of Rotterdam. The fourth introduces the PostProDP PRO, a solution for cleaning parts after the printing process is complete fromAdditive Manufacturing Technologies (AMT). Finally, discover the new J5 Dentajet, Stratasys' new dental 3D printer. If you enjoy these, you can view even more 3D printing videos on our Youtube channel. Hope you'll enjoy and have a great Sunday!
Top 1: ICON built four 3D printed homes in East Austin, Texas
3D printing company ICON has built four 3D printed homes using additive manufacturing in East Austin. According to the company, this incredible endeavor is underway thanks to their Vulcan construction system, a 3D printing system for creating sustainable, resilient and beautiful housing. The construction process is much more efficient than conventional construction methods and has saved the builders several months. Already available on the market, the houses are sold at a price of $400,000. 3D printing proves once again that it has an important role to play in the construction sector.
Top 2: Hong Kong's fragile coral reefs boosted by 3D printing
Positive updates from a 3D printing project Hong Kong, where scientists and architects developed unique 3D printed reef tiles made from terracotta in an attempt to restore the reefs in the Marine Park. Originally announced last year, already the project has seen positive results. You can find out more in the video below.
Top 3: Captain AI on Autonomous shipping and Additive Manufacturing in the Port of Rotterdam
Captain AI CEO Vincent Wegener discusses autonomous shipping and 3D printing in the port of Rotterdam in an interview with National Geographic as part of National Geographic special about inventions that will change the world. This episode looks at autonomous shipping and additive manufacturing in the port of Rotterdam. The episode is part of the series Great Inventions – Harbours which aired on National Geographic in February 2021. In the video, CEO explains not just the autonomous shipping process but also the role of AM in their operations. Notably, using metal 3D printing for ship repairs as a way to cut lead times and costs. Wegener and his team also printed the World's first licensed ship propeller, you can see the process in the video below.
Top 4: PostProDP PRO: Industrial Part Cleaning & Shot Blasting
Additive Manufacturing Technologies (AMT) is a company specializing in safe and sustainable automated industrial post-processing systems. Recently, AMT unveiled the PostProDP PRO, a solution for cleaning parts after the printing process is complete. The system is suitable for all commonly used materials and geometries, and can also be used for shot blasting. A good alternative to manual methods, which are often time-consuming and difficult, and can accidentally damage the parts.
Top 5: Stratasys J5 Dentajet
In recent years, 3D printing has become an everyday tool for many dental professionals, and the number of applications for 3D printing continues to grow. That's why, in early March, Stratasys launched the J5 Dentajet. The new Stratasys machine, based on Polyjet technology, aims to meet the expectations of professionals in the sector, especially in the production of dental models, surgical guides, implants or crowns.
What did you think of this week's top 5 videos? Which one is your favorite? Let us know in a comment below or on our Facebook, Twitter and LinkedIn pages! And don't forget to sign up to our free weekly Newsletter to keep updated on all the latest news in the 3D industry coming straight to your inbox!