Top 5 Videos: A 3D Printed Film Studio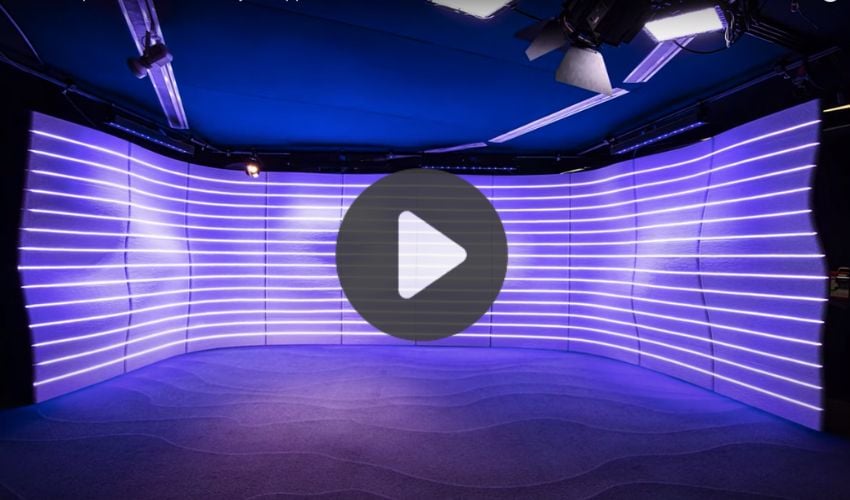 Hello, and welcome to our top 5 3D printing videos of the week! As always, we have an exciting collection of videos for you, ranging from a designer's vision of the world's first 3D-printed film studio, to 3D printing's place in fashion curation. If you like industrial projects, we also have a video about Toyota's adoption of additive manufacturing and General Atomics using the technology to manufacture unmanned aircraft systems. We hope you enjoy!
Top 1: 3D Printed Film Studio Is LED Experience
Our first video is by designer Philipp Aduatz, who was commissioned by The Casinos Austria and Austrian Lotteries Group to design and create a film studio using additive manufacturing. He used concrete 3D printing in collaboration with Dominik Freynschlag and 3D concrete printing manufacturer incremental3d; the aesthetics come from 14 LED strips inserted into prefabricated joints. In the video, you can see the finished product, with a weight of 3.500kg and external dimensions of 630cm width, 330cm depth, 230cm in height.
Top 2: Additive Manufacturing For General Atomics
We have extensively covered 3D printing's applications in the space and aerospace sectors, and if you're someone who likes to see the visuals of the potential which the technology holds, check out this video from General Atomics Aeronautical Systems, a subsection of General Atomics that designs unmanned aircraft for military and commercial purposes. It has turned to 3D printing to manufacture these aircraft. In the video, they explain the reasoning behind this, including the ability to fabricate complex designs at a relatively low cost. Furthermore, we learn of specific examples of when the technology has helped the team in their work. If you're interested in the overall business operations of a company, then watch on, because you can learn about how additive manufacturing affects General Atomics' operations globally.
Top 3: 3D Printing's Place in Fashion Curation
3D printing allows fashion designers to make complex, unique, and completely quirky designs without the need to create by hand. In this video from the EU , we see its importance in museological practice with the making of lace. We hear from Romy Cockx, Curator at MoMu Fashion Museum Antwerp, in Belgium), about her work for an exhibition about the history of lace in the city. They utilised 3D technologies for this exhibition to interpret the 17th century handkerchiefs and recreate these pieces using 3D modeling and printing. We see in the video the end result; a beautiful lace product which recreates the handkerchief shown in a painting. As Cockx puts it, the project 'brought the past into the future'.
Top 4: Generative Design Facilitates CNC Machine Creation
Generative design essentially means the generation of outputs which can meet various constraints; in manufacturing, these can be size, weight, and performance related, for example. As we learn in the video, as well as being a concept, Generative Design is also an Autodesk software which explores possible parameters to allow customers to reach their goals.  In this video, we hear from Toshulin, a manufacturer of CNC machines, on their use of the method to produce parts which align with various industrial fields. Generative design allows the company's customers to make the optimum product for their needs.
Top 5: Toyota Adopts AM For Car Manufacture
One of the best-known automotive manufacturers in the world must be Japanese company Toyota. As we learn in this video, the company has adopted additive manufacturing in order to help make car air-conditioning compressors – usually made using aluminum die casting. However,  this traditional method results in defects on the final product due to 'hot spots' from the melted aluminum. Additive manufacturing provides a novel alternative for the company; using EOS 3D printers, they can print cooling channels which prevent these defects.
What do you think of our top 5 3D printing videos of the week, including the 3D printed film studio? Let us know in a comment below or on our LinkedIn, Facebook, and Twitter pages! Don't forget to sign up for our free weekly Newsletter here, the latest 3D printing news straight to your inbox! You can also find all our videos on our YouTube channel.