Top 5 Videos: Porsche's 3D-Printed Bucket Seats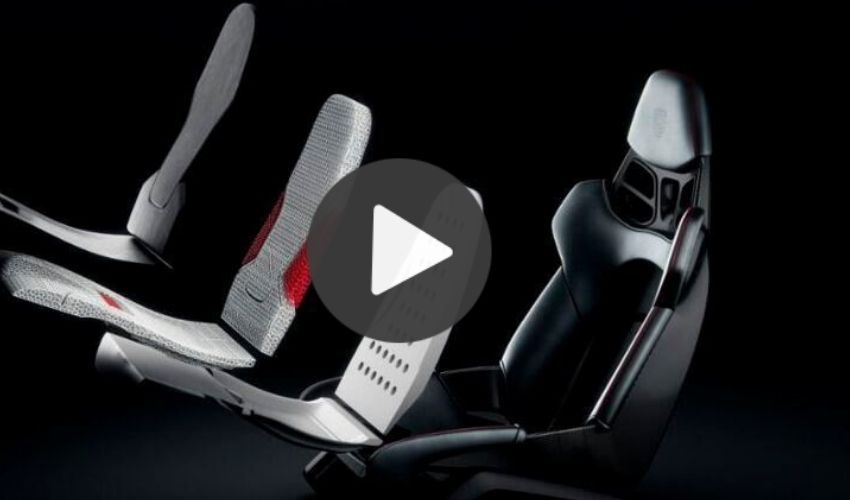 In this weekly video compilation, we will get to see how Porsche is using 3D printing to manufacture full-shell bodyform seats to improve driver comfort. Next, we invite you to discover the role 3D printing plays in the Hyperloop capsule competition held in Valencia. In addition, get to understand precisiely how the ERIKS company uses 3D printing to design custom tools. You can also learn how to create your own Squid Game mask and who knows, you could use it on Halloween night. All of this and much more—enjoy watching!
Top 1 – Porsche 3D-Printed Seats
In March 2020, we learned about Porsche's project to 3D print seat parts for its sports cars. Since then, a select group of Porsche drivers had the pleasure of testing a 3D printed bodyform full bucket seat. The tailor-made seat can be purchased as part of the automotive manufacturer's performance parts range and is compatible with various Porsche Boxster, Cayman, and 911 models. The new Porsche Mission R is also equipped with the 3D-printed full bucket seat. From February 2022, this will also be available as standard from Porsche Exclusive Manufaktur and integrated into the Porsche Car Configurator. The 3D-printed parts of the upholstery and backrest surface are available in three different degrees of rigidity in order to adapt the comfort to the wishes of the driver. You can see more about 3D printing at Porsche in the video.
Top 2 – The Hyperloop Capsule Competition
In Valencia, the Hyperloop capsule competition asked participants to create a prototype of a high-speed subsonic train. One of the teams used the advantages of 3D printing to create parts on an Epsilon W50 machine, from the Spanish manufacturer BCN3D. They were also able to create 3D molds faster and more efficiently, as well as using a wide variety of different materials. Team members have explained the manufacturing process as well as the benefits of using technology like this!
Top 3 – ERIKS Bets on Ultimaker
The ERIKS company, specialized in the production of technical components for industry, has integrated additive manufacturing internally. In particular, it has designed tools that allow you to be more efficient and faster, but also protect your employees. An example that illustrates this point is the safety stop that has been 3D printed with an Ultimaker machine. Placed on a roll of wrapping film, it allows you to safely remove and replace empty rolls. Don't miss it in this video!
Top 4 – How to Create a Squid Game Mask?
Of course, we must talk about the Netflix series Squid Game which is taking over conversations around the world. In this video, a maker will demonstrate to us each of the steps necessary to 3D print your own mask to transform into a character from the series. Plus, Halloween night is just around the corner, so it's the perfect opportunity to create your own mask!
Top 5 – A 3D-Printed Part for the Energy Sector
Expert Edwige Ravry works as Head of Additive Manufacturing at TotalEnergies. He was involved in the project carried out in collaboration with Vallourec, which consisted of successfully installing the first 3D printed waterbushing in the North Sea. In this last video, we will see how Edwige analyzes all the ins and outs of this great and interesting project.
What do you think of this week's compilation? Let us know in a comment below or on our Linkedin, Facebook, and Twitter pages! Don't forget to sign up for our free weekly Newsletter here, the latest 3D printing news straight to your inbox! You can also find all our videos on our YouTube channel.