Top 5 Videos: 3D Printed Artificial Muscles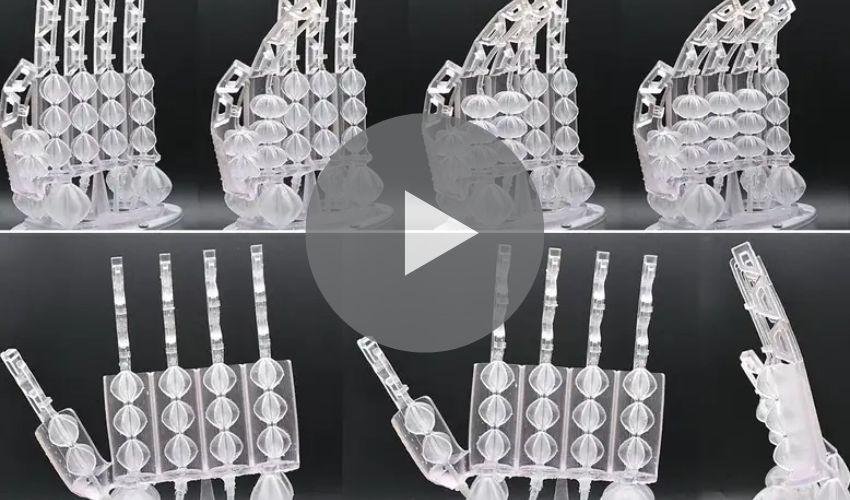 It's finally Sunday again! We have, as we do every Sunday, selected the most interesting and exciting videos from the world of 3D printing! Our first video today shows you how scientists were able to create a 3D printed prototype of an artificial human hand! Then, you learn more about 4D printing technologies. Following that, you'll see a report on the increasing threat of 3D-printed ghost guns, and then you see the process of creating an authentic-looking 3D-printed cobra. Our last video from this week's top five videos shows how 3D scanners can be used on motorbikes. We hope you'll enjoy this week's collection and wish you an amazing Sunday! 
Top 1: 3D Printed Artificial Muscles
The following video shows how it is possible to mimic the muscles with the help of 3D printing. Corrado De Pascali, a PhD-student at the Italian Institute of Technology in Genoa, and his colleagues developed a 3D printed prototype of an artificial hand. The team created what is called GeometRy-based Actuators that Contract and Elongate ("GRACE"), by using a flexible resin that enables them to stretch and contract, just like human flesh and muscles. 
Top 2: A Closer Look at 4D Printing
We all know that 3D printing technologies are quite the innovation already, but have you ever heard of 4D printing? This brand-new discovery, which is basically an advanced form of 3D printing, adds another factor to the 3D printing process: time. Take a look at the interesting video below, in which the process is explained in more detail!
Top 3: The Growing Problem of 3D Printed Guns
Although additive manufacturing has had a variety of benefits over the last years, it seemed unavoidable that some individuals would find ways to abuse the new technologies. One sad and alarming example of that is the increasing number of 3D-printed guns. The following video, in which the Police arrested a man who was 3D printing his own guns, shows how serious the problem can become, as it is possible to make a deadly gun at home with a 3D printer.
Top 4: 3D Printed Authentic Looking Cobra
This next interesting video takes you through the process of creating an authentic-looking, 3D-printed cobra. It gives you a closer insight into the step it takes to create such an object. It also shows what amazing yet simple things can be done with a desktop 3D printer. 
Top 5: 3D Scanning a Motor Bike
This last video shows how 3D scanning can be used to scan even such things as vehicles. The ability to scan objects can have many benefits, as in this case, mechanics are enabled to view the motorbike from different angles on a screen, without having to be in a garage. 
What do you think of this week's top 5 videos? Let us know in a comment below or on our LinkedIn, Facebook, and Twitter pages! Don't forget to sign up for our free weekly Newsletter here, the latest 3D printing news straight to your inbox! You can also find all our videos on our YouTube channel.