TOP 5 Videos of the Week: 3D Printing in Medicine and more !
---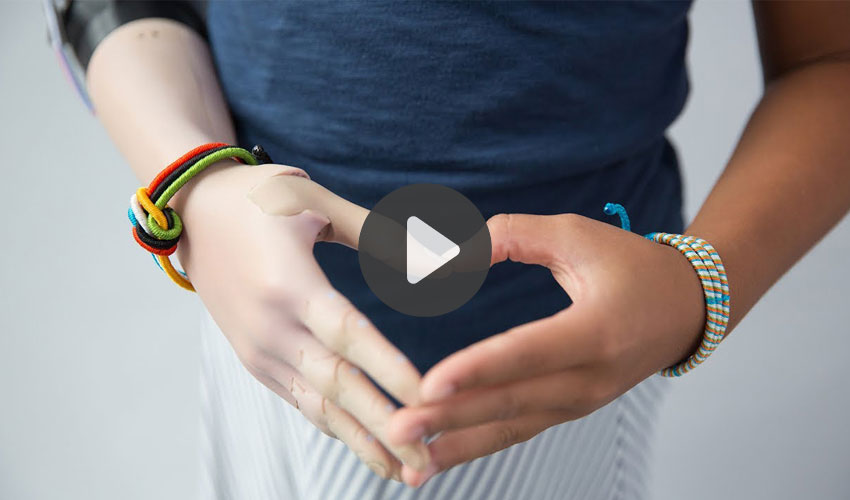 This week's Top 5 Videos focusses on Medical 3D printing, with videos relating to 3D printed prosthetics, rockets, 3D concrete printing, and much more! Remember, a new Top 5 Videos is released every Sunday, so don't miss out on next week's episode!
TOP 1: Extremely realistic prosthetics:  Easton Lachapelle founded Unlimited Tomorrow to offer affordable arm prostheses to all those in need. The company uses 3D printing to create very realistic solutions and now works with Microsoft to 3D digitize the user's anatomy. The prostheses would be printed in 3D from resin to which sensors and electrodes would be attached so that the person can move the hand and his fingers easily:
TOP 2: 3D printing and surgery: In the Netherlands, surgeons use 3D FDM printing to better explain the procedures they are going to perform on their patients. The hospital is treating patients with serious conditions, including acetabulum fractures. In 24 hours, they would be able to create a model to ensure a good evaluation for the surgery, also to better understand the injury and to explain to the patient what will be the steps and the different stages of the surgery. Here is a small preview:
TOP 3: Relativity Space and additive manufacturing : In Los Angeles, a startup called Relativity prints 3D rockets! A technology that allows it to create lightweight solutions, which are complex yet cheap. The founders of the startup then decided to develop their own 3D metal printer by manufacturing a print head that would be able to extrude aluminium, previously heated by lasers of 11 kilowatt. Their 3D printer was named Stargate, measuring 4.5 meters high and would have three arms:

TOP 4: 3D concrete printing: Sika is a Swiss company specializing in 3D concrete printing. It would provide a complete solution for building any type of structures on site, from robotics to materials to visualization of the building through virtual reality. The company joins the many players who have launched into the niche of additive manufacturing of concrete:
TOP 5: A stethoscope printed in 3D: Dr. Tarek Loubani has developed a stethoscope model to print it in 3D easily and cheaply. It would perform just as well as the traditional stethoscope. Tarek uses 3D printing to create more medical tools faster and cheaper: he quickly realized when working as a medical doctor that there was only one stethoscope for 10 doctors while there were more than 100 patients to treat between them:
What do you think of this week's Top 5 Videos? Let us know in a comment below or on our Facebook and Twitter pages! Sign up for our free weekly Newsletter, all the latest news in 3D printing straight to your inbox!
---
You may also like