Top 5 Videos: Bugatti, 3D Printed Violins, and More!
Posted On January 28, 2018
---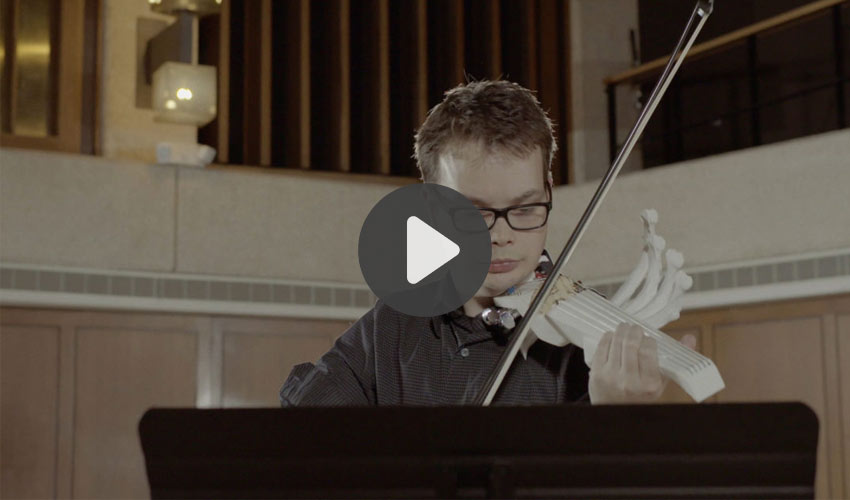 This week's Top 5 Videos includes videos ranging from a variety of sectors. These include the music and arts, the supercar industry, and even how 3D printing is helping wounded refugees. Remember, a new Top 5 Videos is posted every Sunday, so don't miss out on next week's ranking!
1 – 3D Printed Violin
This six-string violin was 3D printed at the well-reputed University of Texas at Austin's Butler School of Music and is demonstrated in this video. This video shows how a student printed his violin on-demand, and plays a beautiful song. We previously wrote an article about the applications of 3D printing in music if you want to find out more.

2 – Bugatti Titanium Brake Calipers
Bugatti, makers of several luxurious yet unbelievably fast supercars, recently announced they had 3D printed a titanium brake caliper for future use in their vehicles. They also claim this is the largest piece ever to be 3D printer using the material. This is an example of 3D printing's uses in the automotive sector. Testing of this piece is to start this year. You can read our full article on this here.
3 – 3D Printing With Light
This next video is a wonderful example of how creativity and innovation can be combined with additive manufacturing to create something completely new. Instead of the usual 3D printing with filaments, resins, and metals, Brigham have taken it a step further through creating volumetric images with light.
4 – New 3D Mask Brain Scans
This 3D printed mask offers a new way to conduct brain scans. Patients with conditions such as epilepsy can have their brains scanned using this new 3D printed mask to identify areas of the brain with abnormal activity. This data can be used to find treatments.
5 – 3D Printed Prosthetics for Refugees
3D printing isn't just for hobbyists and makers to create models for their homes. It serves a real purpose, as shown in the video below. Since Ahmed lost his arm at 14 due to a barrel-bomb, he had to make do with just one arm. However, with 3D printing it is far more feasible to create prosthetics for children like Ahmed.
What do you think of these videos? Let us know in a comment below or on our Facebook and Twitter pages. Don't forget to sign up for our free weekly Newsletter, with all the latest news in 3D printing delivered straight to your inbox!
---
You may also like