Top 5 Videos: DyeMansion launch chess pieces with Pantone colors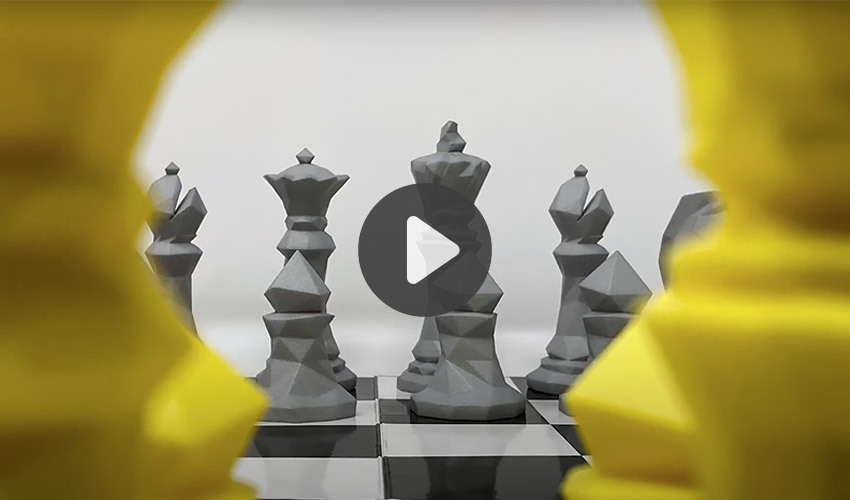 This week we've chosen five more interesting videos about 3D printing and additive manufacturing. This includes industry success stories from Matsuura's Additive Manufacturing facility to 3M's 3D printed PTFE. Up next are chess pieces which DyeMansion 3D printed in the Pantone colours of the year 2021, followed by a tutorial on how to assemble a Dora Goodman Camera! Last but not least, you can learn about how the US Army uses additive manufacturing to manufacture medical products following Covid-19 shortages. Have a great Sunday!
Top 1: Matsuura Additive Manufacturing Facility
While the pandemic which brought economic insecurity to many, for Matsuura 2020 was a very successful year. The company hope to aid the regeneration of the UK economy by supporting the country's manufacturing industry. Matsuura's additive manufacturing facility in Leicestershire is has the full suite of HP Multi-Jet Fusion printers. Matsuura are also the primary resellers for DyeMansion post-processing products. MTD spoke to Joseph Bellis, an Additive Manufacturing Sales Manager at Matsuura about the company's recent success.
Top 2: 3D Printing with PTFE
Polytetrafluoroethylene, better known as PTFE, is a type of synthetic polymer. A common example of PTFE is Teflon. Seeking to cater to extreme environments and demanding applications, 3M begun 3D printing with pure PTFE. The company chose additive manufacturing for its high performance and design freedom. Thanks to 3D printing technology and PTFE, 3M are able to 3D print parts with almost universal chemical resistance and high temperature stability. This video explains 3M's industry first technology and how to take advantage of new opportunities in a variety of applications:
Top 3: DyeMansion launch chess pieces with Pantone colors of the year 2021
The German company DyeMansion have used 3D printing to replicate the chess pieces that were used in the Netflix series "The Queen's Gambit" in Pantone's colors of the year for 2021. This year's Pantone colors are PANTONE 17-5104 Ultimate Gray and PANTONE 13-0647 Illuminating. The queen's gambit is a chess opening in which a pawn (or several pawns) is sacrificed due to a certain tactic or strategy. You can admire the pieces yourself here:
Top 4: Assembling the Goodman Zone Open-Source 3D Printed Camera
Dora Goodman Cameras is a Budapest-based company specialising in open-source 3D printed analog cameras. The company has created a free platform called the GoodLAB, which is host to open-source 3D files of its cameras so that members can work as a community to continuously improve the design of each camera. Dora Goodman Cameras also offers pre-printed DIY kits for customers unable to 3D print the parts for the camera themselves. This tutorial explains how you can assemble your own camera made from 3D printed parts!
Top 5: US Army Uses Additive Manufacturing To Combat COVID-19 Shortages
The US Army Medical Material Development Activity (USAMMDA for short) is the Department of Defense's division for medical product development. The division focuses on products designed to protect and preserve the lives of soldiers. The video below tells how the USAMMDA developed and additively manufactured new drugs, vaccines, devices and medical supplies that are currently in short supply due to the COVID-19 crisis. You can find out more about this project in the video below.
What did you think of this week's top 5 videos? Which one is your favorite? Tell us in a comment below or on our Facebook and Twitter pages! If you enjoyed these, you can view even more 3D printing videos on our Youtube channel. And don't forget to sign up to our free weekly Newsletter to keep updated on all the latest news in the 3D industry coming straight to your inbox!