Top 5 Videos: the New Xerox ElemX, 3D Printed Bone, and Artec Scanners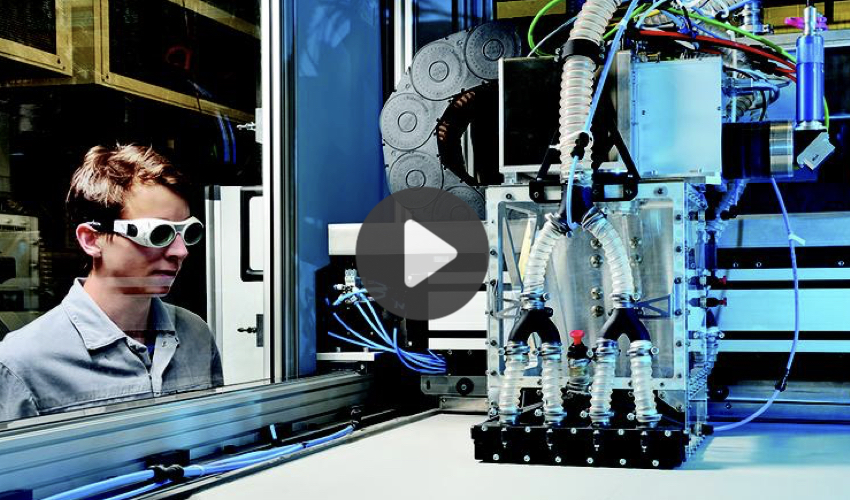 This week's selection of top 5 videos features additive manufacturing innovations from leading research institutions and manufacturing companies. Our top 1 looks into Xerox's new liquid metal 3D printer, the ElemX, purposed to circumvent the risks associated with 3D printers that rely on metal powders. The following video explores a brand new bio-ink that can be used to create 3D-printed bone. While our third video focuses on how the entire metal additive manufacturing process can be accelerated, you can find out how 3D scanners can speed up design processes in our fourth selection! Finally, our last pick for the week's top 3D printing videos details the TruPrint 5000 from TRUMPF. Hope you'll enjoy and have a great Sunday!
Top 1: Xerox launch Liquid Metal Printer, the ElemX
Xerox have launched a brand new liquid metal 3D printer, the ElemX. Following the discovery of several risks associated with metal powders used in 3D printing, Xerox decided to gamble on an alternative method of 3D printing metal and acquired the startup, Vader Systems. The Naval Postgraduate School in California have already invested in a machine in an endeavour to explore the potential applications of 3D printing for the U.S. Navy. You can find out more about the ElemX's capabilities in the video below:
Top 2: UNSW scientists use new bio-ink to create 3D-printed bone
A team from the University of New South Wales (UNSW Sydney), a leading research and teaching university in Australia has been researching a novel 3D printing method. The scientists have developed a ceramic-based ink that could allow surgeons to create 3D-printed bone parts using real living cells. This new application of bioprinting, (methods enabling cellular structures to be made from bioinks loaded with stem cells), marks an important step forward in the industry. Dr. Kris Kilian goes into more detail about this project in the video below. Additionally, you can read our coverage of the story here.
Top 3: Fraunhofer Researchers on Improving Metal AM Processes
The Fraunhofer society has spawned several innovative research projects, not limited to metal additive manufacturing. In fact, researchers at the Fraunhofer Institute for Environmental, Safety and Energy Technology (UMSICHT) and the Fraunhofer Institute for Building Physics (IBP) recently conducted a study exploring the use of mycelium (a fungus-based material) as a material for 3D printing. The society also played a crucial role in the development of Siemens Energy's hybrid laser powder bed fusion metal 3D printing process purposed for the repair and improvement turbines. This video details a collaborative project started in 2017 by six Fraunhofer institutes. The project entitled futureAM – Next Generation Additive Manufacturing is intended to accelerate the additive manufacturing of metal components by at least a factor of 10.
Top 4: Using Artec 3D Scanners to Accelerate the Design Process
Artec's 3D scanners have been used in a wide range of impressive projects spanning several sectors. In this video Ben Hartwig, CEO of Delscan, uses the Artec Eva 3D scanner to create a 3D scan of part of a snowmobile in under fifteen minutes. The Artec Eva is a structured light 3D scanner is a great choice for making quick, accurate and textured 3D models of medium sized objects. The scanner has a 100 micron accuracy. Hartwig then proceeded to use the Artec Leo to scan the entire vehicle. You can find out more about how using 3D scanners can accelerate the design process in the video below:
Top 5: TRUMPF introduces the TruPrint 5000
In this video the German company TRUMPF, one of the world's largest suppliers of machine tools, goes in to detail about its highly productive, semi-automated TruPrint 5000 3D printing system. The model is equipped with a 500 °C preheating option that allows for H11 (1.2343) and H13 (1.2344) tool steels to be easily printed. The machine is also said to be able to quickly and reliably print high-quality components made of metallic materials, and offer crack-free results.
What did you think of this week's top 5 videos? Which one is your favorite? Tell us in a comment below or on our Facebook and Twitter pages! If you enjoyed these, you can view even more 3D printing videos on our Youtube channel. And don't forget to sign up to our free weekly Newsletter to keep updated on all the latest news in the 3D industry coming straight to your inbox!