Top 5 Videos of the week: helping dogs run again, the Mooz, & more!
Published on October 23, 2017 by
Jamie D.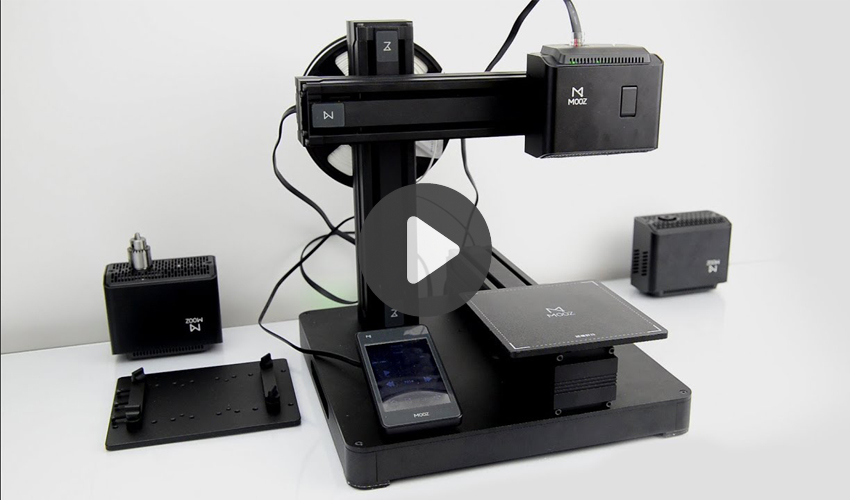 This week's Top 5 videos demonstrate some amazing technology, and some emotional victories. These vary from 3D printing helping blind children write their name, dogs being able to run again, and a printer that triples up as an engraver and carver! Our Top 5 videos are posted every Sunday, so do not forget to tune in next Sunday for another summary of the week's best media.
1 – Mooz 3-in-1 printer
This video demonstrating what the Mooz printers can do is very interesting. The Mooz is not just a 3D printer – it's also a CNC carver, and engraver. It achieves this through interchangeable heads which each accomplish different tasks. This very impressive printer is therefore very useful, instead of buying these three machines separately, you can have them all in 1 affordable machine.
2 – Millie the Greyhound's 3D printed leg
After losing a leg, Millie the greyhound had several unsuccessful surgeries to give her a prosthetic. However, using 3D printing, an accurate prosthetic leg was created especially for Millie, so she could run properly again. You can just see the happiness on Millie's face when she is able to catch up with the other dogs!
3 – 3D tech helping blind child write his name
This is an example of the amazing things that 3D technologies are helping to do. By 3D printing special stencils so the blind child can feel which way he is writing, Royce was able to write his own name for the first time! The possibilities of future 3D printed braille could help even more in the future.
4 – 3D printed MRI Biopsy Robot
At the University of Twente, a 3D printed robot could perhaps help improve cancer screenings. This is because the robot can perform biopsies during cancer MRIs. Because it is 3D printed in plastic, it can be used in MRIs as it is unaffected by the surrounding conditions.
5 – Ultimaker Updates
Ultimaker staff talk about how they intend to improve and work on their product offering through regular improvements and updates to their printers and software. They intend to do this through Cura, implementing a marketplace, and much more in the future.
Let us know what you think in a comment below or on our Facebook and Twitter pages! Don't forget to sign up for our free weekly Newsletter, with all the latest news in 3D printing delivered straight to your inbox!