TOP 5: Trumpf presents product highlights of the TruPrint 3000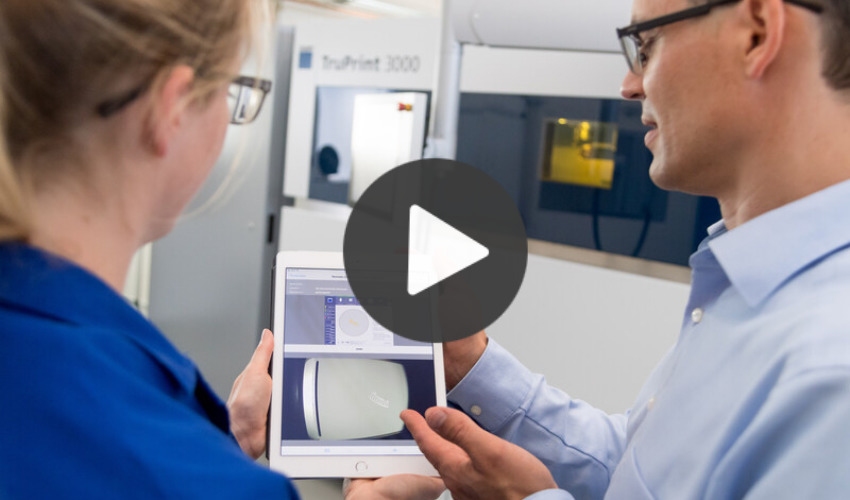 As every week, we want to give you an overview of the most exciting videos from the industry on this Sunday. On this Sunday you will find some videos from German manufacturers in our selection. Including a product presentation from Trumpf for the TruPrint 3000, which explains how the industrial 3D printer can be adapted to the needs of customers. You can also see how EOS intends to use additive manufacturing to make industrial manufacturing processes sustainable. In the video, CEO Marie Langer explains personally how the company integrates climate protection into its corporate strategy. You will also find a video from Adidas, TQ and Scan Tech, in which the smallest 3D scanner in the world from Simscan is presented. We wish you a relaxing Sunday!
Top 1: Trumpf presents product highlights of the TruPrint 3000
Our first video is a product presentation of the industrial 3D printer from Trumpf, the TruPrint 3000. Product manager Maren Bechtel explains why flexibility plays a decisive role in product design. The TruPrint 3000 should be able to adapt to the needs of the customer with a large number of individual setting options. By integrating a second laser, the production capacity should be increased by up to 80%. The best way to see for yourself what other properties the 3D metal printer has.
Top 2: Adidas sees the future in personalised shoe soles
Adidas has  already shown in the past how 3D printing can be used to manufacture individual shoe soles, with the 4D Fusio and the Futurecraft.Strung. With this video, the German sporting goods manufacturer is making a clear statement: According to this, the company will continue to integrate additive manufacturing into the production process of its products in future projects. Bringing sport and Silicon Valley together, Adidas has once again used 3D printing to up its game, and take its footwear to the next level.
Top 3: EOS' vision for responsible manufacturing processes
In the following video you can see how EOS GmbH intends to shape the future sustainably with additive manufacturing processes. In the video, company boss Marie Langer and Björn Hannappel (Head of Sustainability) speak out in favor of responsible use of resources. Technological progress and product innovations could be decisive key factors in terms of climate protection. The video mainly explains the advantages of additive manufacturing compared to conventional manufacturing processes. You can also see how 3D printing supports Paralympic athlete Denise Schindler in her everyday life with a prosthetic leg.
Top 4: Meet Baubot the Robot
Baubot is a brand belonging to Printstones GmbH, an Austrian startup centred around the development of digital manufacturing processes and mobile robotics solutions for the construction industry. Baubot offers a range of highly modular robotic systems which are able to adapt and modify to specific needs. Under its brand 'baubot', Printstones GmbH provide fully mobile as well as flexible truck-transportable systems to perform various tasks on construction sites and manufacturing facilities. Baubot is the only truly mobile construction robotic systems where everything is on-board and no cables or stationary components are required. You can find out more in the video below:
Top 5: The smallest 3D scanner in the world
In our last video, the smallest 3D scanner in the world from the manufacturer Simscan is presented. The product dimensions are 203 × 80 × 44 mm and are comparable to the size of a smartphone. With its handy size and a weight of 570g, the scanner is easy to transport and can also be stowed away in a jacket pocket. In the video you can see how objects can be scanned easily and quickly with the Simscan.
What did you think of this week's top 5 videos? Which one is your favorite? Let us know in a comment below or on our Facebook, Twitter and LinkedIn pages! And don't forget to sign up to our free weekly Newsletter to keep updated on all the latest news in the 3D industry coming straight to your inbox!