Top 5: Making Shoes With Selective Laser Sintering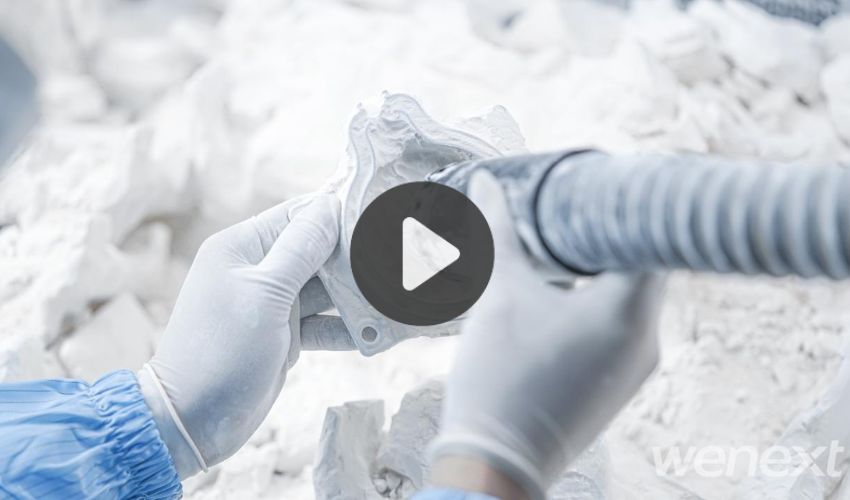 It is Sunday! And to bring in the next week, we at 3Dnatives are once again sharing the top 3D printing videos from this week. Starting it off, a video from Wenext shows how selective laser sintering can be used to make shoes in a new process. Next up, we have some videos highlighting 3D printing software this week. First, check out the MOOSE Application Library, a new modeling and simulation software for additive manufacturing from the Idaho National Laboratory. Then, be sure not to miss this video from the ORNL which shows how deep learning can be used to examine 3D printed parts for defects. Next, learn about powerPrint, an industrial, large-scale additive manufacturing system from KraussMaffei. Finally, in one of Markforged's latest videos, they explain different security features that are present to ensure that users can secure their data while 3D printing. Happy watching!
Top 1: Creating Shoes and Molds Using Selective Laser Melting
3D printing has been gaining popularity in recent years notably in sectors like consumer goods, where customization can be a huge benefit for users. Though 3D printing the part directly is not the only way either. In this next video from Wenext Technology an online CNC machining and 3D printing manufacturing factory, they show how they use selective laser melting and CNC machining to create molds for shoe manufacturing. They show every step of the process including the design, STL files, printing process and post-printing assembly and inspection. Check it out below:
Top 2: The MOOSE Application Library from INL
Software has been a common theme in both news and videos from this past week. This first one we want to show you comes from Idaho National Laboratory, a Department of Energy (DOE) laboratory that is the US's leading center for nuclear energy research and development. In this video, they show MOOSE Application Library for Advanced Manufacturing UTilities (MALAMUTE), the first INL application to simulate advanced manufacturing at multiple dimensions from microscale to full scale. This modeling and simulation software has been designed specifically for advanced manufacturing, notably additive manufacturing. Learn more about it below:
Top 3: ORNL Uses Deep Learning to Examine 3D Printed Parts
Another video from this week showing an important new software in 3D printing comes from the Oak Ridge National Laboratory. This week, it showed a new deep learning method that could be used to x-ray 3D printed parts, producing clearer images in about a sixth of the time. This could significantly help in verification processes, allowing even wider adoption of additive manufacturing in a number of critical sectors. You can learn more below:
Top 4: powerPrint – An Industrial Large Scale AM System
Moving away from software and shoes made using selective laser sintering, the next video is from KraussMaffei, one of the world's leading manufacturing of machinery and systems for plastics and rubber. In the following video, they show powerPrint, an extruder-based system which can be used to with thermoplastic pellets. They point notably to its ability to perform large-scale additive manufacturing thanks to a build volume of up to 10 m³. See how it works in KraussMaffei's video:
Top 5: Markforged Explains How to Secure 3D Printed Data
To wrap up the week, Markforged has released a video to explain the various security features presents in its solutions. Data security has been an increasing concern in the world of additive manufacturing over the past few years, notably as it starts to play an even larger roles in sectors like defense and aerospace. Luckily, Markforged has a number of customizable security features to help users protect their data. Learn more about them in the video:
What do you think of Wenext's use of selective laser sintering to help make shoes? Let us know in a comment below or on our LinkedIn, Facebook, and Twitter pages! Don't forget to sign up for our free weekly Newsletter, the latest 3D printing news straight to your inbox! You can also find all our videos on our YouTube channel.
*Cover Photo Credits: Wenext