Top 5: Formlabs Demonstrates the Use of 3D Printing in Injection Molding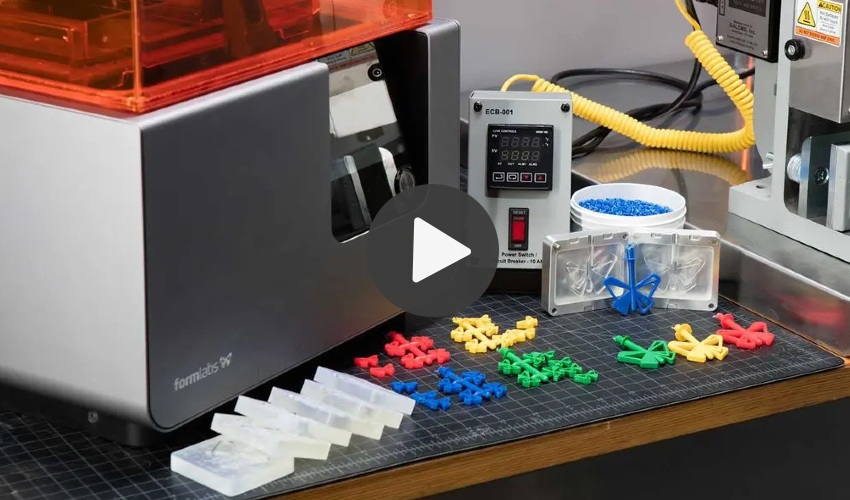 It's finally Sunday again! And that means it's time for our top 5 videos on 3D printing this week. Among other things, Formlabs will tell you about 3D printing in injection molding and Forust will tell you about 3D printing wood. The subject of additive concrete production is also well represented. First in a video on the potential of 3D printing in revolutionizing the construction industry as well as a video looking at the benefits of using 3D printing to create concrete formwork. We wish you a great day and have fun watching the videos!
Top 1: Formlabs demonstrates the use of 3D printing in injection molding
Formlabs is one of the most important names in the 3D printing industry today. The American developer and manufacturer of 3D printing technologies was on everyone's lips in the first quarter of 2021 , not least because of its new Fuse 1 . The following video is dedicated to the company's 3D printing for injection molding. These include the manufacture of parts with 3D printed tools, 3D printed tool assembly for injection molding and small-batch production with 3D printed plastic injection molds. Have fun watching!
Top 2: Is 3D printing the future of the construction industry?
Given the increased news about additive manufacturing with concrete, it is clear that a new generation of start-ups will revolutionize the construction industry step by step by automating production with industrial 3D printers. Actors claim that the machines developed in combination with software, robots and new building materials can build houses faster, cheaper and more sustainable. Here is an overview of the advances in the 3D printing construction industry and what the future holds.
Top 3: The use of digitization in aviation
Nowadays there are already many applications of 3D technologies in aviation , which show the advantages and potential they have in this sector. In this video we get to know an aircraft maintenance team that uses 3D scanning technology: the Creaform HandyScan 700. This was used to capture digital information in order to create a three-dimensional image of an aircraft part in special computer software at Travis Air Force Base in California . The 3D scanner is used in conjunction with two machines for additive manufacturing: one for polymers and one for metal, which can be used to print aircraft parts in-situ without the need for external parts.
Top 4: Desktop Metal and Forust 3D Print Wood
Earlier this year, Desktop Metal entered into the resin additive manufacturing market following the acquisition of EnvisionTEC, a leading company in resin 3D printing. Now, with the announcement of a partnership with Forust Corporation, Desktop Metal is positioning itself for the 3D printing of functional wooden parts. In order to do this Desktop Metal will use a new process based on binder jet technology and wood industry waste (sawdust and lignin). You can find out all about the project in the video below:
Top 5: BigRep and ForwardAM partner to create 3D printed concrete formwork
In an endeavor to leverage the synergies between their main areas of expertise, BigRep and Forward AM have decided to expand their partnership. In this partnership the companies will combine their knowledge of Virtual Engineering, Additive Manufacturing, advanced material development, and large-format printing in order to optimise their technology for the production of 3D printed concrete formwork. By 3D printing concrete formwork it is possible to save a considerable amount of time and money, as well as eliminate material waste. You can find out more about these companies' association in the video below:
What do you think of our selection? Do you like Formlabs' video about 3D printing in injection molding? Let us know in a comment below or on our Facebook, Twitter and LinkedIn pages! And don't forget to sign up to our free weekly Newsletter to keep updated on all the latest news in the 3D industry coming straight to your inbox!