Top 5: The Dutch Navy is Integrating 3D Printing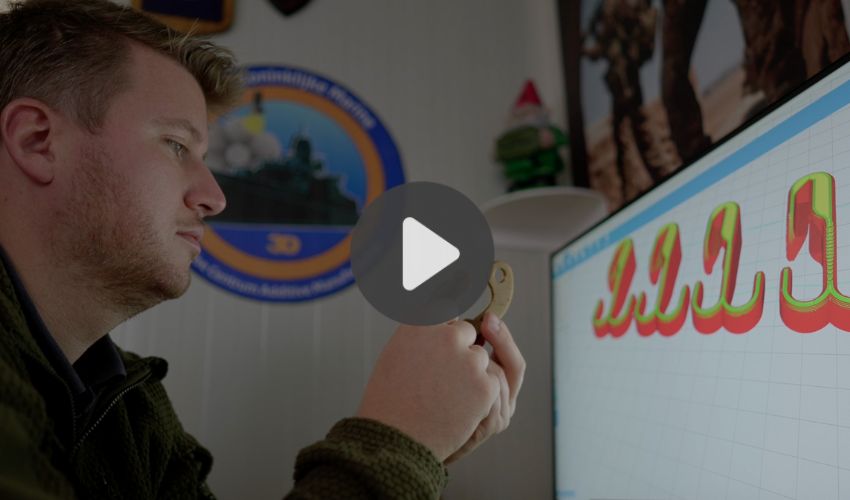 Once again Sunday is here and everyone can start to get ready for the week ahead. As we do every week, we have presented below five of the top 3D printing videos. Start off with a video that shows how the Dutch Navy is turning towards 3D printing, notably Intamsys, to created high-temperature material parts. Then, don't miss Neutrogena's new SKINSTACKS 360s, 3D printed skincare supplements, developed along with Nourished. Turning to something a little different, YouTuber Ian Davis shows of a partially 3D printed prosthetic hand to explore the technology's use in the medical sector before BCN3D introduces its new series of Epsilon 3D printers. Last but not least, learn all about the new BSc in Additive Manufacturing being offered by SETU Waterford. Happy Sunday and happy watching!
Top 1: The Dutch Navy Has Turned to 3D Printing
It should no longer come as a surprise that additive manufacturing has a role to play in the defense sector. In the latest news, the Royal Netherlands Navy has adopted this technology to manufacture parts faster and in mass. More specifically, they are using INTAMSYS 3D printers and high-performance materials for the creation of a number of parts. To learn more as well as to see some more specific examples of applications, be sure to check out the video below:
Top 2: Neutrogena Is Adopting AM With New 3D Printed Skincare Supplements
The Consumer Electronic Show (CES) is one of the biggest tech shows in the world. This year, it took place from January 5th to 8th in Las Vegas. And it certainly did not disappoint. We saw a number of exciting applications, including 3D printing ones coming out of the event this year. Among them, Neutrogena. The company unveiled its latest product in collaboration with Nourished, Skin360 SKINSTACKS, a 3D printed skin care supplement.
Top 3: A 3D Printed Prosthetic Hand
Another area where we are seeing more and more the importance of 3D printing is of course the medical sector. Especially when it comes to the creation of prosthetics and orthotics, given that these need to be custom-made to fit users. In this next video, YouTuber Ian Davis is showing just that, with a 3D printed prosthetic hand. Slightly robotic looking, this example is particularly interesting because it does not cover the whole hand, it starts from the fingers.
Top 4: The New generation of Epsilon 3D Printers from BCN3D
Since its launch in 2020, the Epsilon BCN3D series has proven to be one of the leading Spanish 3D printing FDM solutions. Since then, the printers have become known for their ability to create extremely durable parts of high quality and precision. In the video below, check out the features on this new generation of printers including improved electronics, automatic XYZ calibration and new design and aesthetics among others:
Top 5: A New BSc in Additive Manufacturing from SETU Waterford
One of the most cited obstacles to the adoption of additive manufacturing (despite its incredible growth) is a lack of training that is available to potential users. However, this may soon be changing thanks to an increase in the amount of training programs for AM, notably from universities. One example is in this latest video where South East Technological university presented its newest BSc in Additive Manufacturing which it hopes will allow people currently working in the field to upskill in advance AM applications including but not limited to Med-Tech, Bio-Pharma, Aerospace, Agri-Tech and Precision Engineering. The degree has been developed by SETU Waterford, led by Additive Manufacturing Advancing the South-East, and is funded by the Irish Government.
What do you think of the Dutch Navy's decision to turn towards 3D printing?
Let us know in a comment below or on our LinkedIn, Facebook, and Twitter pages! Don't forget to sign up for our free weekly Newsletter here for the latest 3D printing news straight to your inbox! You can also find all our videos on our YouTube channel.
*Cover Photo Credits: Intamsys