Top 5: A Talk With SolidCAM About Their Decision To Move Into the AM Market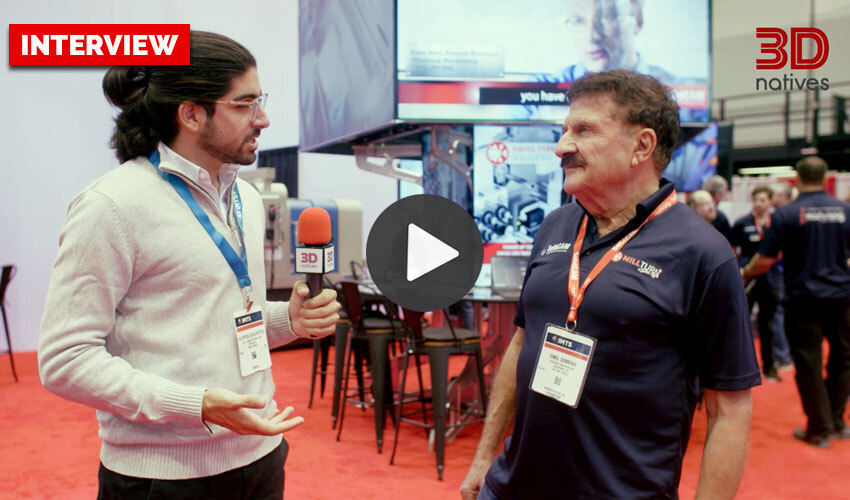 It's Friday again and you know what that means. It's time for our weekly top 5 videos from the exciting world of 3D printing! We start off this week's top 5 videos with an interview with Dr. Emil Somekh, Ceo and Founder of SolidCAM at the IMTS 2022. Next, you'll be introduced to HP's impressive metal AM solution. After that, Northrop Grumman presents its scalable composite robotic additive manufacturing system. Following that, you'll find out more about CerAMfacturing's solutions for high-performance ceramics. Last but not least, Siemens' Adam Hiller takes you through the different steps of producing a lightweight part for an electric car at the IMTS 2022. We hope you enjoy this week's top 5 videos and wish you a relaxing Sunday and a good start into the new week!
Top 1: SolidCAM Moves Into Additive Manufacturing
This week, 3Dnatives was at IMTS 2022 where we got the opportunity to see some of the incredible updates from the 3D printing world. This included SolidCAM, a mainstay in the traditional manufacturing market, who have decided to turn as well to metal 3D printing. We spoke with Dr. Emil Somekh, CEO and Founder, and Anthony Calderone, Head of AM of the company to learn more about how CNC and CAM softwares are integrating metal AM solutions to improve manufacturing systems. Check out our exclusive video to learn more!
Top 2: HP Introduces its Metal AM Solution
Though it was first announced all the way back in 2018, due to the pandemic and other roadblocks, HP's metal 3D printing solution was delayed. However, that is no longer the case. This week at IMTS 2022, the company announced that its metal AM solution, Metal Jet S1000 is now commercially available! The company hopes to give users the ability to produce one-of-a-kind metal parts rapidly and at a lower cost with their HP Metal Jet technology. In the video below, you can see how it works.
Top 3:  Northrop Grumman Pioneers Scalable Composite Robotic Additive Manufacturing
Given the importance of additive manufacturing in the aerospace sector, it should come as no surprise that one of the largest players in the field has also adopted the technology. In this next video Northrop Grumman talks about how it is pioneering the rapid development of high temperature materials through its Scalable Composite Robotic Additive Manufacturing Carbon/Carbon (SCRAM C/C) process. Described as a mixture between fused filament fabrication (FFF) and automated fiber placement, the company believes the technology will allow for the further development of hypersonic and high-speed weapons. Check out how it works in the video below.
Top 4: CerAMfacturing's Solutions for High-performance Ceramics
Although they didn't play any big role in the past, nowadays, ceramics in additive manufacturing are becoming increasingly popular. The use of these materials is ideal for parts that require high temperature and wear resistance. Fraunhofer IKTS offers complete solutions for ceramic components with its CerAMfacturing system. Ranging from powder and suspension or feedstock development and manufacturing technology selection to further functionalization as well as characterization and assessment of cerAMfactured components and systems.
Top 5: Siemens at IMTS 2022
Yesterday, IMTS 2022 in Chicago, the largest manufacturing technology show in North America, came to an end. In our next and final one of our top 5 videos, Adam Hiller, expert for additive and design stage at the German multinational company Siemens, takes you through the different steps the production process for a lightweight component for an electric vehicle, which was displayed at Siemens' booth at the IMTS 2022.
What do you think of this week's top 5 videos? Let us know in a comment below or on our
 LinkedIn
,
 Facebook
, and
 Twitter
 pages! Don't forget to sign up for our free weekly
 Newsletter here
, the latest 3D printing news straight to your inbox! You can also find all our videos on our
 YouTube
 channel.