Top 5 Videos: The 3Dnatives Tour of 3DEXPERIENCE World 2023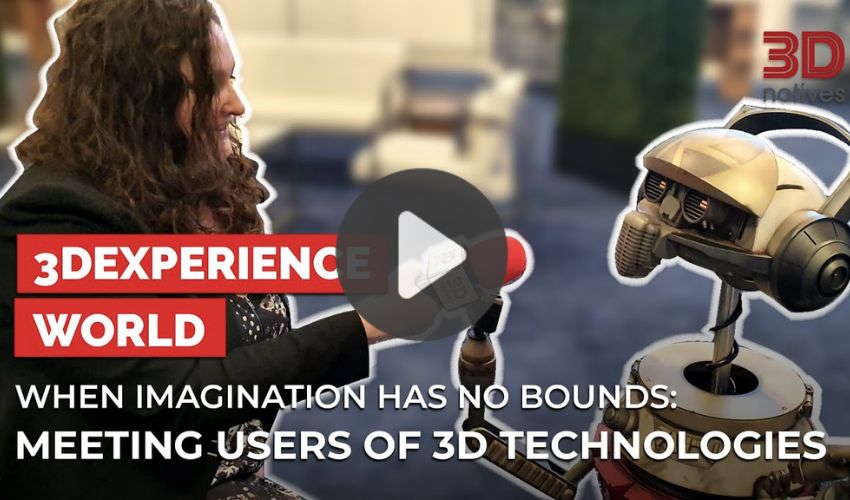 Hello everyone and welcome back to our top 5 3D printing videos of the week! As always, we have an exciting selection for you, starting with a 3Dnatives original from 3DEXPERIENCE World! Our team had a wander round to find the most exciting projects from the event, and we're here to share with you today.The other videos range from Toyota's adoption of additive manufacturing to improve die cast manufacturing for the automotive industry, to automation on a Stratasys production line and the benefits this brings to productivity and cost. For those more interested in applications, we have a video about how additive manufacturing can improve the manufacturing of power trains, and the possibility of printing with recycled materials. Enjoy!
Top 1: 3DEXPERIENCE World Through 3Dnatives' Eyes
Any questions you'd like to ask a 3D-printed robot? Two of our treasured team members, Madeleine and Lucia, spent this past week at 3DEXPERIENCE World in Tennessee, and they've selected some of the most exciting, quirky, and unique projects which they saw there. From a talking Star-Wars robot to 3D-printed guitar accessories, find out in the video below the inspirations, building methods, and applications of these products! 3DEXPERIENCE World took place from February 12 – 15; you can find our report from the show HERE.
Top 2: Toyota Adopts AM
Our first video of the week is from Japanese car manufacturer Toyota on their adoption of additive manufacturing. Indeed, 3D printing often plays a role in the automotive industry for the manufacturing of prototypes and end-use parts with a shorter lead time and improved mechanical properties. In this video, we learn about how Toyota used the technology for die casting to enable 3-dimensional cooling channels in the die to enhance cooling and heat homogenization. With AM, they are able to achieve optimal temperature and improved design freedom of the cooling channels (being not limited to certain geometries) and reduce polishing in all the parts. According to the video, they eliminated the need for polishing on 80% of the part, therefore reducing defects and increasing operation rate.
Top 3: Stratasys P3 Production Cell
Stratasys is of course one of the giants of 3D printing, and their latest update is an exciting one. Unveiled at Formnext 2022, the P3 Automated Production Cell promises automated efficiency with the robotic arm solution capable of replacing and moving parts and the build head. Furthermore, the conveyer sends parts to post-processing, where they are washed and cured with UV. The robotic arm then removes them from the build head. The benefits of this automation are accuracy, repeatability, reduced costs, and of course high throughput and scalability.
Top 4: Electric Powertrains Use AM
This video comes from software company Dassault Systèmes on the work of electric powertrain developer Helix, who work with motorcycle and automotive companies. Helix uses the 3DEXPERIENCE platform to reduce lead time between conception to development of projects. Helix's technology, Scalable Integrated Motor and Inverter (SIMI),  delivers an impressive 130kW (177PS/175bhp) of peak power for motorcycle brand Trumph. In order to achieve this, the firm uses the 3DEXPERIENCE platform to achieve the technical requirements for the motorcycles in as short a lead time as possible, to then begin printing to meet the deadlines.
Top 5: 3D Printing With Recycled Materials
Sustainability is becoming a keyword in manufacturing, and 3D printing is no exception. Firms are eager to prove that they can be environmentally friendly, whether by using a carbon neutral system, local sourcing, or recycled materials! In this video, we learn about the range of recycled materials available, which include PETG,TIPS, ABS, and biosourced materials. You can also find out about the barriers to widespread use: from social, a resistance to change, to supply chain issues, and technical: materials can lose their specifications if reused too many times. Ever wondered about the best initiatives for sourcing recycled materials? Find out in the video!
What do you think of 3Dnatives at 3DEXPERIENCE World? Let us know in a comment below or on our LinkedIn, Facebook, and Twitter pages! Don't forget to sign up for our free weekly Newsletter here, the latest 3D printing news straight to your inbox! You can also find all our videos on our YouTube channel.