Top 5: 3D Printed Custom Glasses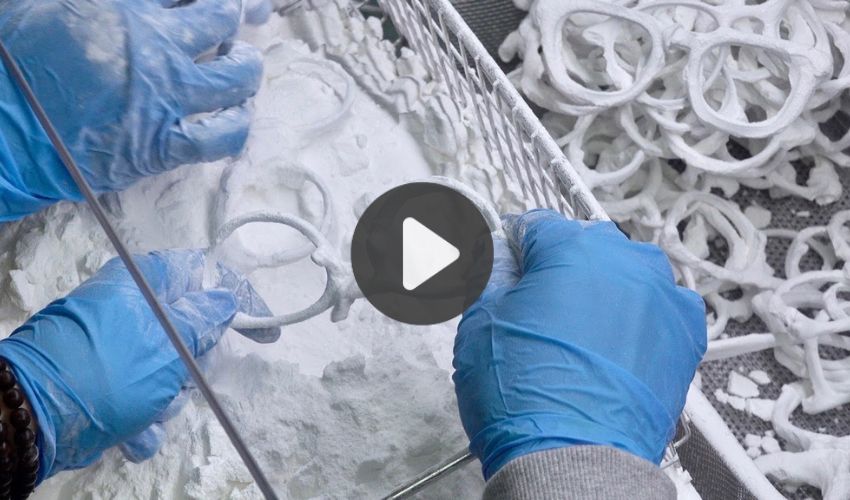 Hello everybody, and happy Sunday! We hope you had a good week and are enjoying our content (in the run up to Formnext, you might particularly like our news coverage of the event). This week, we have an exciting collection of videos for you. We have selected an interesting range, from a South Korean factory which utilizes 3D printing to produce custom glasses individual to the user, to SolidCAM's work with Desktop Metal, as well as information on printing in dentistry, agriculture and more. We hope you enjoy!
Top 1: Custom 3D Printed Glasses
First up, we have this video of a factory in South Korea which uses 3D printing to produce individualized glasses frames. The video shows the process: firstly, they take a 3D scan of the customer's face and head and calculate the dimensions of the facial features. This is used for the CAD design of the glasses, designed to each person's individual face. This CAD design is printed using a HP Laser Sintering printer, after which the parts undergo post-processing. Particularly interesting is the way that the glasses can be mass produced; the print time in the video is over 10 hours but since multiple pairs are printed in this time it is relatively time efficient.
Top 2: SolidCAM is Combining CNC Machining and Metal 3D Printing
Next up, we have SolidCAM. In this video, the CAM software company presents their collaboration with Desktop Metal for a hybrid process which combines CNC machining with their 3D printing system, the world's first Metal Binder Jetting system. This video shows a series of 9 steps taken in the manufacturing process from design to printing to post-processing. The video offers a detailed view of the finished part so that the viewer can appreciate the complex design and technical finish which can be achieved with the SolidCAM X Desktop Metal partnership. The video also features SolidCAM's proprietary
Top 3: Dentist Discusses 3D Printing
Coming up next, we have a video for the dental enthusiasts! 3D printing in dentistry is becoming increasingly popular, and it is refreshing to watch a video from the dental side to balance out the business aspect. This video features Dr Chris Giffin, the head of the 3D Printing Dental Association. He presents his top 3D printing software for the dental sector, giving a detailed description of each company's history, focus and key softwares according to his personal experience as a senior dentist. His list includes Meshmixer and Bluesky among others. Dr Giffin discusses the uses of 3D printing in the sector, to make crowns, dentures, bridges, aligners. He also explains its benefits when compared to traditional methods.
Top 4: John Deere Tries Out 3D Printing Parts
You've probably seen their logo written on the side of a tractor or cherry picker: John Deere. The company is a well-known manufacturer of construction, agricultural and technological products, with locations all round the world. This video shows their additive manufacturing centre in Mannheim, Germany, where they have embarked on their first AM project. Their team worked with the part supplier GKN Sinter Metals to 3D print the Thermal Diverting Valve 3.0, their first 3D printed metal part. According to the video, this project was absolutely a success; they managed to produce over 4,000 parts in a year using this method. This video demonstrates the design and printing process and also features interviews with key people involved in the project to explain the thinking behind it and the benefits that additive manufacturing has provided them.
Top 5: Ensinger GmbH on Their Plastic Medical Parts
Next up, we have a video on the medical side, from Ensinger GmbH on their medical plastic device solutions. This video shows the range of products they have made available, from traumatology to hip and shoulder reconstructions. The video goes on to detail the history of the company (including its foundation and headquarters), as well as their place in the medical industry. The company has over 30 locations worldwide and produces expert parts. They use 3D printing for the finished parts manufacturing, as well as traditional injection molding and machining. Ensinger also provides surface treatments, assembly, packaging and labelling. Furthermore, the video details the quality and biocompatibility of their parts and services.
What do you think of our top 5 videos of the week? Let us know in a comment below or on our LinkedIn, Facebook, and Twitter pages! Don't forget to sign up for our free weekly Newsletter here, the latest 3D printing news straight to your inbox! You can also find all our videos on our YouTube channel