Top 12 3D printing videos of 2018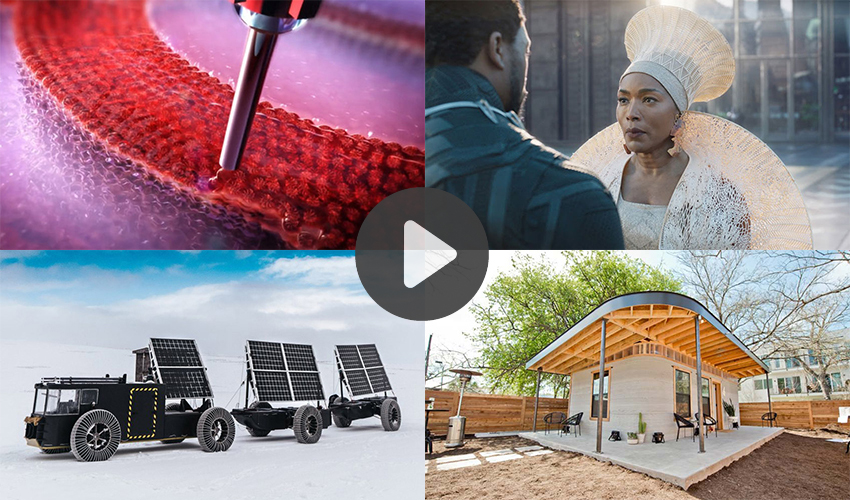 It's been a year full of news in the 3D printing industry. New machines hit the market ready to be tested, legal issues was debated, and the preparations for going into space has moved forward. A lot of it has been covered on video, giving us a chance to show it to you. Many big brands such as HP, Ultimaker and Marvel have made headlines in this year's 3D printing news. All of which shows us where we are and what is possible for the future. Check out the top 3D printing videos of 2018!
1. HP Multi Jet
The American company HP presented their newest technology this year: The HP Metal Jet technology. The new machine is based on a powder binding technique inspired by MIM (Metal Injection Molding). Compared to other metal powder bonding and sintering solutions this will provide better productivity at a much reduced cost. This new development has secured HP as one of the largest resellers of professional 3D printers on the market.
2. 3D printed guns
One of the big debates this year was on 3D printed guns and whether or not it should be legal. Earlier this year it was officially announced to be legal in the United States of America. However throughout the year this has gone back and forward. The first 3D printed gun was released back in 2013 with a legal battle in terms of commercialisation and distribution. Though the initial fight has been settled, the issue still seems to be continuing.
3. Biolife4D
The medical sector is one industry that embraced additive manufacturing to make advances. Biolife4D is one such company. They work with bio printing and developing 3D printed organs to help the demand for people needing transplants. Currently they are pioneering advances in tissue engineering. One of their main goals is to 3D print a human heart, currently the company is in the initial stages of this development.
4. 3D printed Yacht
The amount of plastic waste we producing is growing every year, and we need to find a solution. Searious Business works towards just that. To prove the possibilities in recycling plastic waste and set an example, the company is working on producing a sailable 3D printed yacht. Fully produced from recycled plastic. Scaled down initiatives are being developed as well. Earlier this year the Protocycler was launched. A machine making it possible for you to recycle plastic into filament on your own at home.
5. 3D printed bike tire from RepRap
We've all been writing our bike and suddenly the tire pops. RepRap might have developed a solution to that with their 3D printed bike tire. The startup found a solution to avoid punctures. With the airless tires cyclists can ride their bikes more serenely. The company explains that their tire can adapt to any type of environment. It even allows for cyclists to customize the tread and the internal structure of their bicycle tires! Other companies have also developed bikes this year, such as the Arevo and their 3D printed bicycle frame made from carbon fibre.
6. Solar Voyage
Clean2Antarctica is a Ducth association who aims to promote a circular economy. They work to encourage organisations and individuals to develop sustainable alternatives to the current methods. The team have send of a Solar Voyage on an expedition to the South Pole in Antarctica. Aboard the Solar Voyage is an electric vehicle made of 3D printed recycled plastic parts. The vehicle should be fully powered by solar energy. They started the trip this November, it will be interesting to se the results.
7. ICON's 3D printed house
3D printing in housing have changed everything from construction time to how a house is produced. One company that are making progress is the Texas based startup:  ICON. Earlier this year the company raised $ 9.000.000 for their affordable housing project. And they are not the only ones making progress in the construction sector. We also had the first family to move into a 3D printed house in Nantes, France this year. Interesting progress for the market.
8. the world's first 3D printed car
3D printing have been used in the automotive sector for a while now. Helping to customise parts, speed up production etc. Now the first fully 3D printed car are set to be released in April of coming year of 2019. The 3D printed car, LSEV, are produced by Italian manufacturer X Electrical Vehicle (XEV). Which was presented at Formnext 2018. Other progress have been made in the industry as well, such as the worlds first 3D printed titanium rim etc.
9. Inhabiting space
Ready for living in space? Either way is the engineers at NASA preparing. Working with Autodesk to develop a 3D print space habitat for astronaut, they are preparing for long-term stays on the moon or other planets for the future. Through the use of a robotic extrusion process and a mixture of sediment found on the lunar surface mixed with recycled plastic, the engineers gotten us closer to building in space. You can also check out NASA's contest and the MARSHA project for developing housing to live on Mars.
10. Architectural 3D printing
3D printing is a great way to express your creativity. And a perfect example of this is Make. The architecture firm, don't only stand out do to it being employee-owned, but also through its practices with the aim to design the best buildings, places, and space in the world. All helped along by their Ultimaker 3D printer farm, creating a democratic design process and enabling model-making form project concept to big finished context models. Ultimaker also launched their newest 3D printer earlier this year: the Ultimaker S5.
11. Black Panther Costumes
The new Marvel movie Black Panther came out earlier this year, and was a huge success. The film contained a wide range of amazing costumes, and 3D printing had a role to play in making this possible. 3D printing making it possible to create some great structures and items for the film. Earlier this year we also interviewed Julia Körner about her designs and role in the process of creating the 3D printed Black Panther pieces.
12. The Jet suit
Many have dreamed about man flying, but previously the idea has been as taken out of science fiction or Iron Man stories. This year Richard Browning brought us closer to the dream. His development? A jet suit based on everyones Iron Man character, with 3D printed metal parts, weighs 27 kg, and has 5 turbines placed on the arms and back. With people like Tom Cruise interested in it, the jet suit is already well on its way to hit the market. And this despite it currently coming at a steep price of £ 340,000.
Bonus: #In3Dsnaps
It's been a year full of great innovations, and we have had the pleasure of exploring and updating you on the latest 3D printing news of 2018. One moment we got to let lose was when visiting In3Dustry, where we meet with industry experts from all over and quizzed a couple of them on their 3D trivia. Check out how they did and watch more 3D printing videos of 2018 on our Youtube channel!
What do you think of the 3D printing videos of 2018? Let us know what you think in a comment below or on our Facebook and Twitter pages! Don't forget to sign up for our free weekly Newsletter, with all the latest news in 3D printing delivered straight to your inbox!