TOP 10 3D printable models for summer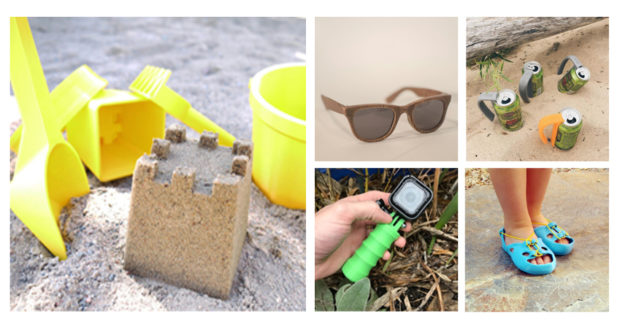 Because summer is also a time to unwind, we have partnered with Cults to create our TOP 10 list of 3D printable models to help make your summer memorable! From accessories to essential items, our list will help you make the most of your summer with the customizability of 3D printing!
TOP 10- A Popsicle Mold
When temperatures start to rise, the first item on many people's minds is popsicles! These frozen treats are the perfect item to help you cool down at the beach or next to the pool and now, you can 3D print your own mold at home! Don't forget to use a food safe printing material!
TOP 9- Sunglasses
A 3D printer can help your life in many ways, even when needing a little protection from the sun for your eyes! Even if you will have to add the glass after printing, these sunglasses will give you a unique look the summer and all the bragging rights as you lay out next to the pool!
TOP 8- Beach Pail and Shovel
Everyone loves building sand castles at the beach and this pail and shovel set will complete your beach day or vacation! By simply printing it from home, you can enjoy hours to yourself as your children play amongst themselves! Or, for the kids at heart, you can make your own castle and prove that you are indeed the king (or queen) of the beach!
TOP 7- Beach Shoes
With a mixture of sharp shells, bits of seagrass and other sea creatures that litter the beach, it is sometimes wise to bring a pair of shoes or sandals for you or your children. But now, instead of investing in shoes that they'll outgrow in a week or that you won't use again for another year, you can simply print a pair straight from home with only the 3D file and a flexible filament coil! Imagine the savings!
TOP 6- A Fly-Fishing Reel
For those who prefer the countryside to the tourist filled coasts, pebbles to sand, and rivers to the sea, here is a 3D model that you need: A fully functioning 3D printed fly-fishing reel. This is a great print to show off to fellow fishermen as your relax in the cool waters, tranquil and all!
TOP 5- A Floating Handle for GoPros
This camera brand is best renowned for the quality of its videos and its expensive price tag. Because of this, we have provided a solution that saves money and gives you a cool customizable accessory for your GoPro! This floating handle is an excellent print as it's hollow-ish inside allows it to stay on the surface of the water, which means no more lost GoPros to the depths of the ocean!
TOP 4- A Can Handle
The devastating effect of a warm hand on the freshness of a can of beer or soda is a known problem when trying to relax next to the pool or beach. But now, this problem is no longer one, thanks to the magic of 3D printing! By 3D printing one of these handles, you'll be well on your way to cooling down in the hot hot sun! To summarize: 3D printing is good,  the best drink is a cold drink, and this is a summer accessory you both want (and need!).
TOP 3- 3D Printed Camera
What better way to take photos of your favorite moments this summer than with a camera you 3D printed yourself! This fun project can be done on a rainy day with your kids and can be taken out for a test drive on that family vacation you have planned in the coming weeks!
TOP 2- A Self-Watering Flower Pot
A classic question that one asks themselves before going on holiday "Who will water the plants?". Well now, you can rest easy thanks to these three Campbell Planters! After printing, you simply put the roots of the plants directly in the water storage area and your plants will be happy and healthy for up to two weeks without you!
TOP 1- An Alligator Bookmark
With this 3D printed bookmark, you will no longer need to turn down the corner of your page to remember where you left off! This bookmark is the perfect holiday companion that will both remember your place and will ward off any unwanted hands, because who would want to mess with an alligator anyway?
What do you think of our TOP 10 list of 3D printed models for the summer? Let us know in a comment below or on our Facebook and Twitter pages! Don't forget to sign up for our free weekly Newsletter, with all the latest news in 3D printing delivered straight to your inbox!