The Top Ten STL Files to Take Advantage of Summer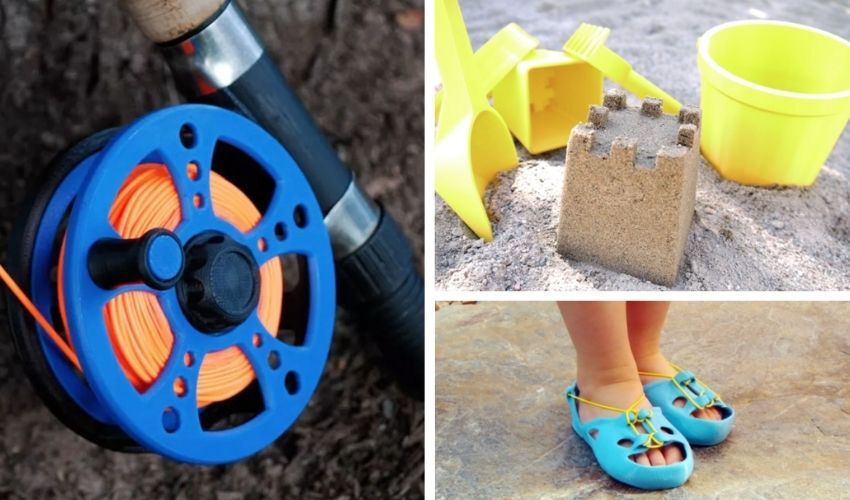 Traditionally, summer is a time to unwind and relax. Thanks to hotter temperatures and sunny skies, people do not want to be stuck indoors but instead prefer take in the beautiful weather and do summer activities. With the help of Cults, we have gathered a list of some of the top STL files that you can use to truly take advantage of all that summer has to offer. From accessories to games and more, there is something for everyone. Take a look and see how 3D printing can be used to optimize your summer holidays.
A Popsicle Mold
When temperatures start to rise, what is the best way to help you beat the heat? Why popsicles of course. These frozen treats are the perfect item to help you cool down at the beach or next to the pool and now, you can 3D print your very own mold at home. Once the mold is made, all you need to do is add juice or syrup and water and freeze, then you are good to go. Just make sure that you use a food safe 3D printing material!
Sunglass Frames
Sunglasses are a must-have for key summer activities like lounging by the pool and sitting pretty at the beach. Though you'll have to get your hands on a pair of lenses and a set of screws for this project, using the STL file to 3D print your very own sunglass frames is a great way to add variety to your summer accessories. The creator has also included a handy video with step by step insturctions on how to make your very own pair. Though originally made on an Anet A6, the process is straightforward enough to work on most FDM printers. The time estimated to make the frames is about 1-2 hours.
A Beach Pail and Shovel Set
Everyone loves building sand castles at the beach and this pail and shovel set will be the perfect addition for your next beach day or vacation! The file is free and contains five 3D objects that the creator states are easy-to-print: a sand sifter, shovel, rank, bucket and mold for sandcastles. By simply printing it from home, you can enjoy hours to yourself as your children play amongst themselves! Or, for the kids at heart, you can make your own castle and prove that you are indeed the king (or queen) of the beach!
Beach Shoes for Children
Sharp rocks, bits of glass and other sea urchins, there is no shortage of sharp objects at the beach. It is therefore wise to always protect your children's feet by putting on water sandals, those famous transparent shoes. Precisely, we suggest you to stand out a little by opting for 3D printed plastic sandals! With a printer and a flexible filament, you can make an original pair, in the color of your choice. The creator of the file, Sonia Verdu, gives some printing tips which should make the process easier.
Beach Rackets
The beach is not only synonymous with relaxation and waves, it can also be the place of entertainment and sports of all kinds: beach volleyball, card games, and more. In that line of thinking, TiZYW has shared its 3D model of snowshoes to fully enjoy the vacations. The handle and the center of the racket are two parts to be printed separately and then fixed together. It is recommended to use a 0.4 mm nozzle with a 17% filling. So, ready to play with your feet in the water?
A Customizable Sand Castle Mold
Pretty sure you would not have a chance in a sandcastle competition but still want to build something beautiful at the beach? Download this STL file for a customizable sand castle mold, perfect for any summer trip. Made out of various castle molding components, users can fill the frame with any combination of the pieces to make a truly unique creation. It also might be easier to use than traditional sand castle mold as you can remove the pieces one by one rather than by shaking, meaning there is a greater chance your castle will be in one piece at the end.
A Sailboat for the Summer
Designed by Rusichar, this sailboat is partly 3D printed: it is indeed the hull of the boat which is manufactured layer by layer.  This one was entirely modeled on Sketchup and then printed without any support material – its creator wanted something simple and efficient. He also gives many tips and has published updates to help all those who would like to create their own small sailboat as much as possible.  A good idea for nice days!
A Fly-Fishing Reel
For those who prefer the countryside to the tourist filled coasts, pebbles to sand, and rivers to the sea, here is a 3D model that you need: A fully functioning 3D printed fly-fishing reel. According to the author, the design of the spool was conceived as a "click and pawl". Two parts are printed, which are then glued together. This model is also intended to guarantee free movement of the spool. It is a great print to show off to fellow fishermen as your relax in the cool waters in perfect tranquility!
A Mini Basketball Hoop
Those who do not have a garage driveway for a basketball hoop, no longer have to do without. Instead, check out this mini basketball hoop that can be mounted in your own home. Furthermore, the mode was designed to be particularly durable and virtually indestructible, perfect for those with younger children or who might be a little rusty with their basketball skills. Not to mention, it can be easily printed using PETG and without support material.
A Self-Watering Flower Pot
Of course not all of the summer STL files need to be related to sports or the beach. One question that plagues plant parents when they're planning a summer getaway: "Who will water my plants?!". Well fret no more, you can take in some well-deserved R&R knowing your plants are getting the hydration they need. These Campbell Planters allow you to place the roots of your plants directly in the water storage area and your plants will be happy and healthy for up to two weeks without you! The creator gives detailed instructions on how to print as well as what additional items you need to complete these planters.
What do you think of our list of downloadable STL files for the summer? Let us know in a comment below or on our Facebook and Twitter pages! Don't forget to sign up for our free weekly Newsletter, with all the latest news in 3D printing delivered straight to your inbox!