TOP 15 3D pen for artists, hobbyists & children
Posted On December 19, 2018
---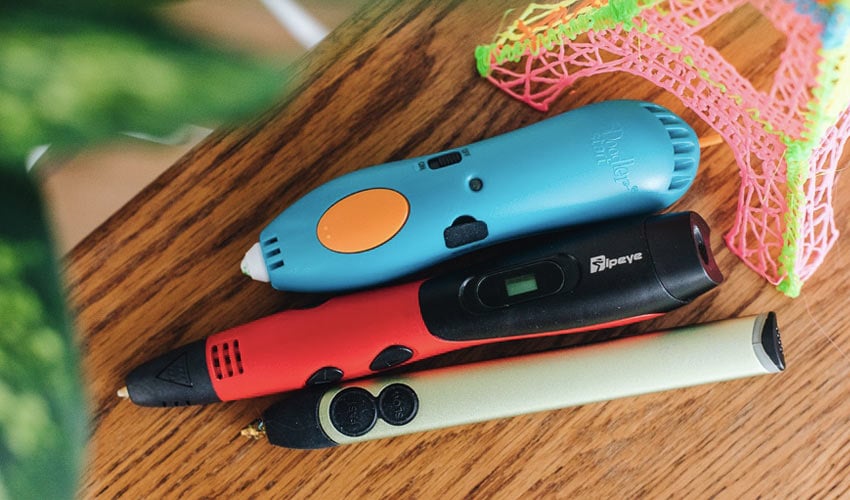 We see new 3D printers everywhere, but in 2103 the first 3D pen came onto the market, the 3Doodler, which has revolutionised the world of gadgets and has made the scope of 3D printing much more widely known. What started as a toy has been evolving and every day there are more manufacturers joining in on the trend of the so-called 3D pen or 3D printing pen. A simple tool that allows your imagination to go wild with no limits to create straight in the air.
This week we made a selection with the 15 best 3D pencils for each type of audience: children, fans and artists. They are all catering to various levels because there is a 3D pen no matter your age or skill level.
3D Printing Pen: Children
The main lovers of pens are usually the kids at home, allowing them to create small sculptures of everything that comes to their imagination. That is why different brands have focused on developing their version of a 3D printing pen moving more towards education and a younger audience.
1: AtmosFlare 3D Pen
The 3D Atmos Flare 3D pencil, available at $13.85, is undoubtedly the cheapest in its category. It uses a gel that hardens thanks to UV rays, making it a suitable tool for children since it does not heat up at all. It is possible to control the extrusion speed simply by pressing the pencil. It works with batteries and has a battery life of approximately 4 hours. With 4 different nozzles, it offers a range of filaments in various colours, giving children infinite possibilities in terms of creativity.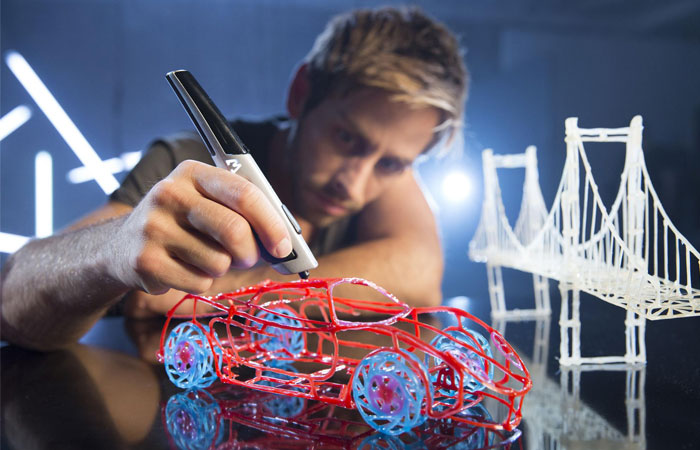 2: The 3D CCTREE pen
Unlike the previous 3D pencil, the CCTREE is based on a hot extrusion process. However, it is kept at fairly low temperatures, which guarantees a certain safety for the children who use it. The 3D pen has a rechargeable battery and costs only $29.99.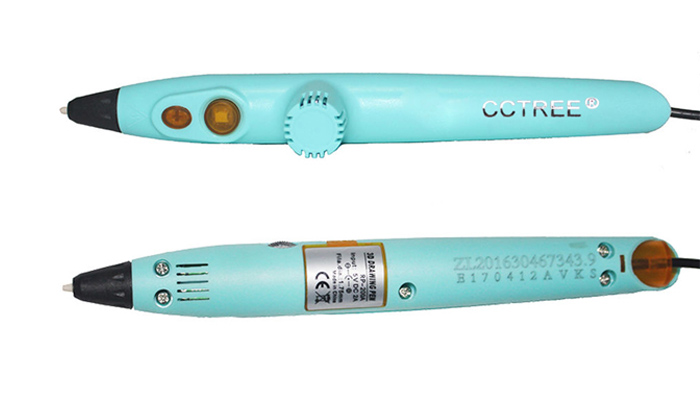 3: Glyby Intelligent
This 3D pen also works with a heat source to allow extrusion, the temperature can be adjusted according to your needs and to the filament used (PLA or ABS). However, there is no temperature indicator on the pen, which makes the adjustment a little difficult and should only be used when changing the filament. In case of overheating, the device activates an alarm. It's priced at $34.99, this 3D printing pen lets you create objects with 4 different colours.
4: 3DoodlerStart
The 3DoodlerStart is as the name implies, ideal for anyone who is starting out with 3D printing, in our case, with 3D pens. Its particularity is the filament used, called "Ego Plastic". It is biodegradable and requires a much lower extrusion temperature than traditional filaments such as PLA or ABS, children can touch the filament safely. The pen is available with additional accessories. It has a rechargeable battery and is available without a kit for $49.99.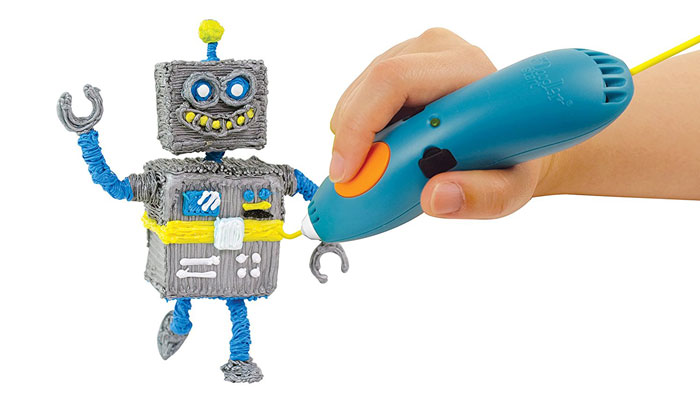 5: CreoPop 3D Pen
Like the first pencil presented, the CreoPop 3D works with cold ink, that is to say with a gel that hardens thanks to UV rays. One of its main characteristics is its wide range of inks available. There are also special filaments that shine in the dark, which gives children many possibilities for their own creations. As a result, the price of the 3D pen is higher than that of its competitors since it is available starting at $129.99.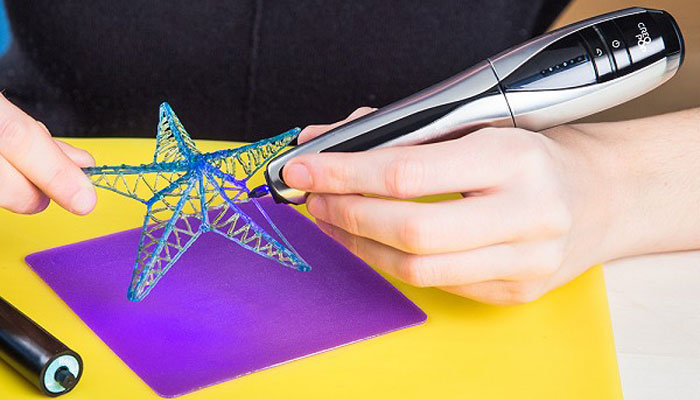 3D Printing Pen: Hobbyists
On the other hand, if you are a person who is just starting to work with 3D printing, specifically with 3D printing pens, this is your section. Many of the 3D pens here, have limitations still allowing with certain knowledge to be used much more professionally, but guiding you in the incursion to these technologies.
6: 7Tech
The 7Tech 3D pen has several functions that make it easy to use, such as an automatic shutdown after 5 minutes of inactivity or the option of extrusion speed thanks to an LCD screen. Being able to reach an extrusion temperature of 230° C, it is compatible with PLA and ABS, and allows all amateurs to perform more or less complex works according to the chosen speed. However, only one nozzle diameter (0.7 mm) is available which can limit the choice of filaments. It is available starting at $40.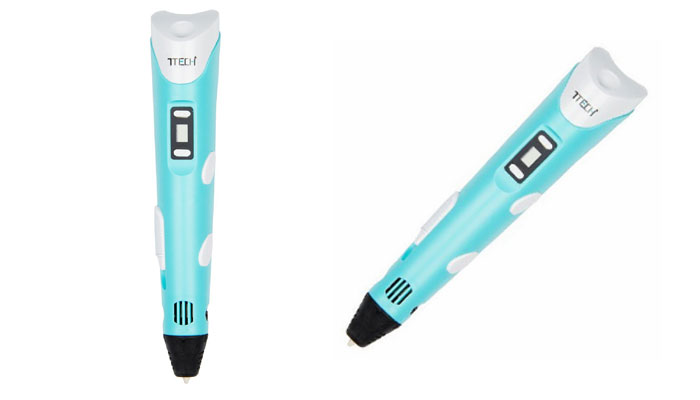 7: 3Dsimo MultiPro
For the ones looking to take it to the next level, you can look closer to a multi functional tool. 3Dsimo have developed many 3D pens and one such is the MultiPro tool. It is a 3D pen that can be transformed into having multiple purposes. Not only does it work as a 3D pen, but it can also solder, burn and cut out foam. However the newest model has even more attachments available such as drills, electric screwdriver, heat gun and saw. The device includes an OLED display that can showcase basic tutorials for each of the attachments available. Each tutorial provides a small guide on how to use the tools properly for you to get the most out of your MultiPro. You can shop for the MultiPro pen HERE.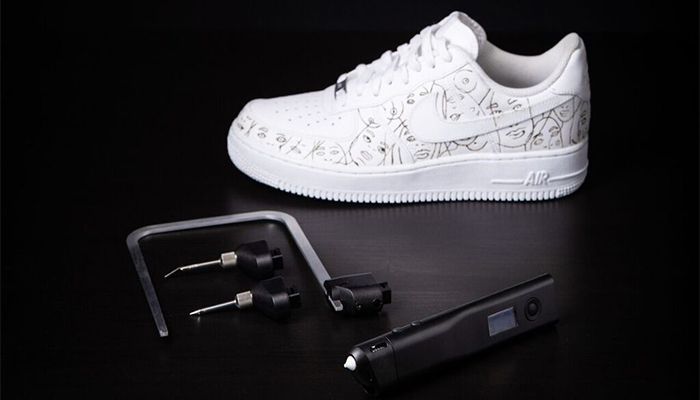 8: 3D AIO Pen
AIO Robotics is a 3D printer manufacturer, known for its Zeus fusion machine. The company has also developed a 3D pen, AIO Printing Pen, which is only compatible with PLA. 5 options are available to adapt to the extrusion speed. The bright OLED screen allows you to control this speed and temperature, which facilitates the user experience. Ideal for designing small decorative items, it is available from $60 on Amazon.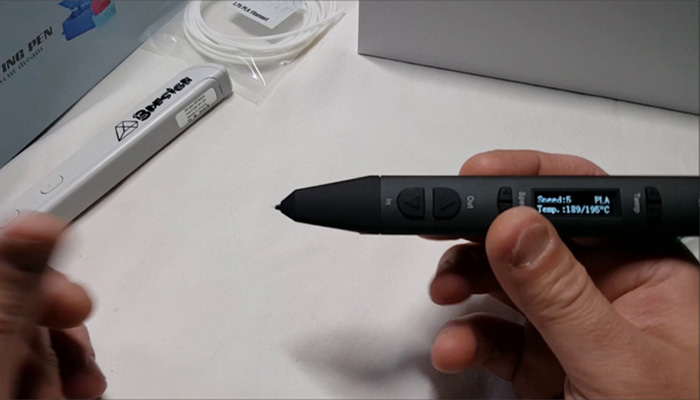 9: 3Doodler Create
The manufacturer Wooble Works, the origin of the first 3D printing pen, has developed the Create especially for all fans of 3D printing. Its light weight of 50g facilitates its manoeuvrability and its two modes of simplicity of extrusion. It is compatible with PLA, ABS and Flexy and has a new, faster, smoother and stronger control system. For a base price of $100, and you can add accessories such as a drawing surface or a portable battery.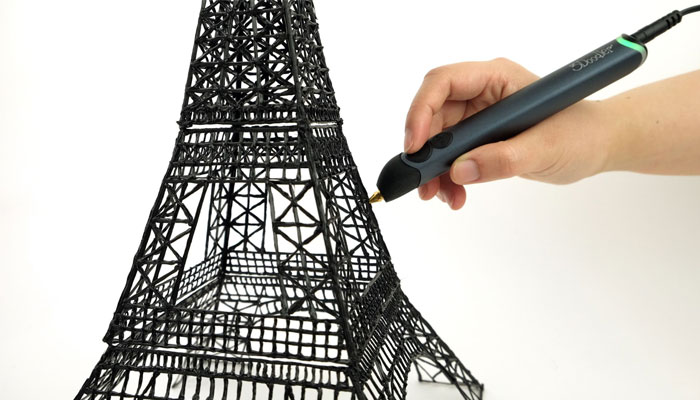 10: Lix 3D Pen
According to its manufacturer Lix, this 3D printing pen is the smallest rounded 3D pencil on the market that will draw and write in a vacuum. Available in black, silver and gold, its extrusion temperature reaches 200° C, allowing the use of PLA and ABS. It has an aluminum body and two buttons to choose the extrusion speed. For a price of €99, ​​you can create architectural models, decorative objects and even write on clothes.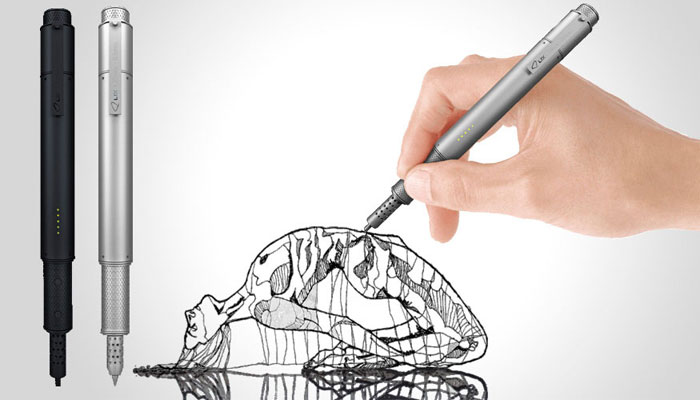 3D Printing Pen: Artists
If you are thinking of buying a 3D pen for a more professional use, with different materials such as filaments composed of metal, wood etc, greater precision and faster when it comes to fixing it, this is your section.
11: MYNT 3D Pen
This 3D printing pen belongs to the Californian company of the same name. MYNT allows to adjust the thickness and flow of the extruded material by having a variable speed control and an OLED screen, in addition to allowing temperatures to be adjusted from 130º to 230º. It also manages to change the temperature grade by grade, which gives greater precision to the material that comes out. When buying the MYNT the kit includes: the 3D pen, 3 colours of filaments in ABS and a 100-240V AC 50 / 60Hz adapter. Currently they are priced at $70 (Approximately € 60).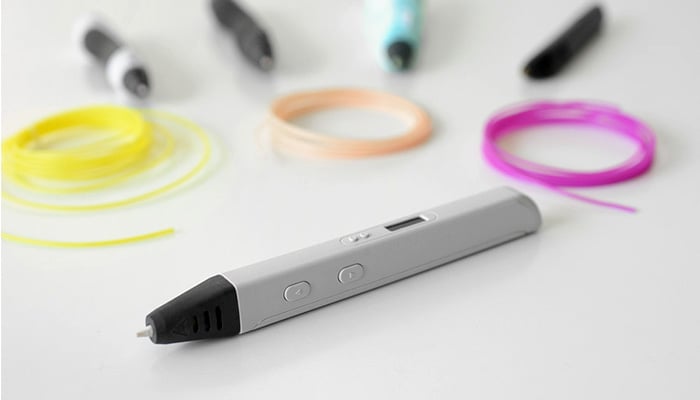 12: Scribbler V3
Scribbler is a company of Russian origin based in the USA. They have developed three different models of 3D pens. One of the most popular is its Scribbler V3 with a price of $99 (€85). This pencil has a ceramic extruder that protects you from high temperatures. Get reach and has an OLED screen that tells you the temperature. You can print with materials such as ABS, PLA, cork, metal, bronze etc. In your purchase you'll get 3 different colours of PLA included to start printing from the first day.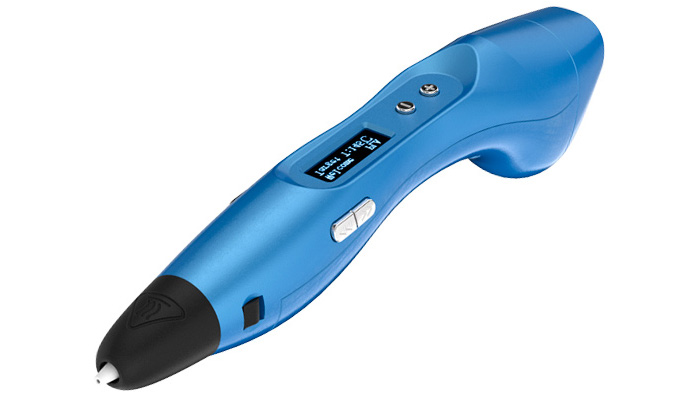 13: Skywriting 3D printing pen
It belongs to a US company of the same name, and is the only product they have developed so far. This 3D pen claims to be the lightest in the world with its 55 grams. It has 8 different extrusion speeds, which improves the accuracy depending on the type of details you want to print. With just one click, it starts to extrude, without you having to hold the button all the time. It has auto-sleep mode in case you stop without notice, it will stop extruding material after a few seconds. It allows printing with PLA and different composite materials. It has a price of $ 99.99 (€ 87), which includes the Skywriting, 2 PLA filaments, two stencils to start creating and a pen holder.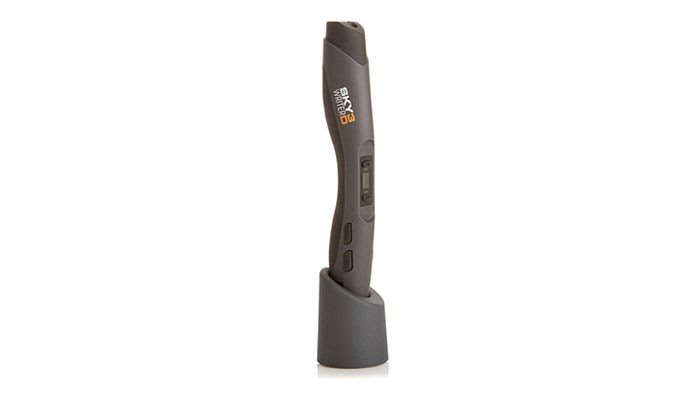 14: Scribbler Duo
This 3D printing pen belongs to the family of Scribbler, the difference from the first is that it has a double extruder. This allows you to print with different colours or materials at the same time. This 3D pen was launched in a Kickstarter campaign where they exceeded their $15,000 goal successfully. It has an OLED screen, 6 different printing speeds and you can print with different materials. Normally it has a price of $ 130 (€ 112), but this month the company offers it for $99. The 3D pen, filaments, a book of stencils and an electric adapter are included when buying it.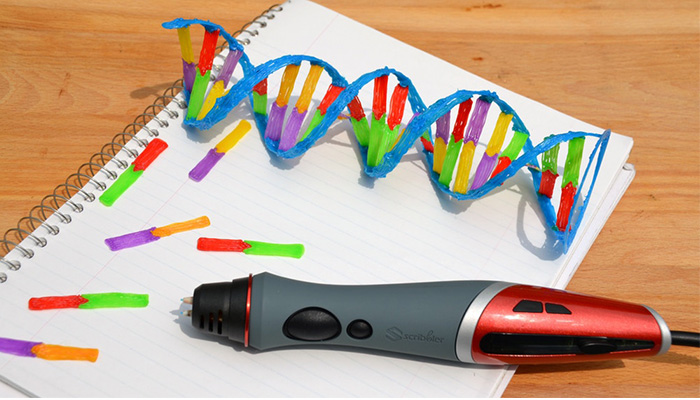 15: 3Doodler Pro
3Doodler, one of the most recognized 3D ballpoint pen companies. It started in 2012 with its first product that got 4M dollars. Their first launch of the 3Doodler Pro was in 2016, designed for professionals. This 3D printing pen is able to print with PLA, ABS, Nylon, flexible materials and even polycarbonate. It has an LCD screen from which it is possible to regulate temperature and speed and 6 interchangeable extruders. It has a price of $ 249 (€ 214 approximately).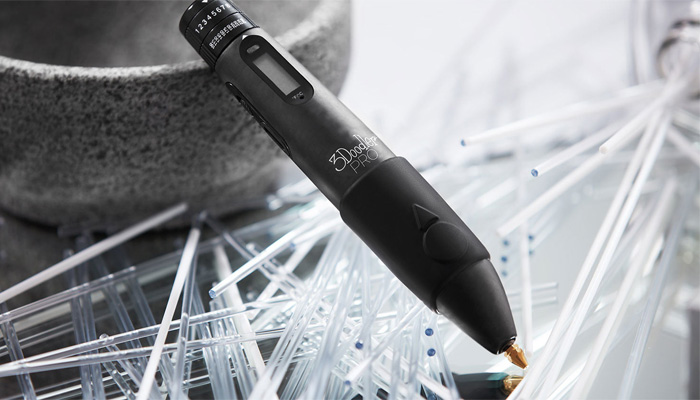 Do you know of another 3D pen that should be added to the list? Let us know in a comment below or on our Facebook and Twitter pages! And remember to sign up for our free weekly Newsletter, to get all the latest news in 3D printing send straight to your inbox!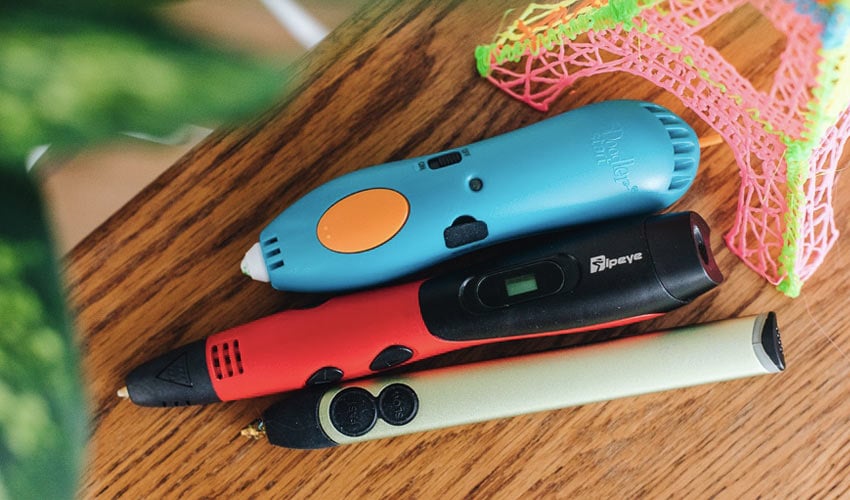 ---
You may also like