Top 3D Pens for Artists, Hobbyists & Children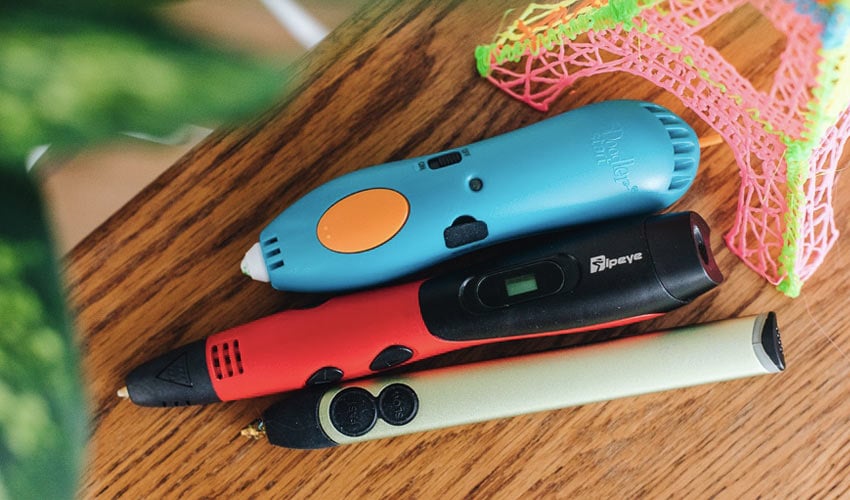 3D pens are often seen as a gadget or a toy reserved for children who want to get into 3D printing. However, it is clear that these 3D pens are becoming more and more popular and sophisticated, with more features and compatible materials. They make it possible to create all kinds of parts and let users express their imagination and creativity at a relatively affordable price. Based on fused deposition modeling technology, the 3D pen is a good alternative to desktop 3D printers for certain applications. It is more convenient and less bulky, and does not require 3D modeling skills or the use of a slicer: the part is created directly from the 3D pen. However, let's remember that it has its limits and that it will not be suitable for the design of ultra complex parts. We have made a selection of the 15 best 3D pens for all different kinds of 3D printing enthusiasts, breaking the choices down into three sections: those designed for children, hobbyists and artists.
3D Printing Pens: Children
IDO3D Vertical
With the IDO3D Vertical, IDO3D has launched a 3D pen that creates a lot of space for creativity. It is particularly child-friendly because you can simply press on the attached color tube when drawing. They also have a tip that can be expanded with an included LED attachment. Also included is a slide on which the artwork can be erected and a book that explains how to use the pen. A set with a single 3D pen costs just under $12 and varies depending on the number of colors. As far as the color selection is concerned, tubes with special effects such as glitter are also available.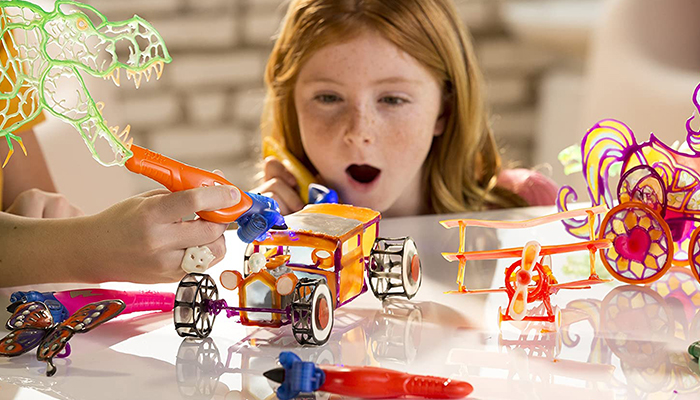 MYNT 3D Junior 2
As its name suggests, the MYNT 3D Junior 2 was designed with children in mind. It has an ergonomic design, and a low temperature nozzle to prevent children from burning their hands. The 3D pen, which is not compatible with PLA and ABS, works with standard 1.75mm PCL filaments. This 3D pen is battery operated and has a USB port for charging. Available from $40 on the MYNT 3D website, the 3D pen comes with instructions, a USB cable and 3 rolls of filament.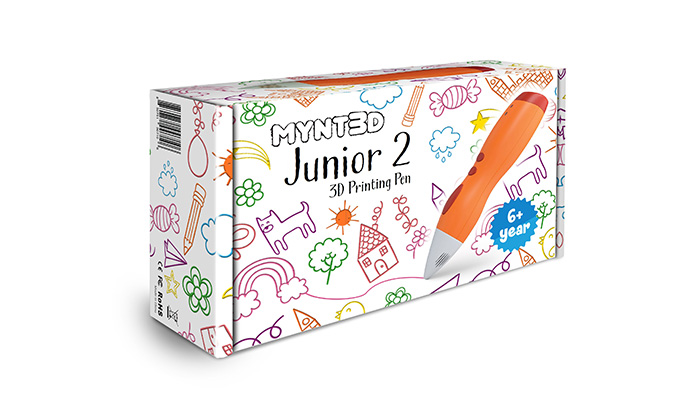 3DoodlerStart
The 3DoodlerStart is as the name implies, ideal for anyone who is starting out with 3D printing, in our case, with 3D pens. Its particularity is the filament used, called "Ego Plastic". It is biodegradable and requires a much lower extrusion temperature than traditional filaments such as PLA or ABS, meaning children can touch the filament safely. The pen is available with additional accessories. It has a rechargeable battery and is available without a kit for $49.99.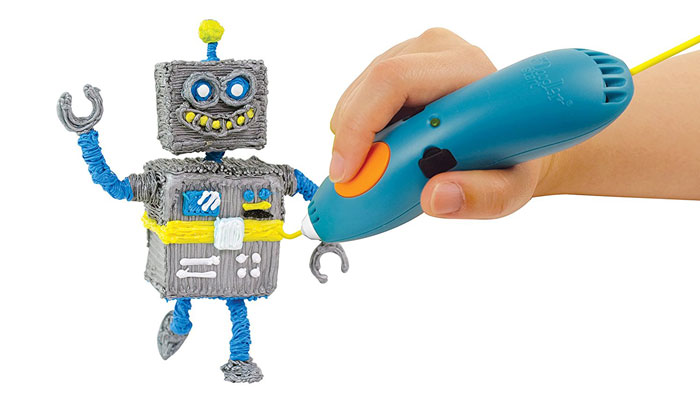 Nulaxy 3D Pen
The Nulaxy 3D pen is the first 3D pen with voice prompts on the market, which can help children learn faster how to use it. It is controlled with two buttons, and the feed is automatic to avoid hand fatigue. This 3D pen can work with both ABS and PLA filament. The manufacturer explains that children as young as 5 years old can use this pen as it was made to fit in their hands. The pen is sold in a package that contains 6 colours of PLA filament (10 feet each) to get started straight away!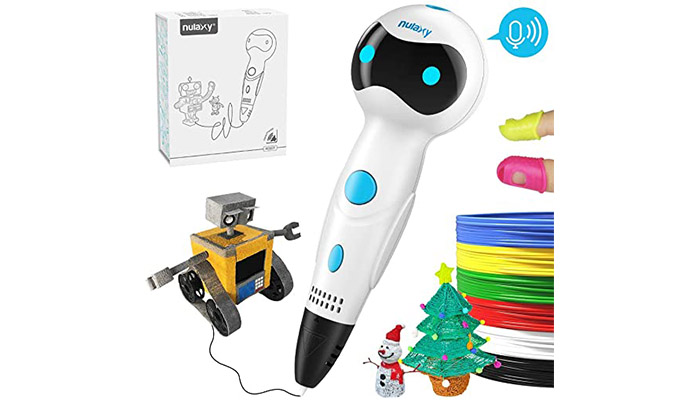 3DSimo Basic
The 3D pen 3DSIMO BASIC is suitable for children and like the MYNT 3D Junior, also uses 1.75mm PCL filament. Among other things, the filament contained in the set does not have to be cut, making it easy for a child to use. The weight of this 3D pen is 73 grams. With the dimensions 150mm x 28mm x 22mm, it also fits in small hands. For just under $90 you get the pen, a battery and the above 48 filaments.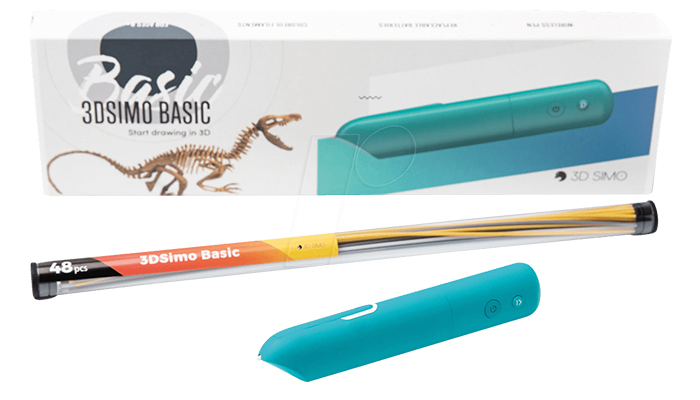 Fede
Designed for beginners, artists and 3D printing enthusiasts, the Fede 3D Pen can also be used by children thanks to the standby mode and the two finger guards provided with the 3D Pen. Compatible with ABS and PLA filaments, the Fede 3D Pen features an LCD screen to control speed and temperature during printing. The pen recharges from a USB cable, and has a nib diameter of 0.6 mm. Finally, the pen comes with an instruction manual as well as 3D drawing stencils to make original prints.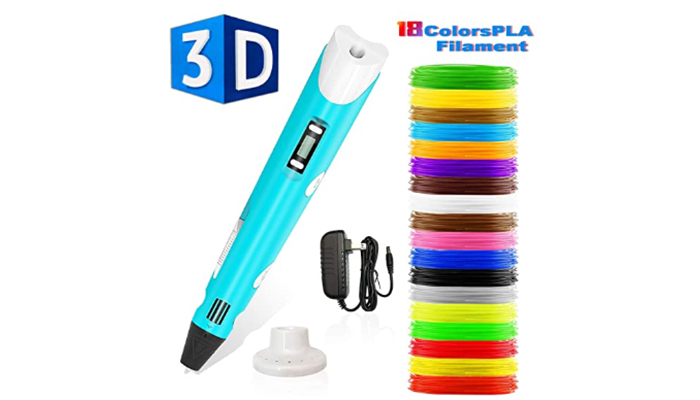 3D Printing Pen: Hobbyists
 Scrib3D Advanced
Featuring an LCD display and buttons for precise heat adjustment, the Scrib3D Advanced offers total temperature control to its users. Compatible with ABS and PLA filaments, the Scrib3D Advanced has eight speeds. Finally, according to the manufacturer, the 3D pen fits users' hands properly, and is ideal for beginners and 3D printing enthusiasts. Available from $50, the Scrib3D Advanced comes with a guide, 3 PLA filaments and an AC adapter.
SkyWriter 3D Pen
SkyWriter V3 is a very light 3D pen, only 55 grams, which was developed with ergonomic design to fit your hand perfectly. Additionally, this 3D pen has been upgraded to include a soft touch finish, intelligent control and easy operation. Its no clog nozzle regulates the temperature automatically when extruding the filament. The manufacturer has also enabled the user to control the speed of extrusion with up to 8 speeds. Finally, you can use both ABS and PLA filaments with this 3D pen. The starting price is $179.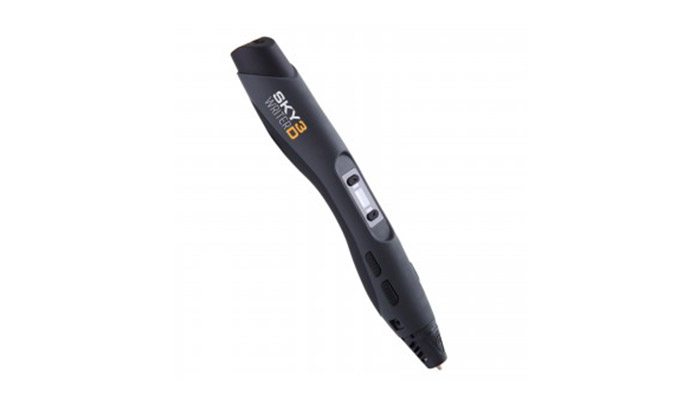 Dikale 07A
This entry-level 3D pen from Chinese brand Dikale, features a thin, light plastic body that fits well in the hand of a user. You can use either ABS or PLA filament with the Dikale 07A. It allows you to choose the filament mode first, then your speed. There are three speed settings and extruding temperatures. Each of these options is controlled by a separate button: one for the filament section, speed selection, extrusion and unloading filament. Therefore, it's not as easy to use as other pens on the market. You will probably need some practice to properly operate it.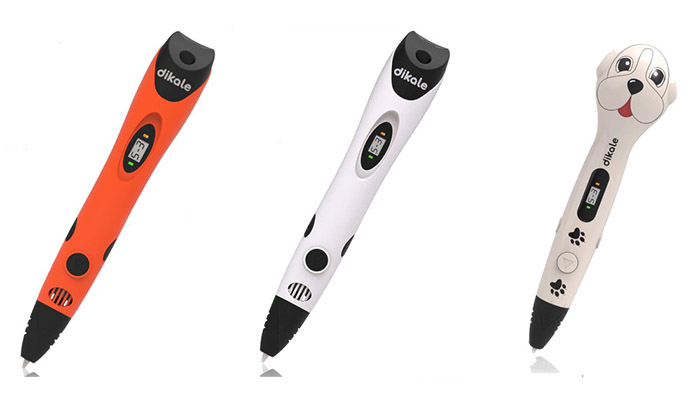 3Dsimo MultiPro
For the ones looking to take it to the next level, you can look closer to a multi functional tool. 3Dsimo have developed many 3D pens and one such is the MultiPro tool. It is a 3D pen that can be transformed into having multiple purposes. Not only does it work as a 3D pen, but it can also solder, burn and cut out foam. However the newest model has even more attachments available such as drills, electric screwdriver, heat gun and saw. The device includes an OLED display that can showcase basic tutorials for each of the attachments available. Each tutorial provides a small guide on how to use the tools properly for you to get the most out of your MultiPro.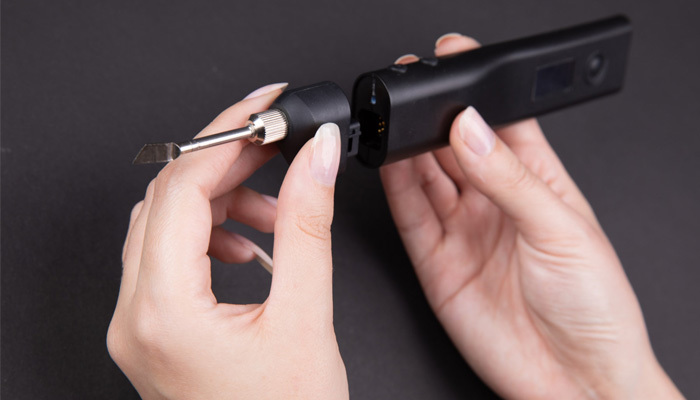 3Doodler Create+
The manufacturer Wooble Works, the origin of the first 3D printing pen, has developed the Create+ especially for all fans of 3D printing. Its light weight of 50g facilitates its manoeuvrability and its two modes of simplicity of extrusion. It is compatible with PLA, ABS and Flexy and has a new, faster, smoother and stronger control system. For a base price of $100, and you can add accessories such as a drawing surface or a portable battery.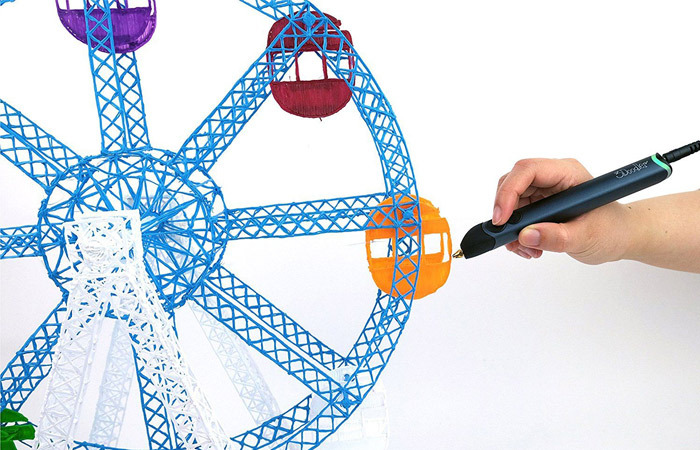 Polaroid 3D
Compatible with PLA and filaments offered by Polaroid, the Polaroid 3D Play is intended for 3D pen enthusiasts. During its use, some parts of the 3D pen become hot, so a child could get hurt. Available from $55, the 3D pen comes with four PLA filaments, a USB cable, a screen protector but also a "Quick Start" guide. The manufacturer doesn't just offer the Polaroid 3D Play. Recently, Polaroid unveiled the Candy Play, a 3D pen that allows users to create candy from filaments.
3D Printing Pen: Artists
Tecboss M1
The Chinese company Tecboss has a wide range of electronic devices, such as 3D pens, among others. One of the best-known 3D pens is the M1, which was updated in 2019 to incorporate a smart chip that would control the temperature and speed of the pen. Unlike other brands whose pencils allow a multitude of filaments, the M1 only supports PLA. Although this is a disadvantage, the truth is that the company only wanted to handle odorless and non-toxic materials, making its products cleaner and safer. Another of the models it offers is the SL-300, which differs from the previous one due to its great lightness. When it comes to long and expensive projects, the SL-100's ergonomic design allows for a firm, solid feel for the best result. Priced at $ 59, it integrates eight speeds and an extrusion temperature capable of reaching 210 degrees Celsius – an ideal solution for both beginners and experienced users.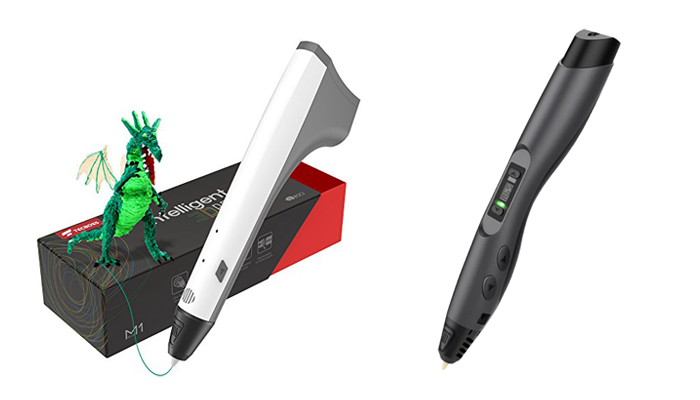 MYNT 3D Pen
This 3D printing pen belongs to the Californian company of the same name. MYNT allows to adjust the thickness and flow of the extruded material by having a variable speed control and an OLED screen, in addition to allowing temperatures to be adjusted from 130º to 230º. It also manages to change the temperature grade by grade, which gives greater precision to the material that comes out. When buying the MYNT the kit includes: the 3D pen, 3 colours of filaments in ABS and a 100-240V AC 50 / 60Hz adapter. Currently they are priced at $70 (Approximately € 60).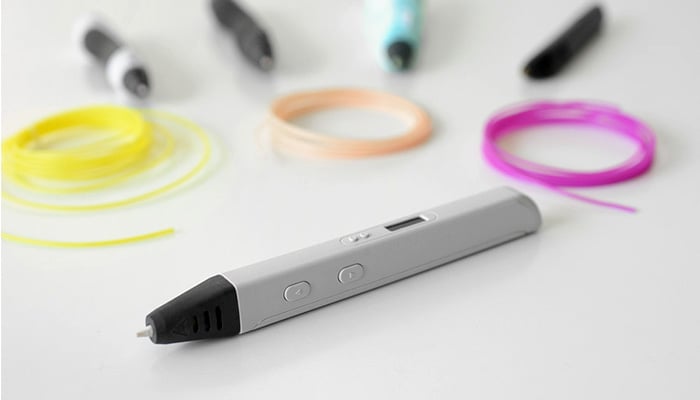 3Doodler Pro+
We've already introduced you to the manufacturer 3Doodler. It also makes more professional 3D pens, namely the 3Doodler Pro +. This pen can print using PLA, ABS, nylon, soft materials but also with copper, bronze and wood. It has an LCD screen to adjust the temperature and speed of extrusion in real time and 6 interchangeable extruders. The manufacturer specifies that, because of its ergonomics and its characteristics, the 3Doodler Pro + is intended for professionals in architecture and design. It is available on the 3Doodler website for $200 or more.
Do you know of other 3D pens that should be added to the list? Let us know in a comment below or on our Facebook and Twitter pages! And remember to sign up for our free weekly Newsletter, to get all the latest news in 3D printing send straight to your inbox!