TOP 15 3D Printed Music Instruments & Music Applications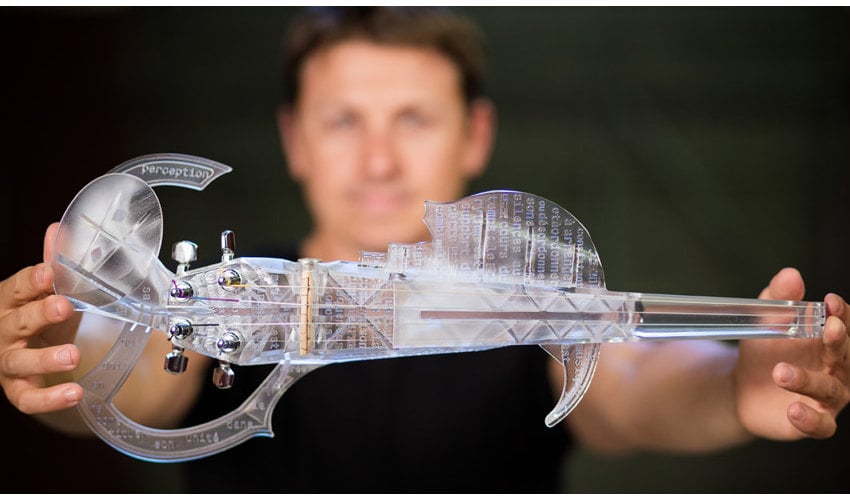 We searched the web for the Top 15 best music instruments and other 3D printed music applications. On World Music Day we dedicated this article to music instruments made from additive manufacturing. Read more to find out how 3D printing is revolutionising music through 3D printed music instruments and other uses related to music.
1. 3D Printed Music: Mixes with Colors
The Specdrums have taken us to a whole new world where we can be united the world of colors through music. By simply wearing the Specdrum rings, you can turn any color into sound by simply touching it! With sensors that are located in the Specdrums, they are able to identify the color you touch, sending the information to your smartphone, which then turns it into music. With the Specdrums, you can choose any sound, as they have a large database that ranges from drums to piano and even animal sounds!
2. The Sound of Delivery
What if you could make a musical instrument while traveling? Well, that's the idea behind the PostNL: Taking an Ultimaker 3D printer, sticking it into a box and delivering it while it's running. Upon arrival, your instrument is complete and ready for use, saving time and giving both sides a considerable advantage. Check it out in action below!
3, 3D Printed Electric Guitar
Created by Olaf Diegel, this 3D printed aluminum electric guitar is lightweight and gives traditional electric guitars a run for their money. Using the SolidWorks 3D software to design his custom electric guitar, he added killer features that include barbed wire and roses. As Diegel was unable to print the guitar himself, he sent his design to Dutch company Xilloc, who printed it using SLS technology on their EOS M400 printer. The result? An awesome guitar that is ready to rock & roll.
4. 3D Printed Music Scores: Music without barriers
Kim Yeaji, a music student at Wisconsin University, realized the difficulty that some young blind people have in playing music, due to their inability to see their music scores. The braille system, traditionally used by people with visual impairments, is not enough to convey all the musical details. To help combat this problem and bring music to more people, Kim implored the mechanical engineering department to create an innovative solution: 3D printed scores.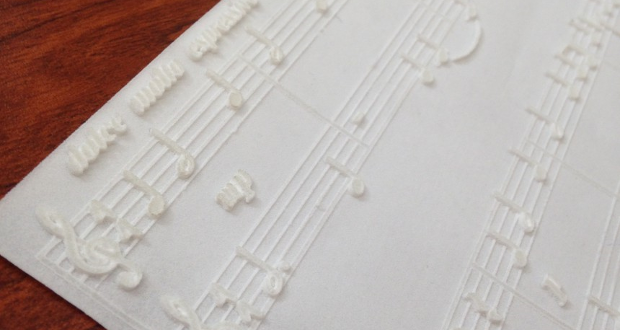 It is thanks to this initiative that the "Tactile Stave Notation" project was born. This involves a digital notation system that is 3D printed based on the production of tactile scores. By simply touching them, the musician can access comments on the upper part and traditional notes on the lower part.
5. Monad Studio: Futuristic 3D Printed Music Instruments
Monad Studios is an architectural firm that has developed masterpieces that take the form of 5 3D printed musical instruments. These pieces include a piezoelectric violin, several stunning guitars, and even a grand piano. You can view our full interview with Monad Studio here.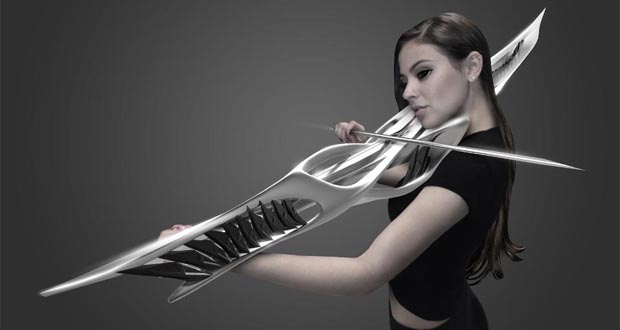 The design of each instrument required between 3 and 6 months of work, while 3D printing took only ten days. The designers claim that finishing and retouching the pieces is required once the part comes out of the printer, but that some instruments could be entirely manufactured using 3D technologies, such as wind instruments.
6. The 3D Printed Music Box
This original idea came from the brain of Philipp Tiefenbacher, who decided to develop a music box model using a 3D printer, which also just happens to be available for download on the Thingiverse platform. The music box is printed in six pieces, which must then be assembled. It is important to note that you must be meticulous during the printing portion so that the notches are well calibrated on the slats. If you aren't precise, then there is a possibility for the notes to be incorrect!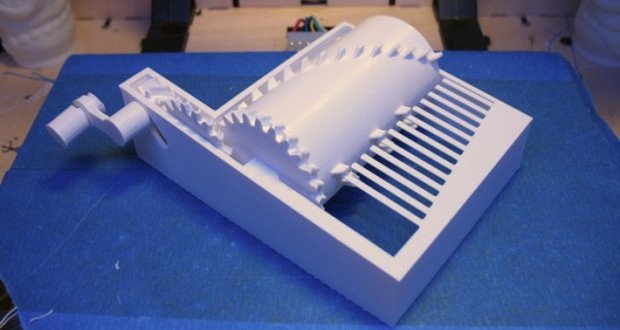 7. 3D Printing for a Historical Horn
The idea to recreate a historical horn came from Billy Ó Foghlú from the National Australian University. Billy was eager to revive an Irish horn from the Bronze Age and he managed to retrieve the original tip model before reproducing it with 3D printing. With his Bronze Age horn, he can now play music the same way as our ancestors several millennia before us!
8. 3D Printed Vinyl
Amanda Ghassaei has done an impressive job by 3D printing an audio file onto a vinyl record. She first developed a technique that she used to convert a digital song onto a 3D model. After, she then printed it with a Connex 500 Object from Stratasys. A new method to help bring even more creativity to custom-made vinyl!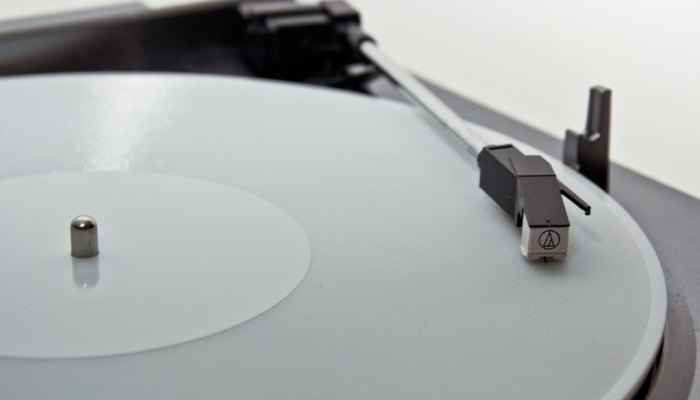 9. Printing Your Heart
What if your heartbeat could become music? This is what a Polish DJ, Piotr Bejnar wanted to do by creating 3D printed bracelets that are connected to both your heart and his mixing table. Using the bracelets that were printed on a Zortrax M200, your own heart could become the music of the future.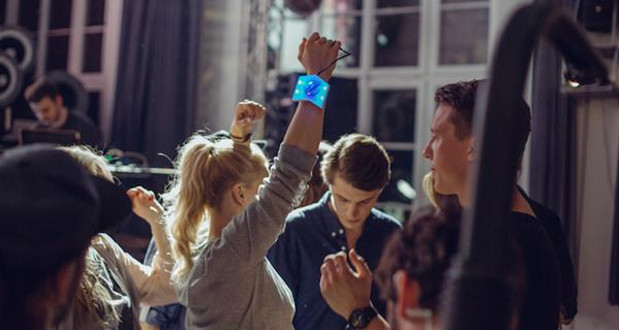 10. A Concert of 3D Printed Music Instruments
It is a group of four students from the Lund University of Malmö who became the first to play a concert with 3D printed instruments. Making up the ensemble of instruments included: a keyboard, a drum, and two guitars that were made in collaboration with Professor Olaf Diegel. Thanks to 3D printing, they were able to create customized shapes that would typically be unfeasible using traditional techniques.
11. 3D Printed Speakers
Five engineers from Akemake have created a model of a 3D printed speaker that should interest music lovers everywhere. The speaker has dimensions of 20 x 25 x 11 cm and is called the 'Spirula'. To print this speaker, you'll need about 18 hours, so if you want to get started now, head here to download the 3D file today!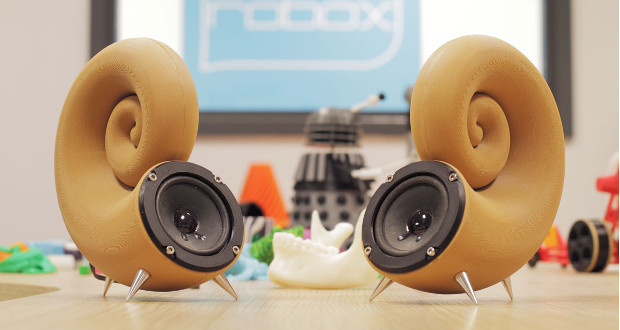 12. Custom Made Headphones
Collaborators Nikki Kaufman alongside New York-based start-up, Normal, have brought us 3D printable earbuds that are completely customizable. After 3D scanning your ear using a smartphone application, the company then receives your data and can then begin the printing process for your headphones. If you're interested, you can have them printed for around $199.99!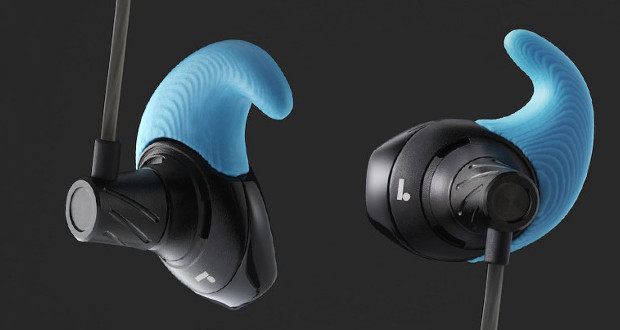 13. 3D Printed Saxophone Mouthpieces
Here is a use of 3D printing that saxophone players will love! Using 3D printing, saxophone users will now have the opportunity to have personalized sound with 3D printed pieces thanks to Syos, a company that is led by Maxime Carron and Pauline Eveno. The process begins by asking you some questions about your level, your instrument and the sound you want to acquire. Once completed, they then print your mouthpiece that will give you the exact sound you're looking for!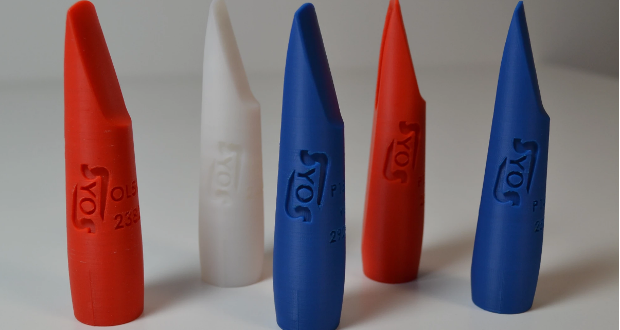 14. The 3Dvarius Violin
This is the first 3D printed electric violin and is the work of French startup 3Dvarius. Founded by Laurent Bernadac and Baptized Paulin, the company offers their violins starting from a price of $6,999 and goes upwards depending on what features you're looking for. The model requires nearly 24 hours of printing before undergoing several treatments to make it more resistant. Note that the very famous Stradivarius inspired its structure. More information can be found here.
15. 3D Print Your Favourite Song
By combining augmented reality, 3D printing, and music, Reify has succeeded in transforming sounds into objects. Through additive manufacturing, they are able to print sculptures that represent your favorite piece of music. Using a smartphone application, the sculpture can be scanned, identified and come alive to the rhythm of music in augmented reality.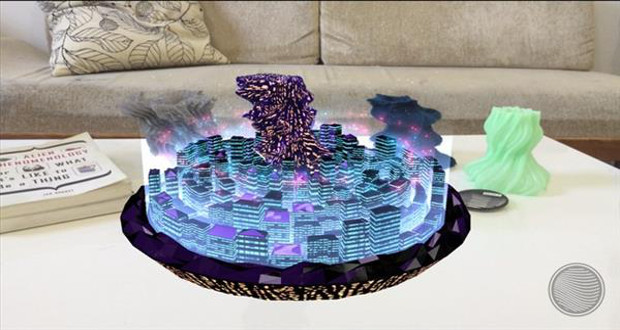 What did you think of our list? Do you think there's anything missing? Let us know in a comment below or on our Facebook and Twitter pages. Don't forget to sign up for our free weekly Newsletter, with all the latest news in 3D printing delivered straight to your inbox!