3D Printing Applications in the World of Music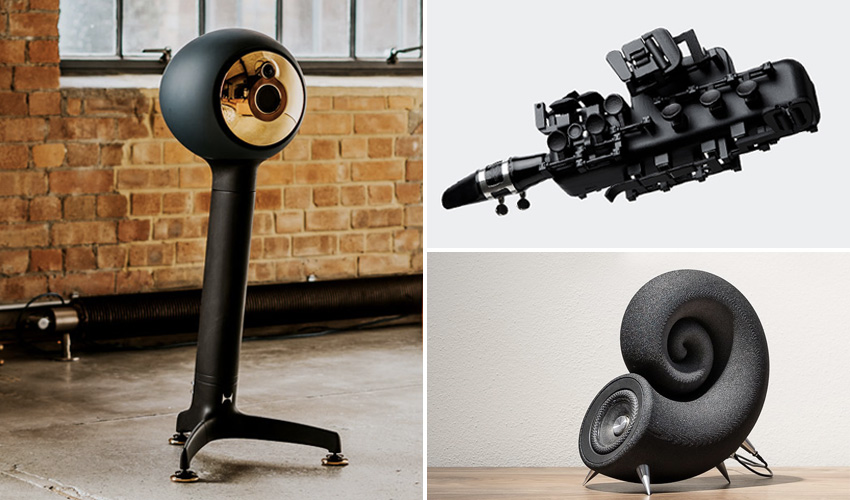 Next Monday, June 21st is the Fête de la Musique (also known as World Music Day), an international celebration that gives artists the opportunity to take to the streets to showcase their musical talent. In recent years in the music industry, 3D printing has shown a lot of potential as it offers considerable advantages to companies and users who adopt it to carry out their creative projects. From 3D printed music instruments to accessories, to speakers and headphones, additive manufacturing is undoubtedly becoming more and more important in this sector. And as Music Day is just around the corner, we want to get ready for the occasion. That's why we have compiled some of the best applications of 3D printing in music, and at all levels. Enjoy!
The Travel Sax
If you are a fan of music and like to take it with you everywhere, then this project might just be for you. The so-called Travel Sax is a 3D printed electric saxophone developed by the Spanish company Odisei Music. It is just 8.7 x 5 x 3.1 in (22 x 12.8 x 8 cm) with a weight of about .5lbs (225g), making it ideal for transporting without any problems. In addition to the musical instrument, the pack includes a protective case, an accessory bag, a cleaning cloth, a charging cable, and 3 mouthpiece adapters for soprano, tenor and baritone. To make the sax, the company uses HP's Multi Jet Fusion technology and they have chosen (PA12) as the material, giving the Travel Sax a uniform and elegant final finish.
Songbird Vinyl
Scheduled for release in October this year, SongBird is a 3D printable turntable kit launched by British startup Frame theory 3D. The Kickstarter Campaign has raised already £25,442, or $35,952 from 167 backers. Customers will be able to choose between either the fully printed kit, which will arrive with all the pre-printed parts, or the "maker" kit, for people who wish to print the parts on the FDM machine. Regardless, the kit will take less than 2 hours to assemble after which you will be able to play full-length records.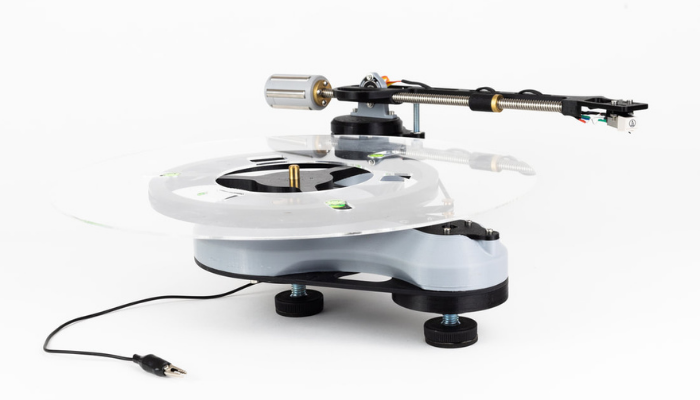 Nik Huber Guitars
Founded in 1996, Nik Huber Guitars is dedicated to the development of handcrafted guitars. It recently carried out a collaboration with Heraeus to 3D print an electric guitar's bridge, the part that allows the instrument's string height to be adjusted. Specifically, they used an amorphous metal to achieve lower vibration absorption when playing it, compared to other bridges manufactured in the traditional way. In addition, the company claims that this type of material also provides great strength and durability compared to steel, brass, aluminum or other similar alloys. There is no doubt that the implementation of these technologies has been of great help to NHG.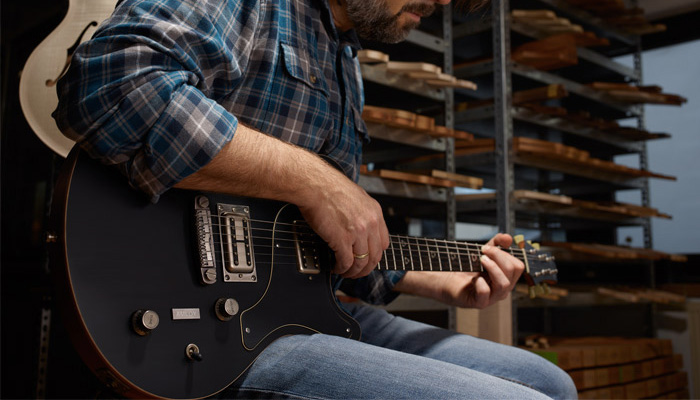 The 3DVarius Violin
Created in 2015 by French engineer and musician Laurent Bernadac, 3Dvarius (a play on the world-famous stradivarius instruments) is a company dedicated to the development of electric violins through one-piece additive manufacturing. The idea came to life thanks to a Kickstarter campaign that raised more than $59,000 (€50,000). Now, the company has created its own line of 3D printed violins with exceptionally original designs. To date they have 4 different models, the best known being the one that bears his own name, the 3Dvarius, although there are also the Line, Prism and Equinox violins. With this, Laurent Bernadac has shown different musical capabilities of the violin through his Youtube channel and has opened the possibilities for all fans to have their own 3D violin.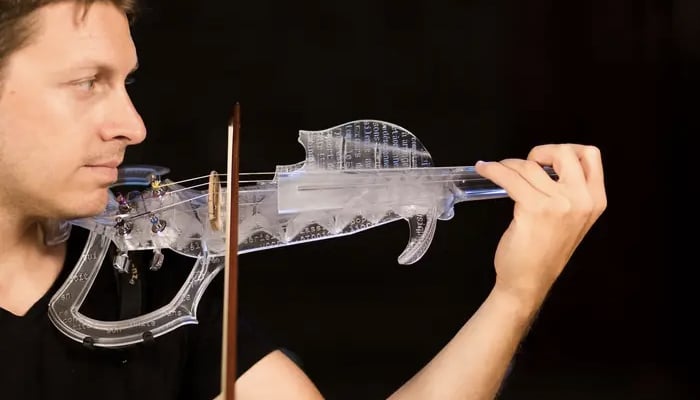 The Wave
Anyone who likes to listen to music knows that good speakers can make all the difference. There are speakers in a variety of shapes, colors and sizes. With the 3D-printed "The Wave" (the wave), sound waves become a symbol, so to speak, through loudspeakers. The unique design was created in an engineering and design course by students at the Technical University of Denmark, who had the opportunity to construct this loudspeaker using additive manufacturing in a mechatronics course. The 3D-printed The Wave is powered by a Raspberry Pi and has a WIFI connection so that music can be played directly from the user's cell phone on the speaker. Those who want to work with additive manufacturing themselves and create the speaker can find out more on the Thingiverse platform.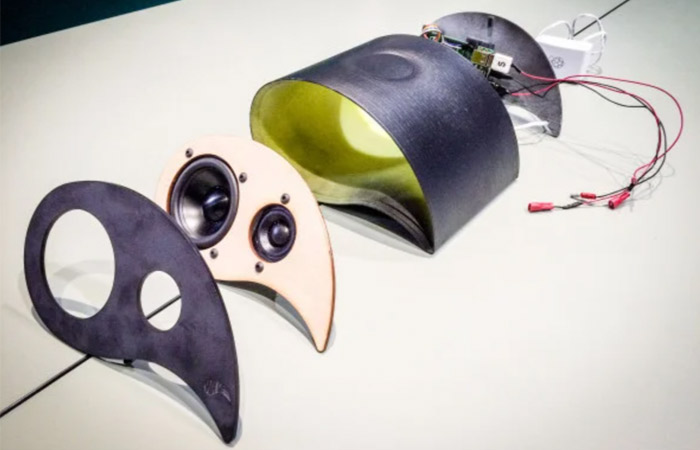 Specdrums, mixing music and colors
The goal of Specdrums is to unite the world of colors with 3D printing and music. These small rings created by additive manufacturing, when placed on our fingers, turn any color into music simply by touching it. The sensors are located at the bottom of Specdrums and are able to identify the color you touch, and then send the information to your smartphone, where you can create a melody. You can also choose any sound associated with a particular color, as Specdrums has a large database that can range from piano to animal sounds.
Open e-drums by Ryo Kosaka
Ryo Kosaka's open source e-drums project began when he found a Drum Mania controller in a second-hand store. The design student from Kyoto then threw himself into a hobby project in his spare time, which is now freely available to all. Without any expertise, the Japanese man has managed to create an electronic drum kit using Arduino and 3D printing. He says that a 3D printer with a print bed of 150 x 150 mm is sufficient for manufacturing the mesh pads. Alternatively, a laser cutter and MDF can be used to make the 12-inch mesh pads. More information about the project can be found here.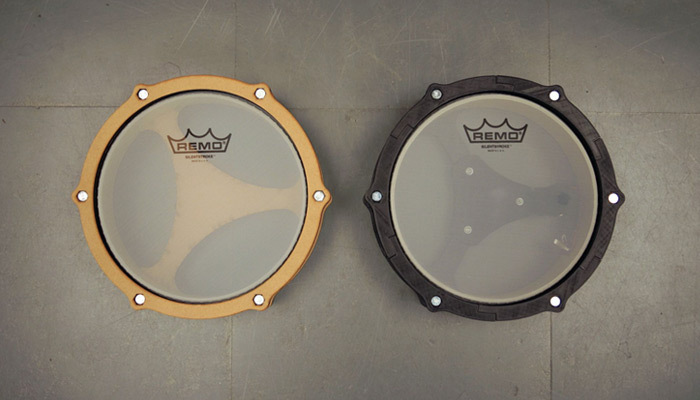 A 3D Printed Electric Guitar
Olaf Diegel made waves a few years ago with his 3D printed aluminum electric guitar. Thanks to both 3D printing and the materials used, the guitar was lightweight and customizable, giving traditional electric guitars a run for their money. Since then, he has expanded quite a bit! Using SLS (using nylon rather than aluminum these days) for the printing and including a core of wood to ensure good sound and support, Diegel offers a number of other cool guitars through his brand ODD guitars.  This includes the Xenomorph (inspired by the film Alien) and American Graffiti, as well as a few other 3D printed instruments included a bass, drum kit and even a 3D printed saxophone.
 Monad Studio: Futuristic 3D Printed Music Instruments
Monad Studio is an architectural firm that has developed a true masterpiece composed of 5 3D printed music instruments. This piece includes a piezoelectric violin, a didgeridoo, a "monobarisbasitar" which is a kind of small bass, a cello and a hornucopia which resembles a cornucopia (a horn of plenty). The design of each instrument required between 3 and 6 months of work, while 3D printing took only ten days. The designers claim that finishing and retouching the pieces is required once the part comes out of the printer, but that some instruments could be entirely manufactured using 3D technologies, such as wind instruments.

Printing Your Heartbeat
In 2016, a very special project was implemented. Polish DJ Piotr Bejnar had a vision to better involve his audience in his music by using the heartbeat of them. According to Bejnar, the heart is a natural drum, which is why its rhythm is perfect for producing music. To implement his Heartbeats Project, he resorted to 3D printing. Using the Zortrax M200, it was possible to cost-effectively produce wristbands that could be distributed throughout the audience and wirelessly send the heart's pulse to the DJ booth. Definitely an exciting application of 3D printing in music!
3D Printed Mouthpieces from SYOS
French startup SYOS (Shape Your Own Sound) develops 3D printed saxophone and clarinet mouthpieces in order to give musicians the best sound possible. Each mouthpiece is custom-made and designed according to the advice of an acoustic expert. The mouthpieces come in multiple colors and are made from ABS. Each musician can try his or her mouthpiece for 30 days. Today, the French startup works with more than 500 musicians per month.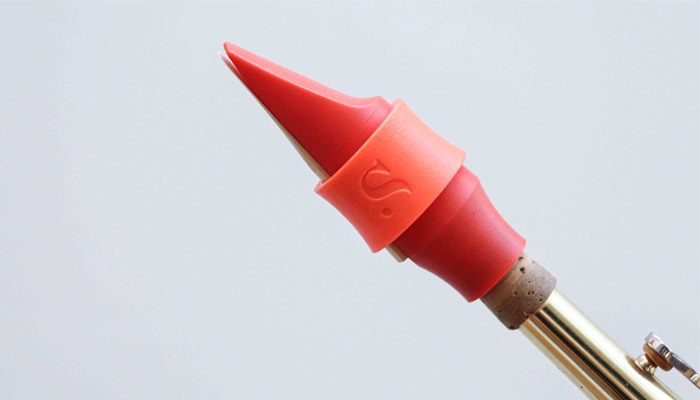 LEET Synthesizer
Designed by Swedish engineer Johan Von Konow, the LEET Synthesizer is an open-source synthesizer that users can create at home. In total, the small electronic instruments can be made for only 6 dollars, though note that you do need some basic skills in soldering and programming embedded electronics. The synthesizer itself is made out of a colorful 3D printed shell (inspired by the computers of the 70s), housing a printed circuit board (PCB). Von Konow designed it to be simplistic and fun, with a retrofuturistic feel and can be printed in 4 hours max, plus 2 hours of welding.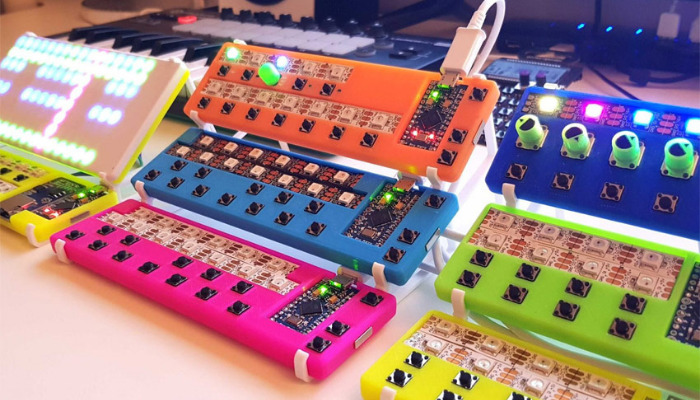 Node Audio
Node Audio is a UK-based company that offers quality speakers and audio experience. Its first product, Hylixa, was designed in part via additive manufacturing and specifically through the SLS and MJF processes. The Hylixa speaker is surprisingly shaped: instead of having flat panels and square edges, it features a sort of helix that gives it a rounded shape. This more complex geometry could not have been manufactured otherwise than by 3D printing. The head is 3D printed with glass-fiber filled nylon, a material that has very good acoustic properties. The feet and neck of the speaker are made on a HP Multi Jet Fusion machine.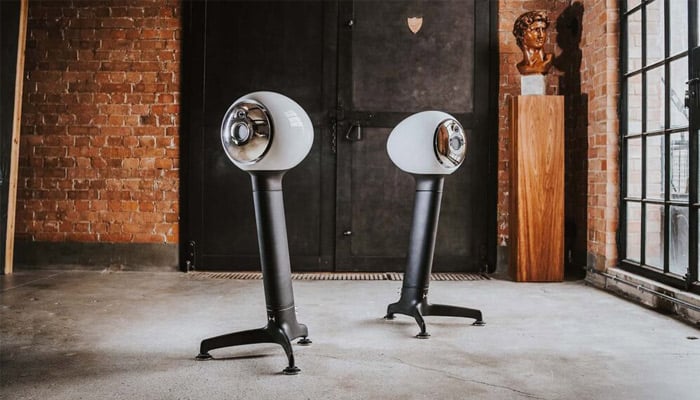 Amanda Ghassaei and her 3D printed music
Engineer Amanda Ghassaei has developed a technique for converting digital audio recordings into 3D printable LPs. These can be played on ordinary turntables. To complete this crazy project, she used a Stratasys Objet Connex 500 printer and wrote her own program for the 3D modeling part. The engineer admits that the sound quality is poor but it's still a success!
3D printed speakers made out of sand
For those who want a change from standard speakers, DEEPTIME offers a stylish option: 3D-printed speakers made of sand with a shell-shaped design. DEEPTIME, a Polish startup that is a design and engineering studio, is perfectly equipped to design such speakers. After initial failed attempts to additively manufacture the speakers with wood, the company then turned to researching additive manufacturing with sand. In a joint interview, the two founders, Ondrej Chotovinsky and Martin Hreben, provide more insights and talk about their ideas, processes and challenges.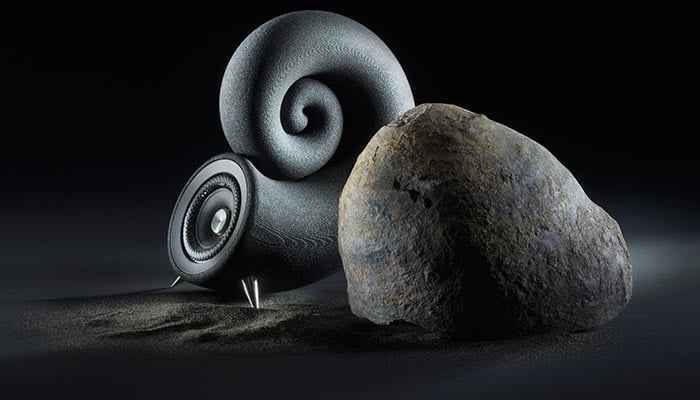 The indestructible 3D printed guitar from Sandvik
There are 3D printed music instruments that both contain 3D-printed parts or have been entirely made using additive manufacturing. Swedish company Sandvik wanted to take this trend even further and was able to design the first 3D-printed indestructible guitar in 2019. In fact, even after much effort, this one couldn't be demolished by Swedish guitarist Yngwie Malmsteen during a live performance. But how could this be? During the design process, special attention was paid to the guitar neck and fingerboard, as these are the most unstable areas of a guitar. These were milled from solid bars of recycled stainless steel. For the guitar body, on the other hand, Sandvik used titanium powder in metal 3D printing to achieve a stable yet lightweight result.
What did you think of our list of 3D printed music instruments and applications? Do you think there's anything missing? Let us know in a comment below or on our Facebook and Twitter pages. Don't forget to sign up for our free weekly Newsletter, with all the latest news in 3D printing delivered straight to your inbox!