The Top Full Color 3D Printers on the Market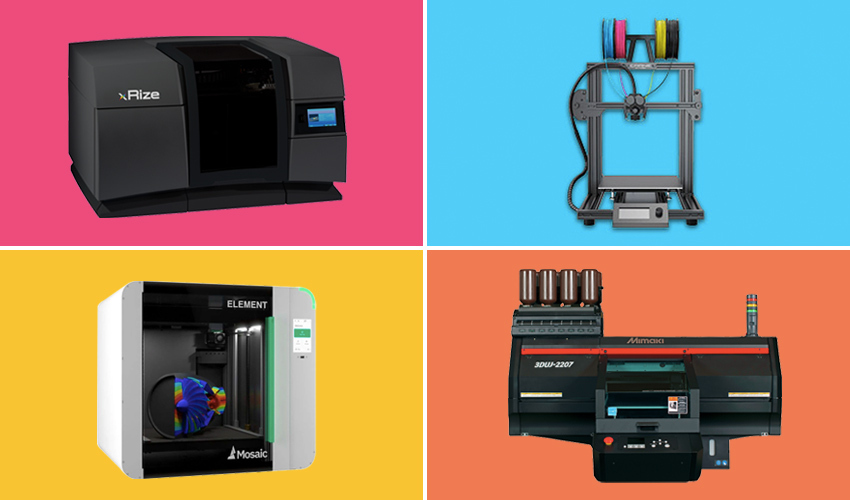 When it comes to choice of a 3D printer, several criteria must be taken into account: which applications it will be used for, the desired printing speed, the final quality of the parts, the quantity to be produced, among others. For some, a particularly essential aspect is the possibility to design parts in color. It is true that color integration is rarely the number one choice, but for some users, it is key. For example when creating a visual prototype that must look like a perfume bottle, or an anatomical model where blood vessels need to be distinguished from nerves and arteries. Enter full color 3D printers.
Integrating color into additive manufacturing is currently possible, whether through machines that are capable of offering a wide range of colors, accessories to be added to the printers, or post-processing solutions that offer options for dyeing, painting, varnishing, etc. In this listing, we focus on color 3D printers, i.e. machines that can produce a multi-color part at the end of the printing process. We have sorted them by printing process: extrusion, material jetting and powder binding.
Fused Deposition Modeling
FDM technology offers several possibilities for creating coloured parts. For some color 3D printers, the presence of several extruders will allow the user to choose different filaments and combine them. Other manufacturers have developed a system that can color filaments directly inside the 3D printer: the machine releases color inks at the print head, resulting in a colored filament. Finally, there exist additional accessories available to mix different filaments together.
Crane Quad
Known for launching the Micro 3D, a successful desktop 3D printer on Kickstarter in 2014, M3D continued to develop various FDM/FFF machines. Among its latest creations, the Crane Quad, a 3D printer capable of combining several filaments to create new combinations of colors or hybrid materials. In fact, the Crane Quad mixes 4 CMYK filaments to achieve more than 50,000 different colors. In addition, it offers a maximum manufacturing volume of 230 x 230 x 250 mm for a minimum layer height of 25 microns. It is marketed by M3D at a price of $999. You can find more information HERE.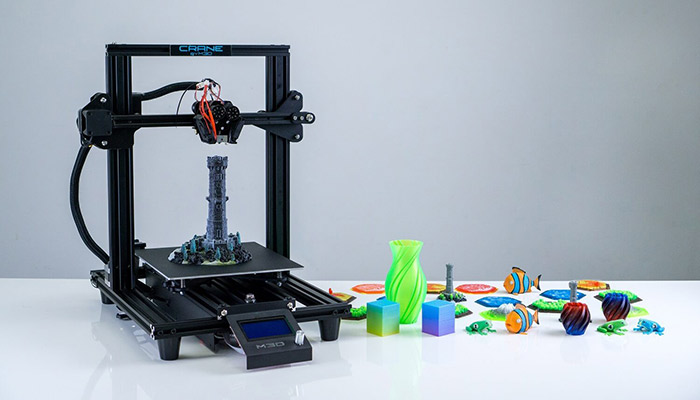 da Vinci Color 3D printer and its mini
The da Vinci Color 3D printer combines FDM and Inkjet technologies, as it uses an absorbent, colorless PLA filament that can be mixed with different color inks. According to the manufacturer, CMYK ink cartridges can be used in an almost unlimited color gamut, up to 16 million shades. It has a print volume of 200 x 200 x 150 mm for a maximum print speed of 180 mm/s. In addition, XYZprinting also has a more compact version, the da Vinci Color Mini, with a smaller print volume of 130 x 130 x 130 x 130 mm. Features of this latest version include automatic calibration, wireless connectivity to connect to the printer remotely, and an optional laser engraving module for further customization of projects.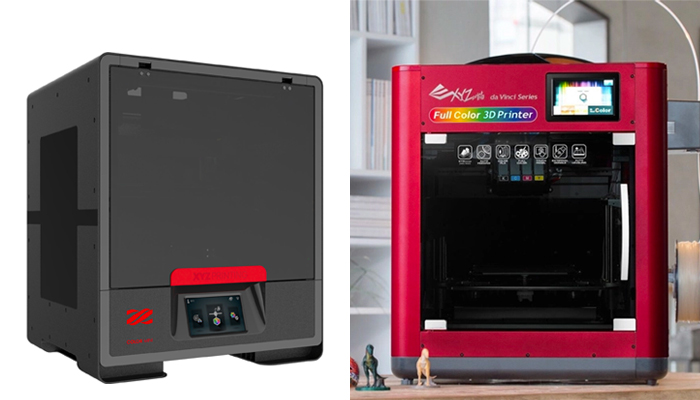 Element from Mosaic Manufacturing
The Element 3D printer was launched by the Canadian company Mosaïc Manufacturing. This professional machine makes it possible to achieve complex prints with different materials while obtaining realistic full-color and functional prints by combining flexible and rigid materials. It has a printing plate that reaches 120°C and a layer resolution of between 20 and 230 microns. With a maximum printing volume of 355 x 355 x 355 mm, the Element 3D printer has an all-metal gantry and a precision motion system. Other features include an internal camera for viewing the print, a touch screen control and connectivity via Wifi, LAN or USB. It is compatible with the Canva laminator, with which you can easily create, cut and manage any 3D printing project.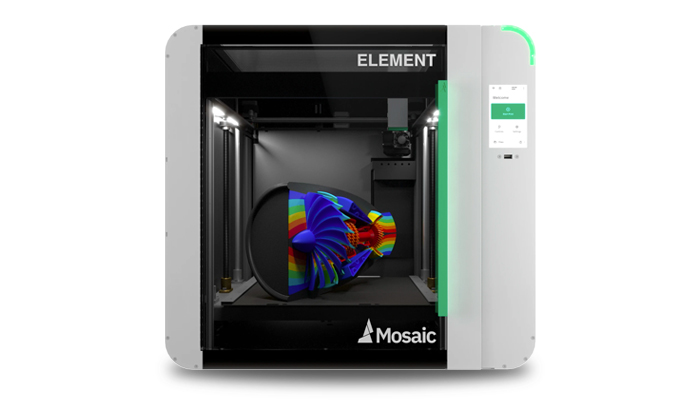 Palette 3
While the Palette 3 is not a 3D printer, it is probably one of the most accessible ways to design color parts. Developed by the Canadian company Mosaic Manufacturing, the machine should be connected to an extrusion 3D printer. It allows the combination of flexible and rigid materials, and users can not only create parts with complex shapes but also print in color in one go. A Pro version of the Palette 3 is also available, with advanced properties that allow users to print with technical materials and create durable, high-volume prints. Finally, the Palette 3 Pro features Splice Core Pro, a cooling system that makes filament bonding more reliable. The Palette 3 is available from €650 and the Palette 3 Pro from €850.
RoVa4D
The RoVa4D 3D printer grew out of a successful Kickstarter campaign by Canadian company ORD Solutions, which after its first Kickstarter campaign has dedicated itself to improving the capabilities of its 3D printer. This latest version supports 5 spools and a print head that allows printing with different materials and colors, from flexible materials to soluble materials. It has a printing volume of 120 x 120 x 180 mm. In order to be able to successfully achieve color printing, the machine has 5 different spools for CMYK colours (cyan, magenta, yellow, black and white), which are then mixed within the patented hotend to give the expected color as a result. The printer can currently be purchased at the manufacturer's website for $7,500. You can find more information HERE.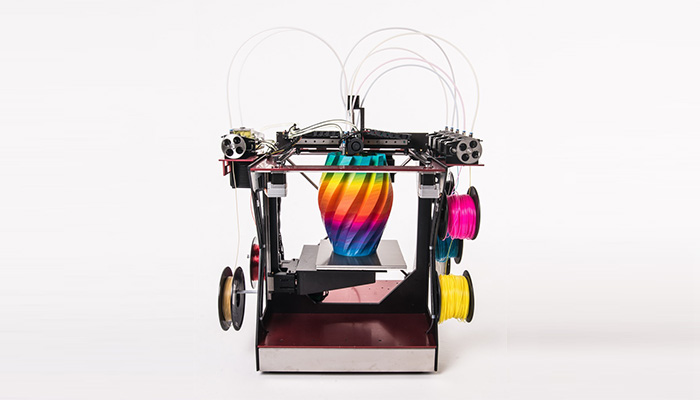 XRIZE
The XRIZE is an industrial 3D printer that uses a hybrid process called Augmented Deposition to produce objects in multiple colors. This hybrid process combines extrusion-based 3D printing with a inkjet technology we know from 2D printers. While the part is created layer by layer with traditional colorless PLA, the 3D printer simultaneously releases CMYK inks (cyan, magenta, yellow, black) in the print head to add color. For example, text, images and QR codes can be printed on the part. Although the device can be described as a desktop machine, its build volume being 310 x 200 x 200 mm, the XRIZE with a price of $55,000 is less suitable for manufacturers and hobbyists but rather for industrial applications. You can find more information HERE.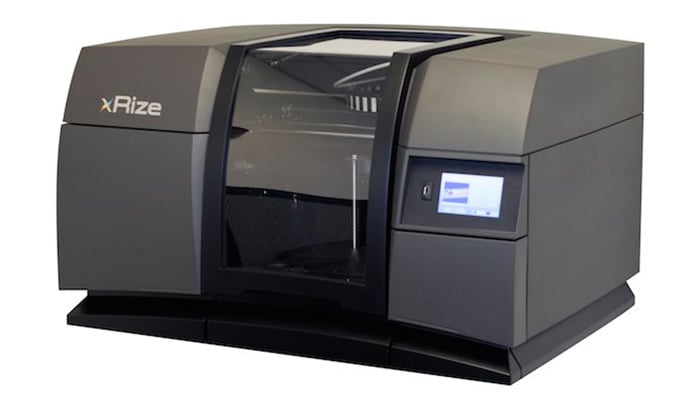 Material Jetting
3DUJ-553 and 3DUJ-2207 from Mimaki
Japan's Mimaki, a manufacturer of traditional 2D printers, was the first to make a UV-curable, colored material jet 3D printer. Its 3DUJ-553 solution was launched in 2017 and can create parts with more than 10 million colors. It uses a UV light curing process and is intended for the professional sector. During this process, a layer of material is applied and then covered with a UV-sensitive ink that light can solidify. The process is repeated until the final part is obtained.
More recently, Mimaki developed the 3DUJ-2207, a more compact 3D printer that offers the same color printing capabilities. It is more accessible and easier to use, unlocking a larger section of the current market. The 3DUJ-2207 is particularly suited to medical professionals, researchers and teachers, but also to designers and artists.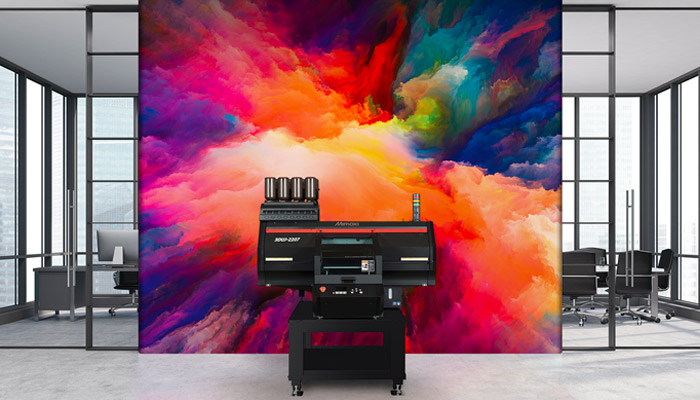 ActiveLab Digital Fabrication by Voxel8
The ActiveLab Digital Manufacturing System from Voxel8, acquired earlier this year by Kornit Digital, is another multi-material 3D printing solution using a technology based on material jetting. Its ActiveMix® technology consists of three possible elements, ActiveMix Extrusion, ActiveMix Spray and ActiveImage. The extrusion works to build 3D structures and thick films on any surface or texture with theologically tuned fluids while the spray rapidly covers large areas of a substrate with an elastomeric spray for textiles. Finally, the ActiveImage uses inkjet technology either through spray or extrusion, or both, to embed high-resolution graphics into elastomers. Users can expect full color graphics and the company points to its use especially in the creation of sporting goods, though it also has industrial and medical applications. You can find out more HERE.
J55 Prime
One of the most well-known names in the world of full color 3D printers is of course Stratasys with their PolyJet technology, which has the distinction of enabling the mixing of colors, materials and even textures in one part. Though they have many different machines using Polyjet, we wanted to draw your attention to their J55 Prime which was released in 2020. This more compact solution still has the multi-material and multi-color capabilities of its larger predecessors but at a fraction of the price. It is able to print with 5 materials simultaneously meaning that users can create over 640,000 unique combinations, including Pantone Verified colors. As it has been designed for an office or studio it is also ultra-quiet, operating at the same level as a household refrigerator. Finally, it has a ProAero™ Air Extractor to capture and filter out fumes. You can find out more about the printer HERE.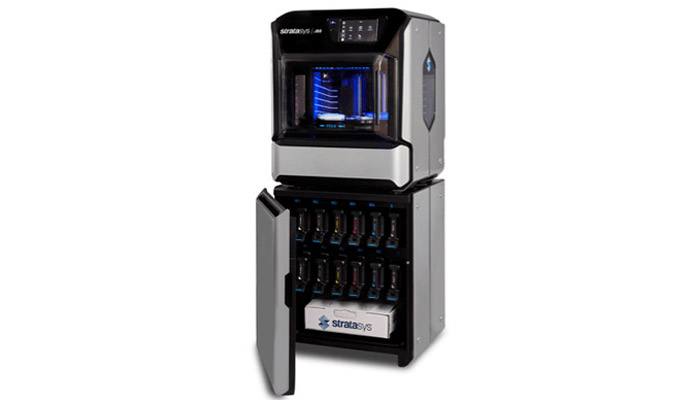 ProJet CJP Series
The ProJet CJP 260Plus is 3D Systems' most affordable and office friendly color 3D printing option. The ProJet CJP 260Plus creates photo-realistic parts in full CMY color with small feature details and the ability to use full texture/UV mapping to better evaluate the look, feel, and style of product designs. This 3D printer is based on 3D System's ColorJet Printing technology, and has a maximum build volume of 236 x 185 x 127 mm.
3D Systems manufactures an entire range of color 3D printers, including the ProJet CJP 360, CJP 260 Plus, CJP 860Pro, CJP 660Pro, and the CJP 460Plus. They vary according to their build volume, the 860Pro being the largest solution, with a build volume of 508 × 381 × 229 mm. You can find more information HERE.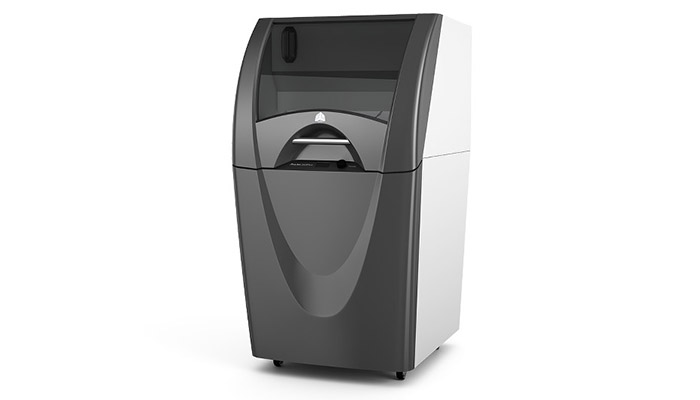 Binder Jetting
ComeTrue T10
Developed by Taiwanese manufacturer ComeTrue, the ComeTrue T10 3D printer is based on a Binder Jetting technology and coloured inks (CMYK). The advantage of such a process is the possibility of printing parts without printing supports as well as its speed, the T10 is indeed able to reach a printing speed of 20mm/h. The ComeTrue T10 allows the manufacture of parts with a maximum size of 200 x 160 x 150 mm with a resolution of 1200 x 556 DPI for a minimum layer height of 0.08 mm. The ComeTrue 3D printer requires a post-processing machine to remove the finished prints (Dry Vacuum Cleaner). The ComeTrue T10 is available for a price of about 25,000€. You can find more information HERE.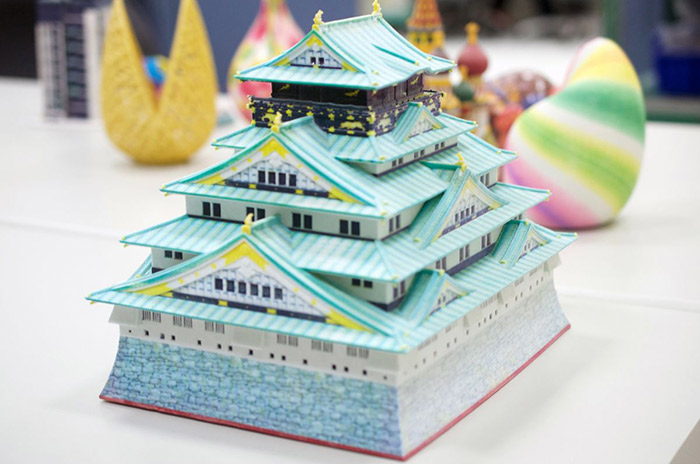 PartPro350 xBC from XYZprinting
Launched in 2018 by Chinese manufacturer XYZprinting, the PartPro350 xBC 3D printer uses Binder Jetting. It is compatible with standard thermoplastics, such as ABS and PLA and the machine has been designed for professionals. With a printing volume of 350 x 222 x 200 mm, the printer is, according to the manufacturer, 150% faster than machines using the same technology. Finally, the PartPro350 xBC has a removable tray so that users can easily remove parts after the printing process. According to some retailers, the price is between €25,500 and €35,000.
What did you think of our listing of full color 3D printers? Let us know in a comment below or on our Facebook and Twitter page! Don't forget to sign up for our free weekly Newsletter, with all the latest news in 3D printing delivered straight to your inbox!