Top 14 Full Color 3D Printers
When you start to be interested in additive manufacturing, you will wonder about parameters such as quality, printing speed, accuracy and whether or not you will be able to print in color.  For  some applications, the integration of multiple colors is key, think for example of a visual prototype for the development of a new product or an anatomical model where it is necessary to distinguish blood vessels from nerves and arteries. Color 3D printing is now possible, and depending on the 3D printing technology employed, the number of colors you can achieve will be more or less important. We had already presented to you the different techniques that exist on the market to 3D print multicolored parts. This time, we decided to cover the color 3D printers available on the market. We have sorted them by technology, starting with FDM, Binder Jetting, Material Jetting and Lamination!
Fused Deposition Modeling
FDM technology offers several possibilities for creating coloured parts. For some color 3D printers, the presence of several extruders will allow the user to choose different filaments and combine them. Other manufacturers have developed a system that can color filaments directly inside the 3D printer: the machine releases color inks at the print head, resulting in a colored filament. Finally, there exist additional accessories available to mix different filaments together.
da Vinci Color
The da Vinci Color 3D printer from XYZprinting is a full color 3D printer that uses a colorless absorbent PLA filament that can be mixed with colors. So-called CMYK inkjet cartridges are used which allow an almost unlimited colour palette. The da Vinci Color has a print volume of 200 x 200 x 150 mm and a maximum print speed of 180 mm/s. The machine is equipped with an end-filament sensor, as well as the possibility to stop and resume printing, additionally all prints are waterproof. The da Vinci Color exists as a basic model as well as in a smaller version: the da Vinci Color Mini and a version that can scan and print at the same time: the da Vinci Color AiO. The price of the basic model is 2,699€. You can find more information HERE.
XRIZE
The XRIZE is an industrial 3D printer that uses a hybrid process called Augmented Deposition to produce objects in multiple colors. This hybrid process combines extrusion-based 3D printing with a inkjet technology we know from 2D printers. While the part is created layer by layer with traditional colorless PLA, the 3D printer simultaneously releases CMYK inks (cyan, magenta, yellow, black) in the print head to add color. For example, text, images and QR codes can be printed on the part. Although the device can be described as a desktop machine, its build volume being 310 x 200 x 200 mm, the XRIZE with a price of $55,000 is less suitable for manufacturers and hobbyists but rather for industrial applications. You can find more information HERE.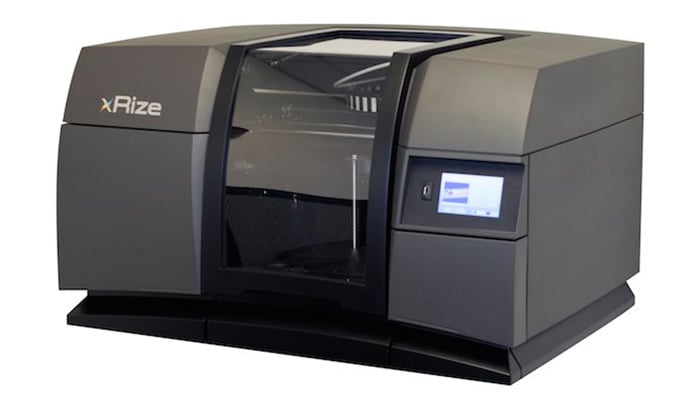 OVE
Together with the American company Memjet, a leading provider of 2D printing technologies, the Polish company OVE has developed its professional full-color 3D printer based on FDM technology. In addition to its own machine, OVE has developed a kit from its color module that other OEMs can integrate into their systems. So far, the printer is compatible with PLA, but OVE is working with numerous thermoplastic manufacturers to develop new materials for new applications. The price of the machine is between $ 5,000-10,000 dollars. You can find more information HERE.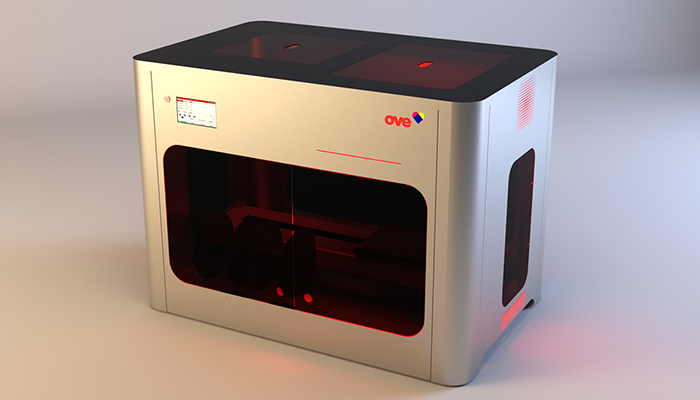 Palette 2
Although it is not a 3D printer, we decided to include the Palette solution because it is one of the most accessible ways to access full-color 3D printing. This development belongs to the Canadian company Mosaic Manufacturing which became known in 2015 thanks to the success of its Kickstarter campaign, resulting in the launch its first version of Palette. In recent years their technology has improved and they now have two versions, the Palette 2S and the Palette 2S Pro. Both can be installed on a FDM 3D printer, enabling multiple materials and colors to be mixed and used in a single extruder 3D printer. The Palette 2S is available for $599 and the second version with extended warranty, replacement parts and the Splice Core S Pro, a cooling system, is priced at $799. You can find more information HERE.
RoVa4D
The RoVa4D 3D printer grew out of a successful Kickstarter campaign by Canadian company ORD Solutions, which after its first Kickstarter campaign has dedicated itself to improving the capabilities of its 3D printer. This latest version supports 5 spools and a print head that allows printing with different materials and colors, from flexible materials to soluble materials. It has a printing volume of 120 x 120 x 180 mm. In order to be able to successfully achieve color printing, the machine has 5 different spools for CMYK colours (cyan, magenta, yellow, black and white), which are then mixed within the patented hotend to give the expected color as a result. The printer can currently be purchased at the manufacturer's website for $7,500. You can find more information HERE.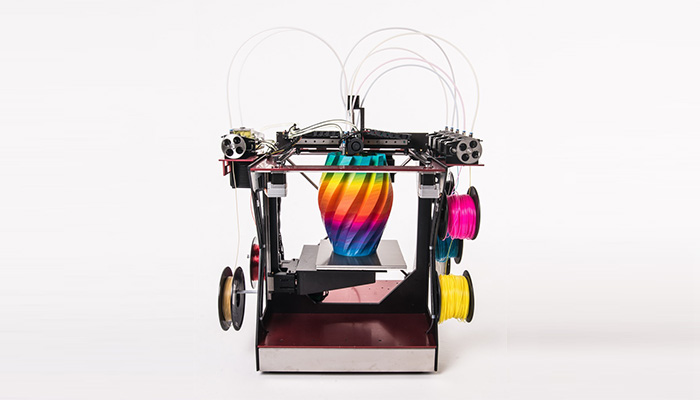 Crane Quad
Known for launching the Micro 3D, a successful desktop 3D printer on Kickstarter in 2014, M3D continued to develop various FDM/FFF machines. Among its latest creations, the Crane Quad, a 3D printer capable of combining several filaments to create new combinations of colors or hybrid materials. In fact, the Crane Quad mixes 4 CMYK filaments to achieve more than 50,000 different colors. In addition, it offers a maximum manufacturing volume of 230 x 230 x 250 mm for a minimum layer height of 25 microns. It is marketed by M3D at a price of $999. You can find more information HERE.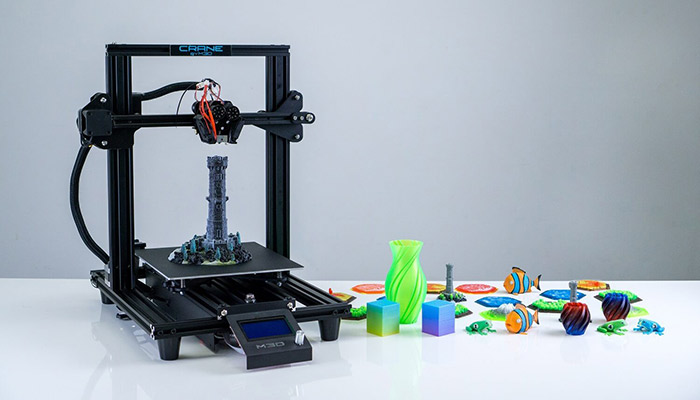 3D Chameleon
Like the Prusa Multi Material Upgrade 2S, the 3D Chameleon is a DIY kit that offers multi-extrusion capabilities to your FDM 3D printer. It allows the use of all standard plastic filaments, such as PLA and ABS, and remains compatible with many open machines such as Creality, Prusa, Alfawise, etc. Available in a version with 2 extruders for $99 or 4 extruders for $199, this add-on was developed by the American manufacturer of the same name. The upgrade is based on the electronic board of your 3D printer and requires less than one hour of assembly. You can find more information HERE.
Multi Material Upgrade 2S
This 3D printer add-on, which is already in its second generation, was developed by the manufacturer Prusa and allows up to 5 printing filaments to be combined. It is thus possible to play on several colors or materials simultaneously from standard ABS plastic filaments, PLA, PETG but also from carrier filaments such as PVA or BVOH. Available for a price of €299, it is only compatible with certain 3D printer models from Prusa, namely the Original Prusa i3 MK3 and MK3S as well as the Original Prusa i3 MK2.5 and MK2.5S. To manage the color layout, everything is done on the Slic3r PE software. You can find more information HERE.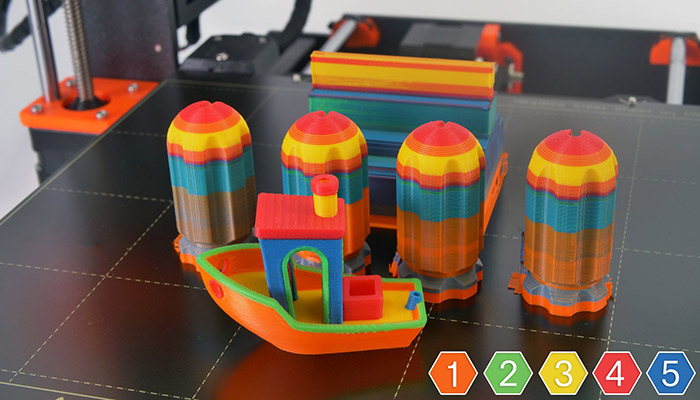 Material Jetting & Binder Jetting 
3DUJ-553
The Japanese company, Mimaki, a manufacturer of traditional inkjet printers, was the first to manufacture a full-color UV-curable inkjet 3D printer. Their so-called 3DUJ-553 solution was released in 2017 and can create parts with more than 10 million colors. Mimaki's 3D printing solution uses a UV LED light curing process, and is meant for the professional sector. During this process, a layer of ink is applied by the 3DUJ-553, which is then coated with a UV-sensitive ink that the LED light can solidify. Layer after layer, the object is 3D printed in full-color. The 3DUJ-553 boasts a 508 x 508 x 305 mm build volume, and can achieve resolution of 20, 32 and 42 micron. The strength of the part is comparable to ABS 3D printed parts according to the manufacturer. You can find more information HERE.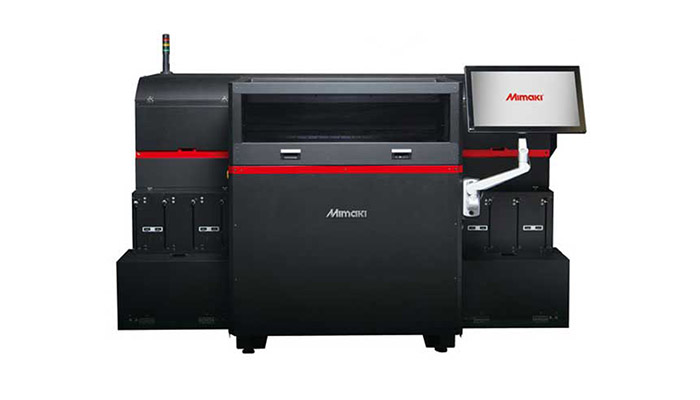 J850
The J850 from Stratasys, is a full-color 3D printing solution that enables more transparency and flexibility than other full-color models from Stratasys. Thanks to its seven material capacity, it is perfect for designers who wish to work with several materials at the same time. In fact, the J850 supports PANTONE validated colors for increased realism in prototypes and reliability in the various stages of the 3D printing process. The build size on the J850 is 490 x 390 x 200 mm, the layer thickness is 14 microns, over 500,000 colors are available and you can use an unlimited number of composite materials.
This is not the only full-color 3D printing solution from Stratasys, the manufacturer also offers the J700, the J720, and the J750 Digital Anatomy. These target different sectors, the J700 and J720 are dental 3D printers, the J750 Digital Anatomy, as its name suggest, enables the creation of ultra-realistic medical models. These full-color 3D printers have replaced Stratasys' previous models, the J735 and J750. You can find more information HERE.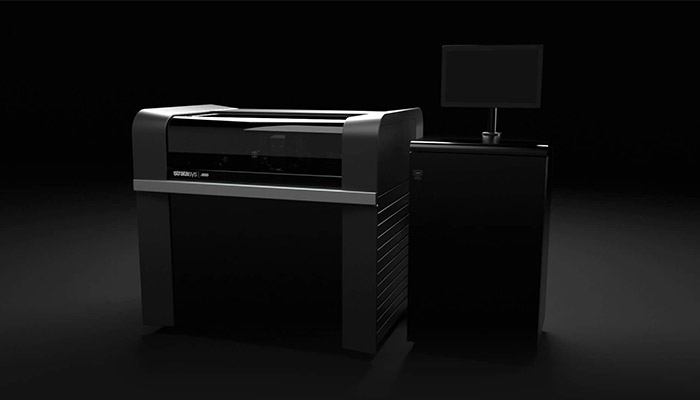 ProJet CJP Series
The ProJet CJP 260Plus is 3D Systems' most affordable and office friendly color 3D printing option. The ProJet CJP 260Plus creates photo-realistic parts in full CMY color with small feature details and the ability to use full texture/UV mapping to better evaluate the look, feel, and style of product designs. This 3D printer is based on 3D System's ColorJet Printing technology, and has a maximum build volume of 236 x 185 x 127 mm.
3D Systems manufactures an entire range of color 3D printers, including the ProJet CJP 360, CJP 260 Plus, CJP 860Pro, CJP 660Pro, and the CJP 460Plus. They vary according to their build volume, the 860Pro being the largest solution, with a build volume of 508 × 381 × 229 mm. You can find more information HERE.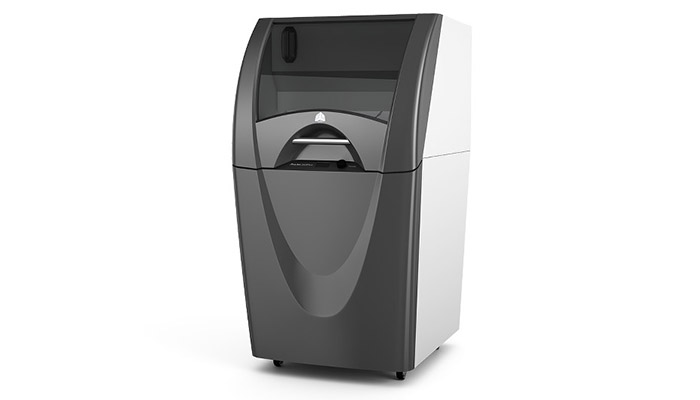 Jet Fusion 380/580
Officially launched in 2018, the 380/580 series is the first HP machine range to offer full-color nylon-based (CMYK) parts. Based on its proven Multi Jet Fusion technology, combining a heat source with a powder binding process, these two models target product development teams, design studios and universities. The main difference between the 2 models 380 and 580 is their build volume (190 × 254 × 248 VS. 190 × 332 × 248). However, the performance remains the same on both models, allowing a layer height of 80 microns to be achieved at a resolution of 1200 PPP. To acquire HP machines, you will need to expect a price between 50,000€ and 100,000€. You can find more information HERE.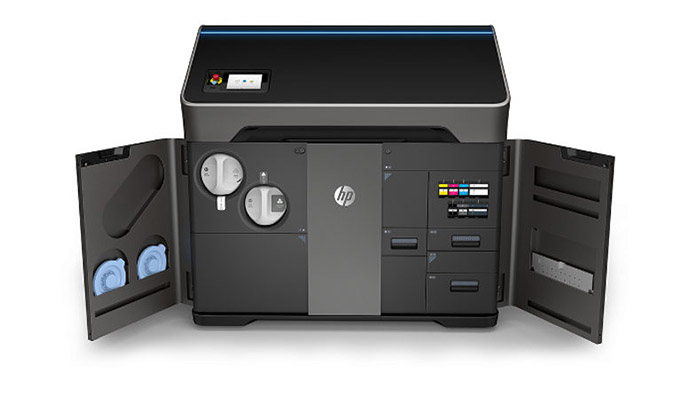 ComeTrue T10
Developed by Taiwanese manufacturer ComeTrue, the ComeTrue T10 3D printer is based on a Binder Jetting technology and coloured inks (CMYK). The advantage of such a process is the possibility of printing parts without printing supports as well as its speed, the T10 is indeed able to reach a printing speed of 20mm/h. The ComeTrue T10 allows the manufacture of parts with a maximum size of 200 x 160 x 150 mm with a resolution of 1200 x 556 DPI for a minimum layer height of 0.08 mm. The ComeTrue 3D printer requires a post-processing machine to remove the finished prints (Dry Vacuum Cleaner). The ComeTrue T10 is available for a price of about 25,000€. You can find more information HERE.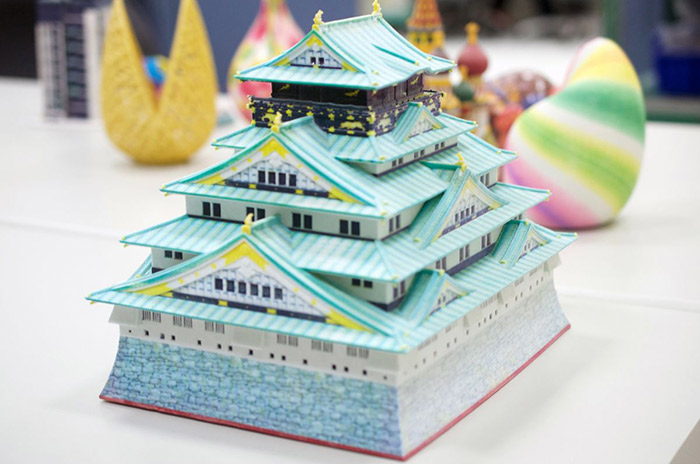 Lamination
Mcor ARKe
Founded in 2005, Irish manufacturer Mcor Technologies has developed a unique technology for laminating paper sheets. To put it simply, the machine cuts a pre-printed A4 sheet before binding it to the previous sheet, each sheet corresponding to a layer of the object. After developing two first models called Iris HD and Matrix 300+, Mcor Technologies unveiled a desktop machine, the Mcor ARKe, at CES in Las Vegas in 2016. With its manufacturing volume of 184 x 168 x 125 mm, the Mcor ARKe Pro is now able to create full-color parts (CMYK) with a resolution of 4800 x 2400 DPI in X/Y and 254 DPI in Z. It is marketed for a price of just over 22,000€. You can find more information HERE.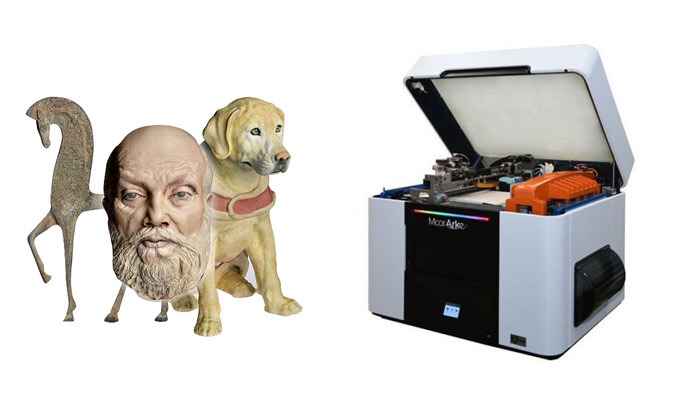 Was this listing on color 3D printers useful? Let us know in a comment below or on our Facebook and Twitter page! Don't forget to sign up for our free weekly Newsletter, with all the latest news in 3D printing delivered straight to your inbox!