3D Printing Applications for People with Disabilities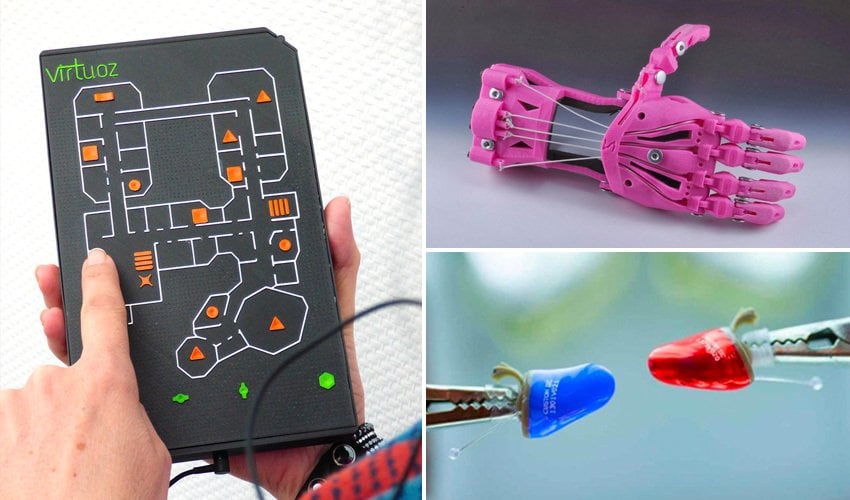 Thanks to 3D printing, the daily lives of many people with disabilities have been improved. The technology enables the creation of objects and services that are easy to use and adapted to disability such as personalised wheelchairs, prostheses, orthoses, etc. Above all, using additive manufacturing makes it easier, faster and cheaper to customize each device to its user. In some cases, it adds an important aesthetic component, changing the way we look at disability. Examples include children's prostheses inspired by their favourite superheroes. As you will see, the applications for 3D printing in the disability field are becoming more and more numerous. Take a look at some of the innovative projects that we found!
3D Printed Prosthetics
The number of projects combining 3D printing and custom prostheses is increasing, and 3D technologies allow for the design of cheaper and more personalized devices on demand, all in a shorter time. Thanks to the democratization of the FDM process, more and more associations, companies and communities are offering 3D printed prostheses. One example is e-NABLE, which brings together makers from all over the world. They 3D print prosthetic hands for free for people in need, most often for children.
Companies like UNYQ have made a business out of it. The American company offers prosthesis sockets for upper and lower limb amputees. The orthopedic device then has a unique aesthetic. Each solution is tailor-made, according to the wearer's taste, all in only three weeks. There are even more examples, such as Unlimited Tomorrow and its ultra-realistic prostheses, Open Bionics and its Hero Arm, or Exoneo and its foot prostheses. As you can see, the projects are numerous!
A 3D Printed Prosthetic Eye
In 2021, the Moorfields Eye Hospital achieved a remarkable feat. Doctors gave the first 3D printed eye prosthesis to patient Steve Verze. This is the result of research conducted by the Moorfields Eye Hospital, the UCL Institute of Ophthalmology and Fraunhofer. After four years of development, it is a success. The patient's eye on only took 2.4 seconds to be scanned before the eye prosthesis itself was 3D printed with a machine from Fit AG. When asked, Steve Verze explained that this prosthesis gives him new confidence and that he has been waiting for this moment for almost 20 years. An example of how 3D technologies are able to dramatically reduce the waiting time for eye prosthesis manufacturing.
3D Printed Maps for the Visually Impaired
Here, 3D printing helps the visually impaired by creating tactile maps that can reproduce places and routes. Over the years, various projects of this type have been developed, such as See3D, and the latest comes from Italy. The S. Alessio Margherita di Savoia Hospital, in collaboration with 3DItaly, has designed a tactile model for the blind and visually impaired, which will be placed at the entrance to the Spallanzani Hospital in Rome to guide patients to the COVID-19 vaccination center. The model was printed with an Ultimaker S5 Pro Bundle printer, and consists of volumetric shapes, Braille text and bright colors that are easy for the visually impaired to identify. Also among the applications for the visually impaired is a project by French startup FeelObject, which created Virtuoz, a 3D printed interactive touch map. The map is designed to represent the interior of a building or house with audio information and symbols corresponding to landmarks (emergency exit, toilet, etc.).
TypeCase, the 3D Printed Keyboard for the Blind
When a person is visually impaired, writing on a smartphone touch keyboard can be very complicated. To overcome this problem, Dougie Mann, a mechanical engineering and product design graduate from Imperial College London and the Royal College of Art, has developed an innovative application called TypeCase. It is a 3D printed keyboard integrated into the shell of the cell phone, consisting of 5 keys instead of 50. The keys are located on the sides of the smartphone so that they are accessible to each finger of the hand. To compose a letter, a word or a character, it is enough to tap successively on each key. But TypeCase is not just for writing messages, it is also for reading them. Indeed, the user can "feel" the text, using the same code, with small vibrations in each of his fingers. This tool, which is innovative and above all intuitive, is a good alternative to traditional keyboards for visually impaired people. 
Tailor-Made Vehicles for People with Disabilities
The German company Paravan GmbH has made it its mission to adapt vehicles to the needs of drivers. To help people with disabilities, Paravan offers special electric wheelchairs and makes conversions to motor vehicles. To ensure that the customer's specific dimensions can be measured, the company relies on 3D scanning. The company uses a Go!SCAN SPARK from Creaform3D to determine the optimal seating position of the driver for the use of different tools (steering and accelerator-brake) in the vehicle. Previously, all adjustments on the customer's vehicle had to be done manually with the customer. With the 3D scanner, many adjustments can now be made in advance, saving a lot of time in the process.
Sonova Creates Customized Hearing Aids
Sonova also relies on 3D printing to develop solutions for people with disabilities. Specifically, they are developing customized in-the-ear and behind-the-ear hearing aids, tailored to the needs of each patient. In this type of application, it is essential that the shape of the hearing aids is perfectly adapted to the user's ear canal and the degree of hearing loss. In order to design it, the ear canal mold is first created by hand and then the design is digitized. It is then adapted to the corresponding shape before being sent to the 3D printer. During the manufacturing process, a light-curing acrylic resin is used to shape the hearing aid housing layer by layer.
IKEA and the ThisAble Range
For a few years, Ikea, the furniture giant, has been offering a range of products called ThisAble. It includes 3D printed furniture extensions that can be attached to cabinets, sofas or shower curtains to make daily life easier for people with disabilities. The 3D files of the extensions are available online and can be downloaded for free. The models are more and more numerous, as the range is constantly evolving, and designed for adults and children. For example, it is possible to 3D print an extension to lift the sofa, to sit and stand up more easily, but also window protections to avoid damage caused by the impact of a wheelchair. You can find all the models HERE.
3D Printing for Handicapped Animals
Finally, we couldn't close this ranking without mentioning the animals that have benefited from 3D printing to improve their daily lives. Indeed, in recent years, we have seen many cases where some animals needed a prosthesis, an orthosis or an implant to adapt to their body and regain their mobility. Like Bionic Pets, Wizard of Paws or the company DiveDesign, several companies offer animals medical devices adapted to their needs thanks to additive manufacturing and its ability to design personalized and customized tools.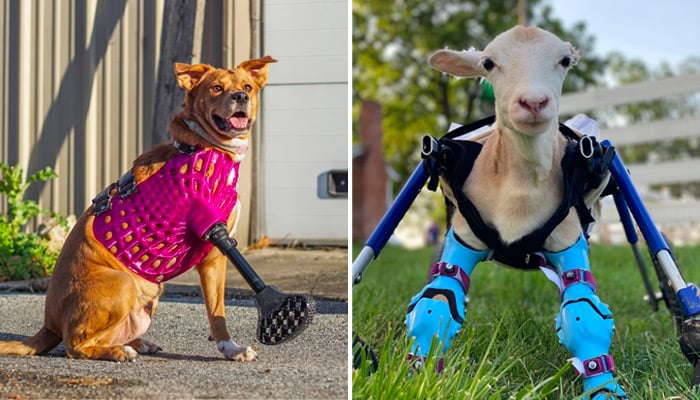 Which application interested you the most? Let us know in a comment below or on our Linkedin, Facebook, and Twitter pages! And don't forget to sign up for our free weekly Newsletter here, the latest 3D printing news straight to your inbox! You can also find all our videos on our YouTube channel.