TOP 10 STL Files of 2019!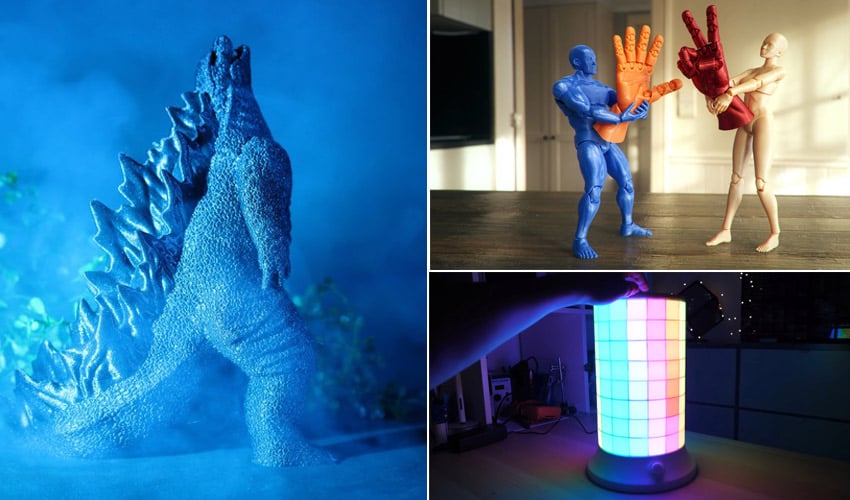 This upcoming year-end is an opportunity to look back and remember the successful 3D models of 2019. As the years go by, choosing becomes trickier as the offer of STL files that can be perfectly 3D printed becomes overwhelming. This abundance can be explained by the lower entry price for a basic desktop 3D printer, which has enabled many designers, hobbyists or makers to equip themselves with more affordable machines, therefore also increasing demand for 3D models. This TOP 10 includes creations by well-known 3D designers but also emerging ones that we are very happy to include in this ranking. Let's go back on the top 10 STL files of 2019!
#1 The mechanical Fhuable counter
This incredible mechanical counter was created by Australian designer Fhuable and is 100% 3D printed. This creative genius, as gifted in 3D modeling as in mechanics, created all the printable parts so that this counter works perfectly either via a crank handle or an electrical system.
#2 The Godzilla of Chaos Core Tech
Chaos Core Tech is well known in the 3D printing industry because it has been sharing its STL files for a very long time. This time, he made an incredible Godzilla that is perfectly printable without any printing supports or even filling material. The most striking feature of this creation is the texture he created for the monster's skin.
#3 The Heliox Pixel Lamp
All 3D printing and DIY fans know her, Heliox is really the rising star among the Youtubers who talk about 3D printing. She is appreciated for the quality of her videos, of course, but also for her inventiveness and her pedagogy. She frequently presents projects that include 3D printing and 3D modeling. This is the case with this superb animated pixel lamp.
#4 Game of Thrones Dragon Lamp by 3DMON
A major event in 2019, the end of the famous HBO Game of Thrones series. This inspired the 3DMON designer who had the brilliant idea to create a lamp that resembled a dragon from the series. The concept of this lamp is very well thought out: a printed transparent plastic part has the appearance of a flame jet and serves as a light support for the lamp.
#5 Invisibility of Extreme3dPrint
This designer stands out for his very artistic and poetic approach to 3D printing. He plays over imaginary shapes by creating delicate drapes. Thus his 3D models are incredibly light. He also makes his creations printable without needing printing supports.
#6 Recycled vases from Clémence Germain
The French designer Clémence Germain had the excellent idea of creating a collection of vases to recycle old glass bottles. This creation is part of a fundamental trend that encourages to reduce our waste. 3D printing sometimes gets a bad press on this subject, proving here that with a little inventiveness we can get rid of a bad image.
#7 RikkTheGaijin's articulated hand
This designer based in Japan had the excellent idea to recreate the famous wooden articulated hand, a decorative object that we all know. He obviously used 3D printing in his creative process: the result is a superb modern hand, printable without support and perfectly functional. An excellent way to send messages by placing it next to your computer.
#8 The Imagine Gorilla Piggybank
What better way to protect your savings than to give them to a ferocious gorilla. In any case, that's the idea that this excellent French designer had. The level of detail of this creation makes the animal almost realistic. The system to recover the parts underneath avoids having to face the animal and break it to recover its property!
#9 The mechanical phone holder by Aaron Mollet
Very nice thought out work behind this project, 100% 3D printed. The initial observation is simple: a 3D printed telephone holder is difficult to adapt to two phones of different sizes. Aaron Mollet had the excellent idea of using the weight of the device to trigger an ingenious mechanical system that will literally grab the phone.
#10 Amao's sea turtle
Each year, AMAO is logically included in this ranking as its creations are magnificent, well designed, functional and above all meaningful. Here, he raises awareness of the fate of these sea turtles in danger because of man.
What are your favourite 3D files in 2019? Let us know what you think in a comment below or on our Facebook and Twitter pages! Don't forget to sign up for our free weekly Newsletter, with all the latest news in 3D printing delivered straight to your inbox!