What Resin 3D Printers Are Available in 2023?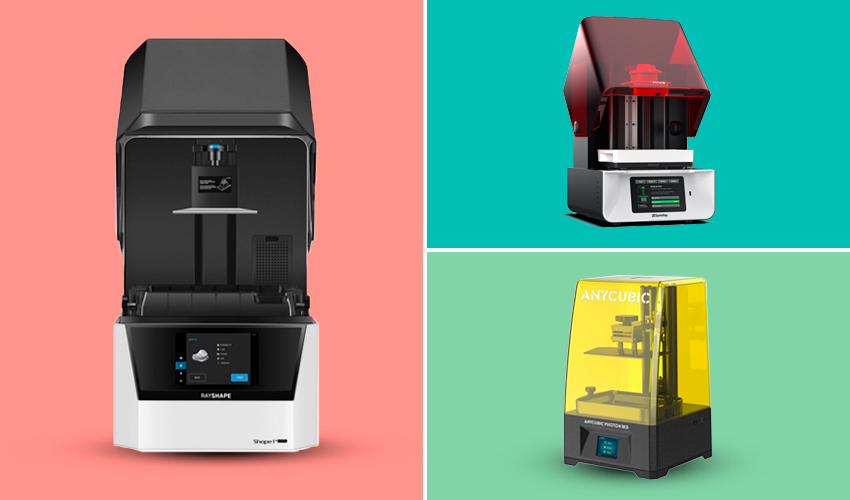 Stereolithography, better known by the abbreviation SLA, became the first 3D printing technology when it was imagined in 1986 by American Chuck Hull, later founder of 3D Systems. The process, which is based on the photopolymerization of a UV-sensitive resin using a laser, has since inspired new techniques and resin 3D printers including DLP, MSLA, VLM (from BCN3D), MovingLight (from Prodways) or, more recently, CLIP (from Carbon). Until a few years ago printers with these technologies were only intended for more professional environments, but with the enormous growth of the industry this technology has reached the wider public without losing print quality. Today, we wanted to compile some of the most outstanding resin 3D printers of 2023, from desktop printers to more professional machines. We have classified them alphabetically according to the name of the manufacturer.
3D Systems – The ProJet 6000 HD Resin 3D Printer
3D Systems, which focuses on a variety of technologies, also offers SLA products, like its ProJet 6000 HD, a resin 3D printer that promises the highest quality and accuracy of small to medium size 3D printed parts. To match the 3D printing machine, 3D Systems offers a wide range of SLA resins that provide the required consistency and mechanical properties for any material. In addition, the product enables the unparalleled benefits of 3D stereolithography, such as cost savings or material supply, to be realized in a more compact format. The production volume is 251 x 250 x 250 mm and the minimum layer thickness is 50 microns. Currently, the price of the ProJet 6000 HD varies between €100,000 and €250,000.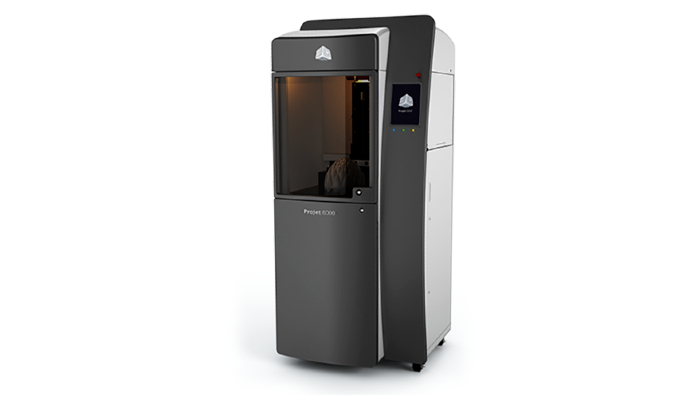 Anycubic – Photon M5
This resin 3D printer belongs to the LCD type and is manufactured by Anycubic, a Chinese company established in 2015. It has dimensions of 460 x 270 x 290 mm and weighs 8.6 kg. The printer supports a print volume of 200 x 218 x 123 mm and operates at a speed ranging from 20 to 50 mm per hour. The Photon Mono M5 model is equipped with double linear rails, ensuring a precision of 10 micrometers on its Z axis. The printer features a 10.1″ monochrome LCD screen with a resolution of 12K (11,520 x 5,120 pixels) and has a pixel size of 19 x 24 micrometers.
Asiga – MAX Mini
Asiga, an Australian manufacturer specializing in DLP technology and founded in 2011, offers the resin MAX 3D printer. This printer has dimensions of 260 × 385 × 370 mm and weighs 19.3 kg, providing a print volume of 119 × 67 × 75 mm. It features a pixel resolution of 62 micrometers and operates at a wavelength of either 385 or 405 nanometers. The printer is compatible with both materials supplied by Asiga and third-party materials. On the software side, Asiga's MAX resin 3D printer is designed to work with the manufacturer's Composer solution. It supports file formats such as STL, SLC, PLY, and STM (Asiga's Stomp format). The package includes not only the printer but also a calibration toolbox, a selection of Asiga materials, a printing plate, the manufacturer's Flash curing chamber, and the Composer software. Additionally, unlimited technical support is provided. The special features of Asiga's MAX 3D printer include platform positioning control and automatic LED power adjustment.
Axtra 3D – Lumia X1
Axtra's Lumia X1 3D printer incorporates Hybrid PhotoSynthesis (HPS) technology, a groundbreaking process that combines the strengths of SLA and DLP methods to overcome their individual limitations. This unique integration results in enhanced speed and accuracy. The printer features an integrated HPS light engine, which boasts an impressive laser dot resolution of 50 microns. With a spacious build volume measuring 249 x 140 x 495 mm, the Lumia X1 stands as a hybrid device, capable of functioning in both offline and online modes. Moreover, it offers the flexibility of operating as both a closed and open system, enabling users to use third-party resins.
B9Creations – B9 Core 550
The American brand B9Creations has a wide range of resin 3D printers. The B9 Core 550 is an improved version of the B9 Core 530. Based on DLP technology, it works with a video projector that solidifies the liquid resin. It is aimed at professional users and costs around €9,955. The B9 Core 550 offers a layer thickness of 10 micrometers, an XY resolution of 50 micrometers and a build volume of 96 x 54 x 127 mm. Other interesting factors include a large, improved touchscreen on the front, as well as WiFi, Ethernet and USB connectivity. An important point is compatibility, as it offers the possibility of using resins from other manufacturers on the market.
Carbon – M3
Carbon, a manufacturer based in Redwood City, California, introduces the new M3 series of 3D printers, targeting high-end prototyping and manufacturing processes. This updated device offers several improvements compared to its predecessor, the M2, showcasing the benefits of the new series. Apart from its innovative design, the most noticeable difference is the inclusion of a fully integrated touchscreen, enhancing the overall workflow and providing additional setting options.
The integrated touchscreen allows operators to customize the display colors according to their preference, promoting a more comfortable working environment. Furthermore, the noise level of the printer can be adjusted to match the ambient noise in the production area. Compared to previous models, the M3 ensures a smoother and more consistent finish on the final products. It also incorporates integrated infrared resin emitters, enabling better heat management and control during the printing process.
 HALOT Mage – Creality
Creality is a major player in the resin 3D printer industry. With the Halot Mage, the manufacturer offers an easy-to-use solution. The machine has a print volume of 228 x 128 x 230 mm for hardware dimensions of 333 x 270 x 608 mm and a weight of 12 kg. The 3D printer is able to print a layer between 1 and 5 seconds, with a thickness varying between 0.05 and 0.15 mm. The Halo Mage also comes with a 10.3-inch LCD screen to better handle prints. As for the printing resolution, it is 29.7 μm on the Y axis. In addition, the 3D printer incorporates an air purifier system. Powered and controlled directly by the machine, it includes a replaceable activated carbon filter. It absorbs irritating resin odors more effectively. Finally, Creality's HALOT BOX slicing software adopts an intuitive 4-step workflow and includes many presets. The Halot Mage is also compatible with other slicing software. 
DWS Systems – XFAB 3500 HD Resin 3D Printer
XFAB 3500HD is the advanced version of XFAB series and delivers outstanding models for jewelry and fashion accessories. It is a Fast and high precision stereolithographic 3D printer, which has a built-in PC, a "Plug & Play" system and a TTT system (tank translation technology that reduces tank wear). The working area of the laser stereolithography printer is 140 x 140 x 180 mm and it uses Solid State BlueEdge Laser and Fictor ® XFAB Edition and Nauta software. The machine is 400 x 606 x 762 mm and weighs 40kg.
Elegoo – Mars 3
The SLA Mars 3 3D printer belongs to the Mars series, manufactured by Elegoo. This device provides a print volume of 89 x 143 x 175 mm, with dimensions measuring 227 x 227 x 438 mm. It utilizes stereolithography (SLA) technology and allows for a layer thickness ranging from 0.01 mm to 0.2 mm. The printer boasts an impressive accuracy of 0.035 mm on the XY axis and 0.00125 mm on the Z axis. Despite its high performance, it weighs only 5.2 kg, making it suitable for placement on a desk or workstation.
The Mars 3 is equipped with a 3.5-inch 4K touchscreen, which serves as a user interface for controlling all printing operations. Notably, the interface supports multiple languages, enhancing accessibility for users. The machine comes with Chitubox Pro slicer software, which is included free of charge for one year for all users. Additionally, the 3D printer features a USB port for conveniently accessing print-ready files.
ETEC (Desktop Metal) – Xtreme 8K
EnvisionTec is a historic manufacturer in the 3D resin printing market, particularly known for DLP technology. It was acquired by Desktop Metal in 2021 and has since been behind the ETEC brand. Among the solutions it offers is the Xtreme 8K printer, a device designed for high volumes. Based on the DLP process, it offers a generous 450 x 371 x 399 mm volume and uses a 4K projector for greater precision. It is compatible with a wide range of plastics, from high-temperature materials to elastomers and hard plastics. This makes it suitable for a wide range of industrial requirements.
Flashforge – Focus 8.9 Resin 3D Printer
The compact and handy Flashforge Focus 8.9 offers a print volume of 192x120x200 mm and a print speed of 10-50 mm/hr. It is particularly suitable for the dental sector to design surgical templates, mouthguards or dental splints. It is based on DLP technology. The 3.5″ touchscreen and Wifi connectivity enhance user experience.
Formlabs – Form 3+ Resin 3D printer
The Form 3+ 3D printer is one of the most popular resin 3D printers from the "Form" series of the US manufacturer Formlabs. With a maximum build volume of 146 × 145 × 185 mm, this device is based on SLA technology and has a high laser power (250 mW). According to the manufacturer, it is an ideal solution for producing prototypes and functional final parts in high quality and in record time. In addition to its key features, the Form 3+ has other features that enable cost reduction, faster iterations and an overall better user experience. Although we are focusing on the Form 3+ here, it is worth noting that Formlabs also has other SLA solutions in its product line, such as the Form 3L and Form 3B+ resin 3D printers.
GENERA – Genera G2
The Genera G2 marks the inaugural printer release from Austrian company GENERA, established in 2015. The development of the G2 incorporated valuable customer feedback, resulting in a workflow optimized for safety and cleanliness. This resin 3D printer utilizes 4K DLP technology, offering the flexibility to adjust pixel size and resolution based on specific requirements. Options of 100 μm, 70 μm, or 40 μm can be selected. With a maximum print volume of 384 x 216 x 320 mm, the G2 is particularly well-suited for industrial applications.
The printer achieves impressive speeds of up to 3mm per minute, depending on the resin. To enhance its capabilities further, the Genera G2 can be seamlessly integrated with the F2 post-processing system and the A2 automation module, which establishes a connection between the G2 and F2. This integration enables fully automated production without the need for constant supervision, making it especially convenient for overnight printing.
JG Maker – G5
The G5 from manufacturer JG Maker is a resin 3D printer that is versatile and can be used for applications in the medical, architectural, automotive, aerospace and footwear industries. Features of the printer include a build volume of 210x130x240mm, a print speed of 20mm per second, and an integrated curing and post-curing process. The GJ Maker G5's supported file types are cbddlp, OBJ, SLC and STL. It has the same STL file compatibility as its successor, GJ Maker G6, which is additionally supported with a CTB file extension. Overall, the JG Maker G5 is a user-friendly, comprehensive and versatile solution on the market.
KINGS – 800Pro SLA
KINGS 3D Printing Technology, a high-tech company, has specialized in manufacturing SLA printing solutions since 2017. In doing so, the company is a leading supplier of industrial SLA 3D printers and printing materials in South China and one of the largest service centers in the whole of China. KINGS' 800Pro industrial SLA 3D printer features a maximum print size of 800x800x500mm and a machine size of 140x149x247 cm. It runs KINGS 3D control software and is compatible with Windows 7/10 operating system. With a beam diameter of 0.075-0.8mm and a maximum scanning speed of 15m/s, the printer is used to produce prototypes for architecture or even the automotive industry.
Longer3D – Orange 4K-Maschine
Launched in late 2020, the Orange 4K 3D printer joins the Orange range from Chinese manufacturer Longer3D. The LCD machine features a 5.5-inch LCD screen and offers a maximum print volume of 120 x 68 x 190 mm. With a print speed of up to 60 mm/h, the Orange 4K is available in two different models, the color version and the mono version. And according to Longer3D, both are capable of producing extremely detailed prints. The resin 3D printer is compatible with various slicers such as Chitubox, LongerWare and Lychee Slicer, and has a built-in temperature detection system to prevent excessive heat. The Orange 4K has a 12-month warranty and comes without resin. It is available for 380 euros ($499) on the manufacturer's website.
MagForms – Helios-P600
The Helios-P600 3D printer, manufactured by MagForms, presents itself as a resin-based 3D printing solution from China. It uses stereolithography (SLA) technology to create parts, boasting an impressive build volume of 600 × 600 × 500 mm. Notably, the Helios-P600 stands out for its millimeter-level precision, ensuring consistent and accurate sizes with each print. The printer maintains resin levels within a range of ±0.03 mm, and the error at the coating edge is minimal, measuring less than 0.02 mm. These characteristics highlight the high precision and attention to detail of this printer.
When it comes to print speed, the Helios-P600 excels by offering a 30-50% increase in speed compared to conventional SLA printing solutions. This is made possible through the implementation of a variable laser beam, enabling adjustments in beam size during the printing process within a range of 0.5-0.6 mm. Furthermore, scanning of the substrate and edges is accomplished using a narrow beam measuring 0.15-0.2 mm, contributing to enhanced printing accuracy. The printer's open-source design ensures high compatibility with all brands of 355nm resins, further expanding the available options for users.
Nexa3D – XiP Pro
The Nexa3D XiP Pro is a professional 3D printer known for its high-speed printing capabilities. It uses a Liquid Crystal Display (LCD) technology called Lubricant Sublayer Photo-curing (LSPc), which enables fast layer curing and exceptionally high print speeds. With an industry-leading print speed of up to 24 vertical centimeters per hour, the XiP Pro can produce its entire build volume in less than two hours. This speed is several times faster than most conventional 3D printers and enables significantly shorter print times. 295 x 163 x 410 mm build volume provides ample space for producing larger objects or multiple prints simultaneously. It also offers a high resolution of 25 microns, ensuring excellent detail and precision in printed models. Its prototyping capabilities were featured in the recent Disney movie "Elemental," which was released in theaters on June 16, 2023, and featured characters inspired by prototypes made with the XiP Pro printer in a joint collaboration with Gentle Giant Studios.
NOVA3D – Whale3 Super
Our next in our listing of resin 3D printers comes from the manufacturer NOVA3D and is called Whale3 Super. It is equipped with a large COB (chip-on-board) light module that allows for precise and high-quality models. The printer has a 10.3-inch monochrome LCD screen, the ability to use 0.25 mm thick media and a resolution of 7680 x 4320 pixels. With a print size of 228 x 128 x 260 mm, the Whale3 Super can print multiple parts or even complete models at once. It also features an automatic resin feed system, so there's no risk of running out of material when printing large models. The design of the resin container has also been optimized for convenient and easy handling of the printer. Finally, the design of the resin container prevents contamination of the FEP when it is on the work surface. This not only protects the integrity of the material, but also facilitates precise alignment during installation.
PEOPOLY – Phenom Prime Resin 3D Printer
The Phenom Prime developed by Peopoly is the highest resolution resin 3D printer in the Phenom range. This machine is based on MSLA (mask stereolithography) technology and can produce parts with a maximum print volume of 276 × 155 x 400 mm. It features a monochrome panel that offers significantly higher light transmission and reduces exposure time by more than 70%. The Phenom Prime not only has three times the lifespan of its predecessor, but also stands out for its production speed. This is mainly due to Peopoly's MSLA technology and customized light engine, which has an even wider light distribution than other resin 3D printers. It also features a cooling system that improves print results and extends the life of the print mask.
Photocentric – Liquid Crystal Magna
The Liquid Crystal Magna is one of the novelties of the British manufacturer Photocentric, which originally specialized in the production of resins for 2D printers and launched its first 3D solution in 2015. This new 3D printer uses the brand's patented technology, which is based on the principles of stereolithography but uses an LCD screen. The printer has a large print volume of 510 mm x 280 mm x 350, one of the largest for resin machines. It offers a layer thickness of 100 microns and is perfect for low-volume development, according to the manufacturer. The starting price is approximately 13,000€.
Phrozen –  Sonic Mighty 8K Resin 3D Printer
Founded in 2016, Taiwan-based Phrozen introduces the Sonic Mighty 8K 3D printer as an LCD printer that supports large-format prints with high detail. According to Phrozen, the printer is easy to use and especially suitable for beginners. Measuring 337 x 337 x 516 mm, it weighs 14.3 kg and offers a print volume of 218 x 123 x 235 mm. It has a resolution of 28 micrometers on the XY axis and can handle a layer thickness of 10 to 300 micrometers. Its maximum print speed is 70 mm/hour. It has a 5-inch touchscreen, runs the Phrozen OS operating system and the Chitubox V2.0 slicer.
PioCreat – Pionext D136 7k Resin LCD Dental
Founded in 2015, PioCreat is a subsidiary of Creality and specializes in the development of cost-effective industrial 3D printers including ones using resin. The manufacturer's solutions are used in advertising, jewelry, (dental) medical and automotive industries. The D136 LCD Dental has a print size of 298×165×300mm and a print speed of 1-4s/layer. It is also equipped with a 13.6-inch 7K- screen and a 5-inch touch screen. The D136 runs PioNext Box slicing software and is compatible with any third-party resins. The solution is primarily used for developments in the dental sector.
Prusa – SL1S SPEED Resin 3D Printer
The Prusa SL1S printer works with MSLA technology. Unlike the manufacturer's other models, it uses an LCD screen and UV light to cure the resin layers. It also stands out from the manufacturer's other models and also from its predecessor, the Prusa SL1, in terms of print qualities. The print area is thus a quarter larger than on the SL1 and the speed has also tripled, with a print speed of 1.4 seconds per layer. The Prusa SL1S combines rich detail and speed in one device. When purchased, the printer is pre-assembled and ready to use. It is available as a single unit, but also in a pack together with a post-processing station. In terms of price, it is around 2000€.
RAYSHAPE – 
Shape 1+ Dental 
Launched by the Asian manufacturer RAYSHAPE, the Shape 1+ Dental is a resin DLP 3D printer specially designed for the dentistry sector. The machine has a printing volume of 144 x 81 x 200 mm and a speed of printing of 40 mm height/hour, characteristics allowing immediate treatment in the clinic. Designed to meet the needs of healthcare professionals, the Shape 1+ Dental is suitable for more than 20 dental applications. It is compatible with RAYSHAPE's ShapeMaterials dental resins, as well as other third-party materials. Out of the box, the 3D printer incorporates a long-life DLP light engine, so users don't need to pay attention to periodic component repair or replacement. 
Stratasys – Origin One
Developed by manufacturer Origin (now acquired by Stratasys), the Origin One 3D printer uses a patented resin technology called Programmable Photopolymerization (P³). This method can optimize the printing process in real time by projecting light, controlling temperature, and other conditions. This allows them to produce parts smaller than 50 µm with high-precision materials and achieve the best results. The machine has a build volume of 192mm x 108mm x 350mm and is compatible with light-curable materials from Origin's open materials network. Weighing 72kg, the machine has minimal power requirements, allowing manufacturers to effectively maximize their production capacity.
SHINING 3D – AccuFab-L4K Resin 3D Printer
Developed by Asian manufacturer SHINING 3D, the AccuFab-L4K is a high-precision resin 3D printer. It is based on DLP technology and has a maximum print volume of 192mm × 120mm × 180mm. The highlight of this device is undoubtedly its 4K resolution, which meets the efficiency and detail requirements of the most demanding industries. Other features of the AccuFab-L4K include an enclosed housing, a control screen and a total weight of 19kg. In terms of materials, this machine is more open than similar equipment on the market, as it is compatible with resins from other manufacturers. Moreover, it allows the production of parts in standard, hard, permanent, washable, flexible and medical resins. In short, it is the ideal choice for a wide range of applications that require high-quality end parts.
Sisma – EVERES UNO
Sisma is a leading Italian company in the production of high-precision machines and laser systems for the jewelry industry. The company decided to dedicate itself to additive manufacturing a few years ago, and among its solutions it also offers two 3D printers with DLP technology, aimed at the dental and jewelry sectors: EVERS ZERO and UNO. The latest EVERES UNO has similar features to the ZERO, with a larger print area of 124.8 x 70.2 mm, an XY resolution of 65 microns, a layer thickness of 25 to 150 microns and a print speed of up to 6 min/cm.
SprintRay – Pro S
The Pro S series resin 3D printers are designed exclusively for dentists. The Pro S 95 S and Pro S 55 S are simple to operate and easy to integrate into a workspace. Equipped with DLP technology, sensors to optimize printing and suitable for a wide range of materials, they are designed to produce all types of dental applications and speed up dental office workflows. Recently, the resin 3D printers have been optimized by further increasing the printing speed by 20%.
Uniz – Slash 2 Plus Resin 3D Printer
According to manufacturer Uniz, the Slash 2 Plus is the fastest desktop 3D printer in the world. It says the device offers a fast, accurate and reliable 3D printing experience with an ultra-intensive lightweight motor. It has a print volume of 192 x 120 x 200 mm, measures 350 x 400 x 530 mm and offers a layer thickness between 10 and 200 μm. The Slash 2 Plus is a resin 3D printer suitable for the dental sector. It is compatible with any dental resin available on the market and has a 4.3-inch touchscreen that allows direct and easy operation on the device. In terms of printing speed, the Slash 2 Plus can produce up to 250 mm/h.
Voxelab – Proxima 6.0 4K Mono LCD
The Voxelab Proxima 6.0 4K Mono LCD resin 3D Printer is a high-resolution printer with Mono LCD technology for faster printing speeds. With its 4K monochrome LCD screen, it delivers exceptional precision and detail. The printer offers a generous build volume of 130mm x 76mm x 155mm and uses a UV LED light source for consistent and reliable resin curing. It features a user-friendly touchscreen interface, supports a wide range of UV-curable resins, and allows printing via USB. The Voxelab Proxima 6.0 is a versatile and efficient resin 3D printer suitable for a wide range of projects.
XYZPrinting – Nobel Superfine
Nobel Superfine printer is a professional resin desktop 3D printer (DLP) from Taiwanese manufacturer XYZPrinting. Thanks to its precision, this resin 3D printer is suitable for professionals in the jewelry and dental industries. Nobel Superfine can 3D print molds, as well as prototypes such as rings, tiaras, bracelets or brooches. In addition, this high-resolution resin 3D printer is compatible with various XYZPrinting proprietary materials, including acrylic and casting resins. Its printing volume is 64x40x120mm.
Zortrax – Inkspire 2 Resin 3D Printer
Zortrax has several resin 3D printers in its collection. With the Inkspire, the Polish manufacturer used LCD technology to combine speed and accuracy. According to him, their machine was the fastest and most accurate on the market. The machine has a larger print volume than its predecessor, increasing from 74 x 132 x 175 to 192 x 120 x 280 mm. The resin 3D printer is compatible with many advanced engineering resins, including those previously available only to DLP 3D printers. In addition, the Inkspire 2 makes the entire process of resin 3D printing simple and clean thanks to the implemented automation. In addition, the Zortrax device's pressure plate is designed to facilitate activities such as removing 3D prints from resin or removing resin residue. As for the 3D printer's other features, it has an 8.9-inch monochrome screen, is compatible with Z-SUITE software and allows for layer thicknesses that can vary between 25, 50 and 100 μm.
Do you have any of these resin 3D printers? Let us know in a comment below or on our Linkedin, Facebook, and Twitter pages! Don't forget to sign up for our free weekly Newsletter here, the latest 3D printing news straight to your inbox! You can also find all our videos on our YouTube channel.