Top 10: SLA, DLP & Resin 3D Printers
Posted On November 29, 2017
---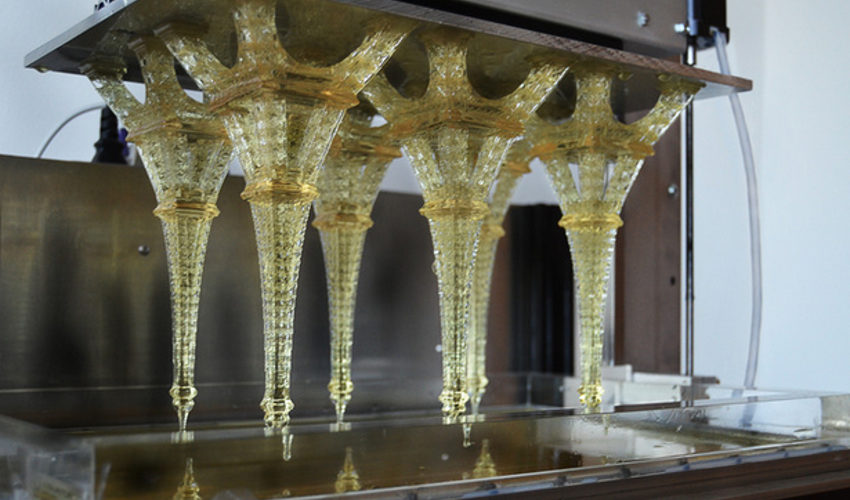 In 1986, an American named Chuck Hull created the first 3D printing technology. This technology today is known as SLA or stereolithography. These SLA 3D Printers, which is based on photo-polymerization, uses a laser on a UV-sensitive resin and has since inspired new techniques such as DLP, MovingLight, or more recently the Atom 3 SLA and Fused Deposition Modeling, or FDM 3D printer.
Once reserved only for manufacturers and laboratories, SLA technology has become increasingly accessible, both in terms of price and handling. It is therefore why we have selected the TOP 10 SLA 3D printers on the market. We also have other lists, such as our best Cheap 3D Printers and best XXL 3D printers.
The Best SLA 3D Printers & Resin 3D Printers
1. The Form 2
The Form 2 represents the latest generation of 3D resin printers from the American brand Formlabs, a company recognized as a pioneer in stereolithography. This version follows the Form 1 model, a model that was made possible thanks to their Kickstarter campaign in 2012. You can compare its specs in our Comparator here.

With a 145 x 145 x 175 mm manufacturing chamber, it holds several interesting features such as Wi-Fi connectability, a scanning system for the resin tray after each layer, a mobile application for receiving notifications, and smart cartridges for tracking the amount of consumption. The Form 2 SLA 3D printer is currently available for $3,49. For more information, check out their site here.
2. The Nobel by XYZprinting
Taiwanese manufacturer XYZprinting is now one of the world's leading vendors of personal 3D printers, with competition from the likes of Ultimaker and MakerBot. Already present in the low-cost FDM printing industry, they have now launched themselves into the resin 3D printer market with the Nobel 1.0.
The Nobel 1.0 SLA 3D printer offers a 128 x 128 x 200 mm print volume, while also including an intelligent filling mechanism for the resin tank. The STL files are loaded using a USB key, or via a USB cable connected to a computer. The Nobel 1.0 is available for a price of only $1,499 (£1,200). For more information, visit their website here.
3. The B9 Creator
The American brand B9 Creator offers its DLP 3D printer as a plug & play a kit. This printer is based on DLP technology and works with a video projector that flashes and solidifies the liquid resin.
The B9 Creator offers technical features that are comparable to other market models, with their minimum layer of thickness at 5 microns, a 50 micron XY resolution, and a volume (resolution-dependent) of 104 x 75 x 203 mm. This kit is sold starting from $4,595 USD (about £3,670).You can compare its specs in our Comparator here. For more information, visit their website here.
4. The Liquid Crystal
The Liquid Crystal is a low-cost resin 3D printer that is available for a small price of £699 ($875), it was unveiled in October of 2015 by Photocentric. This SLA 3D printer is based on an innovative process that uses an LCD screen to photopolymerize the liquid resin. This saves time and reduces production costs. This printer also offers a generous volume of 200 x 100 x 200 mm. You can compare its specs in our Comparator here. For more information, visit their website here.
5. The Ember by Autodesk
The Ember is Autodesk's first step into the DLP 3D printer market and was unveiled in 2014 at Maker Con in San Francisco by their CEO, Carl Bass. Following the open source movement, Autodesk has also taken the opportunity to fully open the plans of their machine.
Sold for $5,995 (£4,780), the Ember DLP 3D printer used DLP technology to create objects at a speed of 15-mm/h. The printer has a resolution of 35 microns and has a maximum volume of 64 x 40 x 134 mm. For more information, visit their website here.
6. The Moonray
After a successful crowdfunding campaign on Kickstarter in April of 2015, MoonRay is now in the marketing phase, selling for $5,999 (£4,790). The resin printer, which was developed by SprintRay, operates on a DLP process that uses a custom-designed projector with a lifetime of 50,000 hours.
As for its performance, the MoonRay displays a minimum layer of thickness of 20 microns for a horizontal resolution (XY) of 100 microns and has a manufacturing volume of 127 x 81 x 229 mm. For more information, visit their site here.
7. The GiziMate
Gizmo3D, a company based in Brisbane, Australia, developed 3 models of their DLP 3D printer: the GiziPro, the GiziMax and the GiziMate. Each one with different options and different manufacturing volumes.
The GiziMate DLP 3D printer, by default, is equipped with a production chamber of 130 x 200 x 113 mm. It includes a projector that is downwards, in opposition to the main models on the market. When creating your object, the piece is gradually immersed in the resin pan and has the advantage of minimizing the creation of supports, allowing you to print finer pieces. The GiziMate prices start at $2,400 (£1,920). For more information, visit their site here.
8. The Morpheus 3D
Like most resin 3D printers, the Morpheus 3D was funded via a crowdfunding campaign on Kickstarter. The company behind the printer, OWL Works 3D, wanted to develop the Morpheus 3D into a machine that could create pieces with large dimensions.
The Morpheus 3D offers a nice volume of 300 x 180 x 300 mm and uses an LCD screen to solidify the resin, layer by layer (not voxel by voxel). Another advantage is that this printer will allow you to use many of the resins that are currently on the market. The Morpheus 3D is available for preorder now, with prices starting at $649 (£520). Deliveries are expected to begin shipping in June of this year. For more information, visit their site here.
9. The CoLiDo DLP 1.0
Specializers in FDM technology, with nearly 7 models of 3D printers, Colido has officially launched its first DLP 3D printer at CES 2016 in Las Vegas, Nevada.
Based in Hong Kong, The brand offers the CoLiDo DLP 1.0 3D printer with a volume of 100 x 76 x 150 mm, is equipped with a resin tank that is 4 times larger than its competitors, and has an automatic resin filling system. Prices for this machine begin at $3,300 (£2,630). You can compare its specs in our Comparator here. For more information, visit their site here.
10. The Projet 1200
Developed by the American giant 3D Systems, the Projet 1200 is a Micro SLA 3D printer that is specially designed for jewelers and dental prosthetists who are looking for more precision.
With its compact dimensions, the Projet offers a limited manufacturing volume of 43 x 27 x 150 mm, a minimum layer of thickness of 30 microns, and a resolution of 585 DPI. Prices for this printer begin at $4,900 (£3,910). You can compare its specs in our Comparator here. For more information, visit their site here.
Do you own a SLA or DLP 3D printer? Are you a resin 3D printer fan? Share your review in a comment below, or just let us know what you think of the printers that made it onto our list! In addition, check out our Top 10 Low Cost 3D printers here.
Don't forget to follow us on Facebook and Twitter!
---
You may also like