What Resin 3D Printers Are Available in 2022?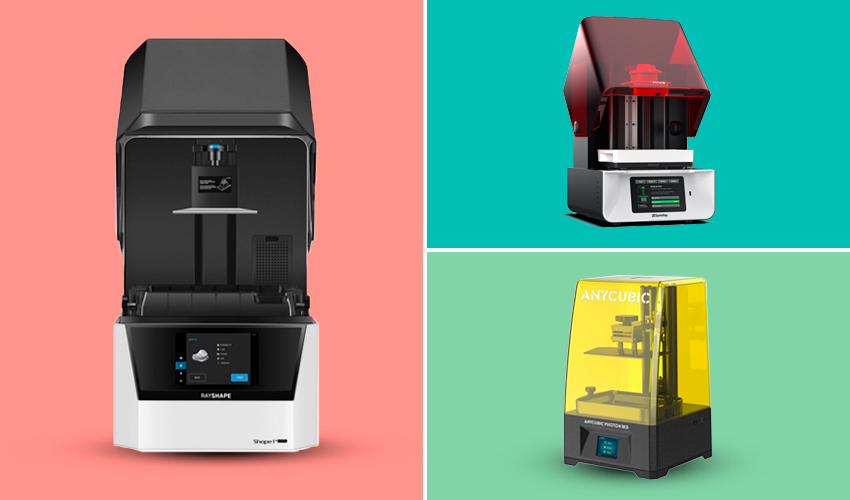 Stereolithography, better known by the abbreviation SLA, became the first 3D printing technology when it was imagined in 1986 by American Chuck Hull, later founder of 3D Systems. The process, which is based on the photopolymerization of a UV-sensitive resin using a laser, has since inspired new techniques and resin 3D printers including DLP, MSLA, VLM (from BCN3D), MovingLight (from Prodways) or, more recently, CLIP (from Carbon). Until a few years ago printers with these technologies were only intended for more professional environments, but with the enormous growth of the industry this technology has reached the wider public without losing print quality. Today, we wanted to compile some of the most outstanding resin 3D printers of 2022, from desktop printers to more professional machines. We have classified them alphabetically according to the name of the manufacturer.
The ProJet 6000 HD from 3D Systems
3D Systems, which focuses on a variety of technologies, also offers SLA products, like its ProJet 6000 HD, a resin 3D printer that promises the highest quality and accuracy of small to medium size 3D printed parts. To match the 3D printing machine, 3D Systems offers a wide range of SLA resins that provide the required consistency and mechanical properties for any material. In addition, the product enables the unparalleled benefits of 3D stereolithography, such as cost savings or material supply, to be realized in a more compact format. The production volume is 251 x 250 x 250 mm and the minimum layer thickness is 50 microns. Currently, the price of the ProJet 6000 HD varies between €100,000 and €250,000.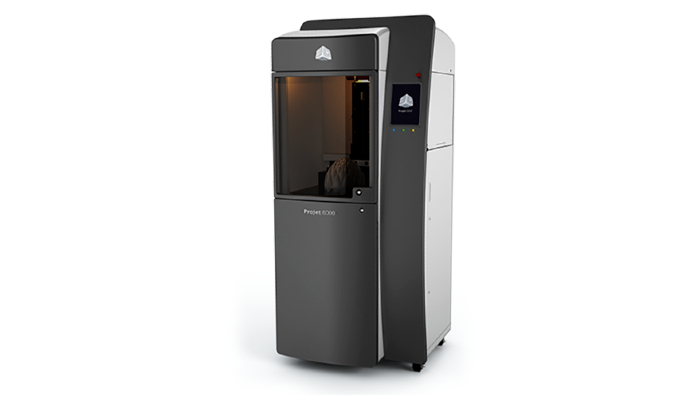 The Photon M3 from Anycubic
With Photon M3, the Chinese manufacturer Anycubic has introduced a high-quality entry-level 3D printing device with a build  volume that is appropriate smaller print jobs. The clever machine offers solid print qualities combined with elevated print times and an impressive build plate size making it a great and reliable resin printer. The M3 features a variety of great features, including a 9.25'' 6K exposure screen and an automatic feeding function that feeds the resin vat automatically, whenever the resin supply is insufficient and stops when the amount of resin is enough. In addition to that, the nifty resin 3D printer by Anycubic features so-called LighTurbo matrix-arranged LCD beads, which provide strong light power that makes high-speed printing possible, as well as a 5-inch LCD touch screen, that offers a better user experience. For those who want to print bigger sized products, the Photon M3 is available in 3 different sizes, the M3, the M3 Plus and the M3 Max.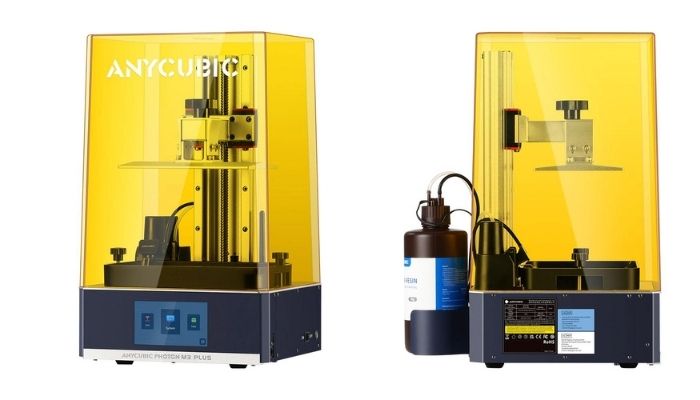 Asiga MAX Mini by Asiga
Founded in Australia in 2011, Asiga specialises in Digital Light Processing (DLP) technology. The Asiga MAX Mini is the smallest solution from the manufacturer, it offers a build volume of 51 x 32 x 75 mm and comes with 2 versions of different LED wavelengths, 385 or 405 nm. It is mainly used in the dental sector, but also in audio technology and the jewellery industry. In addition to the materials that Asiga offers, the machine is also compatible with all suitable materials from third-party suppliers. Currently the MAX Mini can be purchased for approximately $7,990.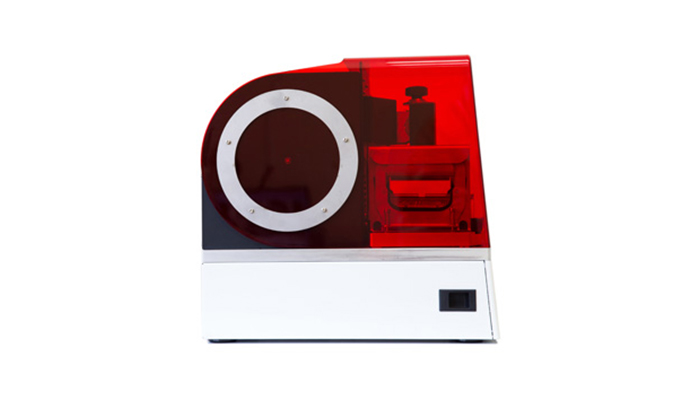 B9 Core 550 by B9Creations
The American brand B9Creations has a wide range of resin 3D printers.   The B9 Core 550 is an improved version of the B9 Core 530 (previously in our rankings!). The printer is based on DLP technology and works with a video projector that solidifies the liquid resin. It is clearly dedicated to professionals, and is priced at around €9,955. The B9 Core 550 demonstrates a layer thickness of 10 microns, an XY resolution of 50 microns and a build volume of 96 x 54 x 127 mm. Other factors of interest include a large enhanced touch screen on the front panel and WiFi, Ethernet and USB connection, and compatibility is a key point, as it has the possibility of using resins from other manufacturers on the market.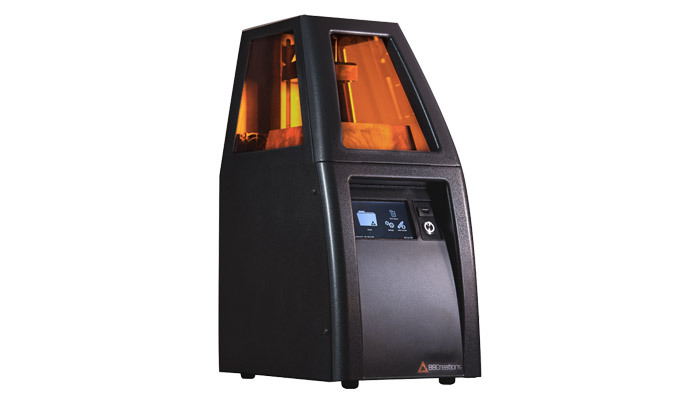 The M3 Resin 3D Printer from Carbon
With the launch its new M3 series of 3D printers, Carbon, which is based in Redwood City, California, is introducing a new and updated device, which is aimed at high-end prototyping and manufacturing processes. The easiest way to demonstrate the benefits of the new series is to compare it to its former model, the M2. Since the new resin 3D printer is more or less an updated version of its predecessor, the difference that catches the eye first is, besides its new and innovative design, that the new model now has a fully integrated touchscreen, which makes the entire working process a lot easier and also features a number of new possible settings. By using the touchscreen, the display colors can now be changed to whatever one the operator is most comfortable with. In addition to that, the sound level can also be adjusted to match the volume of the sounds surrounding the area of production. Compared to the earlier versions, the M3 also allows a way smoother and more consistent surface finish on the end products. In addition to that, the M3 has onboard infrared resin heaters, which results in better heat management and control during the print.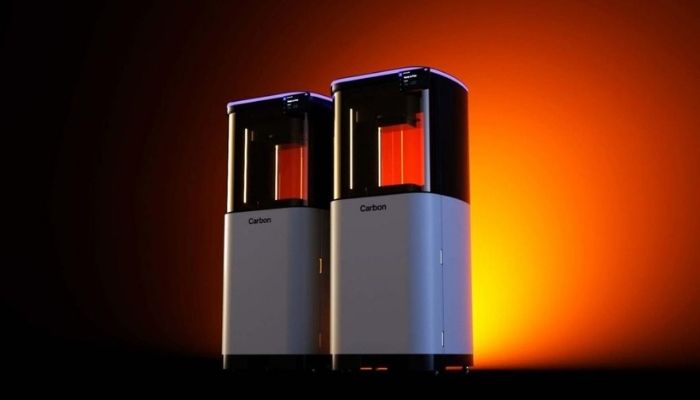 Halot One Plus from Creality
Designed by Creality, the Halot One Plus 3D printer is more powerful, easier to use and more efficient than its predecessor. It features a Z-axis with two linear rails, which, combined with a T-shaped threaded rod, ensures precise and smooth movement. Equipped with a 7.9-inch mono LCD screen, the resin 3D printer allows for quality prints with very fine details. With a print volume of 172 x 102 x 160 mm, the machine incorporates a 5-inch touch screen that provides a good overview of the print and makes it easy to handle the machine. In addition, it is possible to use the Creality Cloud app and choose from 14 different languages.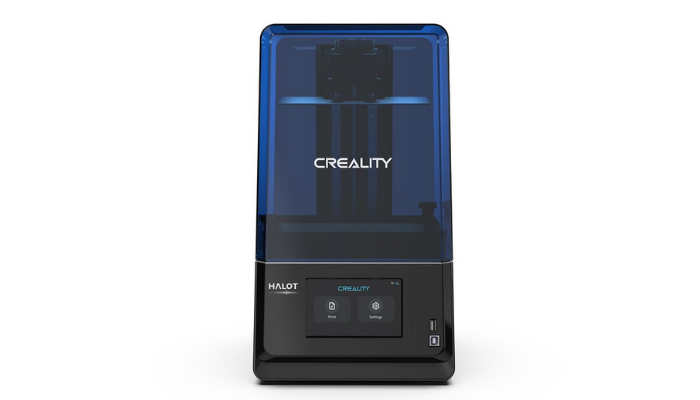 XFAB 3500HD 3D printer from DWS
Developed by the manufacturer DWS, the XFAB 3500 HD has been added to the XFAB range and is intended to provide models for the jewelry and fashion accessory industries. Based on the SLA process, it allows rapid prototyping but also the production of functional parts with complex geometries. Its printing volume is 140 x 140 x 180 mm and the machine is compatible with all materials offered by DWS. The resin 3D printer is supplied with the professional version of the Nauta software. In terms of size, the machine measures 400 x 606 x 762 mm and weighs 40 kg.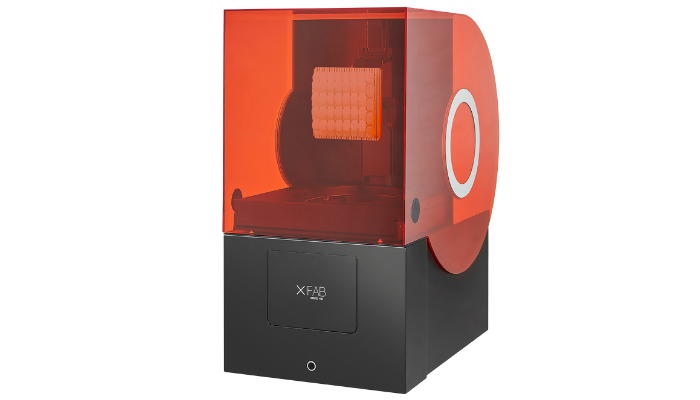 Xtreme 8K from EnvisionTec
EnvisionTec is a historical manufacturer in the resin 3D printing market, particularly known for DLP technology. It was acquired by Desktop Metal in 2021 and has since been behind the ETEC brand. Among the range of solutions offered is the Xtreme 8K printer, a machine designed for production volumes. Based on the DLP process, it offers a generous volume of 450 x 371 x 399 mm and uses a 4K projector for added precision. It is compatible with a wide variety of plastics, from high-temperature materials to elastomers and hard plastics. Thus, it meets various industrial needs.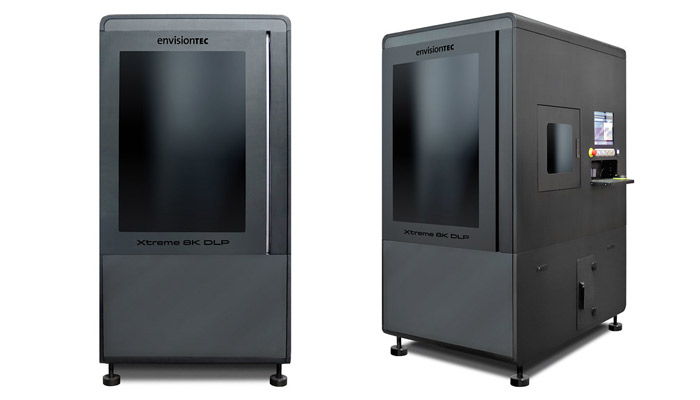 Focus 8.9 from Flashforge
Compact and practical, the Focus 8.9 from Flashforge offers a printing volume of 192 x 120 x 200 mm and a printing speed of 10-50 mm/H. It is a solution particularly adapted to the dental sector, whether to design surgical guides, mouth guards or gutters. It is based on DLP technology. Finally, it offers a 3.5-inch touch screen and Wi-Fi connectivity, enhancing the user experience.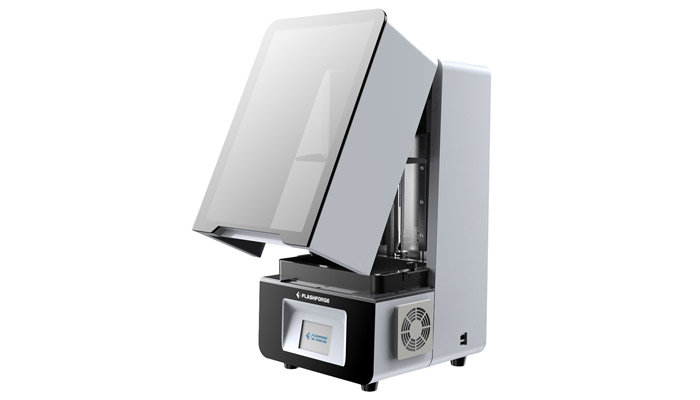 Resin 3D Printers from Formlabs
Formlabs is one of the pioneers of desktop stereolithography, renowned in particular for its Form 2. In April 2019, it announced the arrival of two new machines, the Form 3 and Form 3L, based on a brand new printing process called Low Force Stereolithography (LFS). Formlabs' main objective was to increase the print volume: the Form 3 can create parts of 145 × 145 × 185 mm, while the Form 3L can go up to 300 × 335 × 200 mm, which is 5 times larger than its big sister. Both printers are also said to be faster and more accurate, offering a minimum layer thickness of 25 microns using a 250mW laser. The Form 3 is available from €3,299 and the Form 3L from €9,399.
In 2022, the American manufacturer returned to the forefront with the Form 3B+ and Form 3BL. With a print volume of 145 x 145 x 185 mm, the Form 3B+ is intended for the medical sector. With a precision of up to 25 microns, it allows the design of parts with fine details and smooth surfaces. Also dedicated to the health sector, the Form 3BL was designed to be able to work continuously with a minimum of intervention. The machine has an integrated printing volume of 335 x 200 x 300 mm and optical sensors for optimal printing conditions. In France, the Form 3B+ is available from 4,033 euros while the Form 3BL is sold at a price of 11,500 euros.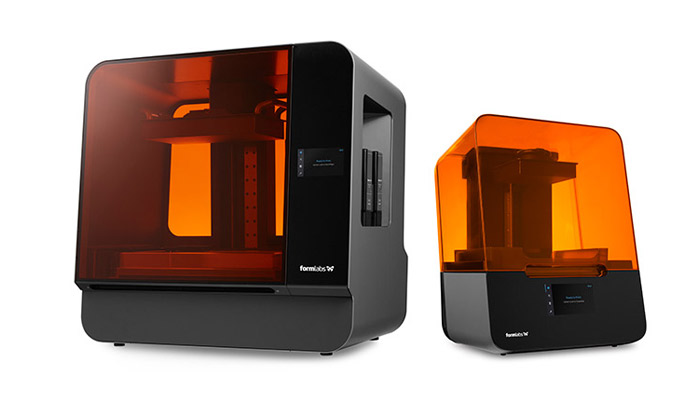 The Orange 4K from Longer3D
Launched in late 2020, the Orange 4K 3D printer has been added to the Orange line from Chinese manufacturer Longer3D. The LCD machine features a 5.5-inch LCD screen and offers a maximum print volume of 120 x 68 x 190 mm. With a print speed of up to 60 mm/hr, the Orange 4K is available in two different models, the Color version and the Mono Version. And according to Longer3D, both are able to achieve extremely detailed prints. Compatible with various slicers, such as Chitubox, LongerWare and Lychee Slicer, the resin 3D printer incorporates a temperature detection system to prevent overheating. Guaranteed for 12 months and delivered without resin, the Orange 4K is sold at a price of 380 euros ($499) on the manufacturer's website.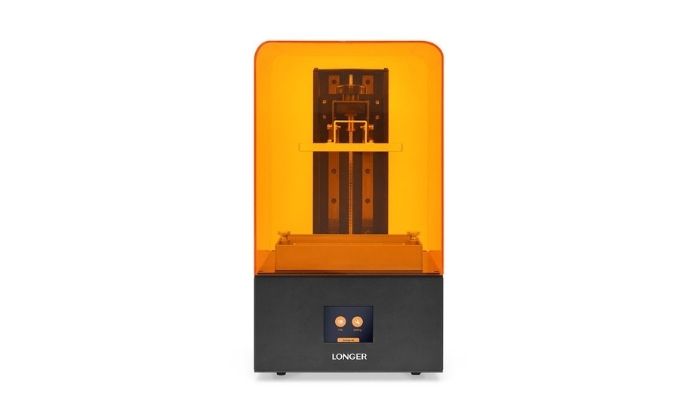 NXE400 from Nexa3D
Launched in 2019 by U.S. manufacturer Nexa3D, the NXE400 professional machine has a print volume of 270 × 160 × 380 mm or 16 liters. It is based on LSP technology – for Lubricant Sublayer Photo-curing in English – which is a type of masked stereolithography (mSLA) and is intended to be faster than solutions on the market. According to the manufacturer, the NXE400 offers a printing volume 2.5 times greater and a manufacturing speed multiplied by 6.5. It is compatible with materials of type PP, ABS and functional materials of technical quality.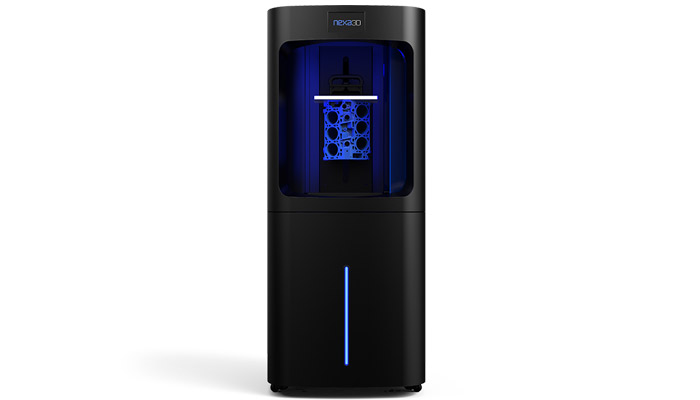 Origin One from Origin
Developed by the manufacturer Origin, the Origin One 3D printer is based on a resin technology called programmable photopolymerization (P³). This method allows the printing process to be optimized in real time by managing several parameters, such as light projection and temperature control. This allows users of the machine to create parts smaller than 50 µm in size with high-precision materials and achieve qualitative results. The 3D printer has a print volume of 192mm x 108mm x 350mm and is compatible with materials offered by Origin. Weighing in at 72 kg, the machine has minimal energy requirements, allowing manufacturers to maximize their production capacity. Since Origin's acquisition by Stratasys, the Origin One has been sold under the Stratasys mark.
Phenom Prime from Peopoly
Developed by Peopoly, the Phenom Prime is the most powerful resin 3D printer in the Phenom line. Based on MSLA (Mask Stereolithography) technology, this machine is capable of producing parts with a maximum size of 276 × 155 x 400 mm. The 3D printer features a monochrome screen that offers a significantly higher light transmission rate, reducing exposure time by more than 70 percent. In addition to having a lifespan 3 times longer than its previous version, the Phenom Prime is distinguished by its manufacturing speed, mainly due to the MSLA technology. The machine also integrates a cooling system, improving the quality of the printed parts.
Liquid Crystal Magna by Photocentric
The Liquid Crystal Magna is one of the launches from the British manufacturer Photocentric, initially specialized in the creation of resins for 2D printers, it launched its first 3D solution in 2015. This new 3D printer uses its patented technology of the brand, based on the principles of stereolithography but using an LCD screen. The printer has a large printing volume of 510 mm x 280 mm x 350, one of the largest for resin machines. This machine has a layer thickness of 100 microns, and according to the manufacturer is perfect for the development of small series. Its starting price is $14,180 (£10,995).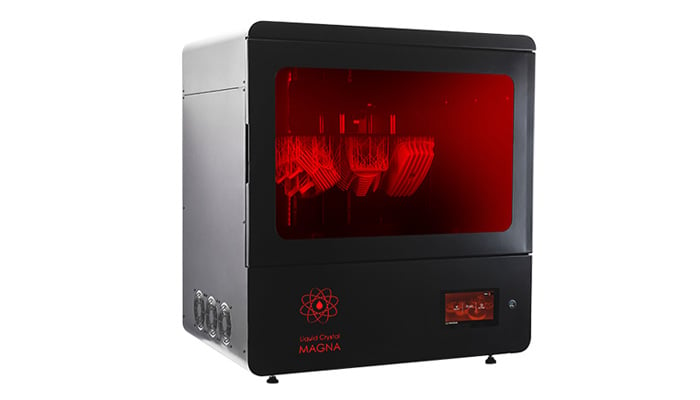 The Prusa SL1 Resin 3D Printer
In September 2018, Prusa, a manufacturer known for its open-source FDM 3D printers, entered the stereolithography market with the SL1. This open-source machine offers a printing volume of 120 x 68 x 150 mm and uses an LCD screen to harden the resin layer by layer in just 6 seconds. It is equipped with a resin tank containing a transparent and flexible FEP film, making it easier to change the tray. Delivered with a post-processing machine, the Prusa SL1 is available from $1,599, making it one of the cheapest 3D resin printers in our selection.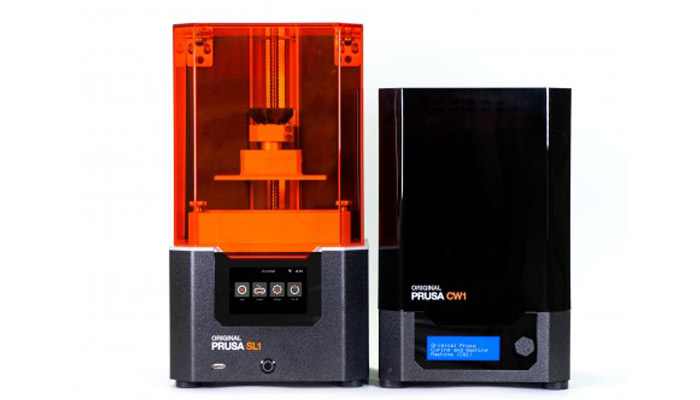 The Shape 1+ Dental Resin 3D Printer from RAYSHAPE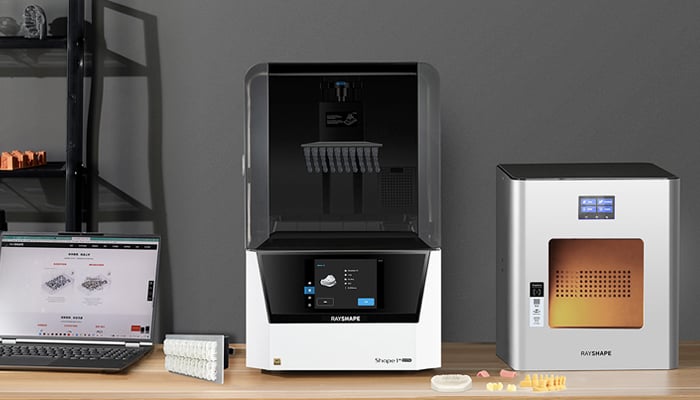 The SprintRay Pro S Range of Dental Printers
The Pro S range of dental printers has been designed to improve the productivity of medical practices. Designed exclusively for dental professionals, the Pro S is simple to use and easily integrated into a workspace. It is a fast and versatile tool for producing dental applications for all types of treatments. Compatible with a wide range of materials, the SprintRay Pro S range of dental printers is also distinguished by its printing speed. In addition, the printer is equipped with sensors to ensure that the 3D printing process runs smoothly.
The Slash 2 PRO Resin 3D Printer from Uniz
Launched in 2019 by the manufacturer Uniz, the Slash 2 PRO is among the best desktop resin 3D printers availble on the market. It uses an ultra-high resolution LCD screen and UV LED backlighting to cure the photosensitive resin layer by layer with precision and speed. The Slash 2 Pro features a 4K screen that guarantees an accuracy of 49.8 microns. Its print volume is 192 x 120 x 200 mm, which allows for simultaneous printing of several different parts or mass production of a single part.

Nobel Superfine from XYZPrinting
The Nobel Superfine is one of the resin 3D printers made by XYZPrinting, a Taiwan-based manufacturer. Based on the DLP process, the 3D printer features automatic calibration and Wi-Fi connectivity, which allows for remote control of the printing processes. Thanks to its precision, this resin 3D printer is suitable for jewelry and dental professionals. Nobel Superfine can 3D print not only molds, but also prototypes such as rings, tiaras, bracelets and pins. In addition, this high-resolution resin 3D printer is compatible with various XYZPrinting materials, including acrylic and castable resins. Its print volume is 64 x 40 x 120 mm.
Inkspire, A Resin 3D Printer from Zortrax
Like Prusa, Polish manufacturer Zortrax introduced its first 3D resin printer, called Inkspire. The manufacturer opted for LCD technology to combine speed and precision. Zortrax claims that its 3D resin printer is 8 times faster and 9 times more accurate than its competitors. It offers a relatively small printing volume of 74 x 132 x 175 mm and a minimum layer thickness of 25 microns. It can be accompanied by an ultrasonic cleaner, Zortrax Ultrasonic Cleaner, to facilitate post-processing steps. The Inkspire printer is available at a starting price of $1,990 (without tax).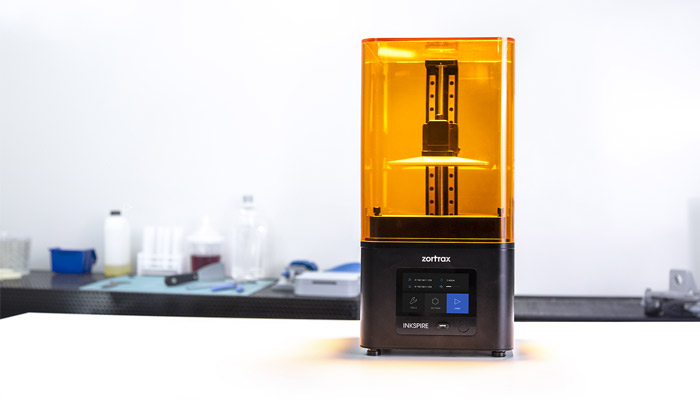 Compare dozens of resin 3D printers on the 3Dnatives comparator
Do you have an SLA or DLP 3D printer? Let us know in a comment below or on our Linkedin, Facebook, and Twitter pages! Don't forget to sign up for our free weekly Newsletter here, the latest 3D printing news straight to your inbox! You can also find all our videos on our YouTube channel.