What resin 3D printers are available in 2021?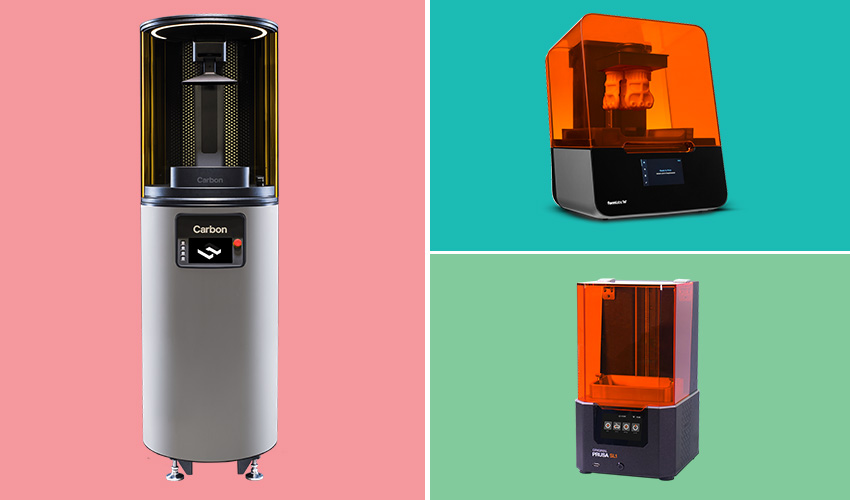 In 1986, Chuck Hull created the first 3D printing technology, also known as stereolithography (SLA). These SLA 3D printers, which are based on photopolymerization, use a laser to harden a UV-sensitive resin, layer by layer. This technique has inspired new techniques such as DLP, which uses a video projector instead of a laser, or LCD technology which as its name suggests uses a LCD screen as an UV light source.
Other processes such as MovingLight (from Prodways) or Digital Light Synthesis from Carbon are also worth mentioning. The aim of both is to speed up the printing process.. Once reserved only for manufacturers and laboratories, SLA technology has become increasingly accessible over the years, both in terms of price and ease of use. Manufacturers have improved the performance of machines, in terms of speed and build volume.  3Dnatives team has selected some 3D resin printers available in 2021, whether office or professional machines.  The 3Dnatives team has selected for you some 3D resin printers available in 2021, whether office or professional machines. They are sorted in order of increasing price..
The Best Resin 3D Printers (SLA & DLP)
1. Orange 30 by Longer3D
Available from $257.65 (€215), the Orange 30 3D printer is an office machine that will fit perfectly into any work environment.  We tested it and were seduced by its surface quality, its discreetness and simplicity, all at a very affordable price.  The Orange 30 is an LCD machine that offers a relatively small print volume of 120 x 68 x 170 mm, a 2.8-inch full-color touch screen and a pixel resolution of 47.25 μm. The manufacturer offers 5 different resins – beige, grey, black or white but also a burnable resin. The 3D printer is also compatible with third party resins, opening up the field of possibilities for the user.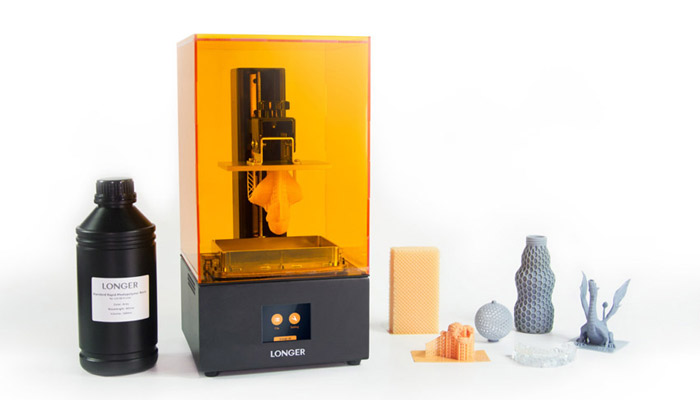 2. Photon Mono by AnyCubic
Anycubic released the Photon Mono in September 2020 as part of series of machines marking the company's fifth birthday. Accordingly, the machine itself is representative of Anycubic's progress as a 3D printer manufacturer over the course of the last five years. Starting from $269.00, the Photon Mono incorporates a monochrome LCD screen in order to conserve energy and repurpose it towards increasing the machine's print speed. The Photon Mono is able to print at twice the speed of its predecessor, with a maximum print speed of 50mm/h and a minimum layer cure time of 1.5s. The machine also possesses a build volume of 130 x 80 x 165mm.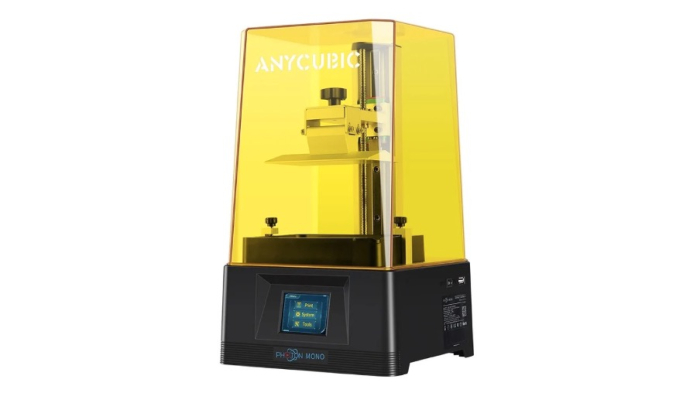 3. IBEE by UNIZ
In December 2020, the manufacturer UNIZ revealed its latest 3D LCD printer, IBEE, through a Kickstarter campaign that quickly reached its goal. With a print volume of 190 x 119 x 200 mm and a precision of 0.2 mm, the machine is affordable ($450), both for beginners and for more experienced users. It is supported by an 8.9″ monochrome 4K LCD screen with a redesigned resin tray. This would be easier for the user to change, thus speeding up the manufacturing process. Finally, IBEE is compatible with UNIZ Maker software, a solution that will optimize the printer settings and the orientation of the part to be created. You should know that the American manufacturer still offers its Slash range, fast and precise 3D resin printers.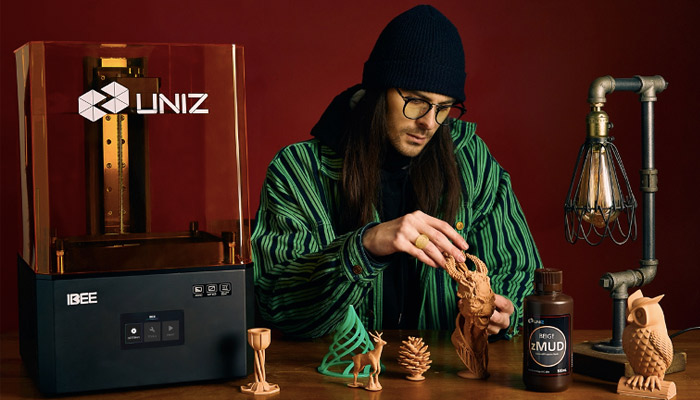 4. LD-006 by Creality
The most advanced of Creality's three resin 3D printers, the LD-006 boasts a number of impressive specs. Notably, it is known for its build volume, 192x120x250mm, which is large for a machine that uses the photopolymerization process. Along with this larger printing size, the LD-006 also offers rapid printing, with a max speed of 60mm/h, a stable Z-axis, a built-in dual-fan cooling and active carbon air purification system, and a 4.3" color touch screen for better user experience. Additionally, the machine has high 4K resolution, 3840x2400dpi with an XY axis precision of 0.05mm. With a starting price of $709.99USD, the Creality LD-006 is a bit more expensive than Creality's two other resin printers, however discounts can be found on Creality's website.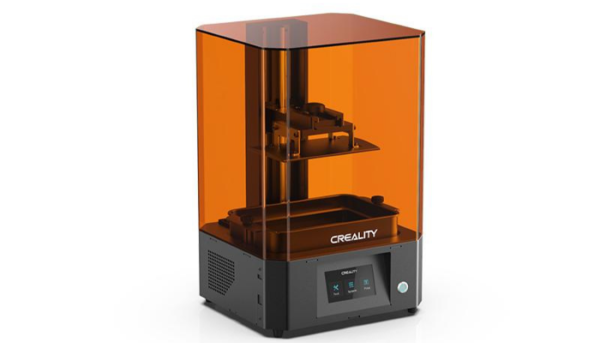 5. Prusa SL1 by Prusa
In September 2018, Prusa, a manufacturer known for its open-source FDM 3D printers, entered the stereolithography market with the SL1. This open-source machine offers a printing volume of 120 x 68 x 150 mm and uses an LCD screen to harden the resin layer by layer in just 6 seconds. It is equipped with a resin tank containing a transparent and flexible FEP film, making it easier to change the tray. Delivered with a post-processing machine, the Prusa SL1 is available from $1,599, making it one of the cheapest 3D resin printers in our selection.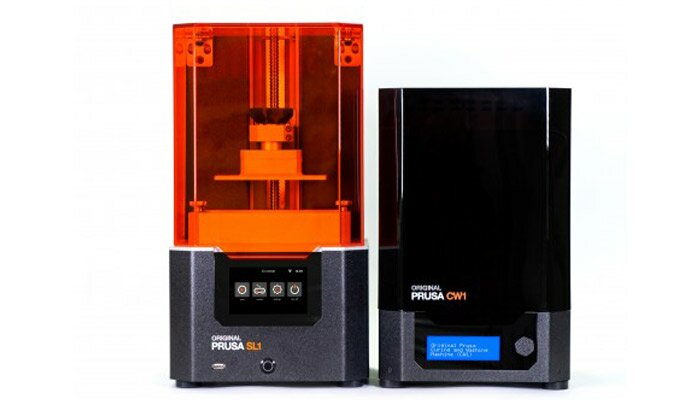 6. The Nobel 1.0 A by XYZprinting
Taiwanese manufacturer XYZprinting is one of the world's leading manufacturers of personal 3D printers, with competition from the likes of Ultimaker and MakerBot. Already present in the low-cost FDM printing industry, they launched in the resin 3D printer market. One machine presented was the Nobel 1.0 A. The Nobel 1.0 A SLA 3D printer offers a 128 x 128 x 200 mm print volume, while also including an intelligent filling mechanism for the resin tank. The STL files are loaded using a USB key, or via a USB cable connected to a computer. The Nobel 1.0 A is available for a price of about $2,227 (1,999€).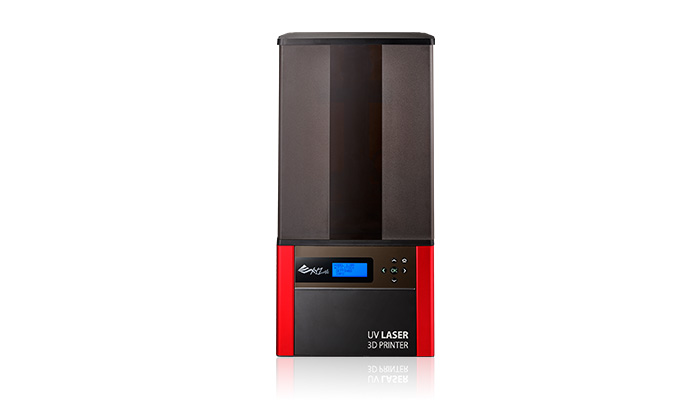 7. Inkspire by Zortrax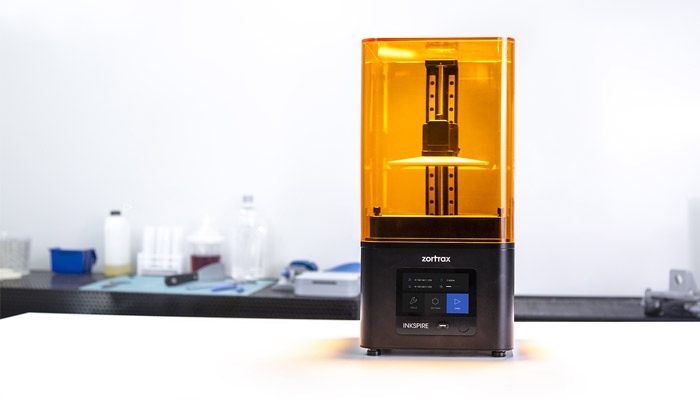 8. Phenom by Peopoly
Launched in 2019 by Peopoly, the Phenom is a 3D printer based on MSLA technology, which offers more uniform UV light and improved print quality. In addition, it is considered faster than other resin technologies for printing large objects. With a print volume of 276 mm x 155 mm x 400 mm, the 3D resin desktop printer is available from around $2,633.81(€2199). Additionally, it is compatible with a wide range of resins. However, the manufacturer recommends using Peopoly Deft resin for a higher success rate and optimal LCD longevity. There are also two other versions of the machine, a wide model and an XXL model, each with a higher production volume than the standard 3D printer.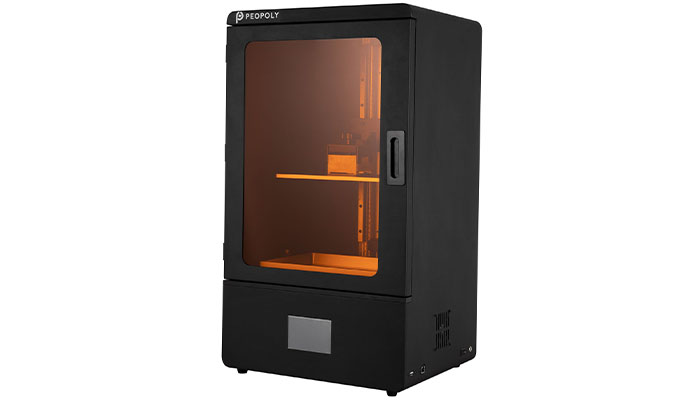 9. Form 3 by Formlabs
Formlabs is one of the pioneers of office stereolithography, renowned in particular for its Form 2. In April 2019, it announced the arrival of two new machines, Form 3 and Form 3L, based on a brand new printing process called Low Force Stereolithography (LFS). The main objective of Formlabs was to increase the printing volume: Form 3 can create parts of 145 × 145 × 185 mm, while Form 3L can achieve up to 300 × 335 x 200 mm. The two printers are also supposedly faster and more accurate, offering a minimum layer thickness of 25 microns thanks to a 250mW laser power. The 3D printers are available at $3,499 and $5,999 respectively.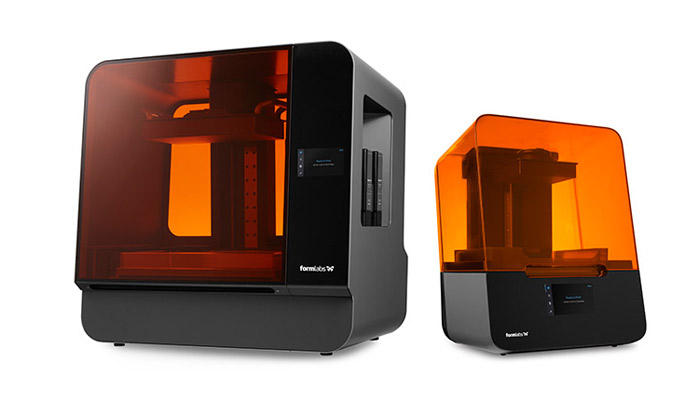 10. MoonRay S by SprintRay
After a successful crowdfunding campaign on Kickstarter in April 2015, MoonRay S has since been available for $3,499 (€3,123). The resin printer, which was developed by SprintRay, operates using a DLP process that uses a custom-designed projector with a lifetime of 50,000 hours. As for its performance, the MoonRay displays a minimum layer of thickness of 20 microns for a horizontal resolution (XY) of 100 microns and has a manufacturing volume of 127 x 81 x 229 mm.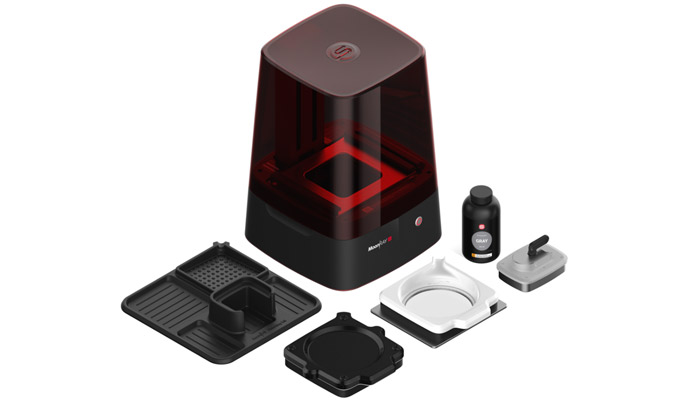 11. Hunter by FlashForge
Better known for its 3D FDM printers, the manufacturer FlashForge has also embarked in the resin 3D printer race with its Hunter printer. A DLP model marketed at a price of around $4,999. Among its important features, we can mention that it comes with a 1080px Full HD lamp, an ARM 8000Mhz Advanced Dual-Core processor and a dedicated print media creation feature for jewellery pieces. With its FlashPrint software, the FlashForge Hunter offers a print volume of 120 x 67.5 x 150 mm, for a minimum dot size of 62.5 microns and a minimum layer thickness of 12.5 microns. It also has WiFi connectivity and allows the use of competing resins.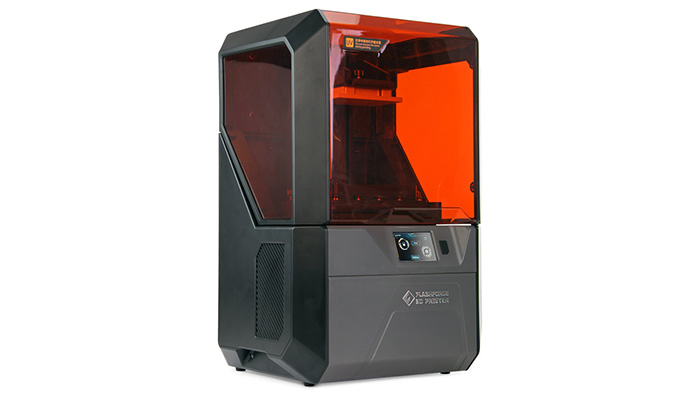 12. Asiga MAX Mini by Asiga
Founded in Australia in 2011, Asiga specialises in Digital Light Processing (DLP) technology. The Asiga MAX Mini is the smallest solution from the manufacturer, it offers a build volume of 51 x 32 x 75 mm and comes with 2 versions of different LED wavelengths, 385 or 405 nm. It is mainly used in the dental sector, but also in audio technology and the jewellery industry. In addition to the materials that Asiga offers, the machine is also compatible with all suitable materials from third-party suppliers. Currently the MAX Mini can be purchased for approximately $7,990.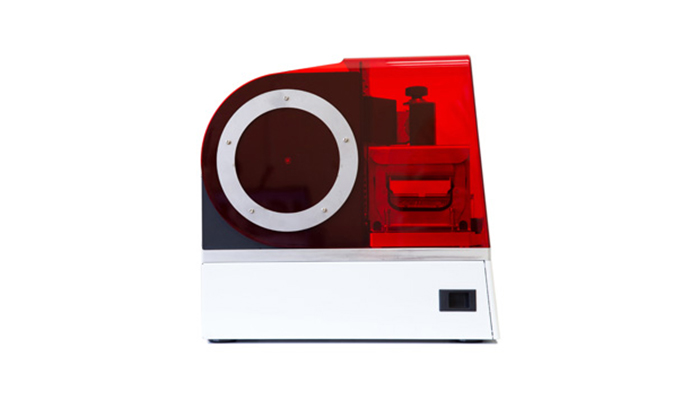 13. XFAB 2000 by DWS
DWS Systems is an Italian company specializing in the manufacture of  SLA 3D printers. One example is the XFAB 2000 3D printer, considered one of the best options for the creation of jewelry pieces. It uses the brand's patented BluEdge laser, with a 180mm diameter cylindrical printing tray, a layer thickness of 10 to 100 microns, also capable of working with a range of 12 materials. The XFAB printers use TTT (Tank Translation Technology) which ensures that the tank wears evenly and avoids localized laser damage.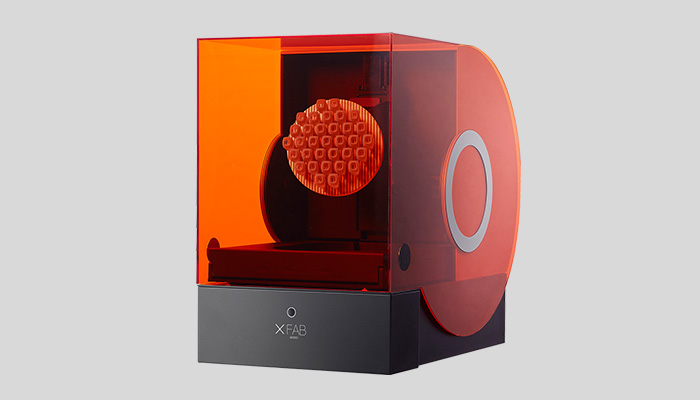 14. B9 Core 550 by B9Creations
The American brand B9Creations has a wide range of resin 3D printers.   The B9 Core 550 is an improved version of the B9 Core 530 (previously in our rankings!). The printer is based on DLP technology and works with a video projector that solidifies the liquid resin. It is clearly dedicated to professionals, and is priced at around €9,955. The B9 Core 550 demonstrates a layer thickness of 10 microns, an XY resolution of 50 microns and a build volume of 96 x 54 x 127 mm. Other factors of interest include a large enhanced touch screen on the front panel and WiFi, Ethernet and USB connection, and compatibility is a key point, as it has the possibility of using resins from other manufacturers on the market.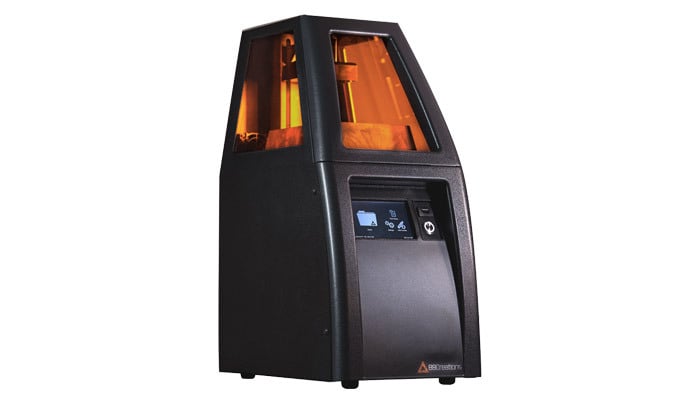 15. Liquid Crystal Magna by Photocentric
The Liquid Crystal Magna is one of the launches from the British manufacturer Photocentric, initially specialized in the creation of resins for 2D printers, it launched its first 3D solution in 2015. This new 3D printer uses its patented technology of the brand, based on the principles of stereolithography but using an LCD screen. The printer has a large printing volume of 510 mm x 280 mm x 350, one of the largest for resin machines. This machine has a layer thickness of 100 microns, and according to the manufacturer is perfect for the development of small series. Its starting price is $14,180 (£10,995).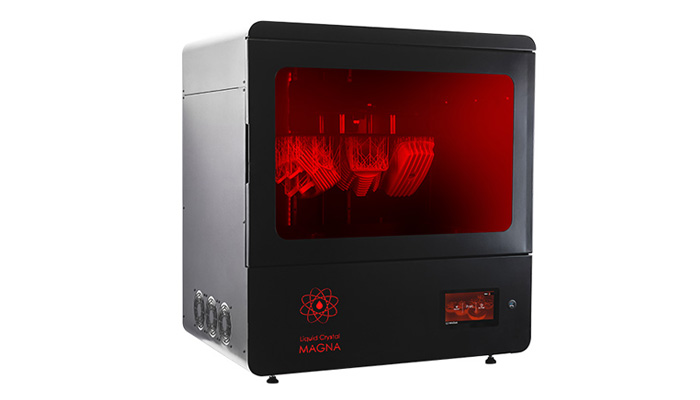 16. Vida by EnvisionTEC
EnvisionTec has developed the Vida 3D printer for a wide variety of professional and medical applications. Vida presents a high-resolution projector running at 1920 x 1080 pixel resolution with custom UV optics. The build volume of this machine is 140 x 79 x 100 mm and can achieve XY resolution of 73 µm and Z resolution of 25 to 150 µm. The user interface has been enhanced by touchscreen and WIFI connectivity. Moreover, this machine is compatible with the leading dental, hearing aid, and other professional design software. The manufacturer has also ensured that a wide-range of materials can be processed so that the user can 3D print dental, orthodontic, hearing and other products. The manufacturer hasn't revealed the exact price of the Vida 3D solution, but it lies somewhere between $10,000-$50,000.
17. M2 from Carbon
After coming out with its pioneering M1 3D printer, Carbon released an upgraded model, the M2. This industrial 3D printer features double the build volume of the M1, 189 x 118 x 326 mm to be exact. It uses Carbon's Digital Light Synthesis technology to manufacture high-resolution pixels (75 µm) and isotropic parts. The M2 is integrated with Carbon's software that allows hardware and materials to come together into an easy-to-use system. Carbon's technology is said to be 25 to 100 times faster than other comparable technologies and the M2 is compatible with Carbon's range of proprietary materials. The M2 is available as a subscription service with a minimum 3-year term, priced at $50,000 per year.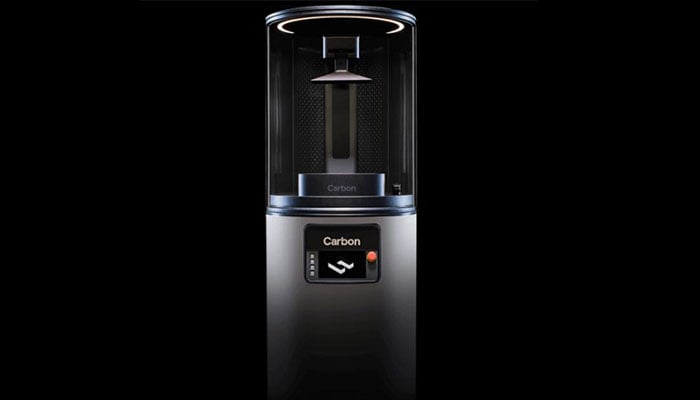 18. ProJet 6000 HD by 3D Systems
3D Systems, which focuses on a variety of technologies, also offers SLA products, like its ProJet 6000 HD, a resin 3D printer that promises the highest quality and accuracy of small to medium size 3D printed parts. To match the 3D printing machine, 3D Systems offers a wide range of SLA resins that provide the required consistency and mechanical properties for any material. In addition, the product enables the unparalleled benefits of 3D stereolithography, such as cost savings or material supply, to be realized in a more compact format. The production volume is 251 x 250 x 250 mm and the minimum layer thickness is 50 microns. Currently, the price of the ProJet 6000 HD varies between €100,000 and €250,000.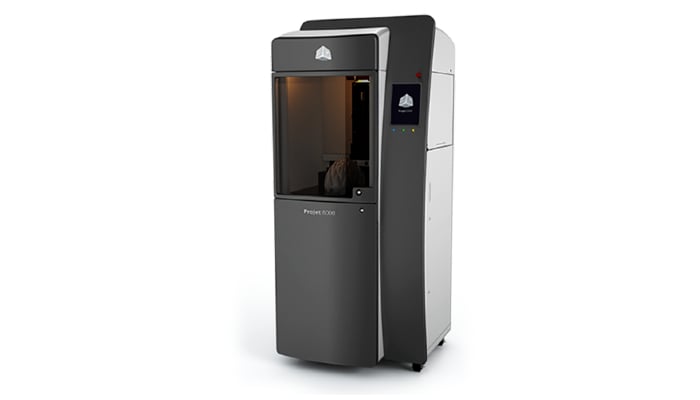 Do you own a SLA or DLP 3D printer? Are you a resin 3D printers fan? Share your reviews in a comment below or on our Facebook and Twitter pages! And remember to sign up for our free weekly Newsletter, to get all the latest news in 3D printing send straight to your inbox!
In addition, check out our Top 10 Low Cost 3D printers here.