Top 10 Most Popular 3D Printers to Buy on Amazon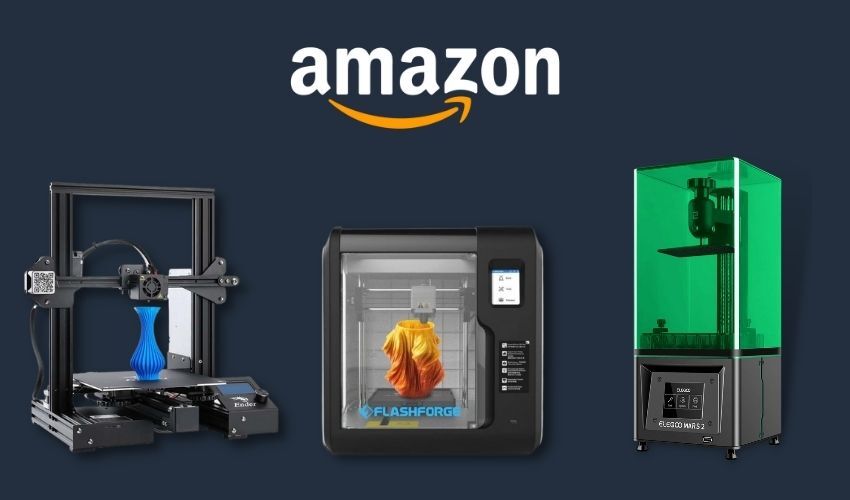 Established in 1994, Amazon has evolved into one of the largest e-commerce companies in the world. The platform has also gradually become one of the largest international distributors of 3D printers, especially for inexpensive machines. Today, in preparation for Black Friday, which has sparked a number of sales on 3D printers, we would like to share with you some of the most popular 3D printing solutions currently available on Amazon. We've narrowed down a selection of some of the highest-rated 3D printers in terms of score as well as number of ratings on Amazon (USA), ranked in price order. Take a look and see what you think of our 2021 picks!
Voxelab Aquila, One of the Kit 3D Printers on Amazon
This fully open-source alloy frame 3D printer from Voxelab is ideal for tinkerers. The Aquila 3D printer arrives as a semi-assembled Kit. Discover all the anatomy of a 3D printer as you assemble all the ins and outs of Voxelabs Aquila machine. Furthermore, since the machine is based on open-source technology, users can make all the upgrades and customizations they desire. Of course, users can also utilize standard software like VoxelMaker and Cura. To top it off, the Aquila 3D printer comes equipped with a carbon crystal silicon glass plate. In addition to allowing for a silent print, the glass plate offers a bit of protection from warping. Currently listed at $159, this machine is a steal. You can find it HERE.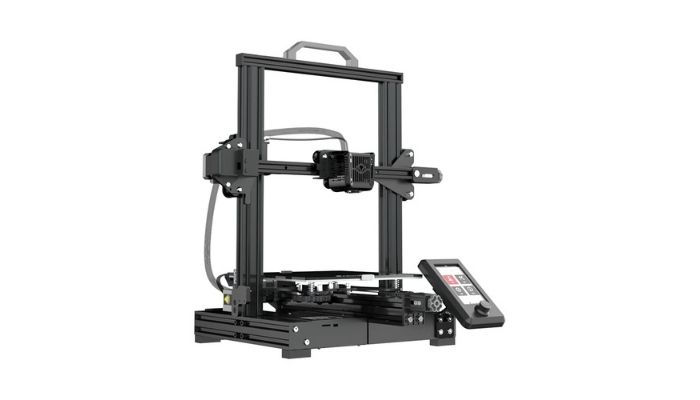 ANYCUBIC Photon Mono, a Fan Favorite on Amazon
Though ANYCUBIC has a number of popular machines on Amazon, we wanted to draw your attention to one in particular: the ANYCUBIC Photon Mono 3D Printer. The Photon Mono is the base model of ANYCUBIC's line of resin printers. It uses LCD-based SLA, enabling faster printing as well as stability and high precision (which SLA processes are known for), and the company has marketed the machine with the slogan, "Larger & Faster. For Freedom to Make." It has a relatively large build volume for a machine of this type, 5.19" x 3.14" x 6.5" and a printing speed of 50mm/h. 824 users of the machine have given it a rating of 4.5 out of 5, pointing especially to the tech support, print quality and the touch screen as key features. It is available on Amazon for only $179.00. And for those wanting a slightly more upscale version, the Photo MONO X is also available on Amazon for $529.99, both machines are currently on sale due to Black Friday. The Photon MONO X boasts faster printing and a larger print size than its predecessor among other features and the quality of material and print quality are pointed to by users as its key features. You can find it HERE.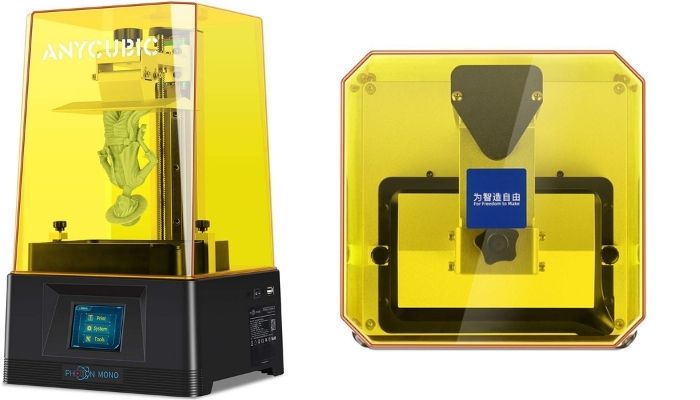 Creality Ender 3, One of the Most Popular Amazon 3D Printers
The Ender 3 is a desktop 3D printer that comes in the form of a DIY kit for $189 USD. It is produced by Creality, a manufacturer of 3D printers and 3D printing-related products based in China, with the company being especially popular on sites like amazon. The company produces and sells a range of affordable desktop machines based on multiple 3D printing technologies. Its most popular machines are based on Fused Deposition Modeling (FDM), as is the case with the Ender 3. Most users of Ender 3 are either makers or hobbyists that enjoy its simplicity, affordability, and reliability. This machine boasts a build volume of 220 x 220 x 250 mm, and a printing precision of 0.1 mm. The standard nozzle diameter is 0.4 mm, but it can also be 0.3 or 0.2 mm and can heat up to 255°C. Ender 3 can print with 1.75 mm filament such as ABS, PLA, TPU, wood, copper, etc. Find it on Amazon HERE.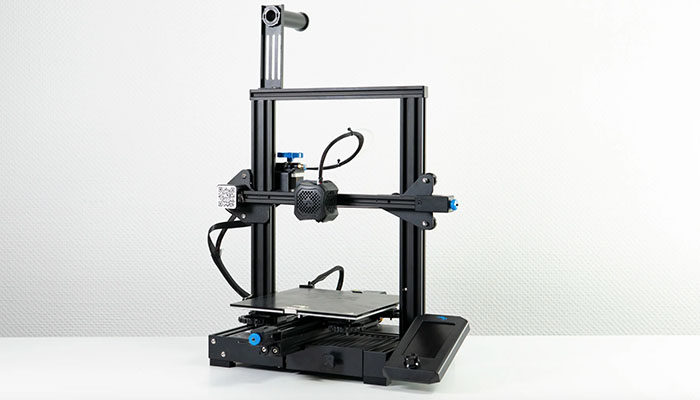 Elegoo Mars 2, A Spotlight on Resin 3D Printers on Amazon
The Elegoo Mars 2 3D printer was launched in 2018, an improved version of its predecessor the Elegoo Mars. These resin machines are currently considered one of the cheapest 3D printers on the market, making them popular on Amazon. It is a not very heavy 3D printer that uses LCD technology to create parts with a maximum volume of 129 x 80 x 150 mm. With a layer height between 0.01 and 0.2 mm, this 3D printer manufactures parts with high quality of detail and precision. The most interesting thing about the machine is its small size, in addition to having a fairly intuitive and easy-to-use user interface. In addition, it works with photosensitive resins at a printing speed of 30-50mm / h. Considering the resin printers that are available today, at just $199, this is one of the best value for money. You can buy the 3D printer on Amazon through this link HERE.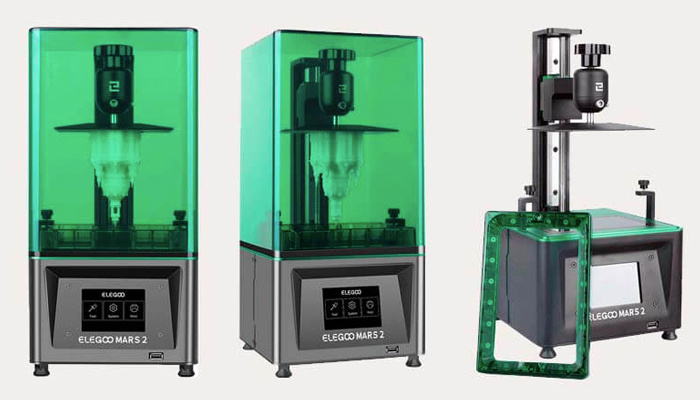 FLSUN Q5, a Delta 3D Printer on Amazon
 Delta As the name suggests, this machine is a Delta 3D printer. Sold by the manufacturer FLSUN, it boasts a print volume of 200 x 200 x 200 mm. Based on the molten material deposition process, the machine is compatible with many thermoplastics such as ABS, PLA, PET or TPU. The Q5 has a circular platform and automatic leveling. Finally, the machine incorporates a color touch screen to facilitate the user experience and can be connected via a USB port to a computer. Otherwise, an SD card can be inserted. On Amazon, the Q5 is available from $269. You can find it HERE.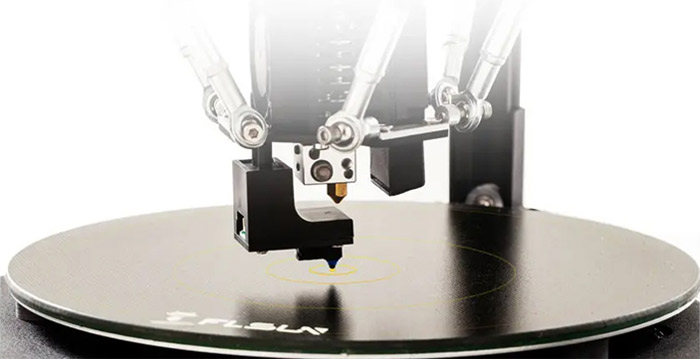 LOTMAXX Shark V2, an Easy to Assemble 3D Printer
The LOTMAXX Shark V2 3D Printer is another popular printer on Amazon, and actually is currently on sale thanks to Black Friday, allowing customers to save about 12% on their purchase. It is interesting because the printer is actually a hybrid machine, integrating the functions of a 3D printer and laser engraver. In terms of 3D printing, it is an FDM printer with two all-metal extruders and supports automatic dual-color filament switching in a single nozzle. The build volume is 235*235*265mm and it is compatible with PLA, ABS, PETG, and other thermoplastics. Customers note that it is easy to assemble and good for beginners. You can find it on Amazon for $439.99 HERE.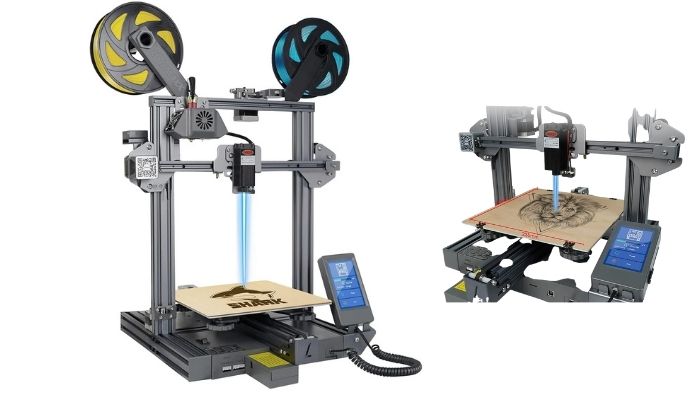 QUIDI 3D X-PLUS, a Higher-Temperature FDM 3D Printer
The maximum printing temperature is 300 Celsius, which allows this printer to perform well with PLA, ABS, TPU, Nylon, Carbon Fiber materials—depending on which extruder option you select. The printer features two print methods, a ventilative printing or enclosed constant temperature printing for you to choose when printing the different types of filament. Whatsmore, the printer's double Z-axis driver allows for a stable and more precise quality print. The QIDI software is compatible with all types of QIDI printers and boasts a free lifetime subscription which can be a great alternative to paid software available on the market. At $698, this is a solid purchase. You can find it on Amazon for $439.99 HERE.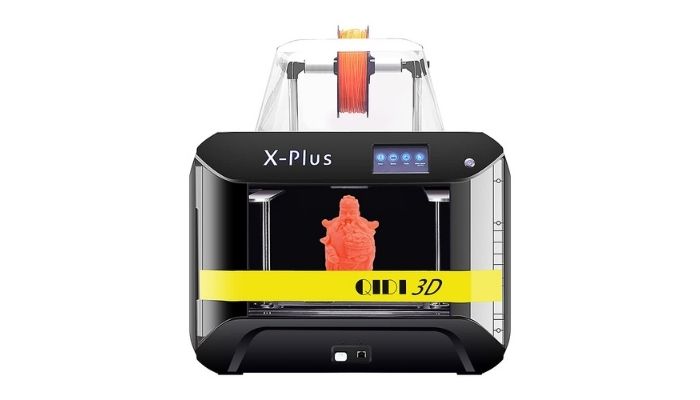 Dremel Digilab 3D20, Putting Educational 3D Printers on Amazon
Already at a relatively affordable price point for the serious hobbyist, the Dremel Digilab 3D20 is the cheapest 3D printer from the manufacturer. Currently, the Black Friday discount has knocked a couple of hundred bucks off this reliable printer which typically starts at about $679. Similar to all Dremel 3D printer offerings, the 3D20 features an enclosed build chamber. This is for user safety but also allows for a quiet run. This machine can be used with PLA and users can expect high-quality prints with resolution achieving 100 microns. The printer is also compact, measuring at 18.5 x 13.39 x 13.78 inches and a 9-inch print depth. ​​Users can immediately create their first print straight out of the box since this printer arrives completely pre-assembled and includes a 0.5-kilogram spool of filament. You can find it on Amazon HERE.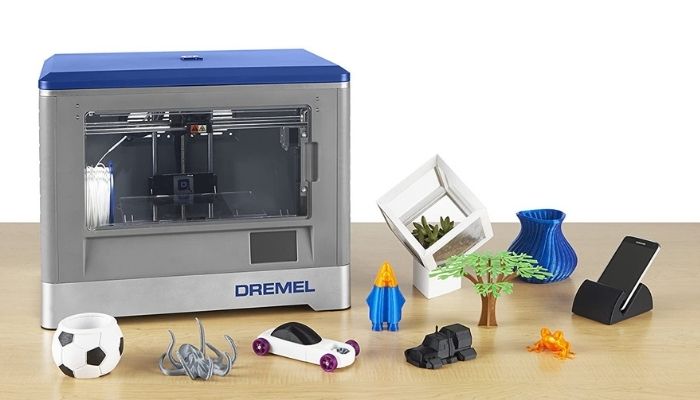 FlashForge Adventurer 3, an Update to an Old Favorite
Previously, we highlighted the FlashForge Finder from Chinese manufacturer Flashforge Technology. Now on Amazon, a new printer from the company has overtaken this old favorite, the FlashForge Adventurer 3. With a build volume of 150 x 150 x 150 mm, the FDM printer has a max print bed temperature of 100°C (212°F) and a maximum nozzle temperature of 230°C (446°F), making it compatible with a number of materials including PLA, ABS, Pearl, wood-filled filaments, PLA Color Change, High-Speed PLA and PC. It currently holds a rating of 4.4 out of 5 with 442 ratings, so it seems many customers have found the printer to their satisfaction. Notably, they point to the fact that it is easy to use and its auto-leveling function. You can find it on Amazon for $365.00 HERE. For those wanting a slightly more elevated printer, you can also find the latest model the FlashForge Adventurer 4 with a larger build volume, an air filter, and more, though be aware that it is more expensive, available on Amazon from $799.00. Find it HERE.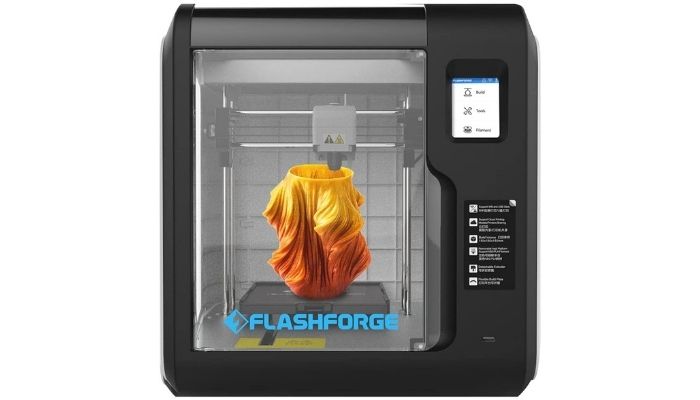 Snapmaker A350, the 3-in-1 3D Printer
This modular 3-in-1 dynamic printer from Snapmaker comes with a relatively hefty price tag but offers a lot of bang for your buck. In addition to the main star power of 3D printing, this Snapmker printer also offers laser engraving, cutting, and CNC carving. With a fairly large workspace, users can make large prototypes, or create multiple smaller objects in one go, with the largest build volume measuring 320 x 350 x 330 mm. The machine is compatible with metal and PLA material. The A350 from Snapmaker is priced at $1,571.64. You can buy the 3D printer on Amazon HERE.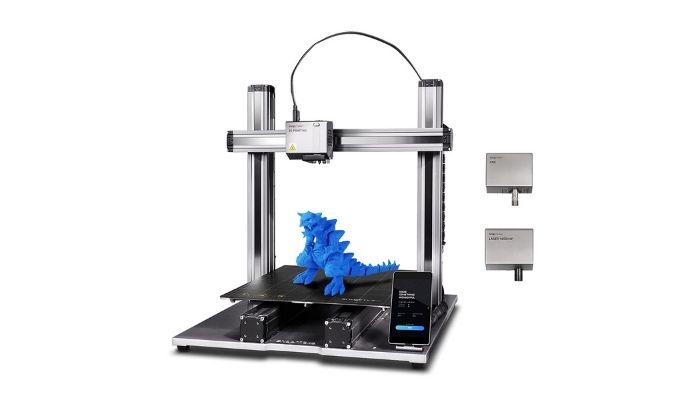 Which of these top 3D printers on Amazon is your favorite? Where did you buy yours? Let us know in a comment below or on our Linkedin, Facebook, and Twitter pages! Don't forget to sign up for our free weekly Newsletter here, the latest 3D printing news straight to your inbox! You can also find all our videos on our YouTube channel.