Top 10 most popular Amazon 3D printers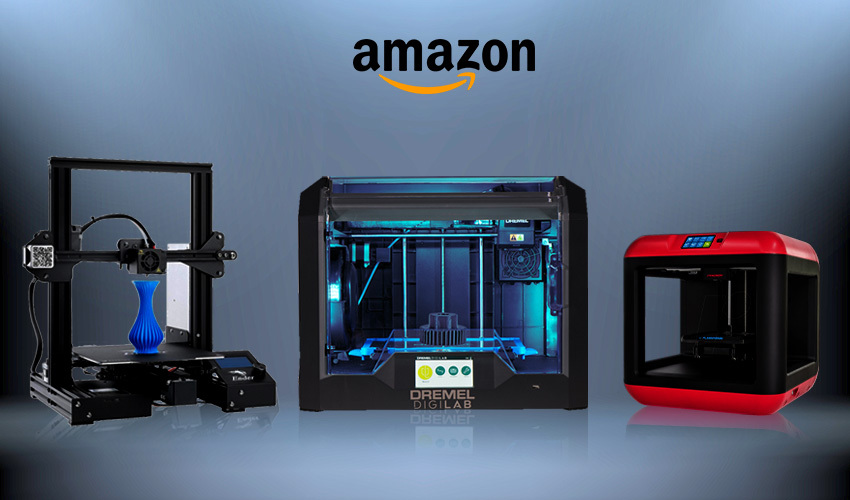 Established in 1994, Amazon is probably the largest international e-commerce company. According to its motto, it sells everything "from A to Z", so it could not leave 3D printers out of its offer. The platform has gradually become one of the largest distributors of printers worldwide. Today, we would like to share with you some of the most popular 3D printing solutions available on Amazon: the selection includes 10 of the most well-rated and ordered 3D printers on Amazon (USA), ranked in alphabetical order!
Anet A8
The Anet A8 is a 3D printer kit developed by Chinese manufacturer Anet. It based on FDM technology, and comes with a Cartesian FDM head that can print ABS and PLA filaments. The printer comes in a DIY kit, easy to assemble before use. The manufacturer says that you do not need much experience to assemble the machine adequately. Additionally, Anet A8 is compatible with a wide variety of filaments. It has a maximum build volume of 220 x 220 x 240 mm and comes with a heated print bed that can reach up to 100ºC. It is one of the most accessible machines on the market, with a starting price around $180. Find it on Amazon HERE.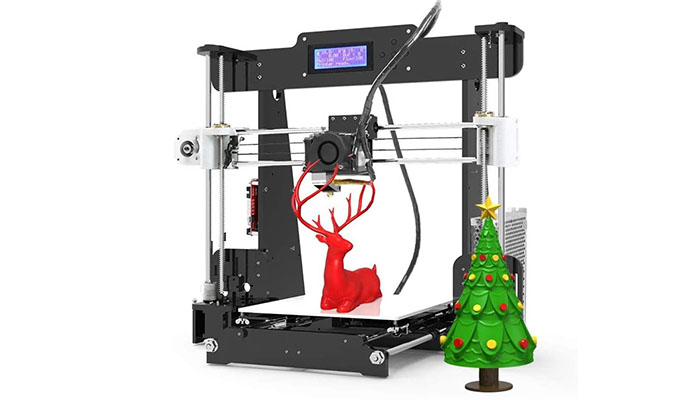 Anycubic Mega S
Anycubic is a high-tech Chinese company founded in 2015 that specializes in 3D printing technologies. The company is best known for its Anycubic Mega Series, which includes the Anycubic Mega S FDM printer since 2019. Anycubic Mega S prints parts, which can measure up to 210 x 210 x 205 mm, in TPU, PLA, ABS, HIPS and wood. The material is extruded by a nozzle with a maximum temperature of 260°C and a maximum speed of 20-100mm/s. The accuracy is 0.05 – 0.3 mm. Generally speaking, Anycubic Mega S has a good price-performance ratio, but is still more suitable for hobby use. Find it on Amazon HERE.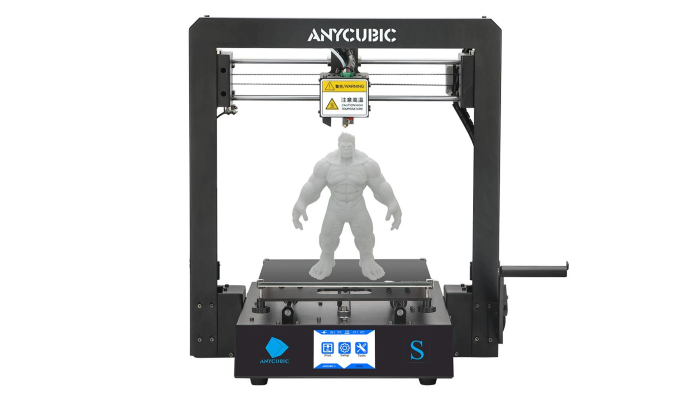 Creality Ender 3
The Ender 3 is a desktop 3D printer that comes in the form of a DIY kit. It is produced by Creality, a manufacturer of 3D printers and 3D printing related products based in China. The company produces and sells a range of affordable desktop machines based on multiple 3D printing technologies. Its most popular machines are based on Fused Deposition Modeling (FDM), as is the case with the Ender 3. Most users of Ender 3 are either makers or hobbyists that enjoy its simplicity, affordability and reliability. This machine boasts a build volume of 220 x 220 x 250 mm, and a printing precision of 0.1 mm. The standard nozzle diameter is 0.4 mm, but it can also be 0.3 or 0.2 mm, and can heat up to 255°C. Ender 3 can print with 1.75 mm filament such as ABS, PLA, TPU, wood, copper, etc. Find it on Amazon HERE.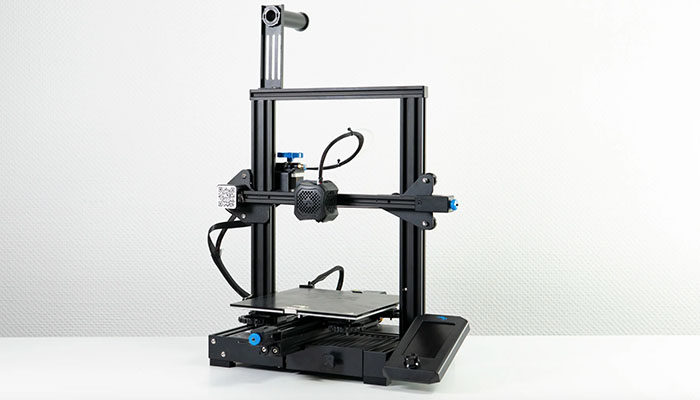 Dremel DigiLab 3D45
The DigiLab 3D45 is part of the range of FDM machines from the American manufacturer Dremel. What distinguishes it from its sister models is the integration of a heating plate capable of reaching 100°C and an extruder capable of reaching up to 280°C. It is able to process a wider range of thermoplastics such as ABS or PETG. It offers a maximum printing volume of 255 x 155 x 170 mm and a 4.5 inch touch screen. The Dremel DigiLab 3D45 is also equipped with a camera to monitor the printing process. Practical and compact, this makes it a popular 3D printer on Amazon. Find it on Amazon HERE.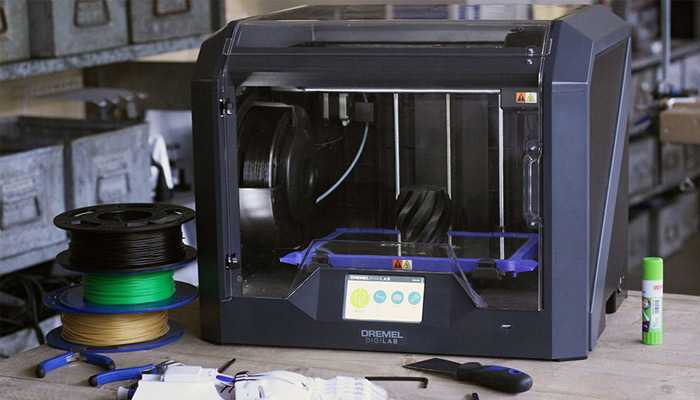 Flashforge Finder
Developed by Chinese manufacturer Flashforge Technology in 2015, the Finder has a maximum printing volume of 140x140x140 mm, with an accuracy of 50 microns. Being compatible with PLA filaments, the 3D printer has automatic calibration and control display to facilitate the user experience. Due to its ease of use and compact design, the Finder is ideal for the education sector and children who want to get started in 3D printing. It can be connected through WiFi or by means of a USB cable. Find it on Amazon HERE.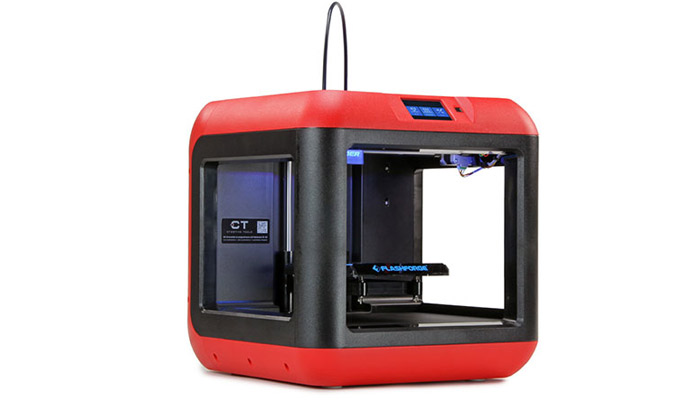 JGMAKER Magic DIY
The Magic DIY 3D printer from JGMAKER is a machine that is very easy to assemble, you should be done in 20 minutes. The frame is made from sturdy metal, and despite the simplicity of the assembly process, it offers a filament sensor and power failure detection. The nozzle temperature can be adjusted between 180 and 245℃, and the bed's temperature can reach up to 110℃. It offers a build volume of 220 x 220 x 250 mm. Find it on Amazon HERE.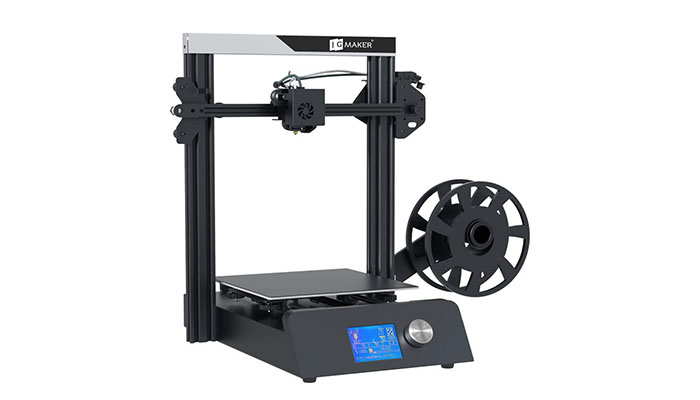 Longer LK4
Originally from China, Longer launched its 3D printing business back in 2014. The company manufactures three distinct types of machines: desktop FDM 3D printers (known to manufacturers under the Alfawise brand), low-cost resin 3D printers and a range of industrial machines (two models based on SLA and one model based on DMLS). The Longer LK4 is an open-source machine, simple to assemble and based on FDM technology. It provides a build volume of 220 x 220 x 250 mm, a layer thickness between 0.1 and 0.4 mm and a printing speed of up to 180 mm/s. Thanks to its heated bed and extrusion temperature that can reach up to 250 ℃, it will be able to process some harder to handle thermoplastics such as PETG. It is also compatible with PLA, ABS, HIPS and Wood filaments! Find it on Amazon HERE.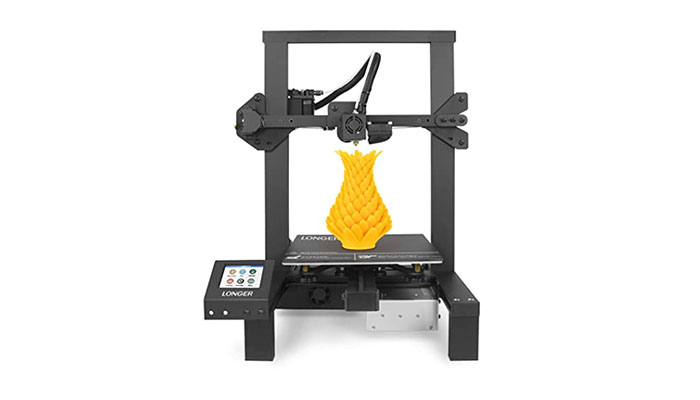 Monoprice 121666 Mini Delta
The Monoprice 121666 Mini Delta printer comes fully assembled, ready to print out of the box. It is a durable 3D printer based on FDM technology that comes with a steel frame and black anodized aluminum frame. Additionally, the manufacturer has designed it so that it self-calibrates for less hassle with bed leveling and it comes with a touch screen to manage your print job. The print bed and extrusion nozzle heat to a wide range of temperatures, allowing you to print with different materials, including PLA and ABS. In terms of build volume, it offers ⌀ 110 x 120 mm, and the nozzle can reach a layer resolution of up to 50 microns. Find it on Amazon HERE.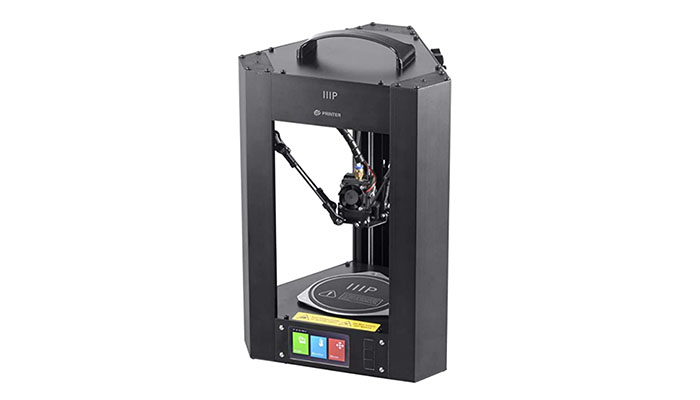 Qidi Tech X Plus
The X Plus is manufactured by the Chinese company Qidi Technology and as its name suggests, offers a larger build volume than other models. Based on FDM technology, it comes with two different types of extruders. Extruder A is already installed on the printer, and its nozzle can reach a max printing temperature of 250℃, working well with PLA, ABS, TPU. Extruder B, which you can add if you wish, can reach a temperature of 300℃, which enables printing with Nylon, Carbon Fiber, and PC. The build volume on this 3D printer is 270 x 200 x 200 mm. This 3D printer also features a 4.3 inch touchscreen, a removable build plate, and provides a slicer, QIDI Print Slicer. Find it on Amazon HERE.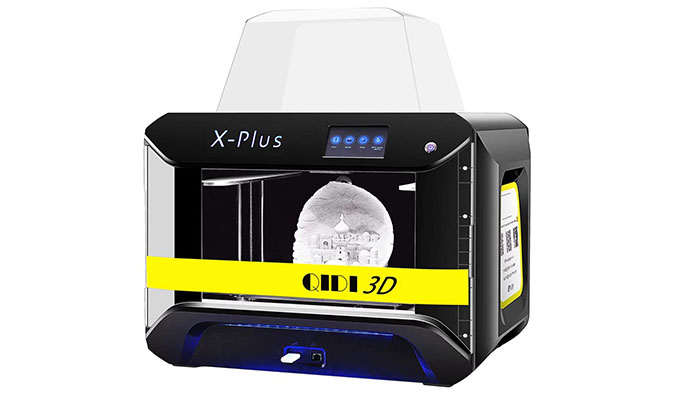 SUNLU DIY Kit (S8)
The DIY Kit (S8) from SUNLU is a very cost-effective DIY 3D printer based on FDM technology. It offers a generous print volume of 310 x 310 x 400mm, you could consider this a large size 3D printer, especially for the price! It also comes with end of filament sensor, high-precision extruder, resume print function and fast heating. The manufacturers states that the 0.4 mm nozzle will reach 200℃ in 2 minutes, and the build plate can heat up to 80℃. You can print with PLA ,ABS, PETG, HIPS, WOOD, PLA-CF etc. Find it on Amazon HERE.
What do you think is the bestellers amongst Amazon 3D printers? Let us know in a comment below or on our Facebook and Twitter pages! And remember to sign up for our free weekly Newsletter, to get all the latest news on progress, research and more entrepreneurs in 3D printing send straight to your inbox!