The Top 3D Printing Applications in Sports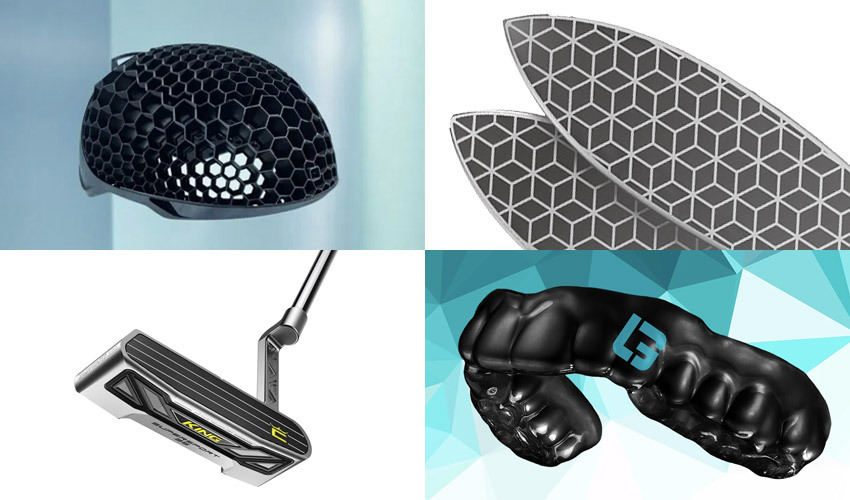 3D printing technologies are becoming increasingly popular. This becomes particularly clear when taking a look at the all the industries that are now using additive manufacturing. These include not only those you would expect, like aerospace, construction and medicine, but also the sports industry. The use of 3D printing in sports is not limited to only a few, isolated sports – on the contrary, ranging from surfboards and golf clubs to sports and ski boots, there is something for almost every sports fan. However, additive manufacturing is most often used for the production of various types of protective equipment due to its ability to be fully customized to the wearer, offering significantly better protection. Read on and discover what innovations have already been realised thanks to 3D printing in the sports sector.
3D printed prosthesis for a cyclist
The importance of 3D printing technologies and their advancement in the sports industry, also came to light at the 2016 Summer Paralympics. Denise Schindler, a German competitive cyclist, was able to snag a silver and bronze medal in the individual time trial and road race categories, respectively, at the 2016 Paralympics in Rio – and she did it with a 3D-printed prosthesis! Together with the American software company Autodesk and her prosthesis manufacturer Reha-Technik Wellmer, she developed a process in which the residual limb of amputees can be digitally measured and modeled thanks to laser scanning. A prosthesis can then be produced using 3D printing.Denise now works with the web-based Mecuris Solution Platform, which 3D prints her prostheses. Together with her prosthetist, she can design the foot exactly the way she wants it.
Chevrolet Race Cars with 3D Printed Parts
In 2020, Chevrolet announced that by October, their race cars with incorporated 3D parts had covered 80,000 miles or approximately 130,000km over the course of the season. The automaker has taken its cue from its parent company, GM, and increasingly uses additive manufacturing at the heart of its development, in both prototyping and end production phases. In 2020 alone, two new corvettes entered the racetrack, each with 75 3D printed parts, including oil tanks, fuel tank inlets and caps, drivers' cooling boxes and the integrated hydration systems. The brand's racing teams – Corvette, INDYCAR, NASCAR Camaro and Silverado – have been driving vehicles with 3D printed components, proving their durability. The two new Corvette C8.4s alone covered 9000 miles in seven races.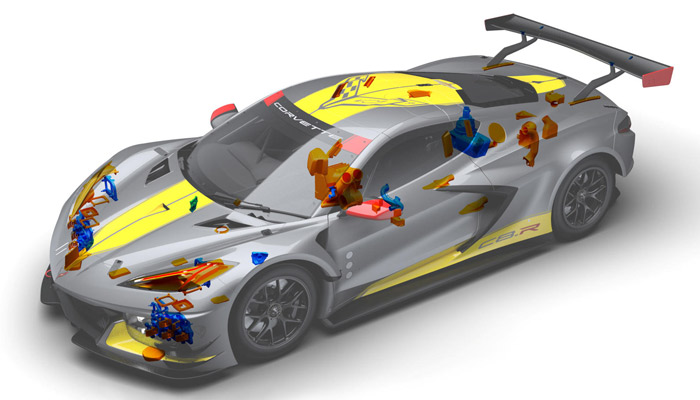 Cavendish Imaging's 3D Printed Football Mask
Cavendish Imaging is a London-based company that produces masks in order to allow athletes who have suffered injuries to their face, such as a fractured nose or cheekbone, to continue playing. Using 3D software, the company are able to scan the athlete's face and create a model based on which a custom protection mask can be 3D printed. This innovation reduces the period of inactivity related to an injury, and also prevents further harm to the injury whilst it heals. The mask has been used by several professional football and rugby players, including, their first client and former captain of Chelsea, John Terry as well as Sergio Ramos.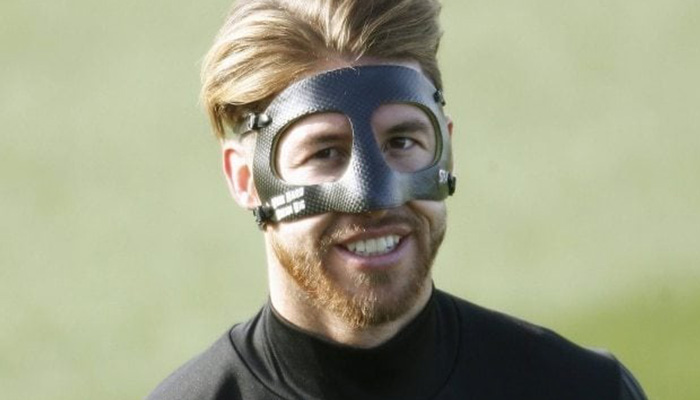 The HEXR 3D Printed Bike Helmet
Most bike helmets are made of foam, which actually doesn't provide as much safety in a fall as it should. Jamie Cook, Co-Founder and CEO at HEXR, thought that it was time for something to change. And that's exactly why he launched HEXR, a new type of helmet made from polyamide 11 (PA 11) and 3D printed to provide more protection. The helmets are personalized and can be customized through a 3D scan of the head shape, resulting in optimal comfort. HEXR even provides an app that can be used to try on helmets on your own. All you need is a tight-fitting cap and a friend who can help you scan your own head.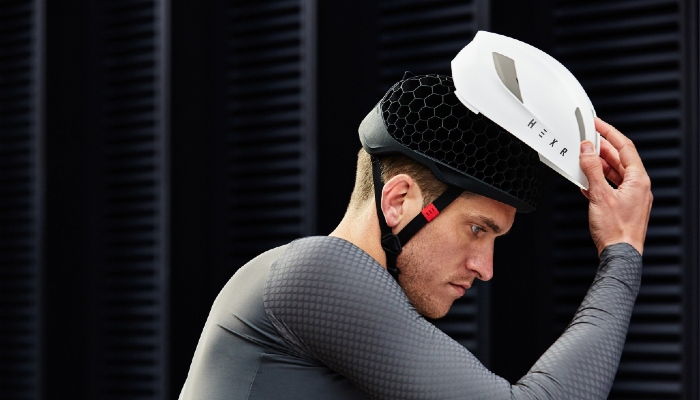 KING Supersport-35 3D printed golf club
The KING Supersport-35 is a 3D printed golf club made from 316 stainless steel, created by Cobra Golf in partnership with HP and SIK golf. While its 3D printed body and lattice design ensures that the putter possesses optimal weighting, producing the highest MOI in a blade shape, thanks to SIK Face Technology the putter is able to produce the most consistent and accurate roll for every putting stroke. Created using HP Metal Jet Technology, Cobra Golf's first ever 3D printed club is certainly a feat.  
3D Printed Bicycles from Superstrata
If you are a cycling fan, you are going to like this next project from Superstrata! They have created a carbon monocoque bike, all printed in 3D using Arevo's composite machine. Entirely adapted to the cyclist's morphology, the frame is designed with carbon fiber, a material renowned for its lightness and strength. This makes the bike easier to handle: the company claims that the frame weighs less than 2 bottles of water or more exactly 1.3 kg. For the moment, two versions are available, one of which is electric.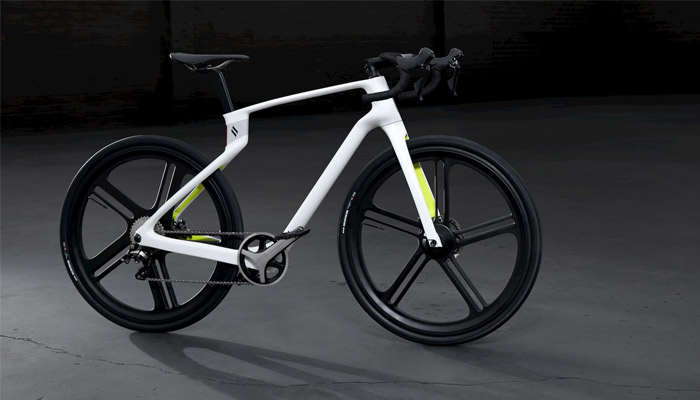 Wyve, 3D Printed and environmentally friendly surfboards
Another sport in which you can find 3D printing is surfing! Last year, we conducted an interview with the Wyve team, a French startup dedicated to the development of surfboards through additive manufacturing. The peculiarity of this project lies in the production process of the boards since, in addition to being customizable, they have a very original transparent design. The company states that they produce the boards from recycled plastic waste which, through 3D technologies, offers the user a more optimal and resistant solution. An original way to combining eco-friendliness and innovation in the same project.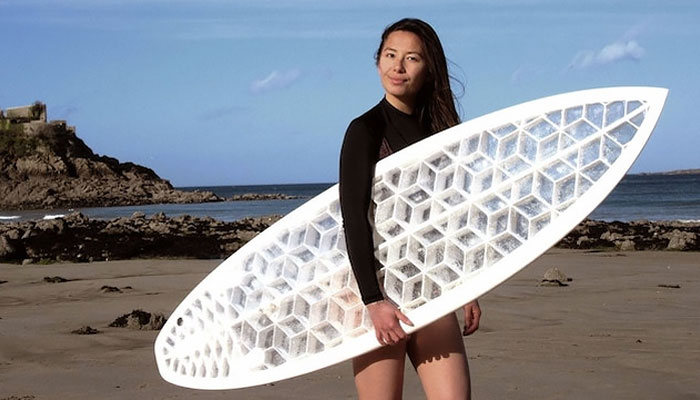 3D printed running shoes
3D-printed sports shoes are now no longer isolated cases. More and more sporting goods manufacturers, including Nike or Reebok, are using 3D printing technologies to produce their shoes. Adidas' 4D Fusion, launched in January, is also among the 3D-printed shoes. The reason why the use of 3D printing is increasing in this field is simple: there is the possibility of personalization. 3D technologies can be used to scan the consumer's foot, develop a 3D model and print it in record time. The result is a shoe that is customized to the consumer's morphology, needs and style.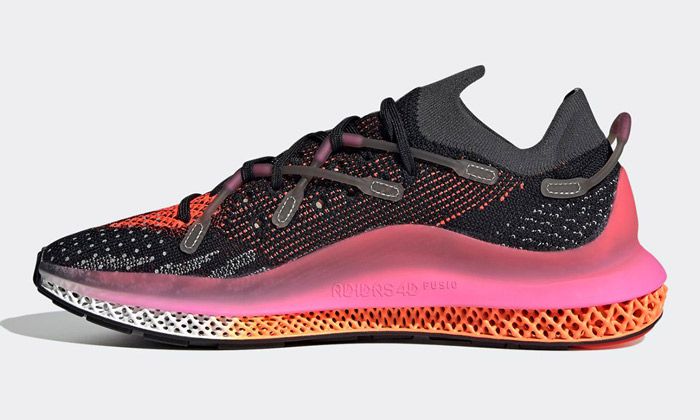 Tailored Fits, 3D Printed Ski Boots
When it comes to ski boots, often skiers are forced to choose between high-performance and comfort, boots that are too loose, while more comfortable, are unable to provide the same amount of control. Using state-of-the-art 3D printing technologies, Tailored Fits have developed ski boots that combine comfort and performance. Thanks to 3D scan measuring technology, Tailored Fits are able to 3D print an inner boot specific to the individual, ensuring an incredible direct power transmission. Moreover, the buckle-less design guarantees blood circulation meaning that not only is the user able to get a better feel of the slopes, but also no more cold toes!
Riddell SpeedFlex Precision Diamond Helmet
Safety is key when it comes to helmets, even more so when engaged in a high contact sport like American Football. For this reason, Riddell along with Carbon, a 3D printing technology company, partnered to create The Riddell SpeedFlex Precision Diamond Helmet, featuring the first-ever 3D printed football helmet liner. Currently ranked one of the NFL's best-performing helmets, the helmet features a 3D printed lattice liner that can be digitally manufactured using Carbon's proprietary Digital Light Synthesis™ (DLS™) technology. Part of the reason it is so effective is because it uses Riddell's Precision-Fit head scanning and helmet fitting process to create a customized, 3D printed helmet liner precisely contoured to the athelete's head. The project moved from the prototype stage to serial 3D production of the liners with the help of OECHSLER, one of the largest manufacturers in the additive industry, who have produced and delivered thousands of the parts to Riddell using their more than 150 Carbon L1 printers in three continents.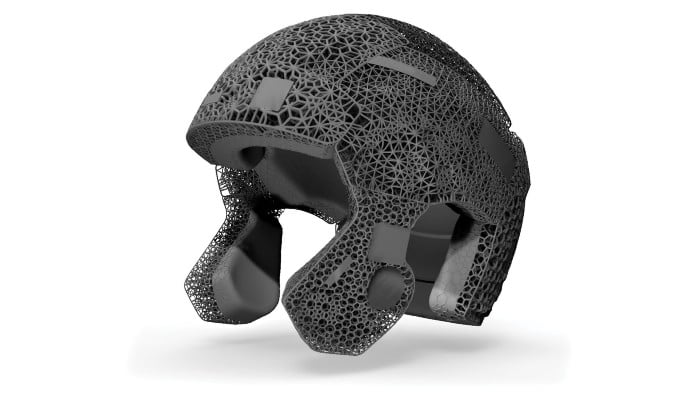 A 3D printed mouthguard
Guardlab is an American company dedicated to the additive manufacturing of mouthguards for athletes in various fields (boxing, soccer, field hockey, etc). They have different varieties of models ranging from low contact, to training or high contact. They use a 3D scanner to obtain a three-dimensional model of the athlete's jaw. This precise data helps in the development of the protector, always depending on the degree of protection needed to avoid the impact of blows. Once the 3D model is obtained, the person will be able to customize it to his or her liking. Protective gear like mouthguards are some of the most popular ways that 3D printing is now being used in the sports industry.
The NFL Approved 3D Printed Hockey Helmet
In another project from Carbon, CCM Hockey and Carbon worked together to revolutionize the design of hockey helmets, largely unchanged for the past 50 years. Using the Carbon Digital Light Synthesis™ (DLS™) technology and CCM Hockey's Nest Tech, the companies created the first NHL certified 3D printed helmet, the Super Tacks X with NEST Tech. According to the companies, the digitally printed lattice-structured liner offers superior breathability, premium comfort and elite protection and is fully customized to fit an athlete's head. The custom-fit helmet will be available to all NHL players ahead of the 2021 season, though in the 2020 NHL season three professional players, Austin Matthews and John Taveres from the Toronto Maple Leafs and Seth Jons from the Columbus Blue Jackets, played in the helmet. CCM will release a 3D-printed retail helmet for customers in Spring 2021.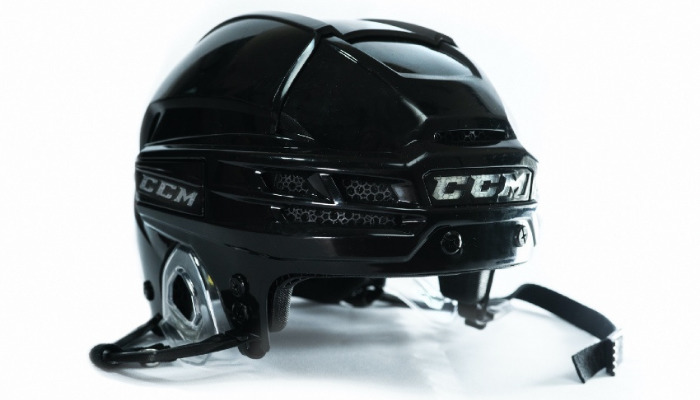 What do you think about the role of 3D printing in sports? Let us know in a comment below or on our Facebook and Twitter pages! Don't forget to sign up for our free weekly Newsletter, with all the latest news in 3D printing delivered straight to your inbox!