Top 10 3D Printing Files of 2020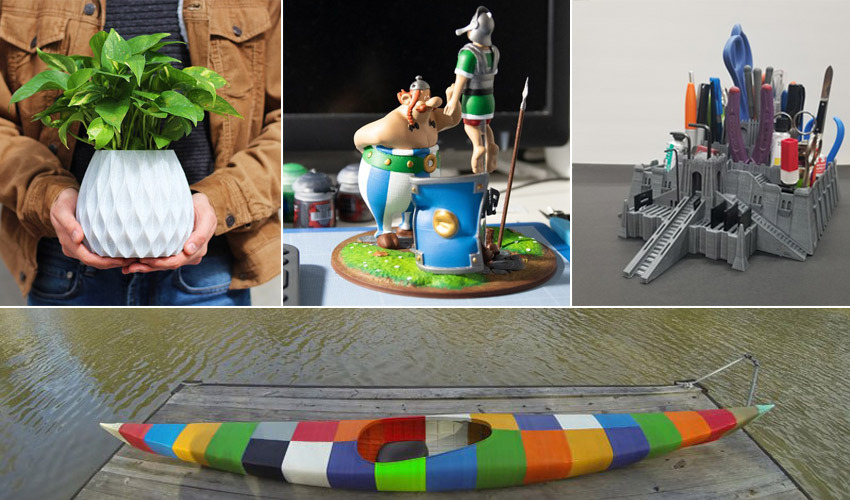 This has been a year not so much to look back on, as to move on from, nonetheless a little reflection won't hurt. We're taking advantage of this holiday to roundup some of the most influential 3D models of 2020: available for download on the platform Cults3D, that captivated us with their ingenuity and originality. This year, it is clear that the Print-in-Place has inspired many designers: these are articulated models that do not need to be assembled as the piece comes straight out of the machine with its various links enabling it to move attached. Let's look back together on the best 3D files of 2020!
A 3D model for testing your printer settings
As it happens, our selection begins with a print-in-place model- this famous little engine you've probably already seen pass. Indeed, it is used to test the settings of your 3D printer instead of the famous traditional Benchy. The piece incorporates more advanced features than the famous small boat – by turning the crank for example, you activate the rotation in the image of a crankshaft. The model is printed in one go, without support.
A 3D printed kayak
Even if it's not ideal kayaking season, we had to share with you Grass Roots Engineering's creation: incorporating 28 3D printed structural pieces that, once assembled, form a kayak 5.08 meters long!
According to the creator, the pieces are fixed together with M5 metal screws and brass threaded inserts, then sealed together with silicone putty. And it floats! Another upside is that you can create kayaks in any colour you want!
A desk lamp straight out of a video game
There are a multitude of STL files for printing lamps, but this one, in particular, caught our eye! The designer was inspired by the video game Death Stranding: he reproduced the Odradek scanner to develop an office lamp with a striking design. However, you will require some patience, as the lamp is composed of 37 pieces and takes roughly 35 hours to print. Add screws, wires, a small switch and LED lights to get the end result.
A phone holder
Smartphone holders are a must-have classic for the best 3D files of the year. Yet another print-in-place model, the holder is articulated and very convenient. You just have to place your phone on the edge of the support and the arm will close to keep it in place. The designer recommends a maximum layer height of 0.2 mm and a filling between 15 and 30%. As for materials, you can use a standard thermoplastic, although ABS may be more durable in the long run.
Storage for your tools
Designer Littletup has created an original and cooler storage system for his tools. He 3D printed a fortress-like structure fitted with several boxes to store all kinds of objects, both in and around the fortress. For example, in place of moats, there are inserts to store cards or other thin items. The designer points out that the piece can be split in two if your tray is too small (knowing each part fits on a surface of 210 x 210 mm). No more excuses for not putting your equipment away!
Decorate your house with a 3D printed vase
Just like lamps, there are several STL vase files available on download platforms. We fell for the creation of this Mexican designer who imagined a piece playing on depth: the vase has many recesses, gives it this wavy look. The height of the piece is adjustable and will most likely depend on the volume of your print tray. Finally, be aware that the design used Rhinoceros software to model its object and PLA to print it.
An ingenious mechanism for toilets
Who has never left an empty roll of toilet paper on the holder? That's why designer Pattyslab has devised a mechanism to "reload" your toilet paper with a single gesture. They 3D printed a support that attaches to the wall, two screws also 3D printed and a piece to block the paper. There is also an option for a locking system. Once the roll is finished, just push it up with a new one: the new roll will then settle in the holder. It also works with paper towels. The designer gives many tips on printing, settings and installation so don't wait any longer!
A hinged box
As we've already mentioned, the print-in-place has been one of the key trends in the market this year. This other 3D model is proof: the small box is printed in one go, without support, and can be opened and shut by pressing a lever. Thanks to a gear system, it only takes a small amount of pressure to open the top: it's simple and ingenious! The designer notes that the layer height should be at least 0.2 mm and that the piece prints faster on its side.
For fans of Asterix and Obelix
Who has never opened a comic by René Goscinny and Albert Uderzo? The French authors invented two characters who now possess international notoriety: Asterix and Obelix. The 3D model we chose actually focuses on Obelix giving a slap to a Roman legionary, finally a habit for the Gaul! The end result is stunning but first you will have to arm yourself with patience! Each piece must be printed separately and then glued together. The most difficult part will probably be the head of the legionnaire because you must first cut the straps of his uniform, then put his head on, before finally gluing the straps. Finally, you are strongly advised to paint your 3D figurine for more realism.
A 3D printed pen holder
Our selection ends with this gadget for your office: a 3D printed pen holder. The gadget has arms that close around the pen to keep it in place once it has been placed in the holder. The designer explains: "The body is kept together by magnets to make it easier to assemble; also the gripping arms spring open thanks to the repulsing force of magnets." The pen holder in question was designed on an SLA machine but even if you have an FDM 3D printer, as long as you follow the recommendations, it should work! In these times telework is becoming more and more important, so why not have a pen holder at home?
Which 3D files do you think made the biggest impact in 2020? Let us know in a comment below or on our Facebook and Twitter pages! Sign up for our free weekly Newsletter here, the latest 3D printing news straight to your inbox!