TOP 12 Animals helped thanks to 3D printing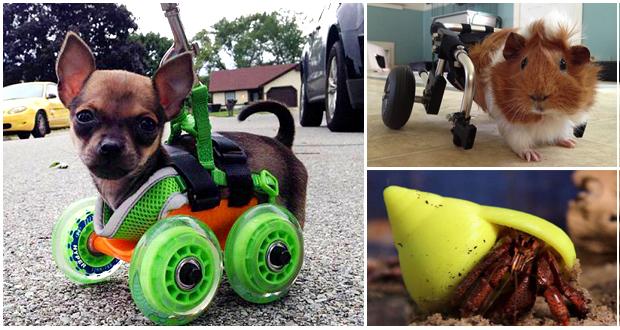 3D printing is known to reach across industries and help people around the world, and this includes animals! For our latest TOP article, we're counting down some of the animals that have had their lives saved or helped thanks to the power of 3D printing. From cats and birds to hermit crabs, we're counting down some of the different solutions offered to animals that wouldn't have been possible without 3D printing!
TOP 1- Paris Shelton the Hermit Crab
Paris Shelton, the hermit crab, was down on her luck as she was left homeless due to a worldwide shell shortage that's leaving many crabs like her finding solace in old bottles and trash that they find. Because of their vulnerability, Makerbot decided to team up with TeamUSA to start Project Shellter, a project aimed at giving these little crustaceans a new home using 3D printing.
Using Thingiverse as their base, Makerbot and TeamUSA have called on fellow makers to lock into their creativity to create new shell designs, which are then uploaded onto Thingiverse using the tag "SHELLTER". From here, the team 3D prints the shells and incorporates them into their crab habitat (or crabitat) at the Botcave in Brooklyn, New York. Using their crabitats, they are able to see the preferences of the crabs, helping them to end the current shell-housing crisis.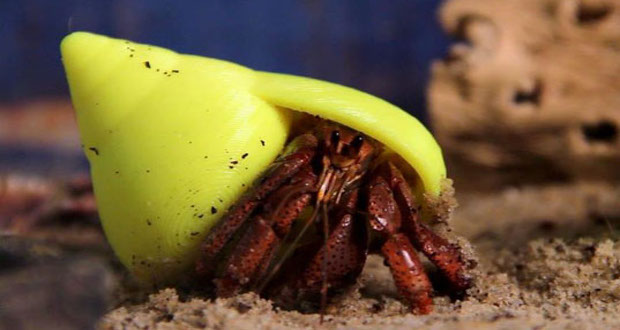 TOP 2- 3D printed Horseshoes
Horseshoes may be one of the last things you would think of when 3D printing, but alas, they exist. CSIRO, an Australian based company have begun manufacturing 3D printed horseshoes called 'Titanium Shoes' that use Titanium instead of Aluminum to help create a lightweight racing shoe, allowing horses to travel faster and give them an overall improved performance
In addition to the benefits of speed and improved performance, these horseshoes are also helping to rehabilitate horses who have/are suffering from debilitating diseases, such as Laminitis. Thanks to these shoes, their weight is redistributed away from the painful areas, giving the horses a new chance at recovery.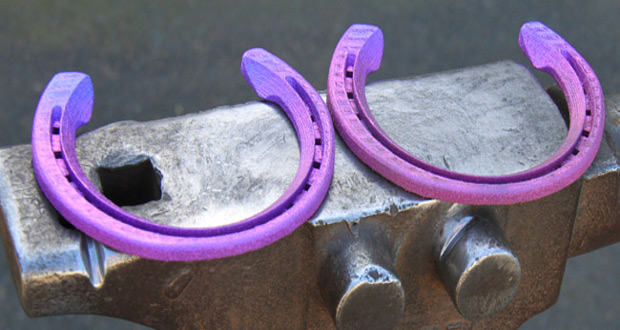 TOP 3- Cyrano the cat
Cyrano was just like any other family pet, living the good life eating, sleeping and getting loved on by his family. But in an unfortunate set of events, Cyrano was diagnosed at the age of nine with bone cancer in his left leg. Without wasting any time, his family moved quickly to find ways to help preserve his life. After being the first cat to receive stereotactic radiation at the University of Colorado, Mr. Cyrano still wasn't having much luck, with the only hope left after radiation being amputation.
As Mr. Cyrano was not a small cat, weighing a good 26 pounds, the loss of a leg would be too difficult for him. The only solution they had left would be to replace his knee with an artificial one, and that's exactly what they did! After checking into the veterinary facility at North Carolina State University, it was decided that due to the small size needed for the artificial knee, the best course of action would be to use Direct Metal Laser Sintering to create the knee using Cobalt chromium. After a six-hour surgery that went smoothly, Mr. Cyrano was on the long road to recovery and rehabilitation!
To read Cyrano's full 3D printing story, check out the link here.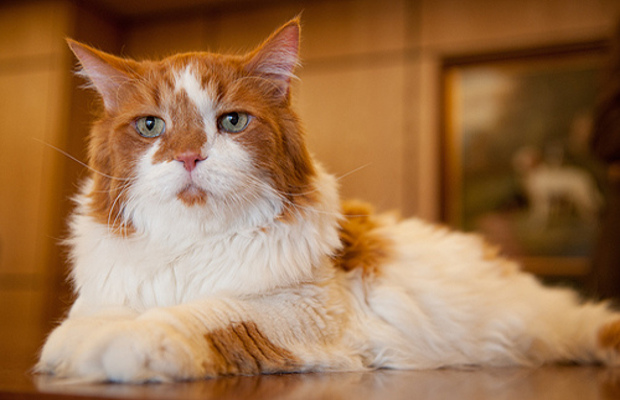 TOP 4- Turbo the Chihuahua
For little Turbo the chihuahua, his life didn't start out as easily as others. Born without his two front legs, he was unable to walk or to run with his little doggy friends. After his owners took him to local veterinarian, Ashely Looper, who decided to help him out by making a makeshift cart. The story was quickly picked up by local news and eventually made international news, ultimately leading to a flood of donations.
Thanks to the story's popularity, Mark Deadrick, a mechanical engineer in San Diego heard about this pooches dilemma and decided to design a car that was made specifically for him using 3D printing. In addition to outfitting Mr. Turbo with his new set of wheels, Deadrick even agreed to continue crafting new cars as he continued to grow. A sweet deal for a sweet pup.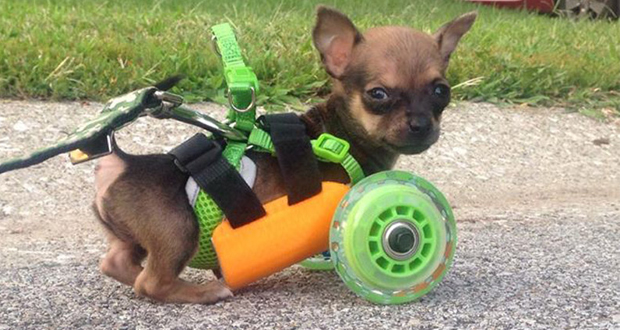 TOP 5- AKUT the Loggerhead Turtle
AKUT the loggerhead turtle from Turkey met a sad fate after a devastating boating collision that left him without his jaw, leaving him without the ability to eat and with little chance of survival in the wild. But, thanks to Turkish company BTech Innovation who specializes in medical prostheses, AKUT would now have a new lease on life with a 3D printed titanium jaw. Using CT scanning and two months of research, the scientists were able to reproduce a digital model of his beak, leading to the design 0f his prosthesis.
The surgery for AKUT's new jaw lasted 2.5 hours and was performed by both surgeons and veterinarians. Following his surgery, it seems that his body has accepted his new jaw and as soon as he has regained his strength, he will be returned to the wild.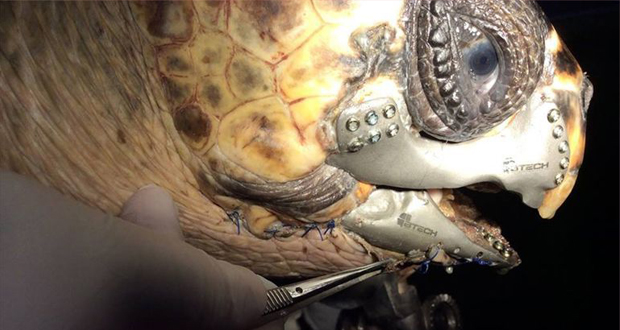 TOP 6- Luna the Guinea Pig
At eight months old, Luna the guinea pig fell from her owner's bed, leaving her seriously injured. The crash was fortunately not fatal, but it did leave her hind legs paralyzed. The sister of the 9-year-old boy, who Luna belonged to, decided to commission the help of her teacher and classmates in order to find a way to help Luna.
Working together, they designed and printed a wheelchair for Luna to help normalize her life again. After receiving a veterinarian's seal of approval, little Luna was quickly equipped with her chair and was able to enjoy the freedom of mobility again.
TOP 7- Derby the Husky
Derby the husky was born with a deformation to his front legs, leaving him with the inability to walk. After being noticed by 3D printing giant 3D Systems, they decided to help Mr. Derby out by outfitting him with a set of prosthetics that were created using additive manufacturing.
Using Selective Laser Sintering technology, they created the prosthetics with a curved design that would provide him with the ability to hit the streets to walk and run just like other dogs. Starting out with prosthetics that were lower to the ground and working their way higher over time, this not so little pooch is now able to play and run just like any other dog, but maybe a little cuter.
To see Derby's full 3D printing story, check it out here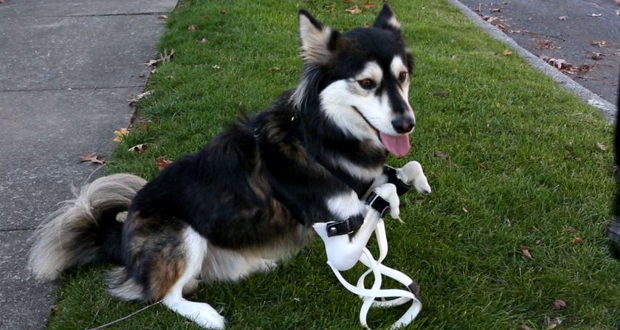 TOP 8- Grecia the Toucan
Grecia is a toucan from Costa Rica that had the ill fate of being attacked by teenagers, causing her to lose more than half of the top of her beak. For Toucans, their beaks are an integral piece of their anatomy that enables them to not only eat and speak, but also regulates the temperatures of their bodies.
Because of the brutality of the attack, people were able to see the extent of damage this animal had faced and were quick to donate to help create a new beak for little Grecia. In order to create her new prosthetic beak, the team decided to use 3D printing technology to create a customized beak. Using 3D scanning to scan the beak of another Toucan who had passed, they managed to recreate a fully functioning beak, giving Grecia a new lease on life!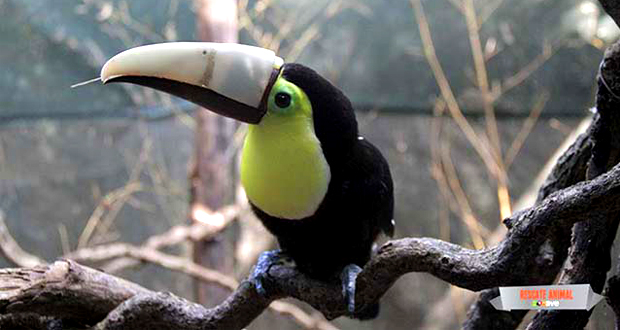 TOP 9- Philip the Duck
In Wisconsin, Professor Vicki Rabe-Harrison stumbled upon a small duck who she quickly realized had a terrible problem. The little duck was unable to walk due to a deformation to his legs. Harrison knew that she had to do something, so she decided to go to her friend and colleague Jason Jischker, another local professor with a 3D printer.
Once filling him in on the Mr. Philip, they quickly got to work on a project which sought the help of both teachers and students to help create the best prosthetic for Philip. The news was quickly picked up on social media and the news, giving this little duck a whole new platform to show off his new prosthetics and 3D printing capabilities.
TOP 10- Fred the Tortoise
It's in Brazil that Fred the tortoise received his very own 3D printed tortoise shell, a first in the world of 3D printing. After losing 85% of his shell from a forest fire, a group of volunteers at the "Animal Avengers", recreated his shell using forty photos that were taken of healthy tortoises.
Printing it 4 times, the pieces required 50 hours of printing and used a plastic filament to print with an FDM desktop printer. The shell was then painted by a volunteer artist to help make the shell look more realistic. After, Fred was able to feel at home in his new home and continue living a long and happy life with his other tortoise friends.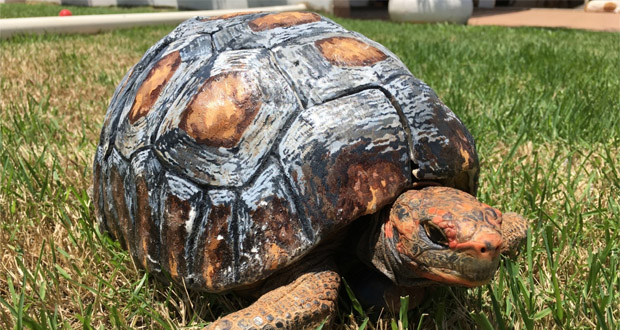 TOP 11- Bagpipes the Penguin
Following a run in with a fishing line in 2007, Bagpipes the penguin's leg was left too damaged, with the only real choice being to  amputate it. Since then, he had been hopping around on one foot at his home at the International Antarctic Centre in Christchurch New Zealand. After almost 10 years of him hobbling around, in 2016, they enlisted the help of Professor Dr. Clucas from the University of Canterbury in New Zealand to design and print a prosthetic to help give an old bird a new life.
During the creation process of the leg, Dr. Clucas ran into some difficulties during the scanning process of his leg, as he wouldn't stop moving and wiggling it, ultimately complicating the process. After finally getting the perfect scan, the 30 hour printing process began. Using a plastic to create his foot, Dr. Clucas continues to make improvements with newer models such as making it easier to clip it on, as well as a rubber material to improve his grip. Thanks to 3D printing and Dr. Clucas, Bagpipes can now continue to live a full life, going from wobbling to waddling.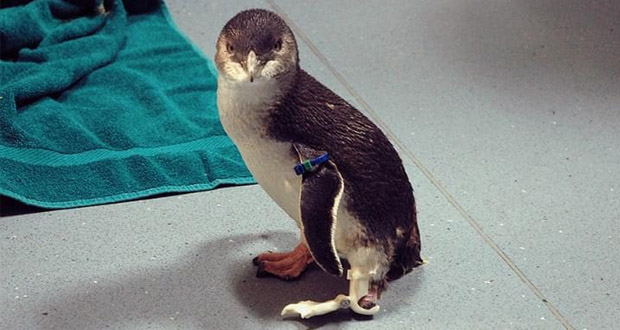 TOP 12- Sally the Loggerhead Turtle
Following a shark attack, Sally the loggerhead turtle was left finless and unable to fend for herself. After a team from the Dingle Ocean World Aquarium in Ireland discovered her, they decided to team up with 3D printing technology to help create a new prosthetic fin for her.
Working with a cork based medical tech company called 'Stryker' to design and manufacture the prosthetic fin, the team used a Polymer and Titanium material that will hopefully allow our turtle friend to swim again. As this is the most recent case of 3D printing being used to help an animal, we are still waiting to hear if the team of veterinarians has approved the prosthetic. In all, we hope that we will see little Sally out riding the waves very soon.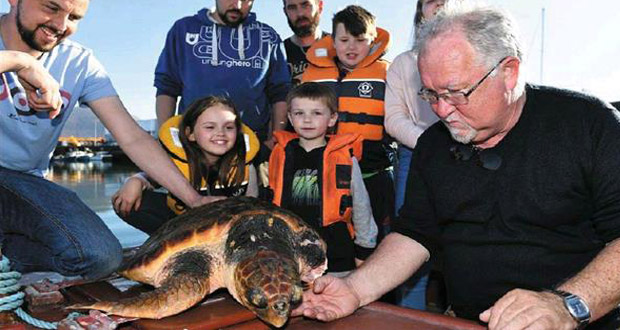 What do you think of the ways 3D printing was used to help these animals? Let us know in a comment below or on our Facebook and Twitter page!