Titomic 3D prints the largest titanium drone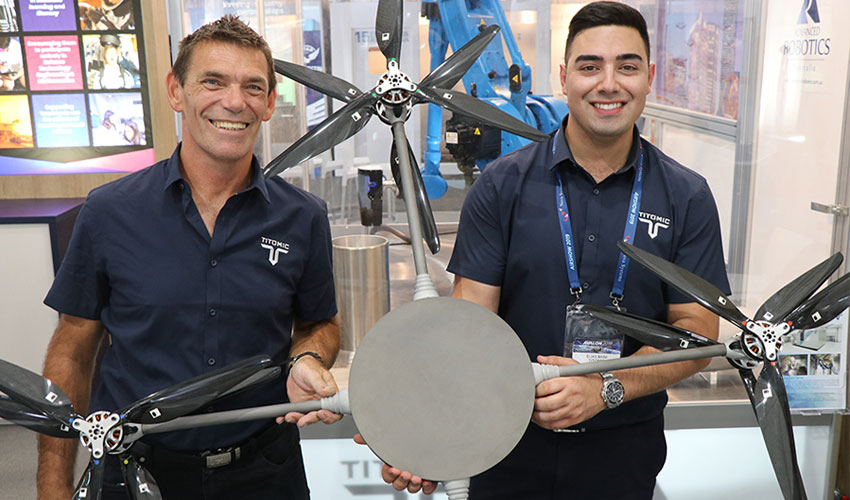 Titomic is an Australian manufacturer of 3D metal printers that recently unveiled a 3D printed titanium drone, the largest on the market according to the company. And for good reason, this one is 1.8 metres in diameter! It was designed on Titomic's XXL machine, capable of creating parts 9 metres long by 3 metres wide and 1.5 metres high, with a throughput of 29 kg of material per hour. This first prototype of a giant UAV demonstrates the potential of the manufacturer's additive manufacturing solutions, particularly for applications in the military and aerospace sectors.
Combining 3D printing and drones is not an innovation in itself; the manufacturing method has long been used in the development of pilot-free aircraft, whether in the military or the sports industry. In these cases, 3D printing makes it possible to rethink the design of the drone, to add complexity while reducing its final weight and increasing its performance. However, no one had ever imagined such a large device, or at least not in titanium; that is why Titomic's initiative is interesting.
A 3D printed drone in titanium from Titomic
The manufacturer relied on its patented Titomic Kinetic Fusion (TKF) technology, which is based on a cold spraying method – apparently, it sprays titanium particles onto the printing medium at very high speed to fuse them together to form the desired part. Titomic explains that they opted for titanium because it is a metal that offers a very good strength-to-weight ratio, particularly interesting for security and military applications. In the case of the drone, the team says that the additive metal construction allows them to design a more robust and lightweight ballistic protection. Titomic should now be able to work with different metal alloys such as stainless steel, inconel and tungsten carbide.
Jeff Lang, Managing Director of Titomic, said: "We are delighted to work with the global defence industry to combine Australian resources, manufacturing and innovation, which will increase our ability to provide more modern technologies to Australia and its defence forces." This 3D printed drone is therefore only be the beginning; Titomic could soon announce the creation of larger and more powerful military device. In the meantime, you can find more information HERE.
What do you think of the largest 3D printed drone? Let us know what you think in a comment below or on our Facebook and Twitter pages! Don't forget to sign up for our free weekly Newsletter, with all the latest news in 3D printing delivered straight to your inbox!