Thermwood 3D prints a hull mold for a 51-foot long yacht
Published on October 26, 2020 by
Aysha M.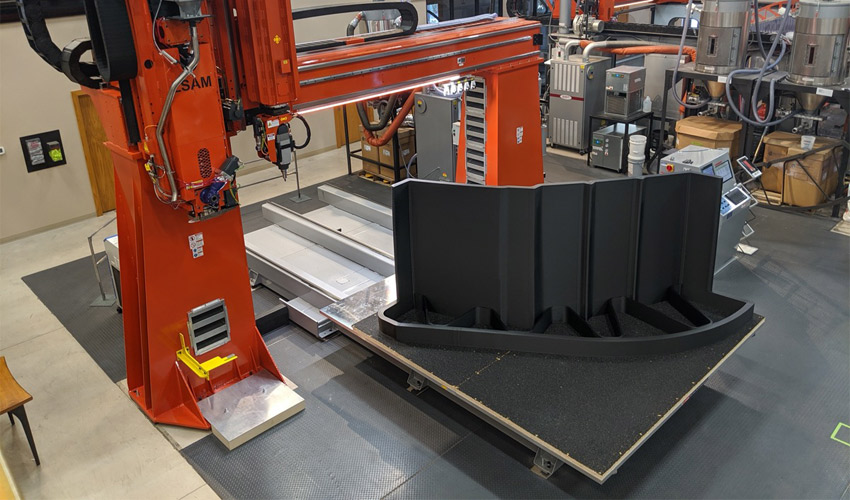 The manufacturer of large-format additive manufacturing solutions, Thermwood, has recently 3D printed several sections of a mold of the hull for a 51-foot long yacht. Using carbon fiber reinforced ABS, the company developed a part that was strong enough, demonstrating that additive manufacturing has a card to play in the marine industry. It's not the first time they've been involved in this sector – in 2017, they printed a master mold that was used to produce several smaller boat hull molds. This application case shows how a single mold can be used for the fabrication of larger vessels, such as yachts.
Today, there are many ways to design large format parts: some companies invest in 3D printers with large plates, others in robotic arms capable of covering a larger surface area, while the majority of users go through a more or less long assembly phase. Despite the constraints that this technique can represent, it remains efficient for manufacturing larger parts – if we come back to the marine sector, you probably remember MAMBO, the boat that was 3D printed with fiberglass. As for Thermwood, it combines the XXL machine with the assembly phase, allowing it to create up to 51-foot long parts .
Thermwood explained that they used their smallest 3D printer, the LSAM MT, which offers a print volume of 10×10 feet, to design sections up to 5 feet high. They are then chemically and mechanically bonded using high-strength polymer cables to form two mold halves. These are then bolted together to form the complete mold for the yacht hull. These four 3D printed parts weigh over 4,012 pounds and require 65.5 hours of printing! The manufacturer chose carbon fiber-reinforced ABS for the whole assembly, a material that has a sufficiently high strength while being relatively affordable in terms of price compared to other composites on the market.
The mold in question has several interesting features: each section has, for example, a molded rocker that allows the mold, once assembled, to rest on the rockers. This also facilitates handling of the mold since it can be turned over and tilted about 45 degrees to either side. According to the company, "A set of molded wedges is attached to the scales to hold the mold in the desired position. Once the shell has been put in place and completely hardened, the mold is rolled up level and the printed corners are attached on both sides, keeping them level. Then, the two sides of the mold can be unscrewed and moved apart to release the hull from the finished boat".
In any case, Thermwood have succeeded in demonstrating that it is possible to 3D print a large-sized mold, whatever the final application. Find more information on the capabilities of its various machines HERE.
What do you think about the 3D printed yacht hull mold by Thermwood? Let us know in a comment below or on our Facebook and Twitter pages! Sign up for our free weekly Newsletter, all the latest news in 3D printing straight to your inbox!