The World's Largest 3D Printed Pavilion is in Nanjing, China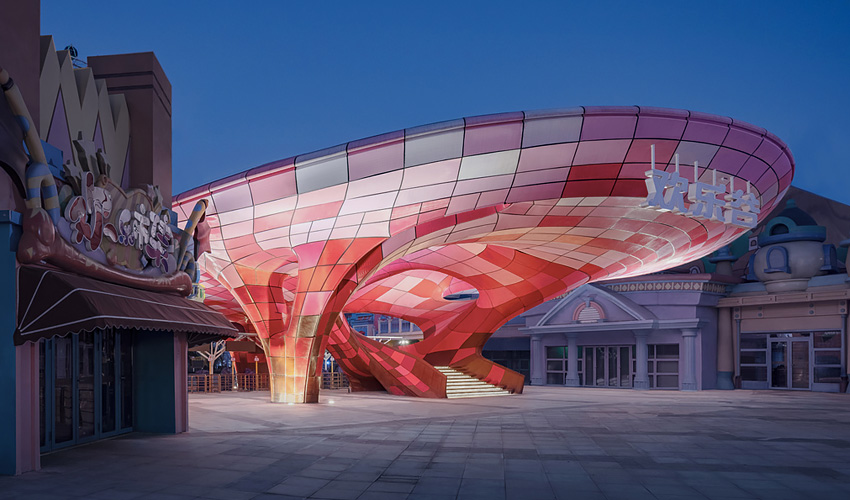 Located in Nanjing, China, this 3D printed pavilion project is considered to be the largest one created to date. The structure has been developed at the Happy Valley amusement park in Nanjing, which officially opened its doors in mid-November last year 2020. The design was proposed by Archi-Union Architects and Fab Union, and they claim that it is intended to reflect an avant-garde structure standing tall and fascinating as a futuristic wonder, opening the way to another dimension.
This is not the first time that additive manufacturing has been used in projects for the construction of architectural structures in public locations. Just considering pavilions, we have already see the Deciduous, a 3D printed pavilion made from recycled plastic bottles, and the R-IGLO, a pavilion made from recycled PET. Both projects show the potential of 3D technology as well as the ability to reuse materials for use as manufacturing materials. However, this new pavilion located in China challenges architecture and construction on a higher level thanks to its highly original and innovative design.
The 3D printed pavilion
In more concrete terms, the 3D printed pavilion at Happy Valley in Nanjing is about 170 feet (52 meters) long and 85 feet (26 meters) wide. In addition, the projection area is around 14,552.8 square feet (1352 m²), with an unfolded surface of 20,989.6 square feet (1950 m²). The most characteristic feature of this structure is its multidimensional hyperbolic geometry that allows an overhang of up to 30 meters, which provides  unique spatial experience. In terms of design, 6 shades of pink were used for each segment using the color pixel collage algorithm. Each of the panels was then 3D printed following the established pattern. After repeated testing of resistant materials the team opted for an outdoor UV-resistant color-modified thermoplastic that can achieve 256 colors with precise parametric color printing technology.
However, one of the problems in integrating large-scale 3D printing is the dual requirements in scale and precision, which are beyond the limits of physical characteristics of 3D printed materials. Despite this, this project provides a solution from two perspectives: global optimization and cellular computing. Overall, a surface subdivision optimization algorithm derived from a 3D printing model guarantees a safe, reliable and accurate result of the overall panel division.
One of the people responsible for this project commented: "The concept of the pavilion revealed to us the influential possibility of applying 3D printing in construction. It gives us an idea of the future of architecture. The pavilion showed us what human creativity and robotic precision can bring to design and construction. It has created a new workflow and reshaped the traditional process from design to fabrication." You can find more information about the project HERE.
*Thumbnail Photo Credits: Schran Image, Songkai Liu
What do you think of this 3D printed pavilion located in China? Let us know in a comment below or on our Facebook and Twitter pages. Don't forget to sign up for our free weekly newsletter, with all the latest news in 3D printing delivered straight to your inbox!