The Top Videos of Formnext 2023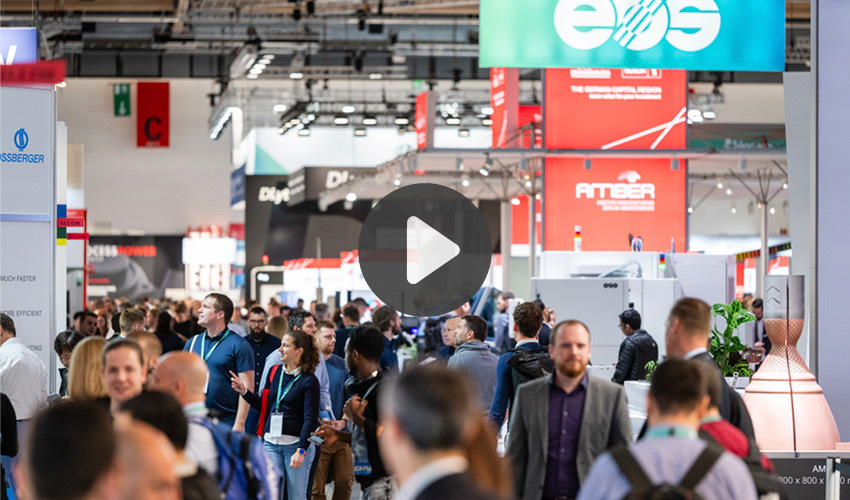 The most important international event on 3D printing, Formnext 2023, took place in Frankfurt last week. Much of the 3Dnatives team attended the event in person to acquire the most interesting news from the world of 3D printing. The big event on additive manufacturing may be over, but for those of you who can't get enough, we have prepared a compilation of videos about what happened at Formnext. From interviews with companies HP, Cubic Ink®, 3DCeram and Revopoint, to emerging companies that are making a name for themselves in the industry, such as the startup Helio Additive. We then turn to our rankings in which we show which printers and innovations caught our attention the most at the event. As if all this wasn't enough, we repost our 3D Printing Show in which we did a little recap of the new technologies we encountered at Formnext 2023 and concluded the list with a bonus video. Happy viewing!
HP Multi Jet Fusion on Efficiency and Scalability
In this video, we bring interesting information from the interview with HP Product Manager Liz Stortstrom, who told us about the company and its innovations presented at Formnext 2023! These include both the HP JF 5600 series and HP's 3D process development. Both innovations are intended to make additive manufacturing in series even more flexible and reliable. The HP JF 5600 is an optimized version of the 5200 series. The new software should also make it easier for users to customize process parameters. Shortstrom also presented in the video the new PA12 and PA11 products, which are designed to contribute to more sustainable production, particularly through their reduced CO2 contribution. HP also presented a number of innovations at Formnext, such as in the healthcare and footwear sectors. Find out more in the video!
The 3D Printing Show
The Formnext moment where we explore new solutions and technologies from different companies with Alex, CEO of 3D natives, is here: it's called the 3D Printing Show. In this 10-minute-only video we bring lots of news from the show, so get ready! We begin by talking with Timm Woszidlo of INTAMSYS, who tells us all the details about his new machine, the FUNMAT PRO 310, and his new INSTAMSUITE NEO software. We then met with Axtra3D, famous for its HPS technology, which combines SLA and DLP, who told us about this technology and its new solution, the Lumia X1. Finally, we had a chance to talk with Helio Additive, one of the winners of the Formnext Startup Challenge 2023, who told us all the details about their innovative Dragon software, the same software that won them this award. Not to be missed!
3DCeram and the Evolution of Ceramic 3D Printing on an Industrial Scale
In this video we introduce 3DCeram, a French manufacturer of industrial 3D printers dedicated to ceramics. This company, a pioneer in the field, is playing a key role in the development of additive manufacturing of ceramics on an industrial scale. In the company of Arnaud Roux, commercial director of 3DCeram, we reveal the latest technological advances and innovative solutions it has developed. You will get a detailed look at their automated production line, specially designed to produce large-scale parts. He also introduces us to the latest software version, CPS 2.0, with customization features to optimize the printing process and increase efficiency.
Five 3D Printers that Impressed Us at Formnext 2023
While wandering the halls of Formnext, it's easy to lose yourself in the fantastical world of 3D printing innovation. However, there were enough printers on hand with that 'wow' factor, that we had to stop and get more information about them. Ranging from all types of applications and 3D printing technologies from extrusion for the construction sector, to stereolithography for medical devices, even binder jetting with recycled materials, we learned about these eye-catching machines, the stories behind them, and what sets them apart from the rest. If you want to learn about the cool and curious printers at Formnext, check out our full video below!
Revopoint's New MIRACO 3D Scanner Debut
In this video, follow the interview we conducted with Oliver Hop, VP of Marketing at Revopoint. The company, founded in 2014 and specializing in the development of 3D scanners and cameras, has now launched the new MIRACO 3D scanner, Oliver Hop explained to us the special features of this new product. First, the scanner works without a cable and does not need to be connected to a device during use. Second, the scanner can be used for objects of various sizes, as it has different modes for close-up scans or from a greater distance. More details in the video!
Cubic Ink® and the Future of 3D Printing with High-Performance Materials
Cubic Ink® is a section of the ALTANA company dedicated to creating materials for additive manufacturing. In this video, Max Röttger, Head of Cubic Ink®, and André Salié, the company's Head of Business Development, talk about Cubic Ink®'s business. They also present applications for their materials, customer benefits, as well as the company's future goals. Learn more about this company in the video!
AM Efficiency and the Role of Post-Processing
Before leaving the event we just had to stop by a booth where we could talk about one of the most crucial stages of additive manufacturing: post-processing. That is why we spoke with Ulf Qviberg of AM Efficiency to learn more about his company and the technologies that they provide that make post-processing a much more hands-off, automated and safe approach, while able to still provide the most crucial of post-processing steps such as polishing, cleaning and coloring. Learn about how AM Efficiency is changing the face of post-processing with all-in-one machines that keep polymer-based powders away from exposed skin while maintaining high-quality results. There is no one better to explain it than the man himself, so watch the full interview below! 
Alpha Laser: The Importance of Safety in Metal 3D Printing
At Formnext, we met with Daniel Riedel, Project Manager Additive Manufacturing at Alpha Laser, who told us about the company's efforts in investing in safety with the new solution presented at the show: the AL3D-METAL metal 3D printer. This is a solution with a cartridge replacement system made so that the operator does not come into contact with metal dust, which is harmful to humans. Daniel Riede also explains in the video the importance of the machine's filter system and how it handles reactive materials. Learn more in the video below:
Formnext 2023's Most Surprising Innovations
This year, as always, the 3Dnatives team went in search of the most interesting innovations at the fair. It was not easy to make a selection among the many products, applications, materials and machines at Formnext this year, but we chose the 5 most surprising innovations for us! To find out, follow our Elliot in the video through the corridors of Formnext in search of these 5 gems: not to be missed!
The 3Dnatives Team's Favorite Applications
This video is a bonus for our readers! Formnext was amazing, and in addition to all the work and busy days, it was also a time for our team to have fun and discover new applications, touching on what 3D printing can create! So we made this video to also share with those who follow us our favorite applications, personally chosen by each member of the 3Dnatives team! Enjoy watching and. see you next year for Formnext 2024!
What was your favorite video from Formnext 2023? Let us know in a comment below or on our LinkedIn, Facebook, and Twitter pages! Don't forget to sign up for our free weekly Newsletter here, the latest 3D printing news straight to your inbox! You can also find all our videos on our YouTube channel.