The Top Binder Jetting Solutions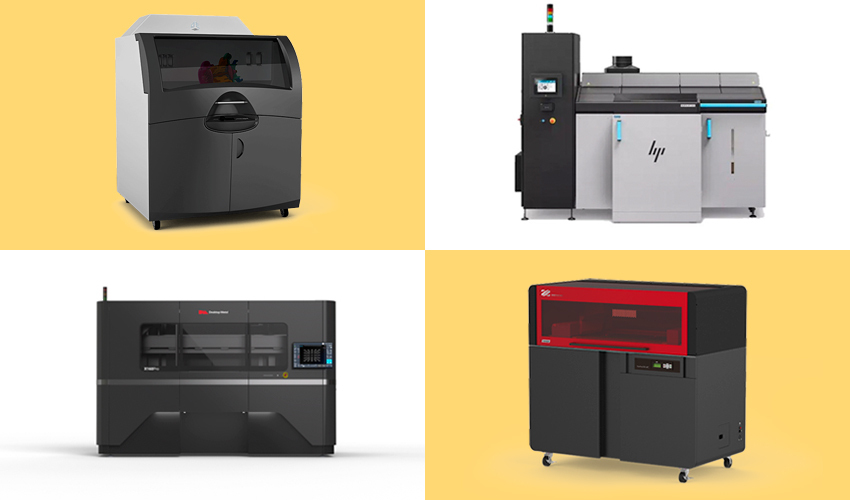 Binder jetting is one of the major additive manufacturing processes available on the market. In the process, a thin layer of powder is coated with a liquid binder (jetted via inkjet technology) to create the part layer by layer. Depending on the material used, it also requires significant post-processing including at least curing, but also often sintering or infiltration. The technology has been gaining in popularity recently thanks to its speed and cost-effectiveness, but also due to the wide array of materials that are available including ceramics, metal and sand. However, how can you know which binder jetting solution is the best fit for you? To explore that very question, we have made this next listing to take a look at some of the best binder jetting solutions that are currently on the market. You will find them below in alphabetical order.
COMETRUE T10
The ComeTrue T10 is a desktop 3D printer manufactured by ComeTrue, a company based in Taiwan. It uses the patented ComeTrue Binder Jetting technology, and benefits from a dual extruder. In terms of print volume, it offers structures that can measure 200 mm x 160 mm x 150 mm, with dimensions of 800 mm x 620 mm x 700 mm and a weight of 60 kg. The ComeTrue T10 incorporates ComeTrue Print software to cut 3D files. The 3D printer can be used to manufacture in various sectors such as architecture or medical. It offers the possibility to create complex models that would be impossible to design with traditional construction methods. In addition, ComeTrue has made sure to improve the printing speed of the machine. Compared to its competitors, the 3D printer stands out because it can print 20 mm/hr for a vertical construction.
DM P2500 From Digital Metal
Though originally part of Höganäs AB, Digital Metal was acquired by Markforged earlier this year. The company is well-known within the binder jetting field specifically focusing on metal binder jetting, as its name suggests. The company currently has three machines, the PPS 1000, DPS 1000 and DM P2500, which is one of its most popular. The DM P2500 has a build volume of 250 x 217 x 70/186 mm and allows for the fast and flexible production of metal parts. It is compatible with a number of different materials including Stainless steel, Ti6AI4V, an equivalent to Inconel 636, Tool Steel and Pure Copper among others. Moreover, it has a number of interesting features including the ability to print without support structures and by stacking components (which is commonly the case with binder jetting solutions), high accuracy and repeatability and almost 100% recycling of powder that was not used. It can also operate at room temperature.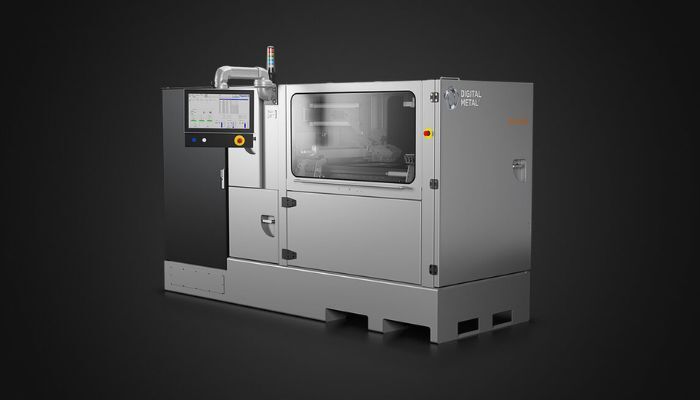 Desktop Metal X160 Pro
The Desktop Metal X Series includes the X160 Pro which is, according to the manufacturer, the world's largest binder jetting printer. It has a build volume of 3,498 x 2,010 x 2,220 mm (137.7 x 79.1 x 87.5 in) and a print volume of 500 x 800 x 400 mm (19.7 x 31.5 x 15.8 in). It is compatible with a range of materials, from ultra-fine metal injection molding (MIM) powders to coarse sands, ceramics and other specialty materials. The print resolution is > 30 µm voxels. Furthermore, the printer is suitable for production at scale, with production-capable repeatability and sintered part densities both higher than 97%. It prints unidirectionally and with a max build rate of 3,120 cc/hr (190 in3).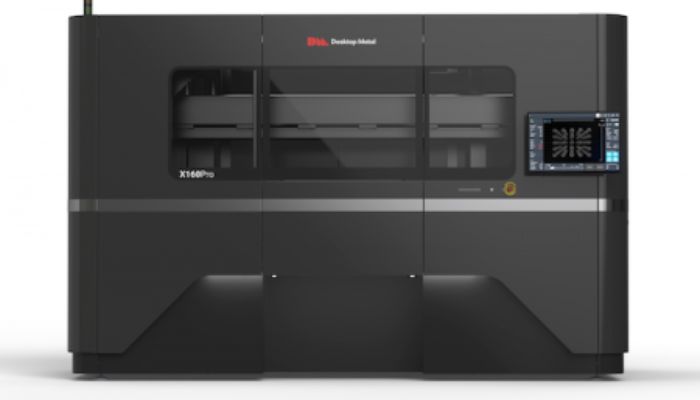 ExOne S-Max Flex
The ExOne S-Max Flex a large-format sand printer released in 2022 by ExOne, a 3D printer manufacturer based in Germany who was recently acquired by Desktop Metal. According to the manufacturer, it was designed to help small foundry businesses (factories which produce metal castings). It uses Desktop Metal's patent pending Single Pass Jetting (SPJ) and offers a build rate of up to 115 l/h. Furthermore, the printer has an industrial robot which enables a flexible layout and ease of access. Environmental controls and sand drying capabilities make it possible to produce consistent and reliable parts. The all-new printhead mount design gets rid of any challenges associated with calibration and alignment.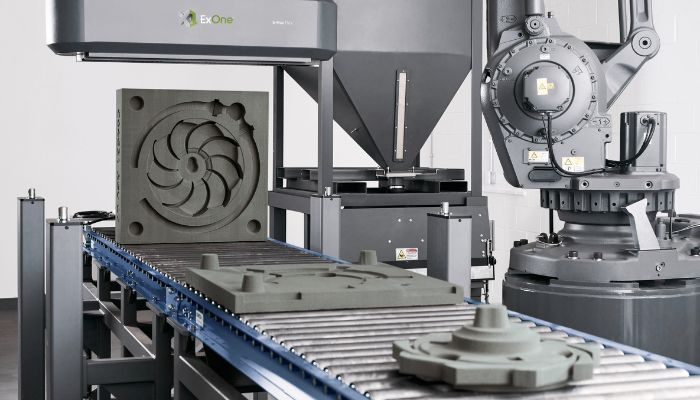 GE Additive Binder Jet Line Series 3
GE Additive is a subsection of General Electric, an American multinational conglomerate company. The GE Additive Binder Jet Line Series 3 is the latest of their Binder Jetting Series. It offers the ability to manufacture small and large parts which meet dimensional and feature resolution tolerances for parts up to 25kg in stainless steel. GE's proprietary binder systems and GE Additive's Amp software's distortion prediction and compensation capability both facilitate efficient and high-quality part production. Casting equivalent parts can be made far more quickly than with traditional methods. The line offers high overall equipment effectiveness (OEE), automation readiness and top-quality material properties. According to the manufacturer, it can print up to 100x faster than other AM modalities, and is capable of creating metal parts at an industrial scale. Production deliveries of the machine are set to begin in 2023.

HP Metal Jet S100
The HP Metal Jet S100 from 3D printing giant HP is part of a whole series of 3D solutions for metal printing. In addition to the binder jetting printer itself, there is also a powder management station, a curing station and a powder removal station. As for the HP Metal Jet S100, this new HP solution was only recently introduced and also represents HP's first step into metal processing. Not only consumer goods and the automotive sector can benefit from this 3D printer, but also the industrial sector. With a total weight of 851 kg, the HP Metal Jet S100 has a build volume of 430 mm x 309 mm x 200 mm, while the overall size of the printer is 2975 mm x 1350 mm x 2410 mm.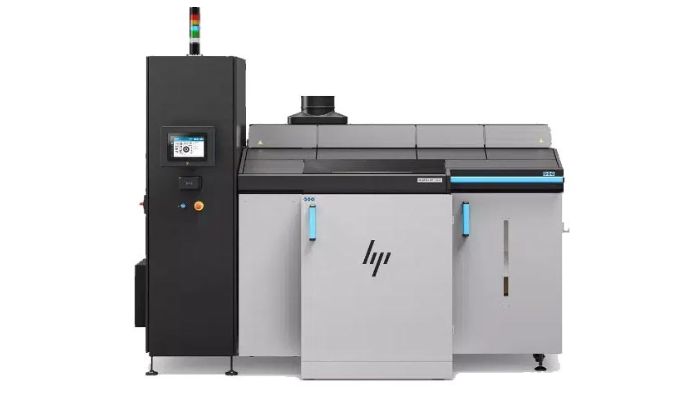 Sinterjet M60
Sintertek, based in Istanbul, Turkey, has launched its metal bonded spray additive manufacturing machine: the Sinterjet M60. The 3D printer measures 550 x 350 x 450 mm and offers a build volume of 160 x 60 x 60 mm with a weight of 70kg. It has been designed to be both compact and programmed to produce complex metal parts at reduced costs. The Sinterjet M60 is capable of using a wide selection of materials. The powder also eliminates the need for supports because the model is well positioned. The printer offers a print resolution of 1200 x 1200 dpi. To ensure minimal effort in handling the powder, Sintertek has integrated a removable BuildBox. This easy-to-load input/output system can increase user efficiency. With this feature, loading a new print job or changing material at the end of a print run can be done in seconds, increasing production speed.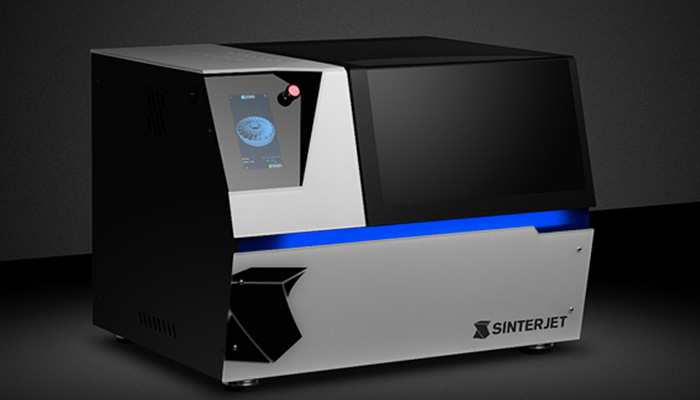 Voxeljet VX1000
Based out of Friedberg, Germany, 3D printing manufacturer Voxeljet also joins our list of binder-jetting 3D printers with its Voxeljet VX1000. Whether it's medium-sized sand molds or cores for subsequent metal casting, investment casting models, or even high-performance ceramic components, the VX1000 is a robust industrial 3D printing system that finds its application in areas such as prototyping, low-volume production, and medium-volume production, as it has a build volume of 1000 mm x 600 mm x 500 mm, which thus makes it suitable for these applications. In addition to material resolution of up to 600 dpi, this binder jetting solution offers high precision and attention to detail. With a total weight of 3,000 kg, its process is considered environmentally friendly due to its compatibility with inorganic binders.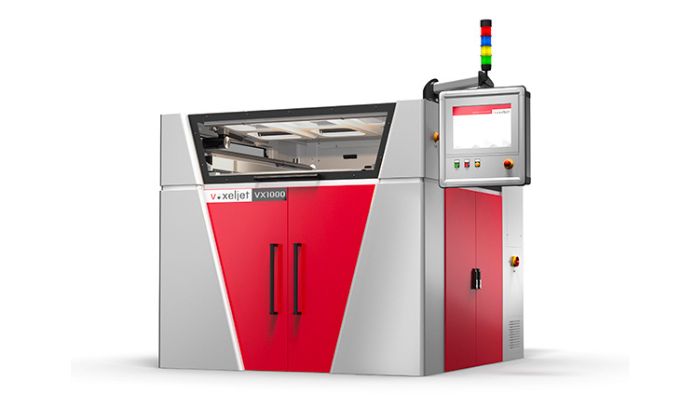 XYZPrinting PartPro350 xBC
The PartPro350 xBC is a printer that uses Binder Jetting technology. It is up to 150% faster than other Binder Jetting color printers, with speeds up to 18 mm per hour for a fully loaded print volume measuring 222 x 350 x 200 mm (8.7 x 13.8 x 7.9 inches) and a layer thickness of 0.10 mm. Supported file formats are .stl, .wrl, .obj, and .3mf. As for the XYZprint AM3DP software, it has two modes of operation: cutting and instant printing or pre-cutting. This Binder Jetting 3D printer features a removable build module. In the video below you can learn more about this machine and the process the company follows to print a figurine.
ProJet CJP 860Pro, from 3D Systems
The well-known manufacturer 3D Systems is one of the pioneers in the field of additive manufacturing. It has a wide range of products based on different 3D printing technologies, one of them being the Binder Jetting technology.
In this ProJet® CJP 860Pro, which uses the company's ColorJet® Printing (CJP) technology. It features five CMYK 3D printing heads for high-quality, full-color parts. Specifically, this method consists of cyan, magenta, yellow and black binders that are injected over a layer of white powder to bind and form, layer by layer, the final parts. With a maximum print volume of 508 × 381 × 229 mm, the ProJet® CJP 860Pro enables the creation of large-scale concept models in a wide range of solid and gradient colors.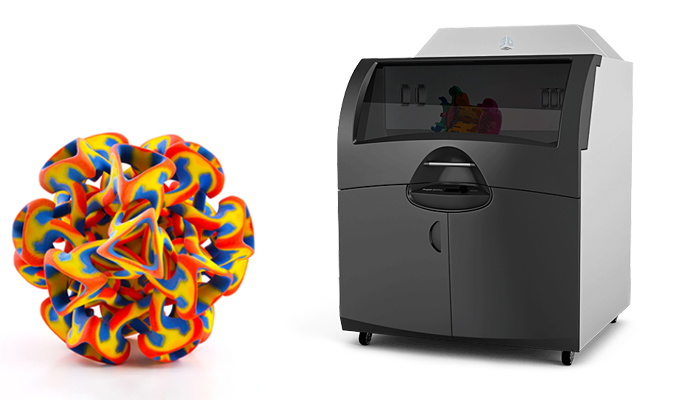 What do you think of our list of binder jetting solutions? Do you think we have missed any? Let us know in a comment below or on our LinkedIn, Facebook, and Twitter pages! Don't forget to sign up for our free weekly Newsletter here for the latest 3D printing news straight to your inbox! You can also find all our videos on our YouTube channel.