The Sugar Lab 3D Prints Christmas Candy and Decorations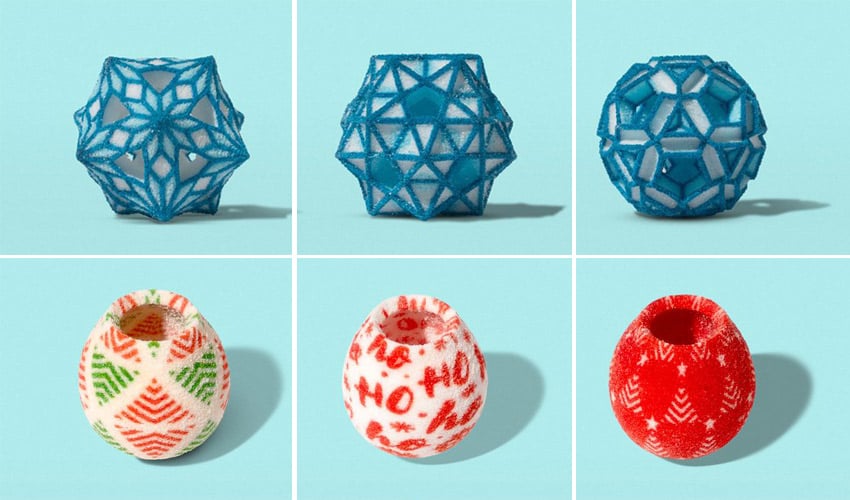 That's it, the halls are decked, the gifts are (almost) ready, and the Christmas tree is sparkling. Christmas has never been this close and despite the circumstances, we wanted to share a fitting story. This collection of 3D printed candy and decorations by The Sugar Lab, as the name suggests, uses sugar as a 3D printing material! Relying on a binder jetting process, The Sugar Lab were able to create structurally complex, edible treats. A great last-minute idea for your festive meal?
Lyz and Kyle von Hasseln created The Sugar Lab in Los Angeles in 2012. The idea was simple: use sugar as a 3D printing material. To do this, they replaced the polymer or ceramic powder usually found in Binder Jetting solutions with sugar. An innovation that clearly interested 3D Systems since it bought the company a year later. To celebrate Christmas, The Sugar Lab is launching a new collection of treats and decorations of all kinds, all printed with sugar, of course. To celebrate this, 3Dnatives have created a video that retraces the history of this start-up:
You can buy marshmallows in the shape of holiday sweaters or gifts, Christmas colored barley sugars, or snowflakes to decorate your table. The Sugar Lab guarantees that everything is edible: the snowflakes, for example, are peppermint. The company have also created small shells, 3D printed with ginger, cinnamon and nutmeg, to serve your desserts in. As you can see, just like a Christmas present hidden underneath wrapping paper, the gift is on the inside!
For those brave enough to try, The Sugar Lab offer a Snowman kit you can assemble at home. It includes three different 3D printed pieces. The snow man 86 mm tall. Will you be able to put it together before you eat everything? You can find the entire collection HERE – there's something for everyone and every budget (between $16 and $28). Happy holidays to all!
What do you think about The Sugar Lab's Christmas Collection ?Let us know in a comment below or on our Facebook and Twitter pages! Sign up for our free weekly Newsletter here, the latest 3D printing news straight to your inbox!