Moving additive manufacturing from prototyping to production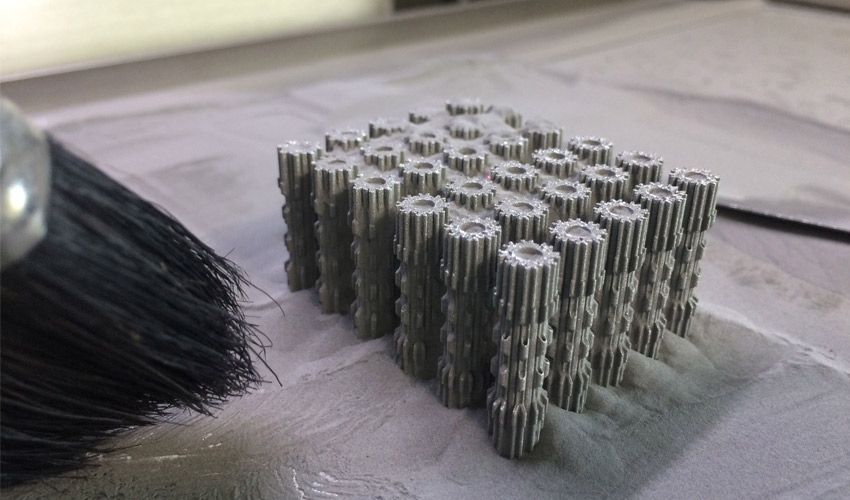 Every year, the 3D printing service Sculpteo publishes its annual report The State of 3D Printing, a study that provides more information on the use that professionals make of additive manufacturing. It also provides an overview of market trends, the main difficulties encountered by companies and industrialists, and the benefits they derive from the technology. This year, the 6th report highlights the fact that additive manufacturing is increasingly used by professionals, and is more mature – 80% of participants have been using it for at least 2 years. However, it remains expensive: the investment is heavy and the entry costs high. Finally, mentalities are gradually changing as everyone agrees that the production of end use parts using 3D printing is now a reality.
Sculpteo's State of 3D Printing 2020 report is based on responses from professionals from 71 different countries, 48% of which are companies based in Europe. It very clearly identifies four key trends from the outset of the study: materials, durability, technology evolution and accessibility. According to the study, there are more and better innovative materials available today that meet the requirements of many industries. Post-processing technologies have also been improved to improve the final appearance of the part. As far as the evolution of technology is concerned, Sculpteo highlights the fact that the equipment is more reliable, faster and more accessible. Finally, additive manufacturing can count on a more sustainable aspect with more bio-sourced materials and local production processes reducing our ecological footprint. But what do direct users of the technology think?
The State of 3D Printing 2020: how is additive manufacturing used
More than 50% of the survey participants now use 3D printing for the production of end-use parts, a trend already confirmed by the previous report. It should be noted that additive manufacturing for rapid prototyping purposes is for the first year down compared to the past 5 years, proof that it has a card to play in mass production. 42% also use it for research and development and educational purposes – a rising figure. CAD design and prototype testing are now the two most time-consuming stages for professionals, even though they agree that software is more efficient. Clément Moreau, CEO and co-founder of Sculpteo, adds: "After six years, we can see a clear evolution in the applications of this technology. Companies are identifying additive manufacturing opportunities for their business, increasing their investments and showing real confidence in the future of 3D printing for their professional uses."
On the technology side, while fused deposition modeling (FDM) remains the most widely used in-house process, SLS, Multi Jet Fusion and metal additive manufacturing remains popular, but more so through printing services. One reason for this may be that the investment costs are still too high for many structures. Finally, if we look at materials, the vast majority of users use plastic filaments, closely followed by resins and finally metals.
Benefits and limitations of additive manufacturing
Unsurprisingly, 3D printing technologies make it possible to create more complex parts (66%), multiply iterations (45%), reduce time-to-market (43%) and production costs (37%). As for adoption limitations, 59% of participants agree that the entry costs are too high, hindering internal adoption. For 51%, it is mainly a lack of knowledge and skills, which leaves a real place for training offers on the market.
It would appear that the industry is more in need of reliable technologies for 62% and new materials for 56%, although the supply has increased significantly over the last five years. Finally, professional users are faced with challenges related to the quality control of parts: how to ensure that the prints produced meet the requirements of their market? For 51%, this is the first obstacle to the wider adoption of additive manufacturing in their business.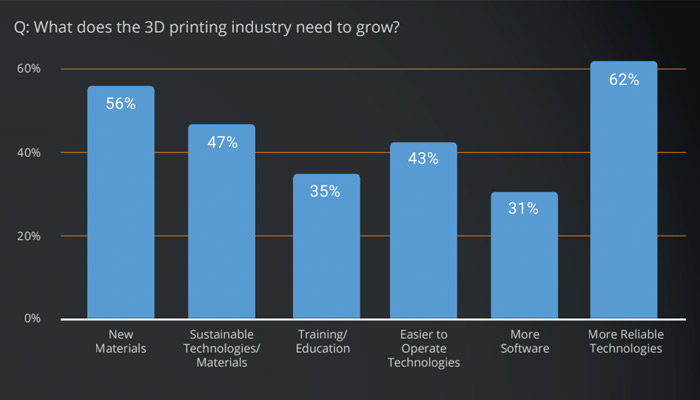 What do you think of these findings? Let us know in a comment below or on our Facebook and Twitter pages! Sign up for our free weekly Newsletter, all the latest news in 3D printing straight to your inbox!