The Smallest 3D Printer in the World Is No Bigger Than a Match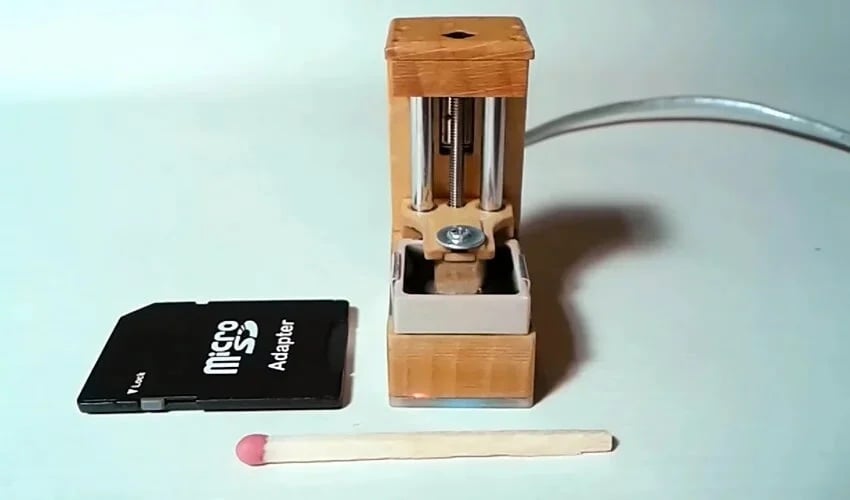 3D printing is evolving by the minute and innovations in the sector are not about to stop, whether in terms of speed, materials or size: machine manufacturers are always looking for more volume or on the contrary are in search of something even smaller. And this project from the YouTuber "My N Mi" is a perfect example. He claims to have designed the smallest 3D printer in the world. The mini solution, which is smaller than a matchbox, measures 1.8 x 3 x 4 cm and weighs only 17 grams.
In the YouTube video where he introduces it, the designer shows how it works by printing a small mannequin. Due to the small size of the device, it can only make parts that have a volume of 11 x 11 x 17 mm, but even so, the result is impressive, both in terms of the implementation of the process and the quality of the details of the parts, as well as the creation of the machine itself. Thanks to a small motor that moves the printing plate and an LCD screen that polymerizes the resin, the mini 3D printer can design small detailed objects – meaning that the solution uses photopolymerization. Moreover, the resin tank is so small that the material must be added with a syringe, drop by drop. According to the inventor, the printer is designed for 3D micro-printing and can be used to create tiny components for electronic devices and other applications.
Although the author has not released any plans or schematics for the printer, the demonstration video has generated some buzz and interest within the 3D printing community. In fact, some have said that the printer could be a valuable tool for researchers and engineers working on projects requiring extremely small parts. Of course, it won't be able to print medium or large series, but this supposedly smallest 3D printer is still quite original considering its size and features. And if we look at its specifications, it offers an accuracy of 0.135 mm on the XY axis and a layer resolution between 0.005 and 0.3 mm.
It was made using a combination of commercial components and printed parts, and although it is not yet commercially available, perhaps the inventor will release it for sale or publish the plans for designing it right at home. We're not convinced it will be a huge success – it's still a gadget, but this project deserved to be covered!
What do you think of the smallest 3D printer? Let us know in a comment below or on our LinkedIn, Facebook, and Twitter pages! Don't forget to sign up for our free weekly Newsletter here, the latest 3D printing news straight to your inbox! You can also find all our videos on our YouTube channel.
*Cover Photo Credits: My N Mi