The Multimaterial Dryer, Protecting your Filaments From Humidity and Moisture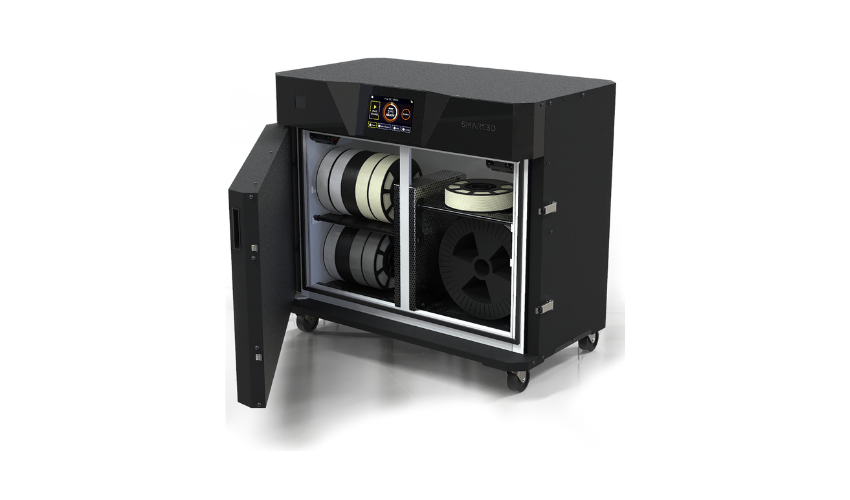 Industry Supplies is a manufacturer known for developing the KODAK 3D Portrait Printer in 2018. The company has also developed its own brand called Smart3D under which it produces a high-volume 3D printer and a portfolio of thermoplastic filaments, one of the most used materials in 3D printing. One of the manufacturer's latest solutions, however, is the Smart3D Multimaterial Dryer, a printing filament storage unit that reduces the risk of moisture damaging the quality of materials. For France, Atome3D is currently the only official reseller to offer the product in stock, they also sell to other countries in Europe.
Moisture, additive manufacturing's silent enemy
FDM 3D printing often requires the use of filaments with various properties, some more fragile than others. These include nylon, PVA and TPU, three materials that are sensitive to ambient humidity. The need to store these filaments properly has led Industry Supplies to produce the Multimaterial Dryer. Demian Gawianski, Smart3D's Sales Director comments: "This product is the natural result of our customers' requests to fight against humidity and guarantee repeatable prints. Users have now understood that humidity is the silent enemy of FDM 3D printing […] It is believed that this product complements the best professional eco-systems on the market".
Regarding the Multimaterial Dryer's features, there is a 7-inch touch screen to control the drying process according to the number and type of filaments stored. The screen also provides various information on temperature, humidity and current drying cycles. The Multimaterial Dryer is therefore able to dry several different materials at the same time to achieve a moisture content of between 10% and 30% only. The unit is compatible with 500 mm diameter coils and offers a USB or Ethernet connection. The easy to use system would allow users to ensure that they are not accidentally letting their filaments be destroyed in an unsuitable environment.
The great strength of the product is its large storage capacity of 733 x 250 x 506 mm, with no less than 30 reels that can be stored simultaneously within the unit. You also cannot forget about its fast drying capabilities, while drying cycles typically last 8 to 48 hours, the Multimaterial Dryer's cycle times are between 1 to 2 hours. This performance is based on a process called "Hybrid Drying Technology" and was developed specially by Smart3D. In terms of price tage, the Multimaterial Dryer is available from €3999 ($4,832.35).
What do you think of Smart3D's Multimaterial Dryer? Let us know in a comment below or on our Facebook, Twitter and LinkedIn pages! Sign up for our free weekly Newsletter here, the latest 3D printing news straight to your inbox!