The Most Innovative 3D Printed Glasses on the Market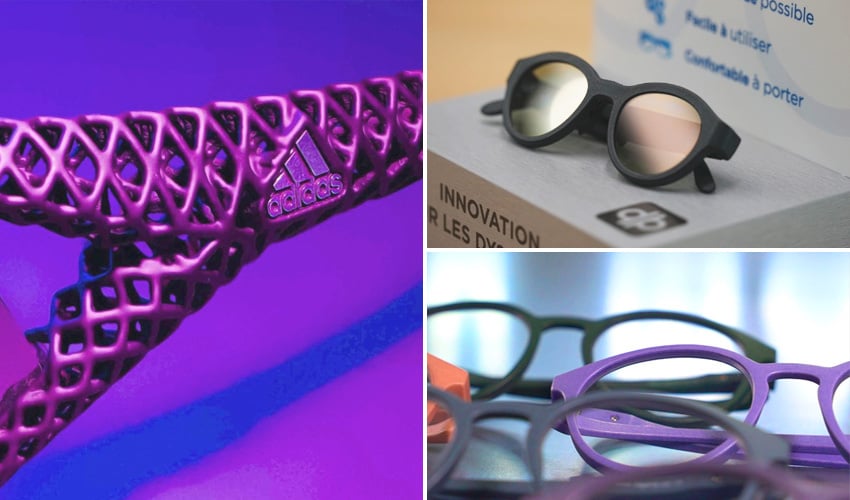 When you think of 3D printing especially in the medical sector, one of the most important benefits of the technology is the fact that it can make fully-customizable parts. It probably comes as no surprise then that one of the areas where we are seeing a growth of 3D printed products is in eyewear. Indeed, the market is expected to reach $3.4 billion by 2028 from $182 million in 2018. Thanks to 3D printing, glass frames are able to be customized to perfectly fit each user's face, allowing for a lighter, more comfortable fit. We decided to take a closer look at the leading examples of 3D printing in glasses, both optical and sunglasses to understand the available options on the market. Here they are listed in alphabetical order.
3D Printed Glasses for Dyslexic Children
Abeye is a French startup incubated by ATOL Les Opticiens that manufactures electronic glasses to improve the well-being of its wearer. One of its latest range of glasses is called Lexilens, a solution to relieve people suffering from dyslexia. Concretely, the wearer can activate a filter by a simple pressure, thus removing all the mirror images seen by the dyslexic person. And if we mention it in our selection, it's because additive manufacturing played a key role in the entire R&D phase of the project. The teams were able to test many different frames and multiply the iteration using HP Multi Jet Fusion.
Sunglasses Developed by Adidas
Many sports brands have already used additive manufacturing to produce various sporting gear and accessories and Adidas is no exception to that. The German sports brand recently announced it would be using 3D printing to design the frame of their latest pair of sunglasses. These frames, called 3D CMPT, were manufactured in collaboration with Marcolin Group, a company already known for working with top brands such as Tom Ford, Moncler, and Guess. The unique model, which stands out not only because of its light weight of merely 20 grams, features a special spiral structure. It was created by using flexible nylon with a special coating, which gives the glasses a rubberized effect, Adidas enhanced the glasses with non slip contact points on the nose pad to improve the stability and make them as comfortable as possible.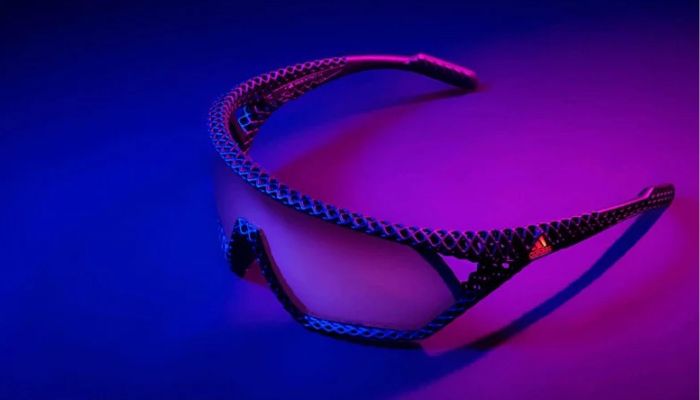 3D Printed Glasses from BRAGi
If you're looking for additively manufactured eyewear with excellent feel and standout aesthetics, you're sure to find it at BRAGi. The customized and bespoke 3D printed eyewear relies on 3D scanning, parametric design and 3D printing technology throughout the entire process. BRAGi uses its proprietary scanning system, which can accurately identify a total of 72 key points on the face to serve as the basis for the glasses' subsequent frame design. As for the subsequent 3D printing, BRAGi uses a 3D printer from a German manufacturer, but does not go into further specifics about it nor about the medical bioprinting materials used.
Fritz Frames' Glasses For Every Age
Fitz Frames operates under the assumption that everyone should look and feel great in their glasses as they are the one thing that is worn from morning until bedtime. To that end, the company makes all types of 3D printed glasses including prescription, blue light filtering and sunglasses for both adults and children (3 years old and up). To ensure the best fit for each face, Fitz's app measures to get the exact dimensions before 3D printing the frame for what they consider to be the best fitting glasses ever. Users can choose from a variety of frame shapes and colors and though of course you can make a one-time purchase for just $96 (with a 30-day guarantee), you can also go for a $185 per year subscription plan for unlimited frames, just in case of accidents. Like many other examples on our list, the frames are made using lasers, most likely SLS technology though the company does not name the exact process.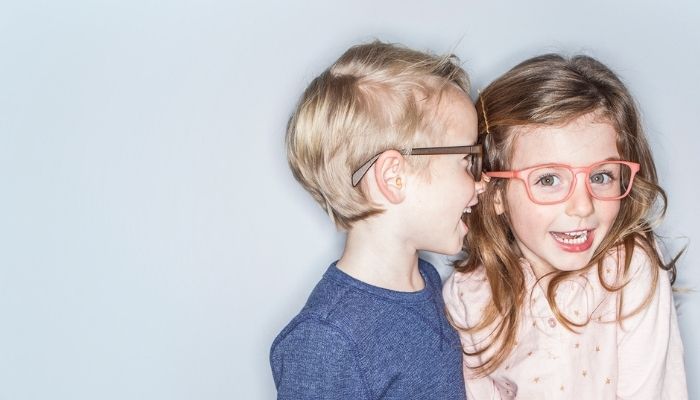 Hoet's Glasses Combine Tradition with Innovation
The Hoet family, which runs a fifth-generation optical store in the heart of Bruges, has recently launched their 'Made in Belgium' 3D laser-printed eyeglasses made of titanium. The family, which runs the family owned shop since its opening in 1945, dedicated four years of research and development, striving to combine modern technology with elegance and style. The result of this devotion is the 3D printed "Hoet couture' collection, which displays the perfect use of additive manufacturing, producing the frames of the glasses with amazing details which couldn't be made by traditional production methods. All while minimizing any kind of waste and using sustainable materials. The 3D technology offers a number of other unprecedented options in terms of designs well, making the beneficial use of 3D printing visible.
Klenze & Baum
Klenze & Baum have set up shop in Munich with their production of additively manufactured eyewear. The special feature in the production of their glasses is the specially patented ball joint of the VOYOU and SUMO collections. This has a unique function: if the temple is overloaded or overstretched, it can give way and even pop off. The hinge can be reattached within seconds with just a flick of the wrist. Thanks to additive manufacturing, the virtually indestructible glasses are not only very lightweight, but also pursue a major sustainability aspect. Because the glasses are easy to repair, there is no need to buy new glasses if they break, and 3D printing prevents overproduction.
3D Printed Lenses from Luxexcel
So far, we have introduced you to several different 3D printed frame projects. This time, we wanted to introduce you to actual 3D printed glasses! The company Luxexcel is behind this innovation: based in the Netherlands, it offers printing of prescription glasses but also of lenses. The company has developed a solution called VisionPlatform that integrates a 3D printer, software and adapted materials. Its technology is based on a process of droplets that, layer by layer, form the final lens. In the video below, Joost van Abeelen, CPO of Luxexcel, goes over the basics of the technology:
Materialise's 3D Printed Glasses
The Belgian company Materialise is well known for its many projects in the 3D printing industry. Since its founding in 1990, Materialise has partnered with dozens of other companies for all kinds of projects. From 2013 on however,  Materialise has been working on the production of 3D printed glasses, always striving to find optimal technologies and sustainable materials. By respecting all unique requirements that the production of eyewear has, Materialise has invested in discovering and researching the many ways it can apply 3D printing to the world of eyewear manufacturing. From designer ateliers to mainstream consumer brands, Materialse has always managed to exceed the expectations, making every collaboration an experience of its own with unique results every time.
Monoqool and its Many 3D Printed Glasses Collections
Monoqool from Denmark also has the aim of using new technologies and materials to make the most innovative eyewear, putting a focus especially on comfort. Monoqool's many 3D printed glasses come in a variety of frame styles and colors, but they are all made using polyamide and a laser, suggesting an industrial SLS printer. According to the company, it takes up to 24 hours to print one of the glasses and for their Slider series, the frames consist of up to 600 super-fine layers and undergo more than 30 post-processing steps including glassblasting, coloring, coating and polishing, before reaching the final product.
MYKITA's Mylon Colection
MYKITA, so-named because when it was founded in 2003 it was located in an old kita, or daycare in German, is a German eyewear company that is committed to using modern technologies for innovative, long-lasting glasses. And as you might expect, they also have a collection made using 3D printing. MYKITA MYLON is the first serially produced collection made with 3D printing technology that MYKITA has and is composed of both sunglasses and optical glasses. The frames are made using SLS and polyamide powder in order to create a lightweight frame that still has outstanding comfort.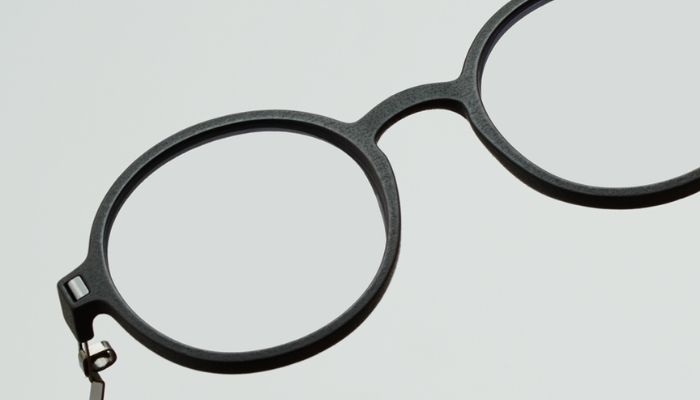 3D Printed Glasses from Netlooks
Netlooks is a French eyewear manufacturer that has been working with the 3D printing service Sculpteo for over three years. The company designs custom eyewear through additive manufacturing, specifically via powder sintering. It uses PA12 to create frames adjusted to the wearer's morphology – length of the temples, face width, etc. – and the color of the glasses. The wearer can also choose the color of the frame and thus obtain a result totally adapted to his needs.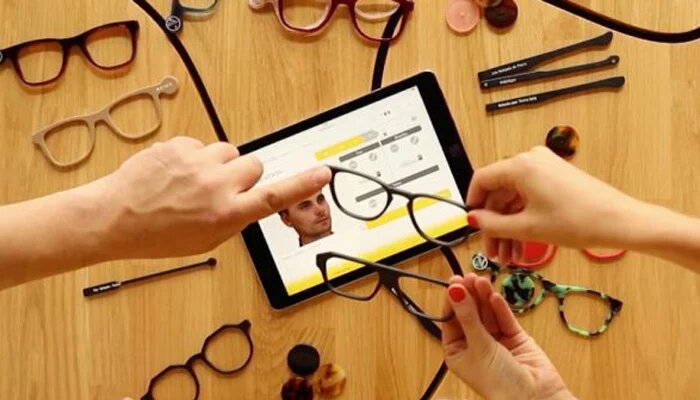 Odette Lunettes and its Range for Sportsmen
Belgian company Odette Lunettes recently launched a new collection of 3D printed eyewear. Relying on HP Multi Jet Fusion technology, it used a biosourced polyamide, a PA11 developed by BASF. The range was named "Odette Lunettes X Tom Boonen", after the collaboration with the Belgian cyclist Tom Boonen. Indeed, the objective was to propose glasses adapted to the practice of the sport without sacrificing the design. Odette Lunettes is currently working in collaboration with Materialise who is in charge of the printing of the frames.
Rolf Spectacles' Sustainable Castor Bean Glasses
Rolf Spectacles is an Austrian manufacturer of sustainable 3D-printed eyewear. To be precise, these additively manufactured glasses are made frin castor beans. The eco-friendly and renewable resource brings the advantage that the material made from it – powder-based castor beans and water – is flexible, natural and skin-friendly. While Rolf Spectacles is best known for its eyewear developed from plant-based materials, it also makes wooden eyewear as well as titanium, stone and horn eyewear. Since these are printed in one piece, there is thus no need for suppliers to provide additional parts.
Wire Glasses' British 3D Printed Glasses
Sustainably designed in London and handcrafted in Italy, Wire Glasses aims to combine style with eco-friendly choices for their zero-waste eyewear. Available as both opticals and sunglasses (like many of the options on our list), their frames are printed from bio-plastic made from castor beans, a single stainless-steel wire that is made eyewear specialists in Northern Italy and lenses made in France with ecological resin (bio polyamide). The company aims to have zero waste in their production and fair labor. Though the company does not name which 3D printing process they use, they certainly turned towards 3D printing thanks to its benefits when it comes to reducing waste.
YOU MAWO Scans Your Face for Your 3D Printed Frames
YOU MAWO (short for "Your Magic World") also sets the highest standards of individuality in the additive manufacturing of its eyewear. With the help of 3D technologies, the German-based company can precisely adapt the characteristics of the glasses to the needs of the respective wearer. Specifically, the company uses EOS's selective laser sintering process; for post-processing they have adopted DyeMansion's technology. After an approximately 20-second scan via cell phone or tablet, YOU MAWO can then use this data to design, adapt and, of course, 3D print the spectacle frames.
What do you think of our list of 3D printed glasses? Which ones are we missing? Let us know in a comment below or on our LinkedIn, Facebook, and Twitter pages! Don't forget to sign up for our free weekly Newsletter here, the latest 3D printing news straight to your inbox! You can also find all our videos on our YouTube channel.