The FUTURECRAFT.STRUNG from Adidas combines AM and textile innovation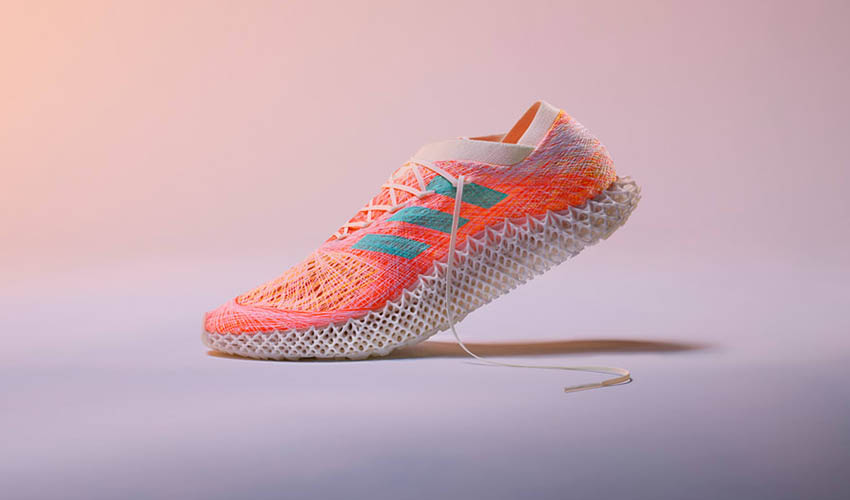 Adidas has been working with 3D printing technologies for some years now, trying to find new ways to build footwear. Its FUTURECRAFT division, for example, has been aiming to shape the future of sports through its innovations with concepts like the FUTURECRAFT 4D sneaker that featured a lattice-like 3D printed sole. Recently, the company announced its latest technology, STRUNG, a revolutionary textile innovation that aims to improve the performance of footwear even further. 
Whereas the FUTURECRAFT 4D used 3D printing technologies to manufacture the sole, STRUNG uses a unique process to combine athlete input, additive manufacturing and robotics to create a lightweight shoe. In fact, the upper part of the shoe is manufactured with a robot arm, where each thread has been placed according to the input to create a lightweight, seamless shoe that allows natural foot movement.
Each thread can be placed in any direction, allowing different areas with well-defined characteristics such as support or flexibility to be combined in a single piece and material. This means that the STRUNG shoe does not need to be reinforced with other components that may hinder the natural movement of the athletes, as is the case with other textiles.
It is probably one of the most beneficial features of additive manufacturing: being able to manufacture a piece that is custom-made to fit a person perfectly. The latest concept shoe from Adidas therefore combines the STRUNG technology for the upper part and the FUTURECRAFT technology for the midsole. The midsole is manufactured using Carbon's DLS (Digital Light Synthesis) technology, that relies on a process of photopolymerization to harden a resin layer by layer and create the lattice structure that improves performance. 
The first STRUNG shoe for the public is currently under development. It will be launched at the end of 2021 or early 2022. Eventually, Adidas wants to expand the use of the STRUNG upper to other sports. You can find more information HERE. What do you think of the FUTURECRAFT.STRUNG sneaker? Let us know in a comment down below or on our Facebook and Twitter pages! Don't forget to sign up for our free weekly Newsletter, with all the latest news in 3D printing delivered straight to your inbox