The Dental Resin 3D Printers Currently on the Market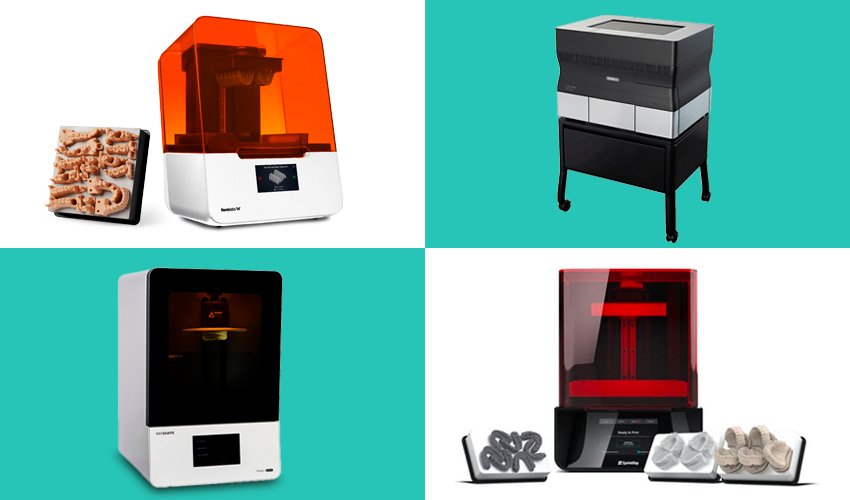 The dental industry is one of the sectors that has been rapidly adopting additive manufacturing for the creation custom-made devices, adapted to each patient. From a 3D scan or medical imaging data, dental professionals can obtain accurate 3D models and print customized parts such as aligners, crowns or implants. But what are the dental 3D printers currently on the market? Which solutions should you choose? We took a look at some of the machines that have been adapted for the sector, focusing specifically on resin 3D printers. This is because these are often the most popular type of printers used in dentistry due to the fact that light-curing processes allow to obtain very detailed and precise parts, meeting the requirements of the market. Check out our list of dental 3D printers, sorted by alphabetical order (manufacturer's name).
3D Systems and the NextDent 5100
3D Systems has leveraged its years of experience in 3D printing to team up with the leader in biocompatible dental 3D printing materials to create the NextDent 5100 3D printer. This printer uses the revolutionary Figure 4 technology, which, combined with the broad portfolio of dental materials, results in unprecedented speed, accuracy, productivity and total cost of operation. The NextDent 5100 facilitates high-speed 3D printing for the production of dental appliances. Thanks to its advanced printing technology and compatibility with leading dental software, this solution combines best-in-class speed and performance at a price point accessible to virtually all labs and clinics. It has a portfolio of 30 unique materials and is fully compatible with industry software solutions.
The Machines from Australian Manufacturer, Asiga
Asiga is an Australian company at the origin of several dental machines, grouped under two ranges, the MAX and the PRO 4K. If we focus on the second, we can mention the PRO 4K80, a DLP machine that offers the largest printing volume of the range at 217 x 122 x 200 mm and a 4K LCD screen. It offers a wavelength of 385nm allowing to obtain more details and precision as well as a greater reliability of production. In terms of materials, the user will be able to count on different options dedicated to the dental sector depending on the desired applications.
A Dental 3D Printer from Carbon
American manufacturer Carbon has also developed a printer which can be used specifically for the dental sector. The Carbon 3D L1 that allows the production of large or many small parts in a single printing process. Whether producing functional prototypes or mass production, dental labs can benefit from the L1 3D printer because users are able to produce dental models quickly and accurately. With a build volume of 400 x 250 x 460 mm, some companies in the dental industry are already taking advantage of the L1, including Derby Dental, Affordable Care and SureSmile from Dentsply Sirona. They are able to manufacture thousands of individual and customized aligners per day. The CDLP technology used is compatible with silicone and photopolymers.
Desktop Health's Einstein Printer Range
The Einstein range of printers, from the Desktop Health brand, are meticulously designed for dental professionals. This range consists of 3 different printers: the Einstein, the Einstein Pro and the Einstein Pro XL. All three share the same features: accuracy, speed and versatility. This range meets a wide variety of needs, from medical to laboratory. The Einstein is designed to allow in-office printing for dentists. Meanwhile, Einstein Pro is designed for small labs and specialists, and the Einstein Pro XL is designed for high-production dental labs, equipped with the highest level of construction in the series. Each of the machines uses 'patented NanoFit 385 technology' to ensure that applications have a 'precise fit and natural-looking finish', plus its 'Hyperprint technology' promises 'speeds up to 50% faster' than its predecessor.
Dental 3D Printers from DWS
Italian company DWS is another with a range of 3D printers dedicated to dental clinics and laboratories. Currently, it offers the XFAB 2500PD, XFAB 3500PD, 029JL2, 029X, 029XC, XPRO S, XPRO Q, DFAB and LFAB. All the printers use laser stereolithography and differ mainly in build size and available features. DWS also offers biocompatible resins which are compatible with the machines, making dental 3D printing even easier. Like with many resin printers, DWS highlights the speed and precision of the printers.
The Form 3B+ from Formlabs
Though Formlabs is already well-known for its many resin 3D printers, the company has actually created a printer specifically for use in healthcare, including for dental applications. The Form 3B+ is a sibling of the Form 3+ with the B standing for biocompatibility as the machine can be used with Formlab's biocompatible, sterilizable materials and has been validated in FDA-cleared workflows, making it especially appropriate for use in the USA. The printer uses Formlabs' new Low Force Stereolithography (LFS) technology and is also available in a larger size with the Form 3BL. The printers also have a number of interesting features, including automation, optimization and the ability to create finely detailed parts.
The NXD200 from Nexa 3D
3-Printer manufacturer Nexa3D also offers a dental solution with the NXD200, a new 3D printer that the company says offers dental labs high throughput at a comparatively low cost. The California-based 3D printing company's highly accurate device uses a patented LSPc technology and is combined with a large build area, extreme print uniformity and advanced process algorithms. In addition to increasing productivity by up to 20 times, the NXD200 also shines thanks its compatibility with other digital dental equipment notably being able to be used with Keystone's KeyPrint resins, including KeySplint Soft. With a build volume of 275 x 155 x 200 mm, STL and 3MF are accepted as supported file formats. The NeXD200 offers a maximum resolution of 4K and accelerated part-to-print capabilities.
Photocentric and its Solutions for the Dental Sector
The British company Photocentric has a line of products dedicated to the dental sector. Specifically, two of its resin 3D printers, belonging to the Liquid Crystal range, are ideal for the development of dental models and devices. The first of these is the LC Magna, a machine based on Photocentric's LCD technology with a large manufacturing volume of 510 x 280 x 350 mm. It stands out for its high speed light curing, about 2 to 8 seconds per layer with a layer thickness of 100µm. There is also the LC Opus, which is based on resin LCD technology as well though it has a smaller print volume than the Magna, namely 310 × 174 × 220 mm. It is a very versatile solution that is perfect for both beginners and experienced users. Both 3D printers are equally designed for implementation in the dental sector, with the aim of taking dental manufacturing to another level.
Prodways and Additive Manufacturing for the Dental Industry
Prodways Tech offers a range of specialized dental 3D printers. In addition to the ProMaker LD20, the ProMaker LD10 in particular is considered a key 3D printer for dental models on the market. Thanks to MOVINGLight® technology, a resolution of 42 µm is possible as well as a highly precise control of the geometry of each produced part. Overall, MOVINGLight® technology has a very low degree of wear, meaning that operating costs are kept to a minimum, without compromising on quality and speed. Equipped with a DLP® head, the ProMaker LD10 is particularly suitable for the fabrication of dental models, orthodontics and aligners. It is possible to change the resin material within just a few minutes and also to choose between different interchangeable platform sizes. This provides space for up to 48 dental arches on one platform.
Rapid Shape's Dedicated Dental 3D Printers
Rapid Shape is a south German technology company that specialises in generative rapid prototyping and rapid manufacturing systems. In particular, they have experience not only in developing technologies but in creating corresponding resins, something the company has done in the dental industry. Currently, the company offers eight printers depending on the needs of the user: D10+, D20+, D30+, D50+, D70+, D90+ with cabinet or inline, D30+ ortho and D100+ ortho with cabinet or inline. The machines are tailored to different purposes, for example the D10+ is the simplest machine and designed specifically for dentists to use in their clinics, the D20+ through D50+ are suitable for labs and the D70+ through D100+ can be used for industrial production. The company emphasizes that each machine is an all-rounder, able to print surgical guides, bonding trays, permanent or temporary crown and bridge units, ortho models and more quickly and efficiently. For all printers, Rapid Shape has chosen to use Digital Light Processing (DLP) for its speed, ability to print high-resolution parts and repeatability.
The Shape 1 Dental from RAYSHAPE
The Shape 1 Dental is a resin 3D printer developed by Chinese manufacturer RAYSHAPE. Using on DLP technology and with a print volume of 144 x 81 x 200 mm, the Shape 1 Dental is equipped with an industrial DLP UV light solution from Texas Instruments DMD. In specific terms, this 3D printer features a built-in air filter inside the build chamber, constant print temperature control for stable printing and a high success rate, and the ability to manage manufacturing processes remotely. To give a final finish to the resin 3D printed parts, RAYSHAPE has a light curing station, the ShapeCure, and a wash station called the ShapeWash M&S. The Shape 1 Dental is an ideal choice for integration in clinics or dental labs, combining best-in-class speed and performance.
AccuFab-L4D, a Professional Dental 3D Printer
Developed by the Chinese company SHINING 3D, the AccuFab-L4D 3D printer offers high-definition results ideal for the dental industry. An interesting point of this Shining3D product line is the possibility to integrate a complete dental workflow, from intraoral scanning with its digitization solutions, to 3D printing of dental models. Weighing 19kg, the AccuFab-L4D machine offers a build volume of 192 x 120 x 180 mm and a variable manufacturing speed, from 10 to 50 mm/h. It is compatible with AccuDesign 3D design software and Shining3D's "Dental Cloud" cloud data platform, which enables data transmission and communication between clinics and dental laboratories. Its high precision and high-quality optical module with long-life components make it an ideal machine for the medical and dental sector.
The SprintRay Pro95 S Dental 3D Printer
The American manufacturer SprintRay has developed a range of 3D printing solutions for the dental industry. Among them, the SprintRay Pro95 S, an intuitive and ergonomic DLP desktop machine with its large 7-inch touch screen. It offers a print volume of 182 x 102 x 200 mm and a speed of up to 50 mm/s. It is an ideal dental 3D printer for the creation of trays, surgical guides or dental prostheses. It is equipped with NFC technology to automatically monitor the life of each resin tray and a series of intelligent sensors to ensure the smooth running of the printing process.
The Objet30 Dental Prime Printer from Stratasys
With the Objet30 Dental Prime printer from S it is possible to accurately 3D print dental models in the lab, avoiding outsourcing costs and optimizing workflow. This printer offers the advantages of digital dentistry at an affordable price with a desktop size that fits your lab's needs. With a print size of 300 x 200 x 100 mm and its three high quality print modes, it is possible to produce highly detailed applications such as diagnostic casts and casting patterns for removable dentures. And with its PolyJet technology, it automates production for hands-off workflow optimization. It is compatible with three dental materials, specifically designed for precise models of bridges and crowns.
Do you use a dental 3D printer? Let us know in a comment below or on our Linkedin, Facebook, and Twitter pages! Don't forget to sign up for our free weekly Newsletter here, the latest 3D printing news straight to your inbox! You can also find all our videos on our YouTube channel.