The Carbon Design Engine Automates the Process of Design to 3D Print Lattices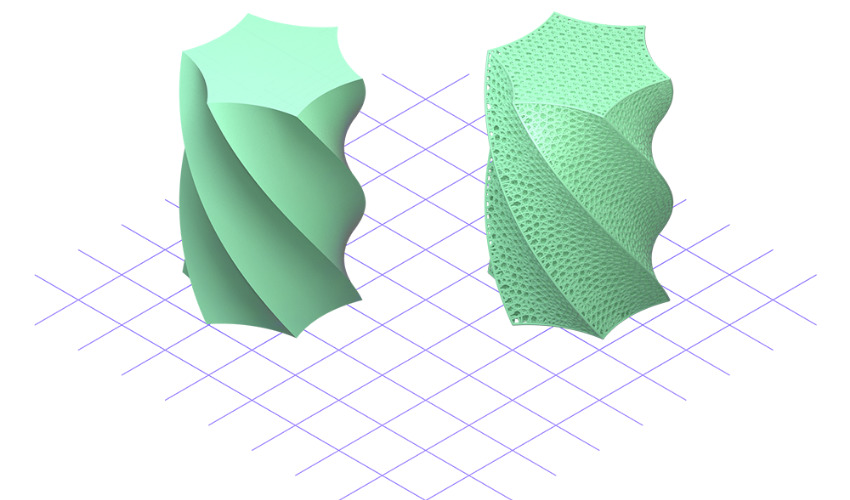 Carbon has announced that its innovative 3D printing technology, the Carbon Design Engine software, is now available to all of its subscribers. This design generator allows users to automate the process of creating performance-orienting 3D printed lattices, saving time and effort for design engineers. According to the company's press release, currently there are no other design tools on the market that can iterate and take advantage of the benefits of both 3D printing and lattice technology. 
3D Printing Lattices with Carbon Design Engine
3D printing allows for much more flexibility in design than traditional manufacturing methods. In this case. Using 3D printing results in the production of latticed parts that can deliver considerable mechanical performance advantages beyond those what can be produced via traditional production methods. However, according to Carbon, users have up until now not been able to take advantage of this, as traditional design tools are limited in their additive manufacturing support, though we have seen that DfAM, or Design for Additive Manufacturing, is a growing field. To address this issue, Carbon developed the Carbon Design Engine as a way to simplify design generation and to allow carbon to collaborate on design projects with their customers.
Generally, lattices are a beneficial geometry to use in the creation of many products. This is because designs using this patter are able to reduce material usage, improve cushioning and dampening and increase breathability. The software has already been used in production of critical 3D printed lattice products including medical lattice swabs developed for Covid-19 testing and CCM Super Tacks X helmets. This is the first time that the software will be available to all subscribers. Speaking on the technology, Paul DeSimone, Chief Product and Business Development Officer, stated "Traditional CAD tools have not kept pace with the innovation of 3D printers and materials. This lack of progression limits the 'idea to design' stage of the product development lifecycle. With the release of Design Engine to all Carbon subscribers, we are helping designers iterate through their design thinking, faster." 
The product itself is a cloud-based application which provides the computational power to generate complex shapes quickly and efficiently. Design Engine software has a fully interactive user interface and users have the option to produce five different types of conformal lattices. According to Carbon, "Design Engine can predict lattice performance prior to lattice generation, streamlining design optimization. Similarly, Design Engine offers built-in guidance to help engineers develop successful parts." You can learn more about the Carbon Design Engine Software at Carbon's website HERE.
What do you think about the Carbon Design Engine software? Let us know in a comment below or on our Facebook, Twitter and LinkedIn pages! Sign up for our free weekly Newsletter here, the latest 3D printing news straight to your inbox!