The Best Free STL Files for Back-To-School 3D Printing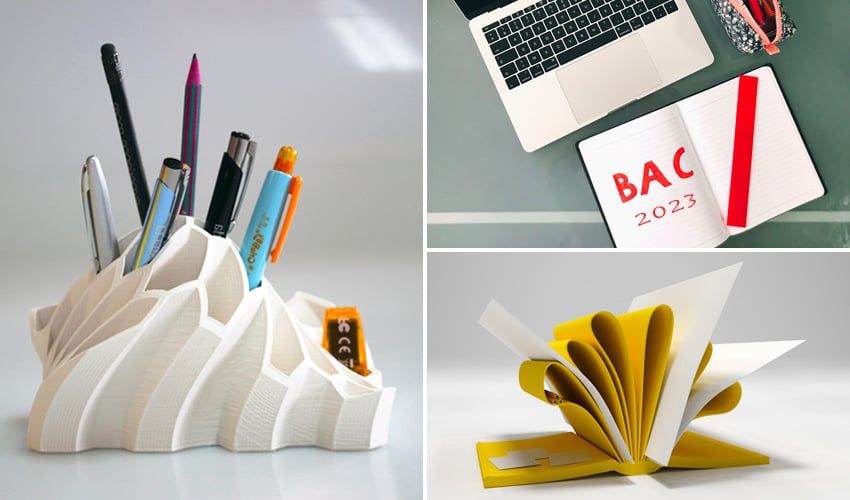 As another September rolls around, getting ready to go back to school is on everyone's minds. This is the time when students of all ages begin the new school year and continue their education and personal growth. One of the most important things during this period is to make sure that students have all the school supplies (and personal supplies!) necessary to excel in their studies as much as possible. And for that very reason, we take a look at a compilation of the most useful, interesting and fun 3D printing STL files for back-to-school 3D printing. From organizers, to pencil cases, rulers, paper clips or computer stands, don't miss this complete list and download the files you like the most! After all, the best part is that all files are free to download!
3D Printed Pen and Pencil Holder
Whether you have a hard time keeping track of your pens and pencils or would like a stylish space on your desk to keep your selection of writing utensils within reach, here is the perfect solution that can be printed from the comfort of your own home. Designed by Portuguese creator Beeverycreative, this creation can keep your pens, highlighters and scissors close at hand with a wavy, yet geometric, 3D design. The design can keep your attention and spark your imagination with a shape that is reminiscent of a wave, snowdrift or a coral reef, depending on the color filament used during the print.  The file is free to download at any time and currently is sitting at a score of 4 out of 5 stars with over 76,000 downloads. Check out the design page if you feel like your desk needs an upgrade!
3DMX / Crockmark (Bookmark)
If you are tired of dog-eared pages, using scraps of paper, or simply forgetting your place, then maybe it's time you 3D printed yourself a bookmark. Thankfully, designer 3DMX Studio has you covered with the Crockmark. This loveable little reptile can save your place in any book and will 'float' on top of the pages as if in a river or a swamp until you return for your next read. This 3D printed bookmark does not require supports while printing, and 3DMX happily provides users with all the necessary print settings including the speed and temperature for both the heatbed and extruder. The extra benefit? You can print as many copies for as many books as you like! They also make excellent gifts to any avid readers you know. Highly rated with 4.5 out of 5 stars, download and print it yourself and see what you think! Now might be a good time to finish that book you've been thinking about!
3D Printed Ruler for Straight Lines
It doesn't matter what you're studying, be it math, art or architecture, if you want to draw straight lines and strokes, you need a suitable ruler. The little helper from TIZYX is up to the job, while also a helpful tool for taking measurements. This ruler, which can easily be printed at home with the free file, comes in either 11 or 21-centimeter lengths. It has centimeter and millimeter markings and fits in any backpack. The file also comes with the recommended print settings to aid your printing process.
Dinosaur Lunchbox
This design brought to us by designer MENTALIST, gives your kids the most awesome animals in the cafeteria. Because the lunchbox comes in a dinosaur design, the interior space also follows the animal's unique outlined shape. Take advantage of the unique shape by loading up the box with fun small snacks for your little omnivore, herbivore or snackivore. It consists of two parts, the lid and the box. The box is able to fit into any backpack and should keep the contents safe inside the hard lid covering. The printing instructions can also be found for free on Cults.
Magnetic Periodic Table of Elements
This 3D-printed periodic table is sure to make memorization a lot more fun! With magnetic functionality, you can attach your periodic table wherever you want! Whether at home on the refrigerator or on the blackboard at school, the periodic table is a real eye-catcher. The parts are printed individually, so you have more flexibility with arranging them and learning. Download the STL file HERE.
The NoteBuddy
Boring notes are a thing of the past with NoteBuddy. With this versatile template creating to-do lists, checklists and planners changes from a mundane experience into something creative and fun. You can use the NoteBuddy as a stencil or template for lists and shapes, as a ruler or as a bookmark. Stay organized and productive and have a smile on your face and thanks to NoteBuddy's smiley design! Download the free STL file and print your own NoteBuddy HERE.
Magnetic Chalk Holder
Constantly broken and untraceable, disappearing chalk is a thing of the past with this magnetic chalk holder. This 3D printed holder can hold up to seven pieces of chalk or even markers and pens. It can adhere firmly to any chalkboard or other surface thanks to strong magnets. What's more, because of small ventilation holes in the holder, the chalk dust does not settle in the container so that your hands and fingers can stay clean. As an added bonus for those who like to fidget, the holder can be spun around. You can download the free STL file HERE.
Tape Dispenser
To your average student, Scotch tape is an important material, even more effective than glue. From keeping your papers in place to building posters and dioramas. However the simple use of scotch tape can sometimes get complicated and tangled. Here to save the day is a 3D-printed tape dispenser. This 3D printed office equipment will make it much easier to store and cut strips of tape. It also has the benefit of being easy to transport, weighing much less than a standard tape dispenser. If you can make room in your bag for one of these, you will be happy you printed it on those busy school project days.
The Book of Docs
So, you want to be better organized, but every year your documents are never in the right place? Then this is just the thing for you! A 3D printable document holder to help you sort your papers. With this equipment, you can separate and organize your documents by placing them between the spaces, while also storing smaller items within the loops between each 'page'. Both practical practical and stylish, it's the perfect way to organize your work. With extra space for pens, pencils and small items such as business cards, calculators or rulers, this is a handy piece of desktop equipment that can be helpful and look cool while doing it. Take a look at the free downloadable design HERE.
3D Printed Paperclips
Who hasn't used colorful, steel paper clips to tidy up their papers, or as bookmarks, or chaining them all together into a long snake when we're bored? We all know how easy it is to lose them, and how time-consuming it can be to go out and buy new ones! Here we have a creative solution to the problem: instead of buying them, you can 3D print them! The file is the work of designer 3DLAYERUP, who offers it on Cults3D for 50 cents and already has 2.1K downloads, which is why this particular version caught our eye (though rest assured, there are free versions out there as well). The designer recommends using the 3D printed paperclips as bookmarks, printing them in different colors, and all the printing parameters are specified on the webpage. Find the STL file HERE.
3D Printed Laptop Stand
This 3D printable file will appeal to any and all computer-using high school or college students.  Lightweight, quick and easy to print and durable, this stand could make all the difference for anyone who needs a little extra elevation or ventilation under their laptop. Uploaded by designer RODEEY on Thingiverse, it consists of only three pieces that can be assembled (two bars on either side and a center bar for support) and is printable in PLA or other material using FDM technology. The most useful part of this design is that it comes in as many as three sizes of support bars to the size of the computer: small, for laptops up to 14 inches; medium, for up to 15 inches; and large, for up to 17 inches. The file can be downloaded for free HERE.
Which of these is your favorite 3D printed back-to-school item? Let us know in a comment below or on our LinkedIn, Facebook, and Twitter pages! Don't forget to sign up for our free weekly Newsletter here, the latest 3D printing news straight to your inbox! You can also find all our videos on our YouTube channel.