The Best 3D Printing Videos of 2020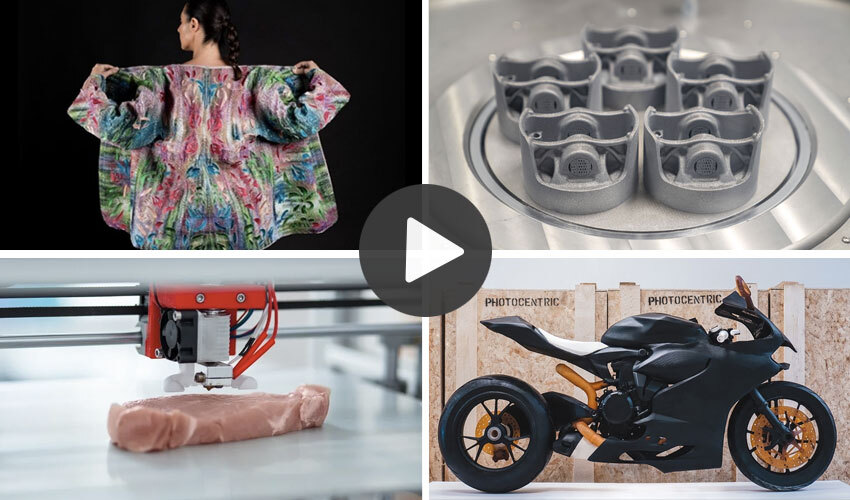 As 2020 draws to a close, it's time to remember the best 3D printing videos we've seen over the last 12 months. This year has been heavily impacted by the Covid-19 pandemic, which is why many of the videos are related, in one way or another, to this event. In spite of everything, there are many companies which have excelled this year thanks to the innovative solutions they have been offering, such as Siemens, Porsche, Stratasys, Photocentric and BMW, among others. We hope that next year the 3D industry will amaze us as much as, if not more, than this year has. Until then it's time to review the best clips, in chronological order. Don't miss out on the best additive manufacturing videos of 2020!
3D printing in the fight against COVID-19
Unsurprisingly, this year 2020 the industry has been heavily impacted by the coronavirus health crisis. During the first few months, the 3D printing community mobilized to curb the shortage of medical equipment. There were several solidarity initiatives producing 3D printed masks, glasses, face shields, doorknobs and many more. The main objective was to protect medical personnel and the people who had the most contact with the virus. Here is one of 2020's most important videos on additive manufacturing, touring the applications of the fight against COVID-19:
Rebuilding culture with 3D technologies
In mid-March we encountered a way to rebuild culture using three-dimensional metrology. Cultural heritage has to withstand the passage of time and often degrades due to wars, natural disasters, the environment, etc. Technology plays a very important role in preserving and rebuilding culture. Thanks to 3D scanners, models can be created and then reproduced physically with a 3D printer. These reproductions are impressively high-quality and accurate! The company Acciona explained the process and potential of large format machines in the context of rebuilding culture:
Advances in organ bioprinting
One of the most important topics we have seen in additive manufacturing videos this year is the production of 3D printed functional human organs. Bioprinting technologies in the medical sector have enabled the creation of customized solutions for many patients. This method, using tissues from stem cells, allows implants to adapt to the subject's body without risk of rejection. Many researchers have opted to create organs and tissues using additive cell manufacturing. This clip shows some of the bioprinting projects that have impacted personalized medicine the most.
JELL bets on Siemens technology
JELL is a tool supplier, which has been using metal additive manufacturing for 10 years to validate its concepts and quickly deliver ready-to-use parts. This year, the company has invested in Concept Laser machines and used Siemens NX software, a CAD solution that allows you to design everything in the same tool. There is no need to transfer data from one software to another, as designers can model and simulate results on the same platform, saving them time. They also use design techniques such as topological optimization. Find out more in the video below!
Photocentric's

latest

motorcycle
Photocentric, a specialist in 3D printing resin, developed a motorcycle using SLA in early June this year. Thanks to its Liquid Crystal Maximus and Liquid Crystal Magna machines, which offer fairly large print volumes, the company was able to design several parts using large format 3D printing, such as components of the bodywork or tires. After a long post-processing job, the result was fascinating, and you can see it below:
BMW

opens

an

additive

manufacturing

center
In mid-June, car manufacturer BMW opened the doors of its additive manufacturing center. The facility is intended for the production of prototypes, as well as serial parts, using industrial 3D printers from various manufacturers, including SLM, EOS or Carbon. The center also focuses on research and development in existing technologies, in addition to new ones. The 15 million euros which have been invested into the site should allow the group to develop its skills in additive manufacturing and become one of the leaders in the automotive market.
The

3D

printed

meat

revolution
Throughout 2020, we have seen many videos about innovative additive manufacturing solutions. However, one of the most surprising has been 3D printed meat. This technology presents an alternative to livestock rearing and a solution to the negative consequences of meat production. Many new companies have already been launched which use existing methods of 3D printing meat. One of the most recent is Redefine Meat, which introduced The Alt-Steak, a plant-based meat that reproduces the texture, taste and appearance of beef fillet and can be produced in high volumes and at a low cost enabling it to be marketed on a large scale.
Porsche

integrates

additive

manufacturing
German car company Porsche announced in July that it had adopted additive manufacturing in the design and creation of pistons for the Porsche 911 GT2 RS engine. To do this, Porsche made use of Trumpf manufacturer's metal 3D printing solutions. The machinery is based on a laser powder bed fusion process, using an aluminium powder. Porsche explains that 3D printing has made it possible to design pistons, 10% lighter but just as resistant, with a cooling duct, that could not have been developed with conventional methods. This duct lowers the temperature by 20°C in the piston, increasing the safety and performance level of the engine.
The new SEAT Advanced Center
SEAT is another automotive company that has invested in 3D printing solutions for its manufacturing center this year. They now have nine machines including a HP Multi Jet Fusion, an SLS machine, 6 FDM 3D printers and a PolyJet solution. Thanks to the diversity of these technologies, SEAT can produce parts with more details, important mechanical properties and more advanced functionalities. The machines operate 24 hours a day and produce an average of 50 parts per day. The Spanish car manufacturer claims that 80% of the parts are prototypes used to develop vehicles more quickly, and the rest are tool and customization components.
Ganit Goldstein and Stratasys in the fashion industry
This year in the fashion industry, Ganit Goldstein worked with multinational Stratasys to create a custom collection that combined handcrafted methods with direct 3D printing on fabric. With this technique, the designer developed a Japanese-style dress. Using PolyJet technology, digital designs were 3D printed directly onto durable fabrics in eye-catching colors, creating a bright effect when the garment is in motion. The work was part of the so-called Re-FREAM, a collaborative research project funded by the European Union. Don't miss its original design!
3D printing by under-extrusion
At the end of October, Jack Forman, a PhD student at MIT, developed a new type of textile using one of the most common 3D printing problems, under-extrusion. This phenomenon occurs when there is not enough extruded filament in the part. By controlling this defect, Forman managed to design DefeXtiles, a kind of tulle-like fabric that can offer more or less complex shapes and geometries. With this method he came to create interactive models, skirts, lace pieces, a shuttlecock for badminton, etc. You can learn more about this textile and the possibilities it offers in the video below.
Resin microrobots for the medical sector
Our final video of 2020 focuses on additively manufactured microrobots. These devices are so small that they can travel through our blood vessels and deliver medicines to certain parts of the body. Many researchers had been pursuing this goal for years, until scientists at the Swiss Federal Institute of Technology (ETH) in Zurich finally succeeded. This success arose from a new manufacturing technique, underpinned by the expertise Professor Salvador Pané of ETH who has spent several years working with stereolithography. This high-precision 3D printing technique is able to produce complex objects at a micrometric level. Scientists were able to print metal and plastic with such precision that the two materials intertwine as closely as links in a chain.
What do you think of our selection of the best 3D printing videos of 2020? Let us know in a comment below or on our Facebook and Twitter pages! Sign up for our free weekly Newsletter here, the latest 3D printing news straight to your inbox!