3D Printed Engines: Industry Projects and Miniature Models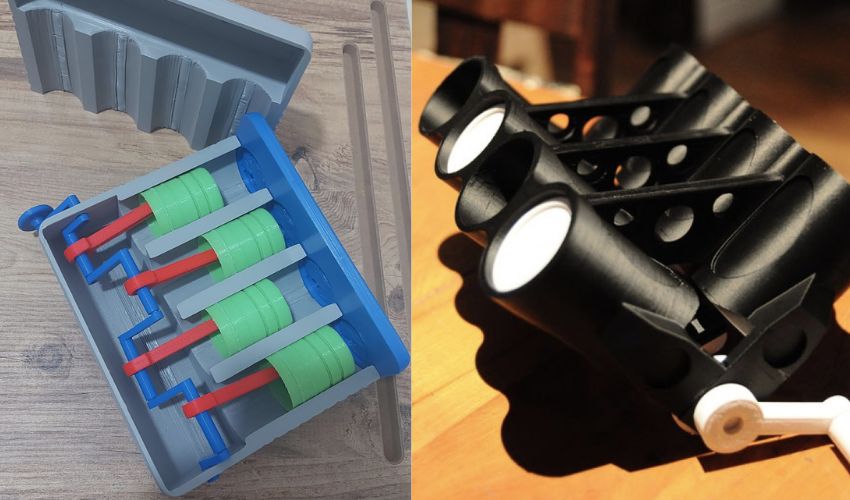 The term engine, according to the Oxford English Dictionary, simply means 'a machine with moving parts that converts power into motion'. With such a widely-encompassing definition, this term can be applied to any number of different sectors and applications, and engines come in all sizes. Regardless of the use of the engine, many benefit from 3D printing technology with range of advantages compared to traditional manufacturing, from cost savings, time savings, and the ability to make geometrically complex identical parts. Below, you will find some examples of practical application of additive manufacturing for full-size engine parts in the industry, such as automotive and space. 3D printing is also useful for the creation of accurate engine models for education and decoration. We have also selected some of our favorite designs from three CAD file websites: Thingiverse, Cults, and MyMiniFactory.
Industrial Projects
Automotive
Firstly, let's look at one example: automotive engines. The parts of a car engine which could be 3D printed include an engine block, piston, engine valves, combustion chamber, manifold, and oil filter. In 2018, Bugatti 3D printed an eight-piston monobloc brake caliper using titanium (the first series manufacturer to do so).
A further example is Velo3D's M300 Tool Steel, an alloy comprised mainly of nickel which is often used in the automotive industry. It is used for many tooling applications such as High Pressure Die Cast (HPDC) inserts and injection molding. Velo3D is also heavily involved in the aerospace industry (more on that below).
In 2022, the Greek manufacturer Spyros Panopoulos Automotive (SPA) produced a 3D printed piston for a car engine, using technology from Israeli firm XJet. The piston was printed in ceramic using Nanoparticle Jetting (XJet's proprietary technology) and is said to allow for speeds of over 500km/h. The choice of ceramic, according to the firm, allows to withstand high temperatures and a lower weight compared to most metals and alloys. As well as the piston, the wheels of the car are also made using 3D printing.
Space
3D printed engines do not only exist on Earth! In 2024, American firm Relativity Space expects to launch the Terran R, which it claims to be the world's first fully reusable and entirely 3D-printed rocket (including the engine!). In 2020, Ariane Group (a joint venture between Airbus and Safran) created and tested a combustion chamber entirely using 3D printing at their site in Germany. Launcher has also produced a 3D printed liquid rocket engine, the Launcher E-2, which is singly printed in copper.
Velo3D also produces parts for the aerospace industry. They offer advanced metal solutions to make mission-critical (parts which are essential to the function they perform) using laser powder bed fusion. In 2020, the firm worked with Honeywell Aerospace in the manufacture of aircraft solutions using the Sapphire®printer series using Inconel. Velo3D also worked in collaboration with KW Micro Power (turbogenerator manufacturers) and nTopology to redesign the housing of their aerospace turbogenerators. They reduced its weight by 44% for a total savings of 4.5 kg.
The Best Files To 3D Print Your Own Engine
3D Printed Jet Engine
If you like 3D printing, you probably already know of Thingiverse. It is an online platform which holds thousands of files (mostly stl) which, after splicing, are ready to be printed. The most popular 3D printed engine on there, with 299 makes, is this one, which is a model of a 2-spool high bypass turbofan. According to the maker, Chris Shakal (Catiav5w), the model comes with custom supports and parts were designed with specific print orientation and assembly order in mind. He printed on a Makergear M2. You can find the stl file HERE.
3D Printed Internal Combustion Engine
Next up, we have a file from Cults, another online platform with an abundance of files for 3D printing from home. We have a file to print your own internal combustion engine with four cylinders. The engine, from PrintLn Robotics, is easy to print, easy to assemble and perfect for educational purposes or simply to make your home look nice. With 4 likes and one download, this file is definitely undiscovered so you can be sure you're printing something unique! The design comes with detailed instructions: the small piece must be print with 100% percent fill density, but the big piece 4% fill density. The file is HERE.
3D Printed Turbofan Engine
This file, from MyMiniFactory, is a turbofan engine: a type of jet engine consisting of a turbine, referring to the gas turbine engine which achieves mechanical energy from combustion, and a ducted fan which forces air rearwards. The turbofan engine finds use in the propulsion of aircraft. You can print the compressor with one stator, the combustion chamber and the turbine with stator. According to the creator, this is a single shaft engine, similar to those used by Mirage aircraft (a type designed by French firm Dassault Aviation, known for civil and military jets and aircraft). This file is perfect for education – to demonstrate how the jet engine works in a simple way. The file is available HERE.
3D Printed V8 Engine
Here you can make your own 3D printed replica of a V8 engine. According to the creator on Myminifactory, The V8 with a crossplane crankshaft is a common motor configuration for large automobile engines, which includes cars and aircraft. According to the file owner, 'V8s are generally only standard on more powerful muscle cars, sports cars, luxury cars, pickup trucks, and sport utility vehicles'. In the UK, the first V8 engine to be produced was fitted to the 1905 Rolls-Royce V-8,  and in the US the first automotive V8 engine to reach production was the 1914–1935 Cadillac L-Head engine. With an estimated print time of 13 hours, this print will take longer than most, but the end result is well worth it! The file is available HERE.
What do you think of this selection of 3D printed industrial engines and stl engine designs? Let us know in a comment below or on our Linkedin, Facebook, and Twitter pages! Don't forget to sign up for our free weekly Newsletter here, the latest 3D printing news straight to your inbox! You can also find all our videos on our YouTube channel.