The 3D Printed Dress That Responds to Changes in its Environment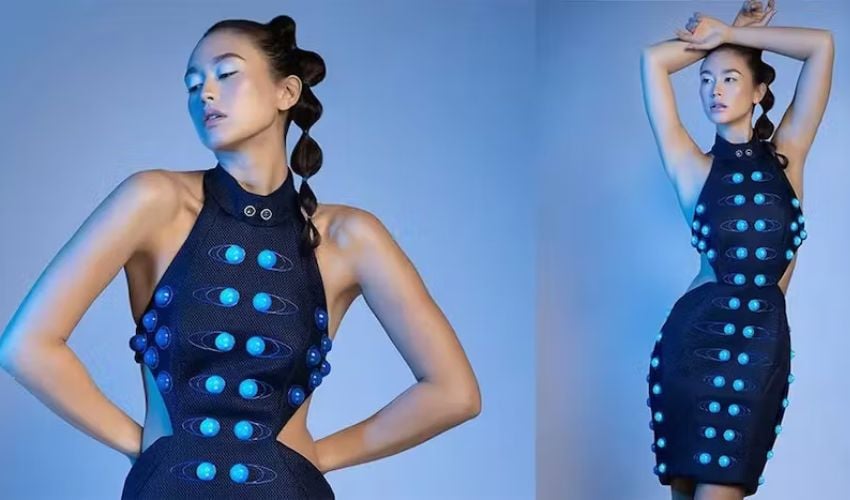 We hear more and more about traditionally manufactured applications trying out 3D printing, and little by little, the number of industries embracing this technology is increasing. One such case is the fashion industry, which as we have from previous examples, when combined with additive manufacturing is able to offer spectacular results. As new materials are developed and 3D printing techniques are perfected, fashion designers are more able to experiment with fusing their creativity with 3D printing technology and carrying out projects that seemed impossible before. While we still don't know what to expect from future projects in the industry, what is certain is that those presented to date have left no one indifferent.
A good example of this is what happened at London Fashion Week. Designer Jayne Pierson unveiled her "Ceridwen" collection, which thanks to Stratasys' 3DFashion technology combined with her ingenuity and craftsmanship, created true works of art. Or at last year's Paris Fashion Week, Iris van Herpen teamed up with ice cream brand Magnum to create a stunning 3D printed couture dress to promote one of the brand's ice creams. Now, at Formnext 2023, fashion designer Anouk Wipprecht along with 3D printing company Chromatic 3D Materials, have designed and manufactured a revolutionary 3D printed dress that features domes of LED lights that respond to their environment.
Of all the surprises we have found in this edition of Formnext, this application of 3D printing in the fashion industry certainly caught our attention. It is a clear example of technological advancement since it has made it possible to precisely and directly integrate electronics into 3D-printed elastomers, offering unlimited possibilities to the imagination for the creation of new garments in the near future. The use of motion-activated LED bulbs is just one such example of the Dutch designer's creativity.
Anouk says, "Using Chromatic's 3D materials to print offers numerous possibilities for the fashion industry. For designers like me, who incorporate electronics into our creations, it provides a unique opportunity of embedding and securing electronic parts within the printing process." The collaboration between the designer and Chromatic 3D is a clear example of what the company's 3D printing technologies are capable of achieving. With the use of additive manufacturing, more than 70 flexible LED domes were designed and manufactured to be attached to the garment without the need for any glue or traditional stitching.
In view of what Chromatic 3D materials are capable of doing, the company is now considering new fields of expansion such as sportswear, accessories, or even vehicle interiors. Unlike other 3D printed materials, ChromaFlow 70, the material used in the dress, is heat-resistant, flexible, highly elastic, and can reach up to four times its original size, making it an ideal candidate for certain consumer goods.
"This collaboration is more than a partnership — it's a vision coming to life. By merging the genius of Anouk Wipprecht with our innovative 3D printing, we're setting the precedent for the future of fashion. We are embarking on a journey that amplifies the boundless integration of tech and art, opening doors for endless possibilities and applications in textiles and fashion," said Cora Leibig, founder and CEO of Chromatic 3D Materials. To learn more about the dress and its 3D printed materials, click HERE.
What do you think about Anouk Wipprecht's latest 3D fashion design? Let us know in a comment below or on our LinkedIn, Facebook, and Twitter pages! Don't forget to sign up for our free weekly Newsletter here, the latest 3D printing news straight to your inbox! You can also find all our videos on our YouTube channel.
*Cover image credits: Chromatic 3D