Thales Alenia Space sends 3D printed pieces into orbit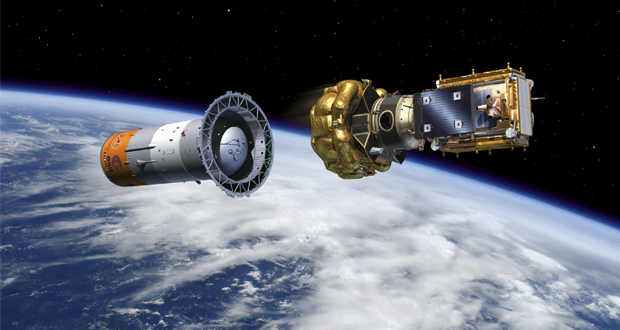 There has been a recent trend in the construction of parts for satellites and other spacecrafts using 3D printing, and Thales Alenia Space is just another example of this increasing trend. Heading into the future at full speed, the company is incorporating additive manufacturing to help create more than 400 metal and plastic 3D printed parts to send into orbit,
Thales Alenia Space has been a specialist in space systems for more than 40 years and is a result of a joint venture between companies Thales and Leonardo. As a company who designs and tests systems for navigation, telecommunications, exploration, observation, etc., it was only natural that additive manufacturing would eventually catch their eye. In April of 2015, they began using additive manufacturing to design an aluminum antenna support that was successfully put into orbit on the TurkmenAlem MonacoSat satellite. Since then, each satellite that has been sent into space has had a similar 3D printed antenna, making it lighter than typically manufactured parts of this sort.
Thales Alenia Space has placed 79 metal parts in orbit and 350 tube holders for chemical polymer propulsion. The metal parts have been printed for different satellites using the Laser Beam Melting technique, which merges a metal powder layer-by-layer in a controlled environment. The company has worked with 'Polyshape' to create some of these parts, and has mainly used the Concept Laser 3D printer, the X-Line 1000R. Out of the 79 pieces printed, 47 of them have different designs and serve 13 distinct functions.
Through the use of additive manufacturing, Thales Alenia Space is able to produce parts in one piece, without the need to assemble different parts of the same structure. This helps them to save time and costs, as well as weight. This method of manufacturing also makes it possible to create more complex structures, while maintaining a higher production speed. Several aerospace experts have also turned to additive manufacturing to design their aircrafts, such as seen with Etihad Airways.
With the successful launches of various satellites that have incorporate 3D printing, this has encouraged Thales Alenia Space to continue using this technology to help bring in even more innovations to their manufacturing process. Florence Montredon, Head of Development for Additive Manufacturing Technologies at Thales Alenia Space, explains: "Our development efforts are now focusing on integrating several functions in a single part, such as mechanical, thermal and radio-frequency functions. The challenge lies as much in the design process as in the production technique per se."
For further information, you can see their announcement here.
What do you think is the future of additive manufacturing for the aerospace sector? Let us know in a comment below or on our Facebook and Twitter page!