Technavio predicts that the 3D printer market will grow considerably until 2022
---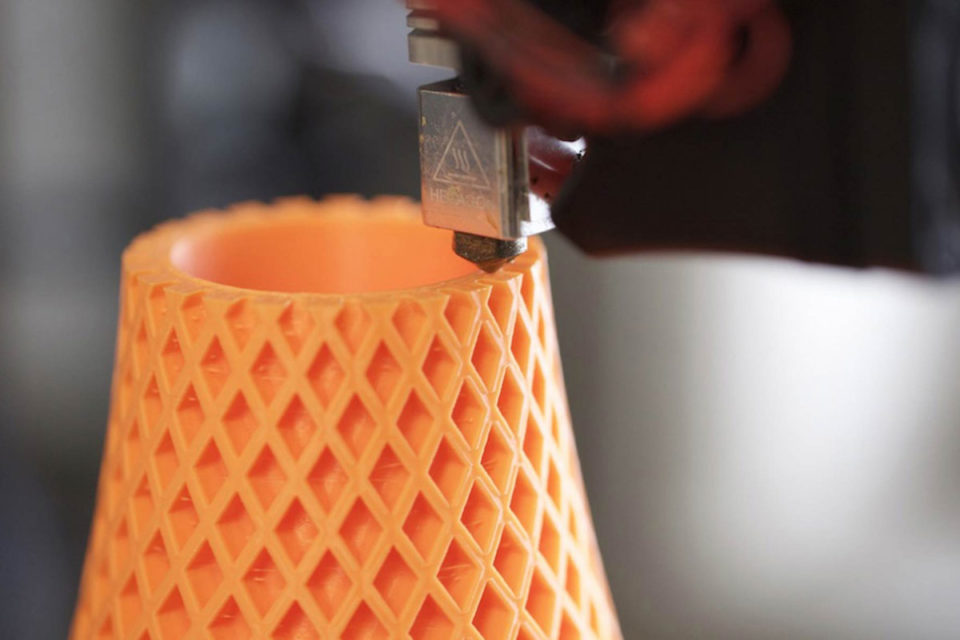 Over the last months we have seen many reports on the state of additive manufacturing in 2019, as well as predictions for the coming years. We started the year by giving you an overview of the 2019 Gartner Hype Cycle published by the Gartner Institute. The cycle revealed the key trends for the 3D printing market and one of its key predictions was that 3D printing was on its way to reach its plateau of productivity. A trend also supported by Deloitte's report: the consulting and audit company estimated that the 3D printing industry would be arriving at a steady state of double-digit expected growth for the years to come. More precisely, at a constant rate of 12.5% growth every year.
Although the industry is stabilising, it remains that some segments of additive manufacturing are starting to flourish and we can expect great growth in those sectors such as 4D printing, metal additive manufacturing and 3D printing for the medical sector! Today, we focus on the market of 3D printers with a new report from Technavio. The market research and advisory company published a new version of its 'Global 3D Printer Market 2018-2022' in which it gives insights on the 3D printer market by product, by technology and by geographical region.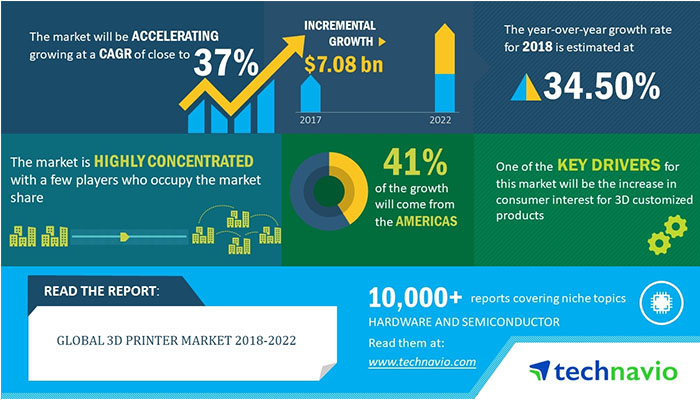 The top emerging trend identified by Technavio is that demand for new materials is growing rapidly. A trend also supported by Wohlers Report 2019 published in March 2019 – the revenue from metals was estimated to have grown by 41.9% in 2018, for example. Wohlers Report explained that this was due to the move from rapid prototyping to mass production.
On the other hand, Technavio reveals that the declining prices of 3D printers are likely to be contributing to their increased adoption, which also leads to more demand for 3D materials. Moreover, the key products used in 3D printing technology are plastics, metals and ceramics – with plastics remaining the most widely used material because it is cheaper. The market research company also explains that the growing outsourcing of 3D printing will fuel the demand for 3D printers in the upcoming years as 3D printer manufacturers are outsourcing projects for both prototypes and production runs.
Another key trend that Technavio reports on is the increase in personalisation of products. In fact, consumers are increasingly demanding custom-made products and we have seen a rise in online companies offering platforms exactly for that. Finally, another figure revealed by the firm is that the 3D printer market is expected to grow to $7.08 billion from 2018 to 2022, at a CAGR of 37%.
You can access the full report HERE.
*Cover photo credits: Kimya
How do you think the 3D printer market will evolve in the next years? Let us know in a comment below or on our Facebook and Twitter pages! And remember to sign up for our free weekly Newsletter, to get all the latest news in 3D printing send straight to your inbox!
---
You may also like